Black and white photography is one of the most favorites among artistic souls. No matter if it is a portrait or scenery, the black and white simplicity delivers the very essence of the captured moment.
Let your artistic eye wanders through the black and white world, abstracted from the various colors that often take away the focus from the points that really matter. As a follow-up on Part 1, below you can find 10 more amazing black and white photos that you definitely shouldn't miss seeing. Which is your favorite one?
The Circle Of Togetherness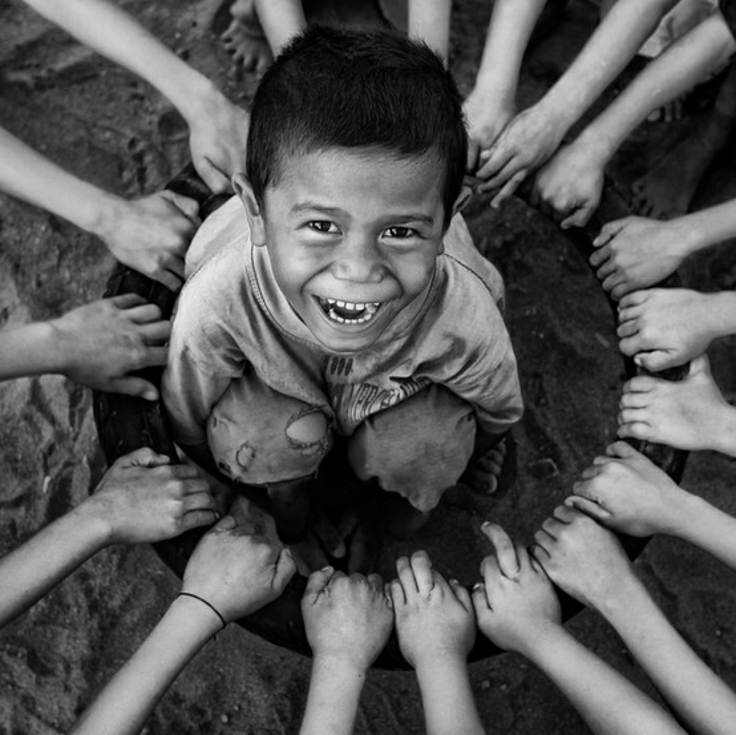 Photo by Alamsyah Rauf
This photograph captures the most beautiful smile from this handsome innocent little man. Surrounded by hands from his various friendship circles, many variation meanings could be interpreted. However, we believe that behind the smile lies sadness. When one looks deep in the eyes one sees past the smile. We believe the hands are a sign of friendship trying to support mentally and physically a bruised child with tough past history. Or indeed current. Powerful photograph.
Desperation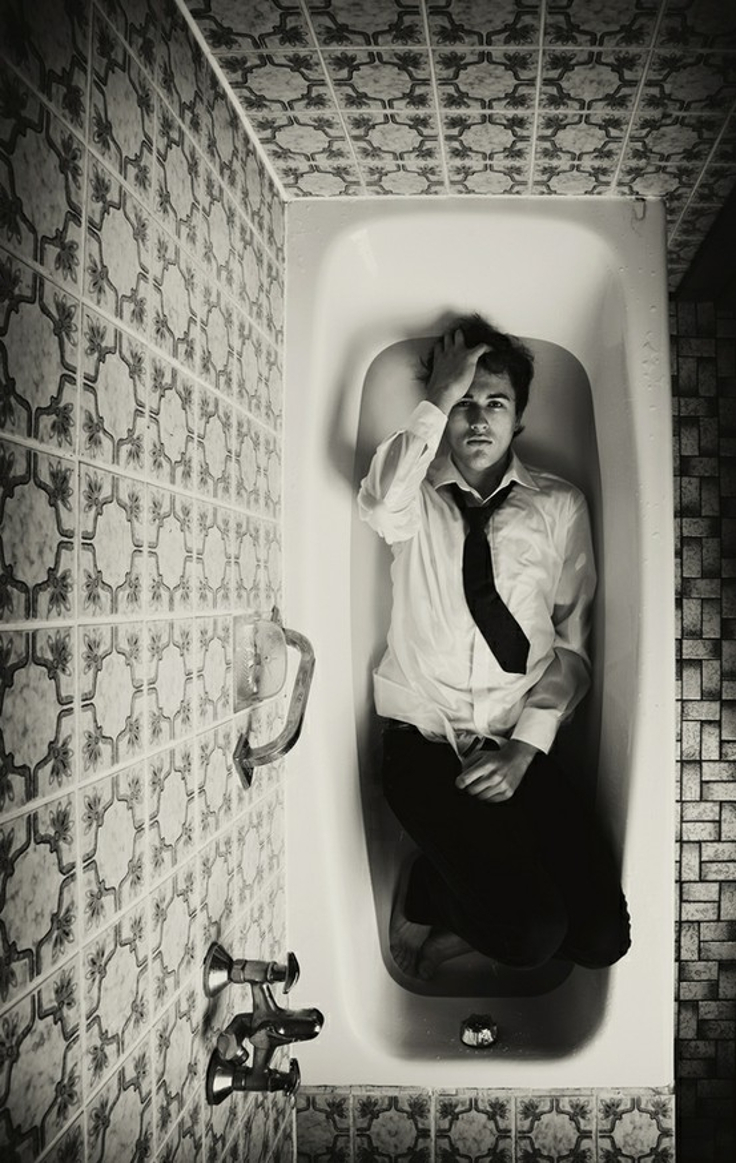 Photo by Martin Waldbauer
Most of us had these days where we come back from work, and wish to drown our sorrows away and all the negativity and pressure of this very day. You come home from work after being stuck in a car for ages, open the door, take off your jacket, kick your shoes away down the hall. Sit on the sofa, and think to yourself, I'm gonna take a bath. In despair to feeling better seeking relaxation and wishing for a split second that it will all go away. That moment is reserved for the bravest of workers seeking perfection in what they do and recognition. Expect to have tough days things don't just happen. It is ok!
 Hitchcock And His Birds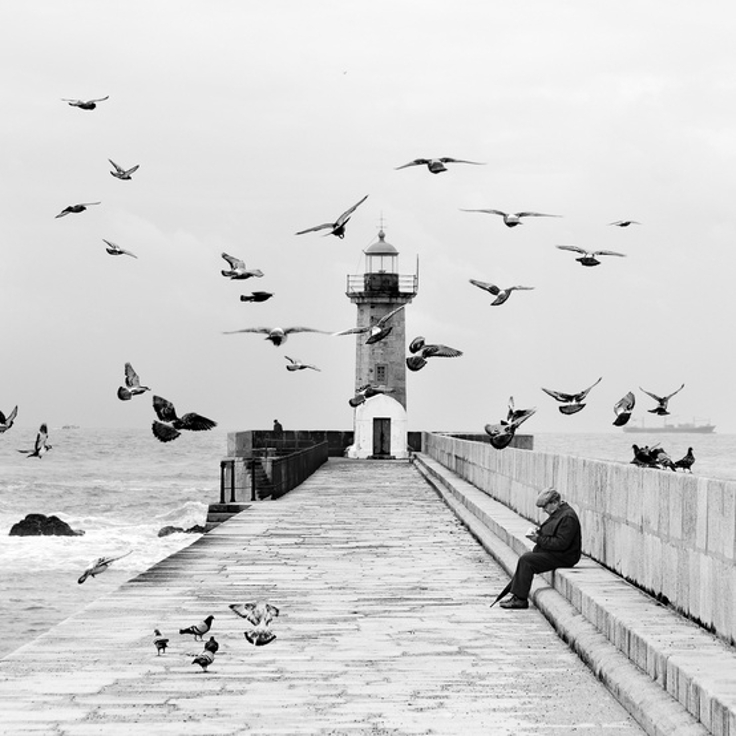 Photo by Pedro Diaz Molins
Throughout Alfred's movie career, every single movie incorporated birds within the many scenes. Birds historically have been used as a sign of danger, associated with death and witchcraft, and perhaps his interpretation was to make his audience feel uneasy with their somewhat uncontrolled rage that is issued from feelings of isolation and abandonment. We all have a sense of space that is mainly from the ground, but never assume that birds have their own space whenever they wish to in an uncontrolled environment such as the sky; off the ground. The photograph mimics flying off somewhere and anywhere.
Jazz Bar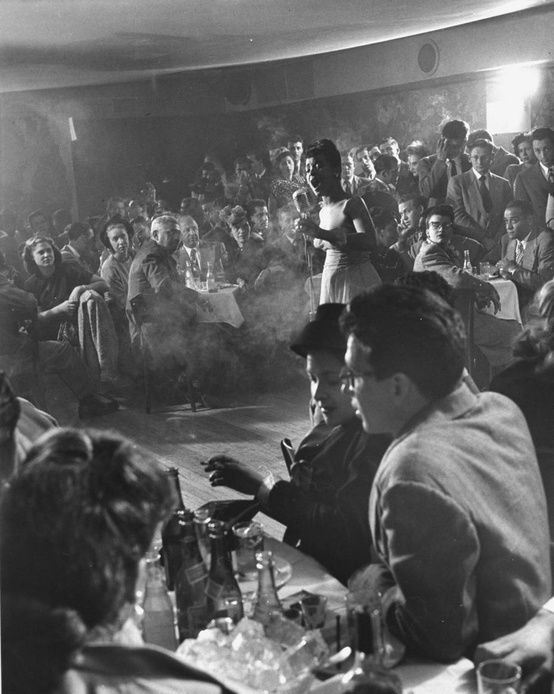 Photo credit to pinterest.fr
Billie Holiday in Cafe Society Club back in the days where everything was allowed from smoking indoors, to congregating altogether from all and every background without having to worry too much about the now "dos and don'ts". Where we guess, society was free to make their own choices without having to be guided on how to enjoy ourselves. This 1947 photograph of the legend really interprets life back then. And yes, one can see all colors mixed together having one goal and one goal only; to have a great time.
Jumping Elegance
Photo credit to tr.pinterest.com
This black and white photograph implies many, many years of practice from the ballerina in order to have taken such a beautiful stride in the air with total elegance while doing so. And the photographer had pressure to click and do the magic; capturing the beautiful essence of ballet. Looks easy and that's just the point. This was to make us feel that everything is possible, however was going to take a lot of dedication and hard work. The purity is also hidden with the shadow, creating darkness symbolizing the many falls and failed attempts. The shot shows a movie so to speak, detailing the beginning to the end result of the mastery of ballet.
Light And Shadow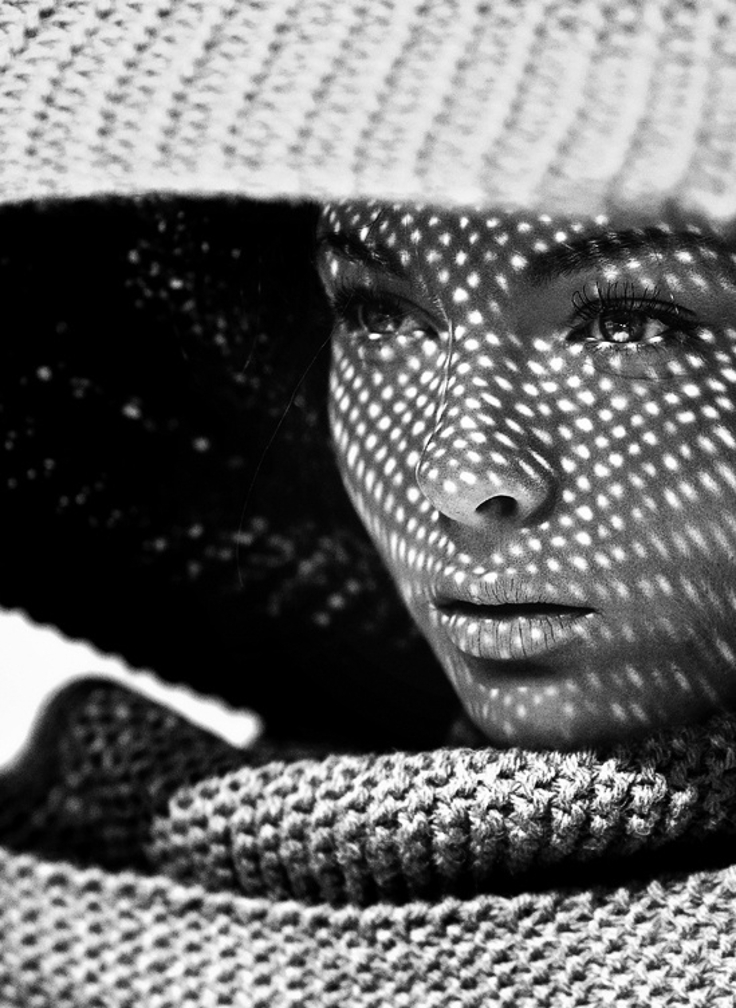 Photo by Arseniy Semyonov
This could have been named after the lady being inside a basket, but won't have sounded as glamorous. But in essence, it is exactly what it is. However, the way it is done is rather magical in terms of the effect created by the natural forces of life, being the sun. The weaving basket allows some of the sun rays to penetrate inside and project onto the face of the women inside, observing the world from a semi-hidden perspective. There is something very lioness about this photograph making it look like a semi feline.
Lost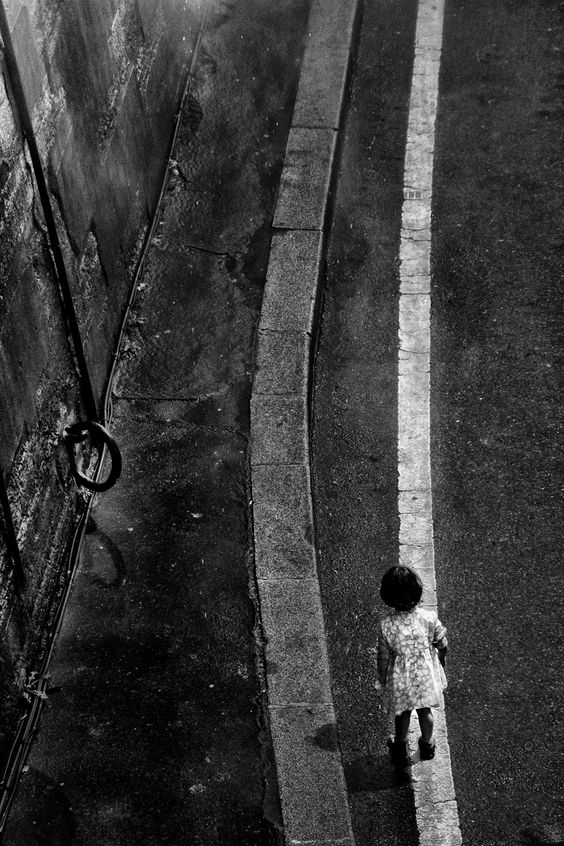 Photo credit to 1x.com
Some of us might have had a tough upbringing, which will not mean anything negative only a reality of life and passage one had to go through and adapt. But we cannot stop but feel empathy towards this girl following the way home thanks to the markings on the road itself. Maybe she feels tied up to the metal ring properly anchored in the stone walls with an imaginary rope attached to herself being powerless to carry on forward. A powerful picture that could have different meanings. What's yours?
Phone Booth
Photo by Pieter de Jong
The person suddenly have to rush away from it so badly that they had forgotten to put the phone back in its original place? Was it out of hurry or out of joy and happiness? It's funny how a picture of an old phone handset can give us so many possibilities and complex thoughts. One remembers putting coins in it after taking so much time finding the correct change within your pockets, then putting them inside the phone set, dialing what seemed like dozens of digits to get connected to the caller himself…and by that time your money ran out! Remember the stress of seeing your monetary value go down as the seconds passed from the call?
Tango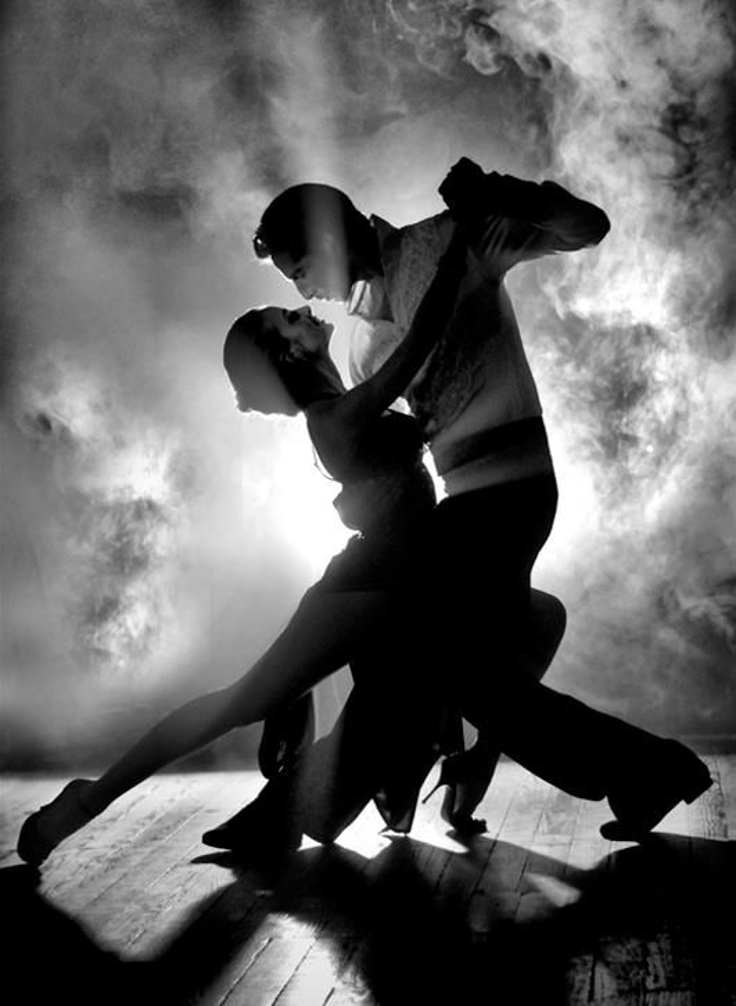 Photo credit to listal.com
The famous Argentinian Tango, in the 1880s, was born, along the Río de la Plata bordering Uruguay. Would you believe the dance was actually born in poor areas of the city being popular amongst the predominant African Descendants? The photograph embodies love, passion, mutual synchronization, and parallel movements, all looking ever so easy on the eye flowing with such natural beauty. The clouds behind the scene amplify the passion and the grunt of the sexy dance which proves to be very powerful indeed. One can feel the desire deep without.
Waiting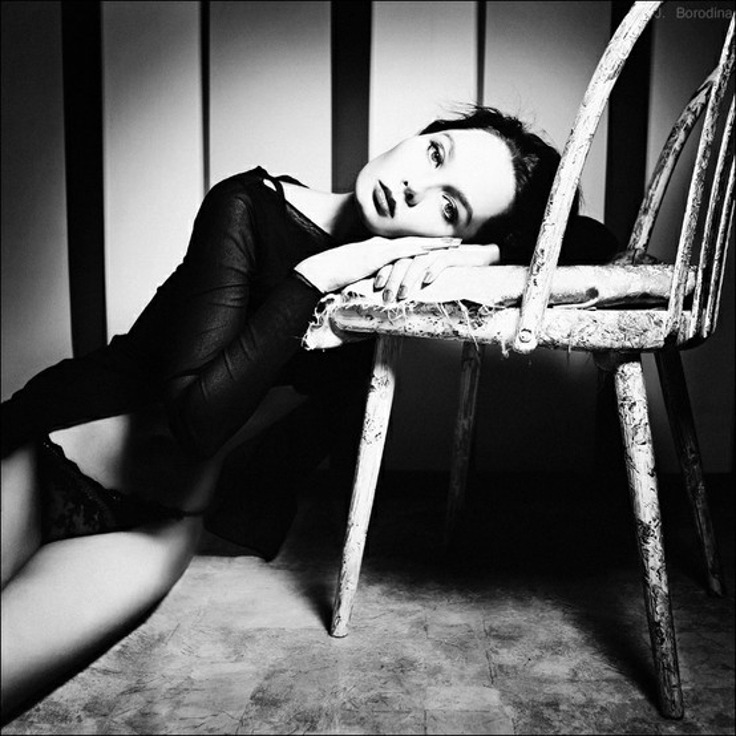 Photo by Julia Borodina
Waiting is not something we are very good at, although at times it is essential and cannot be reversed in any other way. However, one can assume a couple of things here. Waiting for the man of the house to come home from a long day at work, being trapped alone doing nothing. Or perhaps waiting for a super important phone call that is about to change her life; but she has been waiting for days. Her life has been about waiting and perhaps not being able to create something for herself and also seeing things and life in black and white. Fear not, color always comes! Believe!