If you are stressing that you have hooded eyelids, then we have many reasons to prove you the opposite! Although they are a little complicated when it comes to applying makeup, few amazing tricks will make the whole process a piece of cake for you.
First of all, you should know that you need to bring your contour higher than your natural crease when you have hooded lids to give the illusion of wider opened eyes. Be careful to draw your eyeliner as close to the lash line as possible, and preferably thinner.
The rule for hooded eyes stands that you should use only mat colors and shouldn't use shimmery colors, but of course, this is a rule that you can absolutely break if you know what you are doing. And for that matter, we are here to help you!
Look at these 10 tutorials below, and we guarantee that your problem will be solved from now on! Good luck.
Green Shadow
This tutorial is very simple because you have to use only a little mat green shadow in your eye's inner part, leaving the crease untouched. On the lower lash line, add brown shadow, and blend it well to make more depth. Draw a thin line with eyeliner and finish with mascara.
Smoky Cat Eye
Cat eyes are just adorable, and this tutorial shows you how to get them without any eyeliner. This is the magic that the right amount of eye shadow can do to your eyes. Follow the steps and get this beautiful look.
Natural Look
via bookofdreamsblog.wordpress.com
This is a great example of the no-makeup makeup look and is amazing for a daytime look. Just use the earth tones from your eye shadow palette, and get that subtle natural look.
Sparkly Glam

via szamponik.pl
Here is how you can properly use sparkles for your hooded eyes. You can use this beautiful green color, or whatever other you like. This look is amazing for parties and night makeup.
Plum Gold Eye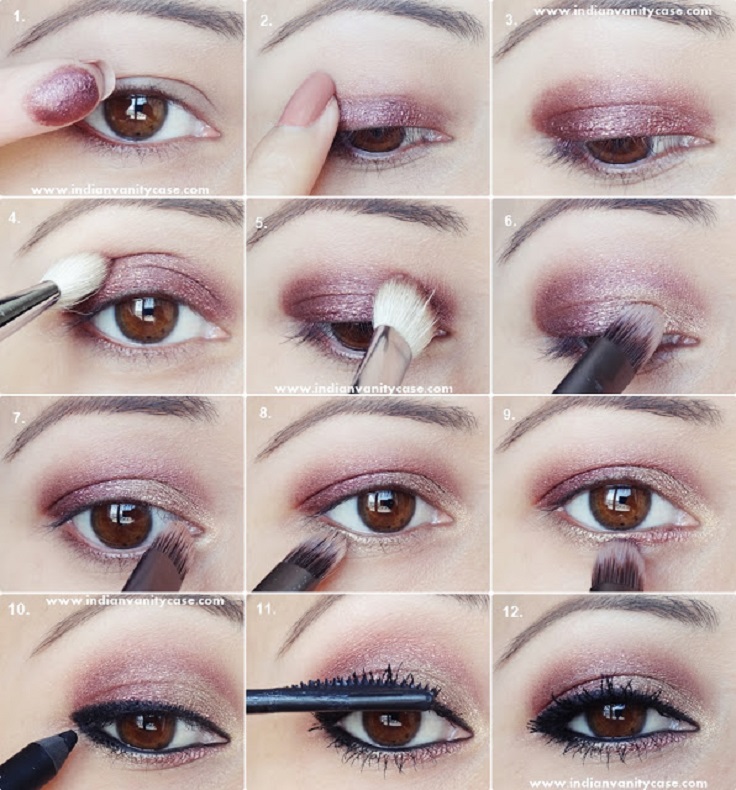 via indianvanitycase.com
Whit only one shimmery eyeshadow, the whole eye can look more opened and defined. Just put this plum gold shadow above your actual crease, and define your eye with eyeliner and mascara.
Bright Eye Shadow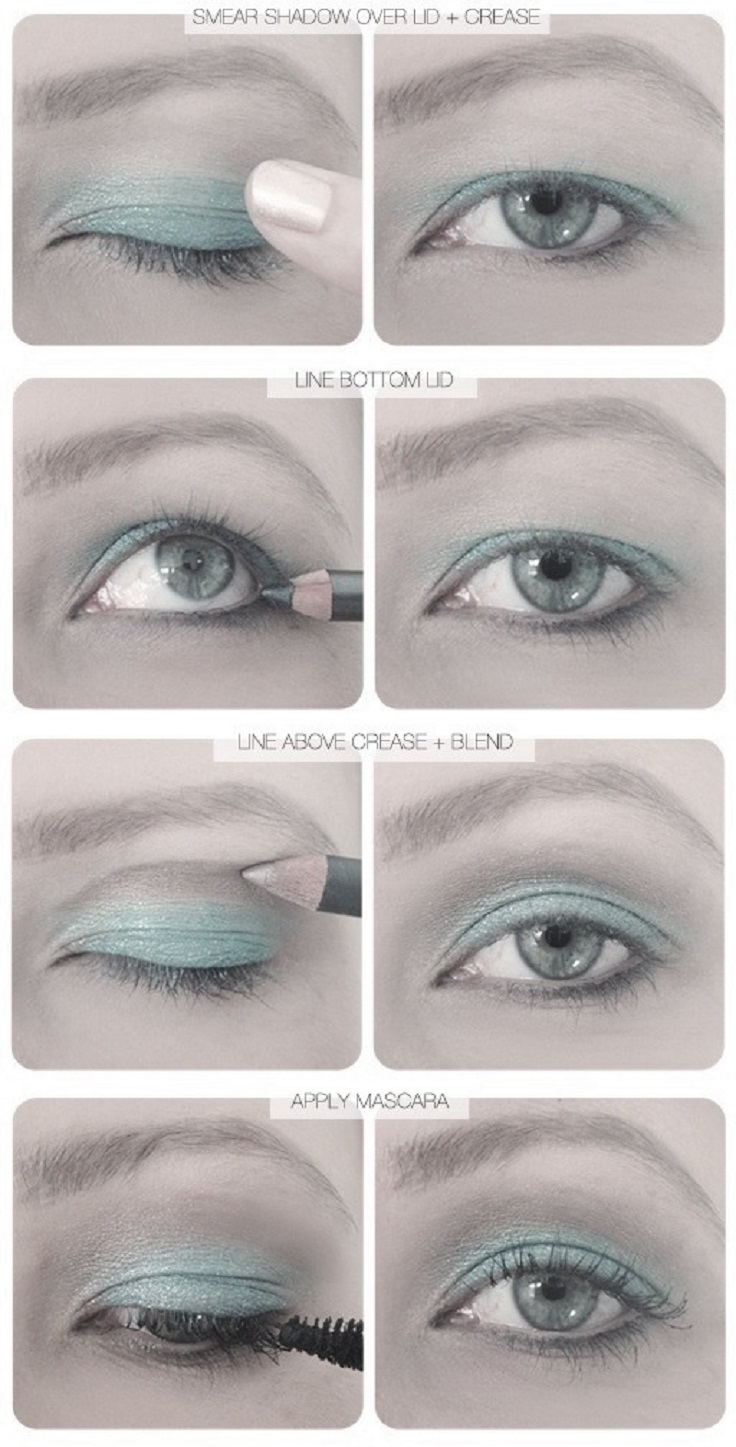 Choose a bright color to bring out your eyes to the surface. Simple as that, you can skip the eyeliner and give your best with the mascara.
White Eye Shadow
via makeupyourinnerbeauty.blogspot.com
We all know that the white eyeshadow really does magic. And when combined with brown crease color, it is the perfect combination for faking bigger and more open eyes.
Evening Eye Makeup
If you are looking for an evening smoky eye, here is our suggestion. Just follow this step by step picture tutorial and be ready for going out!
Turquoise Eye Shadow
via blushesanddimples.com
Turquoise is such a lushes color, and as you can see, it looks amazing on the eyes. Combine it with a nice chocolate shade and bring your hooded eyes out to their full potential.
Brown Eye Shadow and Falsies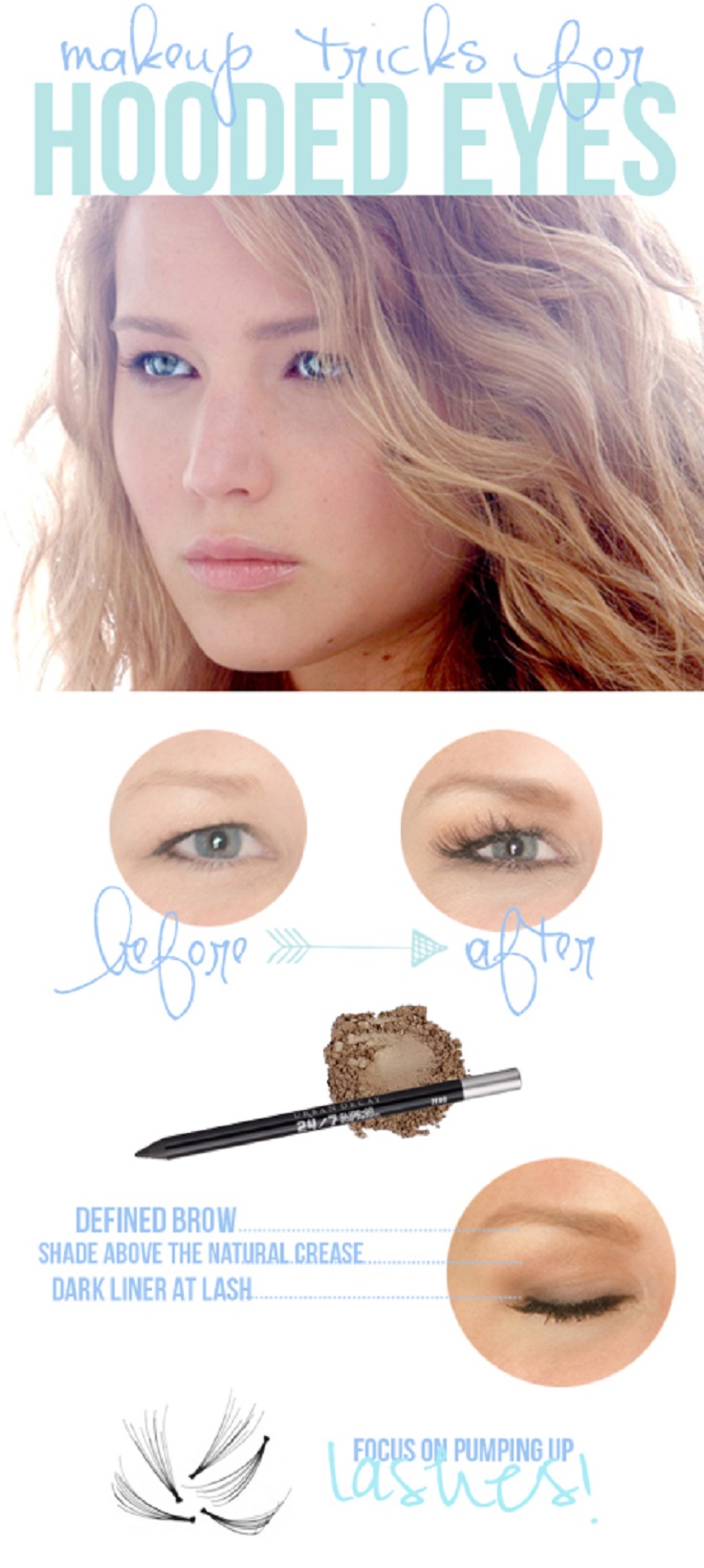 This is one great trick, apply mat brown eyeshadow on the whole lid and above your crease, and then get individual false lashes and place them on the outer corners of your eyes.