If you are not the type of person for "heavy makeup looks" than this article is perfect for you! We have the top 10 ideas for "no makeup" makeup looks that are totally IN this fall, and with just a little touch of makeup you can do magic and still look all natural and beautiful.
The most important thing when it comes to makeup is to learn that you should use it to bring your most beautiful features to the surface, and not to hide them.
Below you will find a simple explanation how to re-create the looks from the photos.
SEE ALSO: TOP 10 NATURAL MAKEUP LOOK IDEAS
Combine the tips and practice those which you think suit best for you. So, find your favorite look, get inspired and begin to glow with minimum help of makeup. Enjoy!
Smog Еye Shadow and Eyebrow Pencil

via bloglovin.com
Doesn't it look so natural? And yet, for this look you will be needing:
light foundation (you can use bb or cc cream)
eyebrow pencil, just to enhance your natural eyebrow shape
one nude colored eye shadow (one or two colors darker than your skin color) that you can barely
see but brings a dimension to your eyelids,

apply it to the upper and lower eye lid and blend well

one coat of mascara and a little blush for finish
Just a Little Mascara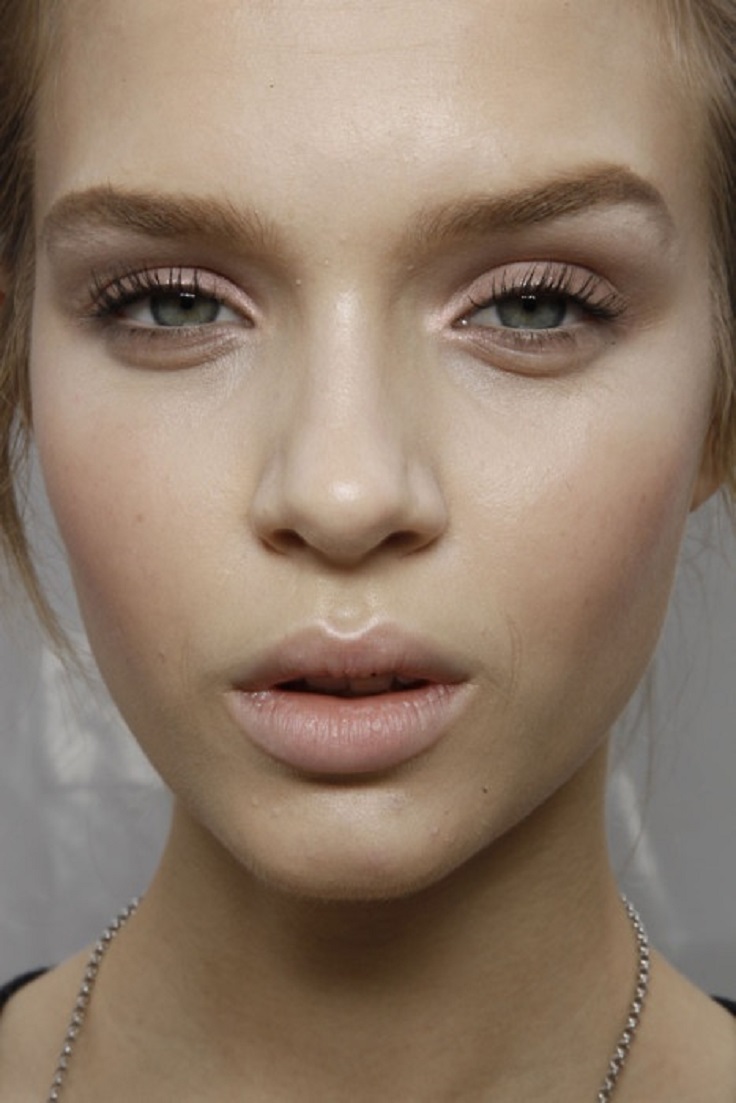 This is a one-minute look that is truly effortless. You need to:
moisturizer instead of foundation ( or if you need coverage, use concealer)
brush and minimally draw your eyebrows
curl the lashes if needed and apply mascara only to the upper lashes for more natural look
Touch of White Eye Shadow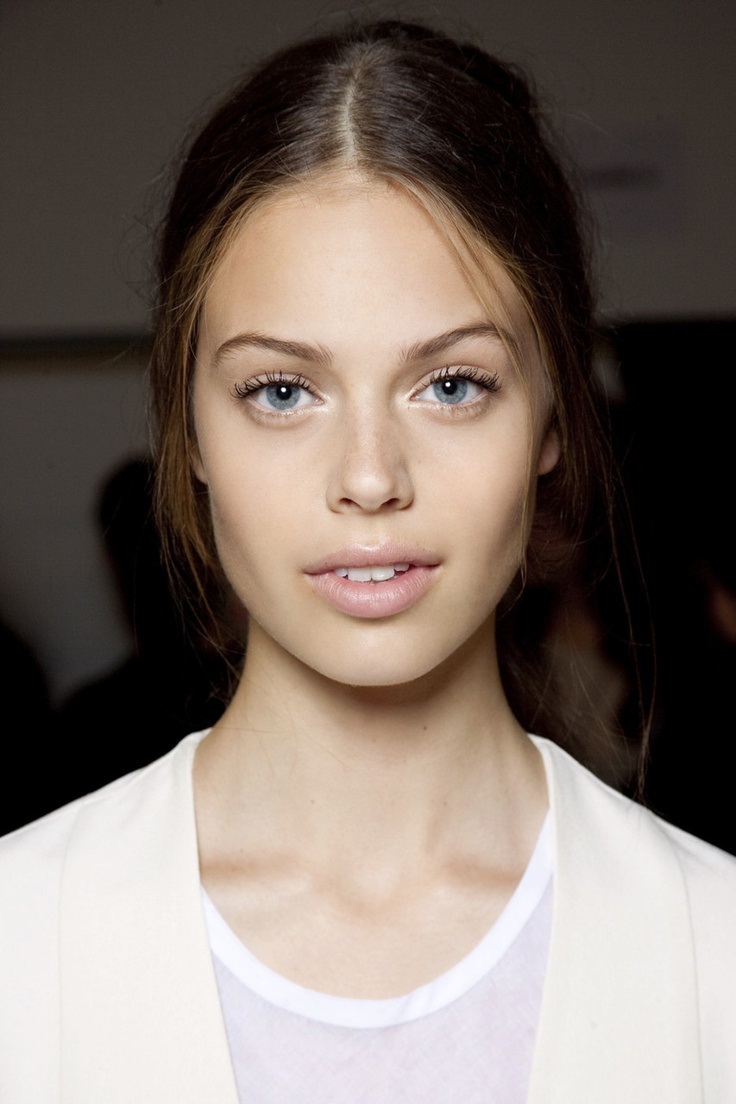 via the-irresistible.tumblr.com
For this look the steps are very easy:
moisture and conceal the face
take bright pearly-white eye shadow and apply just a little bit on your inner corner
then apply mascara to your upper lashes
Bronze the Face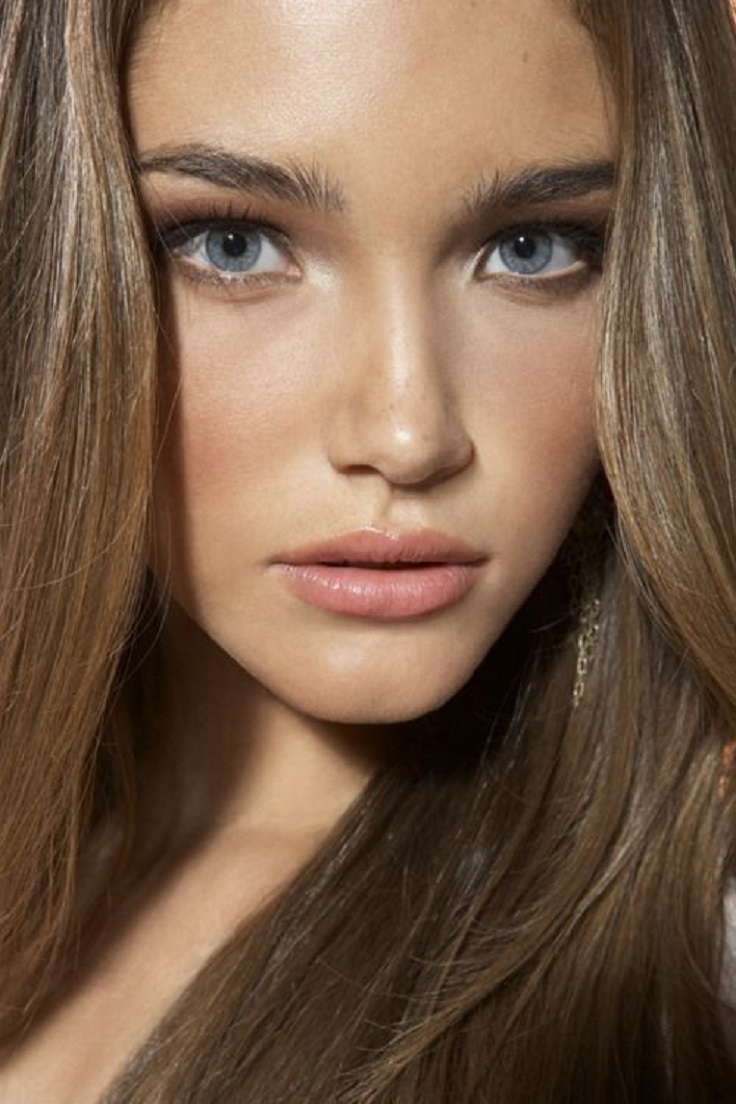 via cosmeticschannel320.blogspot.com
The bronzer gives a healthy sun-kissed glow on the skin, and gives you dimension. The other great thing about bronzer is that it looks totally natural if you do not over-use it. To re-create this look you need:
Moisturizer, foundation and concealer (check out IT cosmetics)

Take a bronzer and put it on the areas that are most affected from the sun (forehead, cheeks, chin, and the sides of the nose)

Thin line with black eyeliner, a little touch of white eyeshadow on the inner eye corner and finishing mascara layer
Pink Blush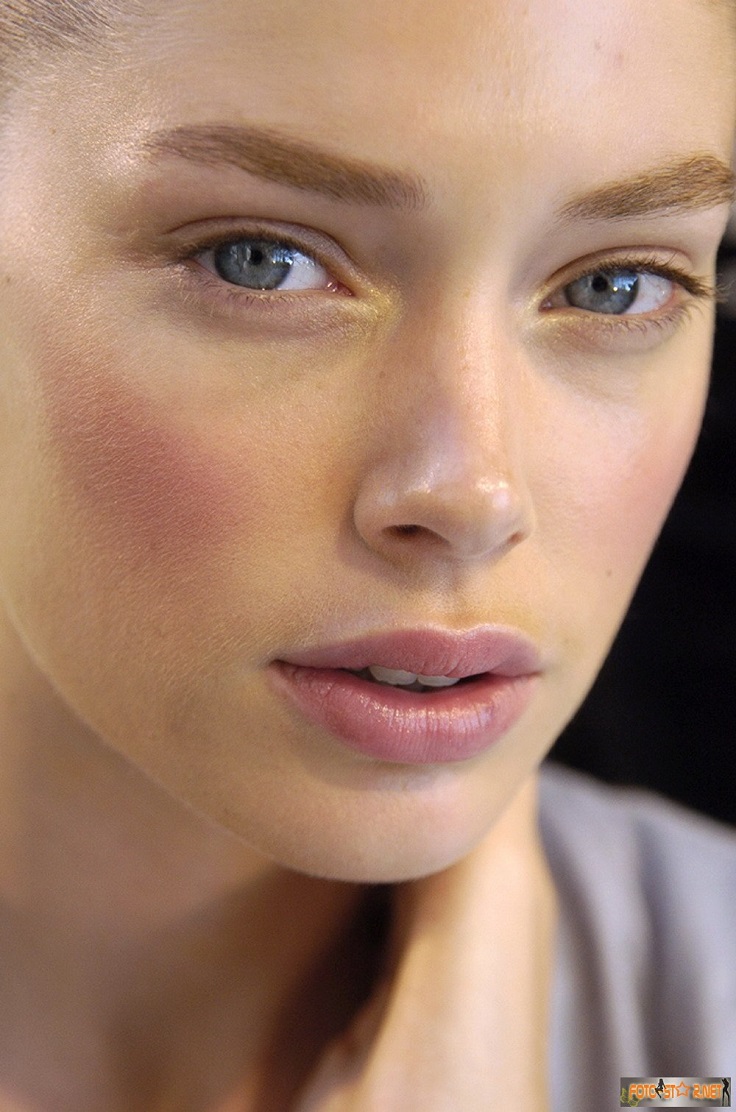 via foto-star.net
For this look you will be needing only two things: thin layer of foundation and a blush. The blush gives an illusion of healthy glowing skin and gives you that beautiful pink color on the cheeks that is so hard to resist.
Nude Lipstick
via vogue.co.uk
Moisturized and concealed face
A little smudged grey eyeshadow on the outer corner of the eye, touch of white eyeshadow on the inner corner and mascara
On the lips you can use your favorite color of nude lipstick
Less is More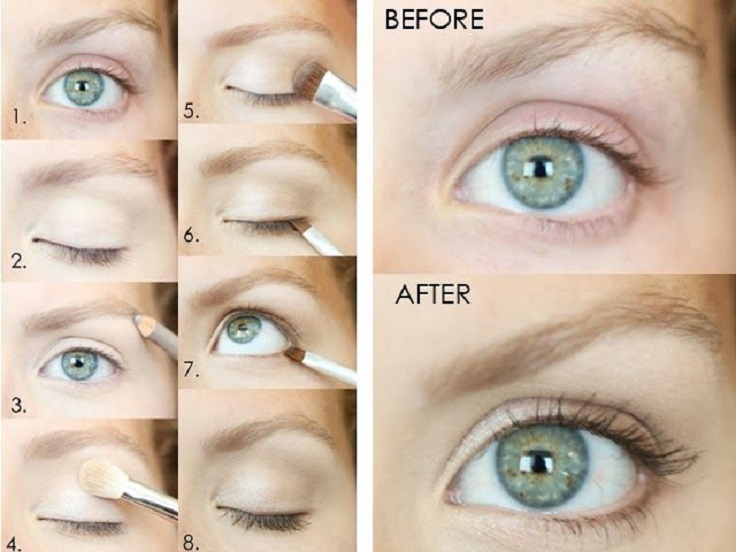 via alexcrabtreehairandmakeup.blogspot.com
The key for this look is a little bit of everything:
Prime the lids
If you need, use brow pencil one shade lighter from your eyebrow color to shape them
Use white shadow all over the lid
Then apply just a little bit of coffee brown shadow on the lower lid and the outer corner- finish with mascara
Highlight
via coollife.me
You can achieve this beautiful look with this steps:
Moisturize the skin and leave it as natural as possible- on the eye lids use white (on the inner corner) and well-blended pearly brown (on the outer corner and the crease)
Finish the eyes with mascara on the upper and the lower lashes
Contour the cheeks with a peachy blush, and the most important: highlight the brightest parts of your face (the nose, the center of the forehead and the cupid's bow)
Use a light pink lipstick
Little Contour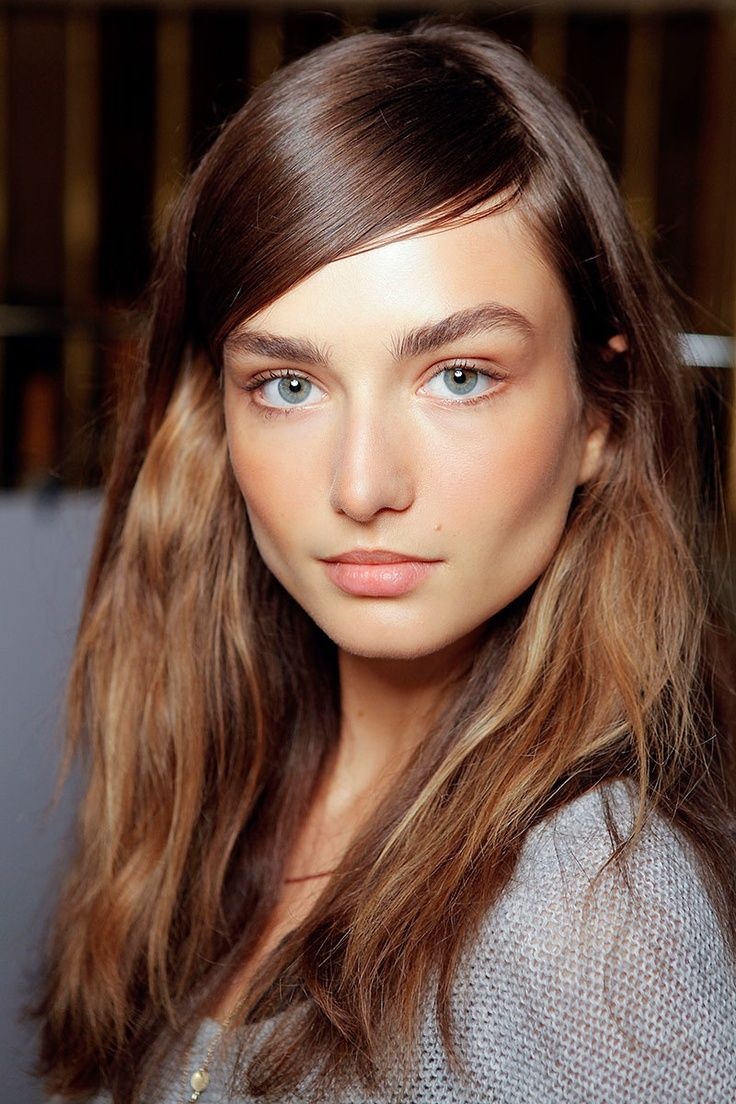 via szutyoblog.hu
This look is all about contour:
Not necessary to use foundation, only moisture
Get the brush and contour, contour, contour! (the cheeks, the forehead, the eye crease, the nose, and every spot on your face that you think that needs more shadow and dimension)
Dark Brown Shadow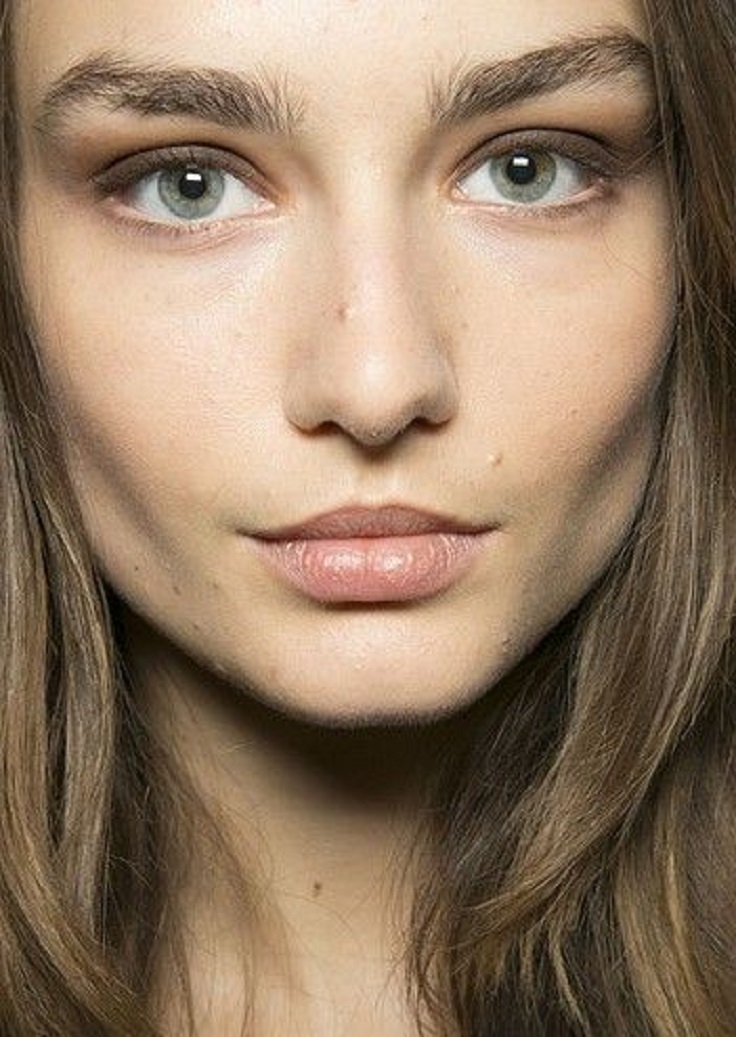 via beautyhigh.com
For this amazing natural look you will need only one thing: black eyeshadow, that goes all the way on the upper lid and  then blend towards the crease. That's it, you look is completed, you get visually bigger eyes, and yet nobody will notice that you used a little help to achieve the look.