As one of the major film awards events progressed, Hollywood's cream stroke down the red carpet presenting their best looks. And never mind the diamonds on their fingers, it was the stars head-turning gowns that glowed at this year's Screen Actors Guild Awards.
From ruby red to glittering gold and emerald green, with shades of amethyst and a splash of diamond white thrown in, it was the night the jewel colors ruled the red carpet. Jennifer Aniston rocked that low-cut golden gown, Kaley Cuoco delighted us with a vibrant red dress and Julianne Moore chose sparkly green. And, here are some of our favorite looks on the red carpet of this years SAG Awards.
1. Viola Davis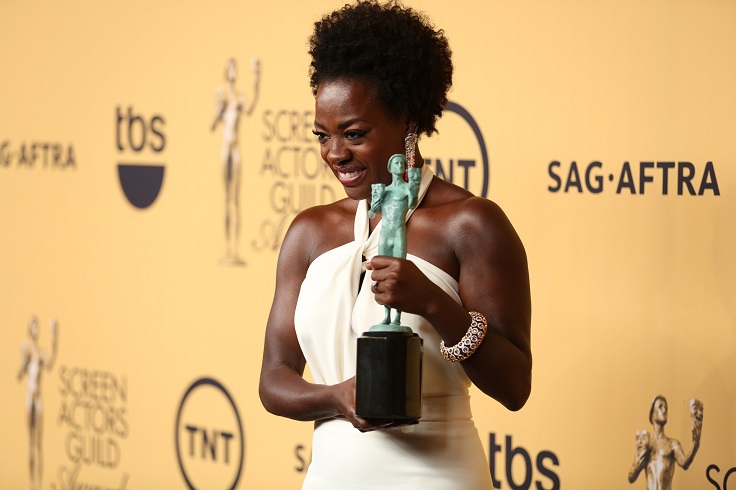 via trbimg.com
"How to Get Away With Murder" star Viola Davis made quite an impression at SAG Awards in a startling white dress and well-chosen jewelry. The styling choice resembled one of the most talked-about scenes from HTGAWM, in which her character, Annalise Keating, — who wears wigs in her public life — removes all her makeup and takes off her wig at the end of the day. Even more, the winner of Outstanding Performance by a Female Actor in a Drama Series Award, amazed us with a humorous and touching speech. Davis went on to thank the people "from the top up" for putting her in the story: "for thinking that a sexualized, messy, mysterious woman could be a 49-year-old, dark-skinned African-American woman who looks like me."
2. Jennifer Aniston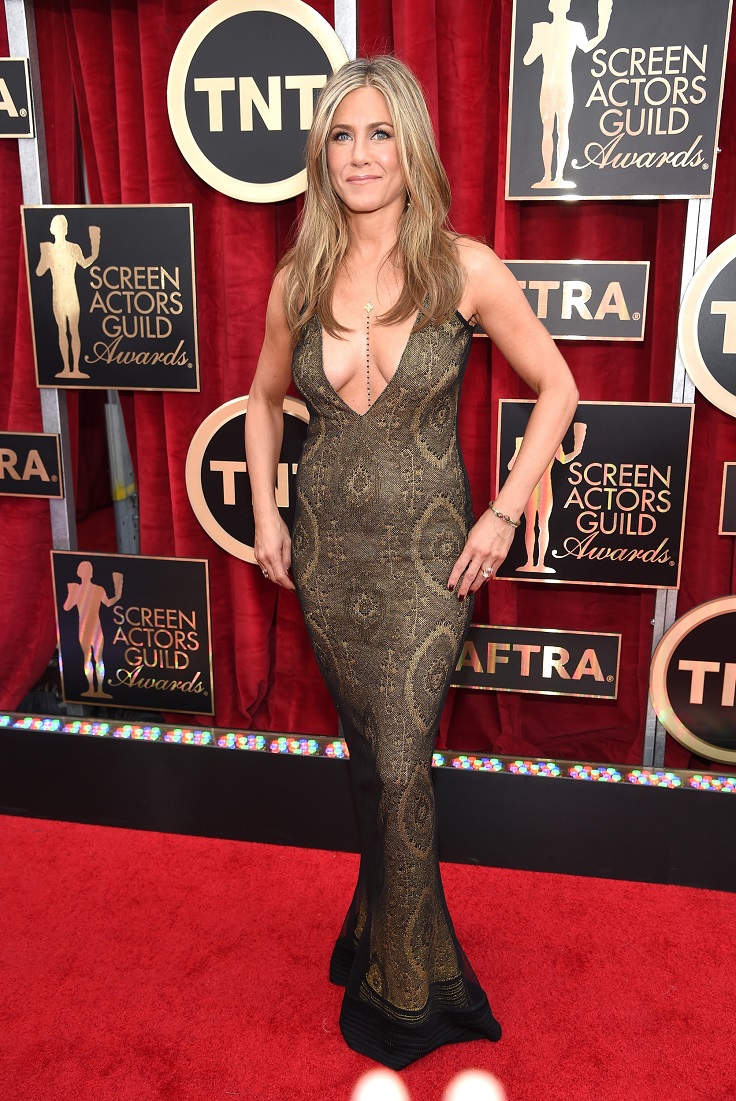 via blogcdn.com
SAG Awards nominee Jennifer Aniston, decided to remind us of her wild days. The 45-year old actress turned heads in a golden deep v John Galliano gown, showing off her bombshell figure!
3. Emma Stone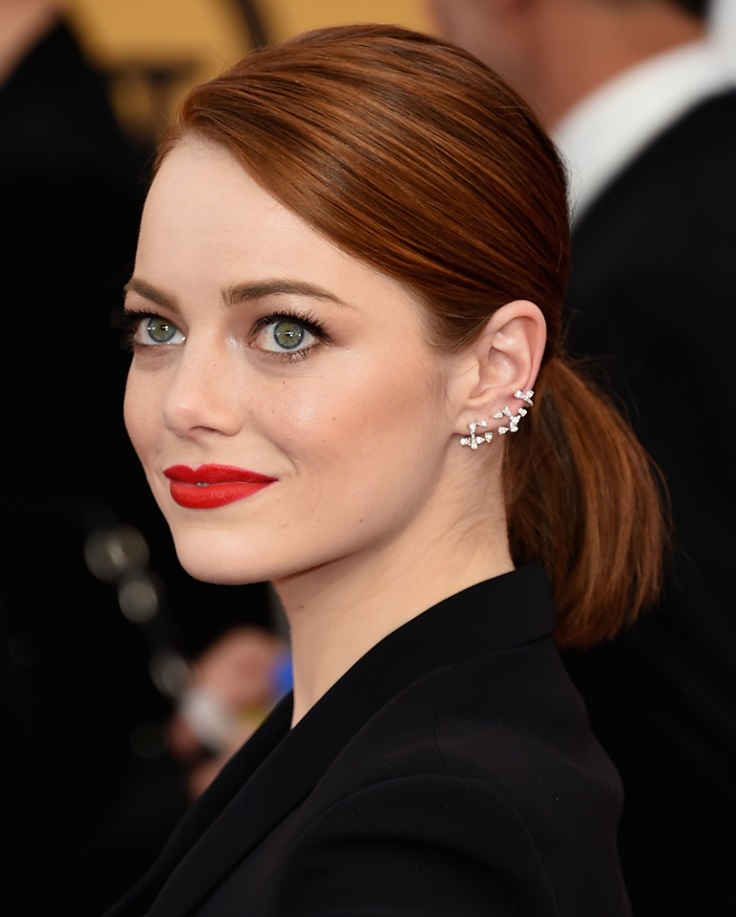 via peoplegreece.com
The 26-year-old looked absolutely striking as she hit the red carpet in a striking an elegant ensemble with a long dramatic sheer train, which she realized during the show had one little flaw. As the Birdman cast accepted their award for Best Ensemble in a Motion Picture, Stone's co-star Naomi Watts stepped up to say her part and tripped on Stone's train. Luckily, she didn't fall on the ground, but the reactions of everyone on stage, especially Stone, were pretty priceless.
4. Julia Roberts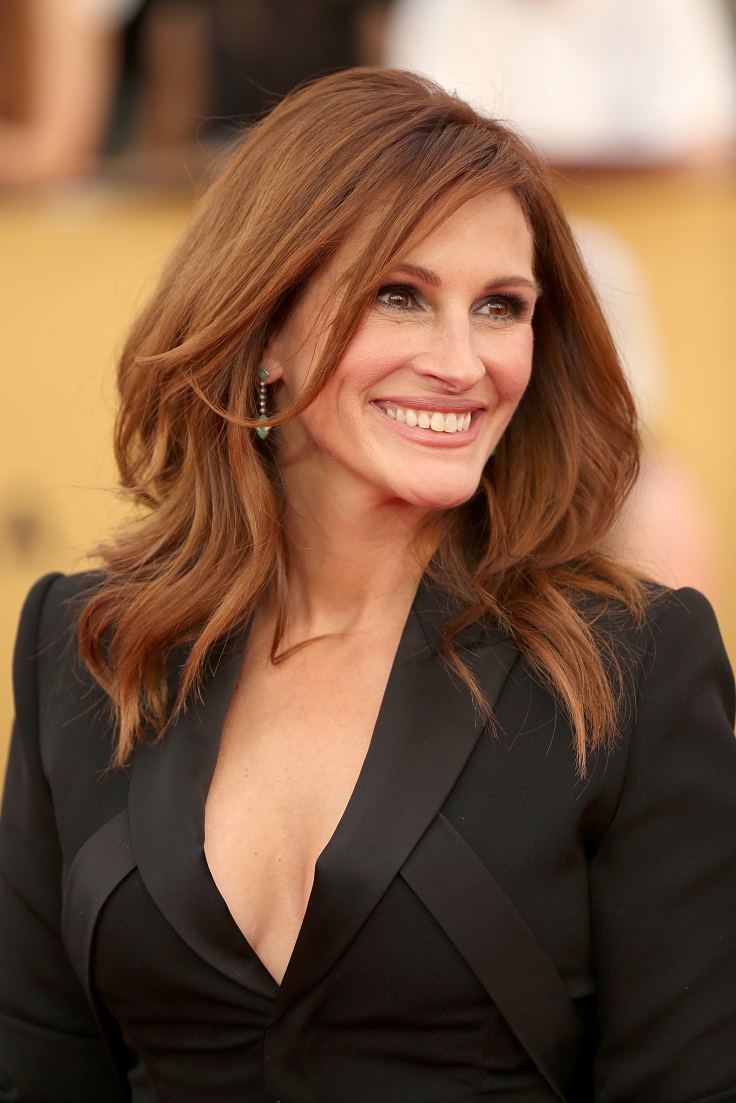 via vogue.com
The sparkly eyes and the laugh we all love, combined with minimal makeup and a hot frizz are just enough for the 47-year old Julia Roberts to impress us on the 21-st Annual Screen Actors Guild Awards.
5. Kaley Cuoco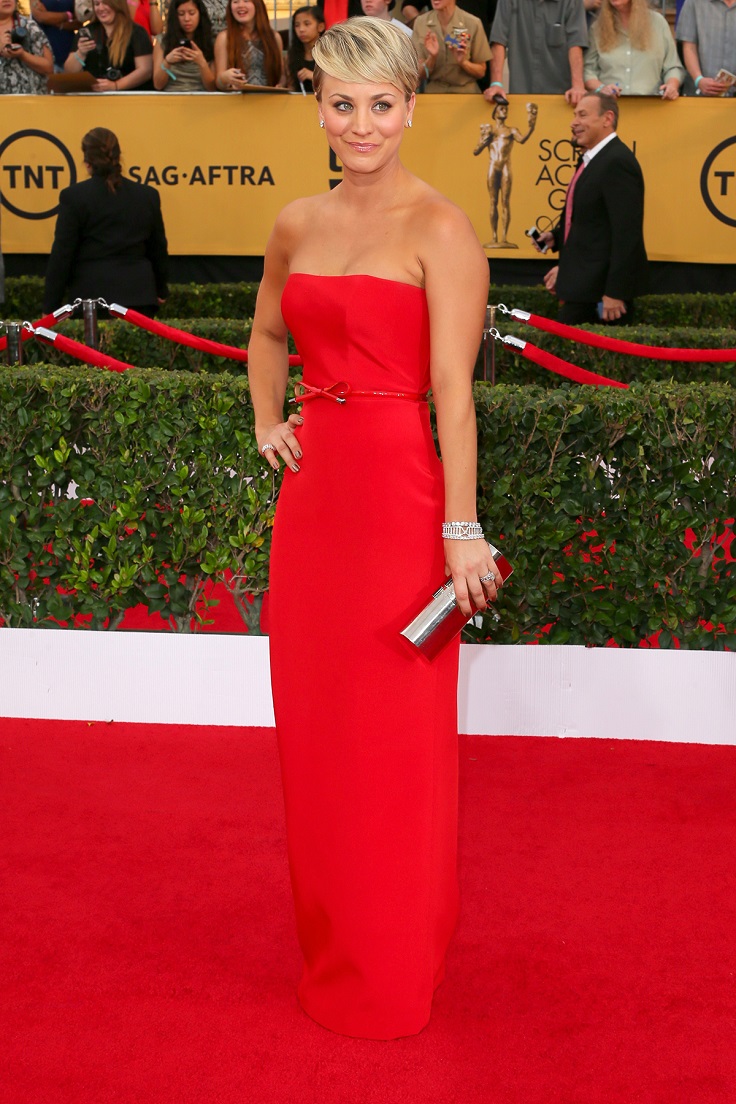 via mtv.co.uk
Kaley Cuoco rocked the red carpet in a slinky red dress combined with diamond bracelet and earrings the actress seemed delighted to wear. She even instagrammed an image of her bedazzled hand and wrist saying:"Diamonds are a girls best friend".
6. Lupita Nyong'o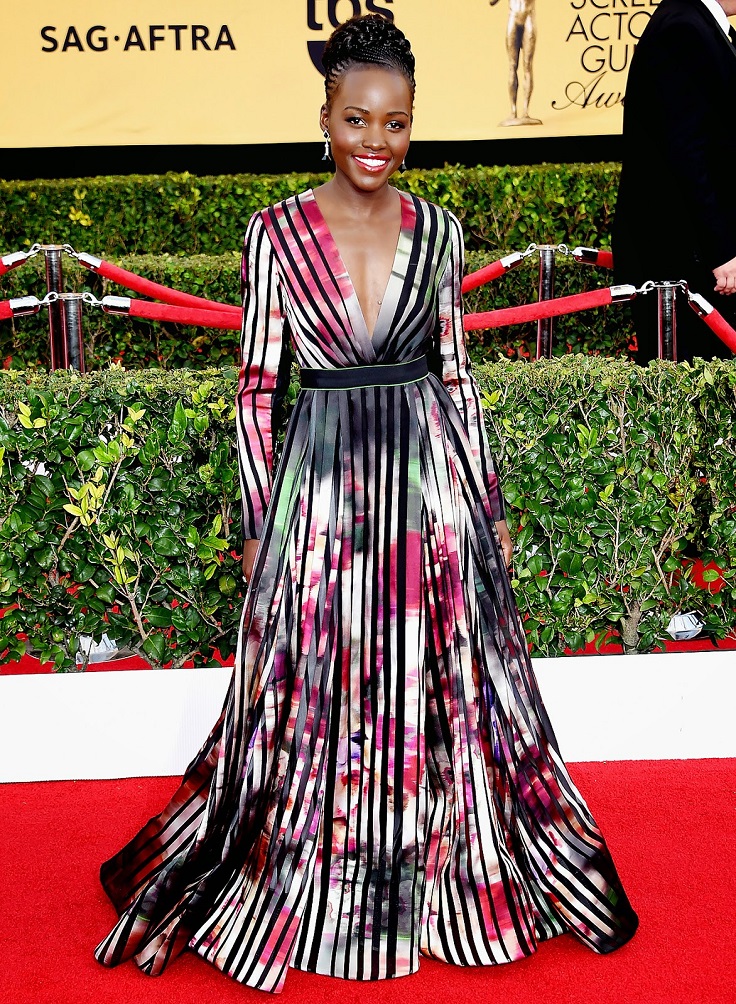 The 12-Years-a-Slave star Lupita Nyong'o started off the night at the SAG Awards. She started off the night at the Screen Actors Guild Awards in a dramatic, statement-making Elie Saab red carpet gown, which she swapped for a shorter version for the after-party.
7. Claire Danes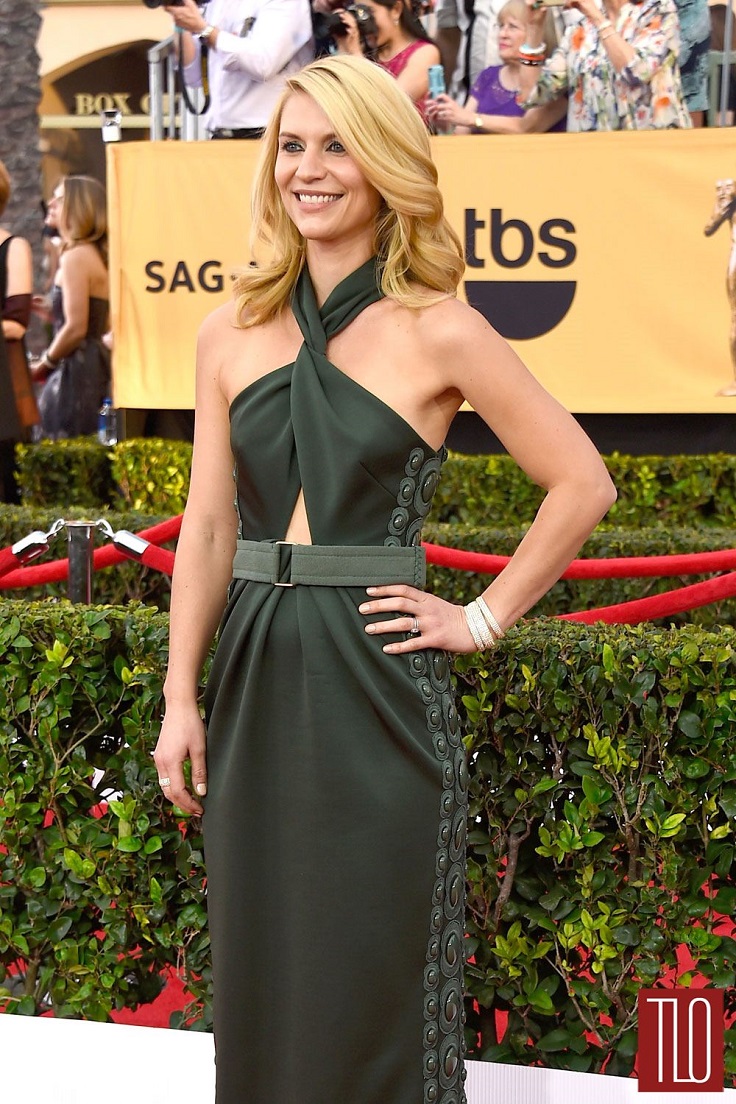 The 35-year-old actress, nominated for Outstanding Performance by a Female Actor in a Drama Series, nailed her olive-green dress at the SAG Awards. Claire's minimal make-up and flirty hairstyle contributed to her amazing look.
8. Reese Witherspoon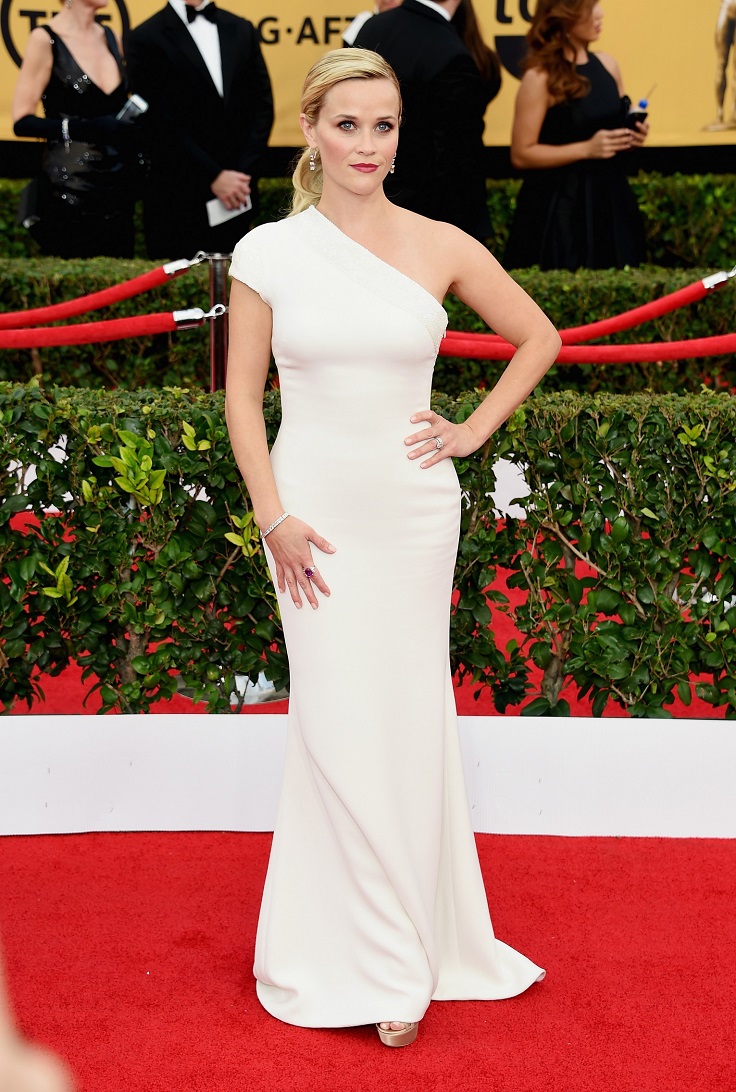 via keptarolo.hu
Reese Witherspoon played it safe in a tight white one-shoulder Armani gown, but yet did not fail to wow us. She looked divine as she walked the red carpet at the Awards.
9. Sofia Vergara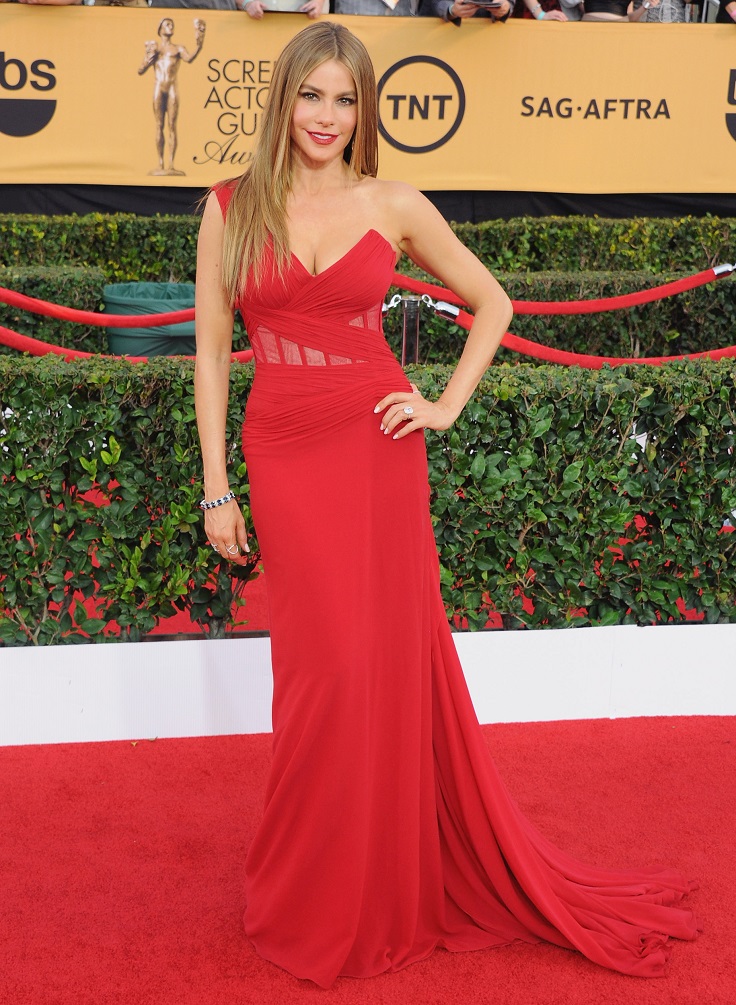 Sofia Vergara wowed in a vibrant red dress showing off her perfect figure. She arrived in the arms of her fiancée Joe Manganiello, drawing attention with her new diamond engagement ring.
10. Julianne Moore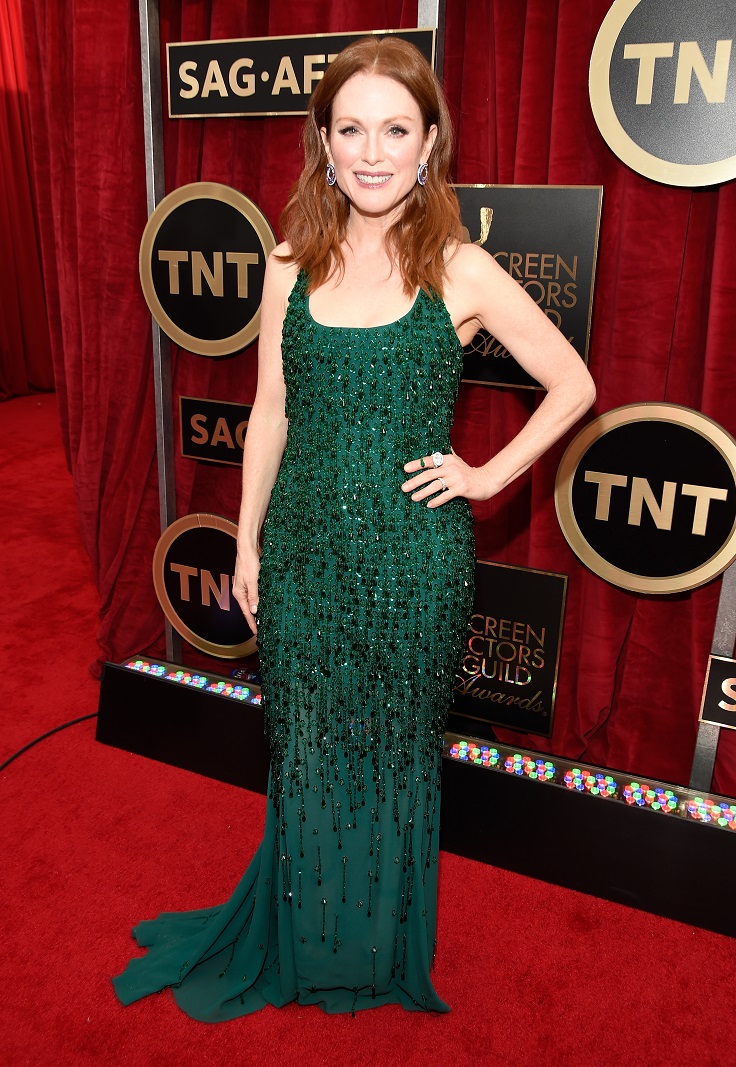 via nyppagesix.files.wordpress.com
The actress, who was named the Outstanding Performance by a Female Actor in a Leading Role for Still Alice amazed us with an eye-catching custom Givenchy green gown with jewels that really complimented her hair.