Every modern home has a laundry room. You probably spend way more time than you would like to admit in this room. Utilitarian space like this receives the attention that deserves, which is normal when you consider how often it is used.
This room has a lot of equipment and for sure needs perfect organization. Your laundry doesn't have to be a chore and must be designed to fit large-capacity appliances! We have collected the top 10 ways which will make your laundry efficient and time-saving space, upgraded with smart amenities.
Start working and make the most of your multipurpose space!
Folding Station Above Washer & Dryer

Tutorial via blog.jennasuedesign.com
Sometimes, a three to four-meter square room environment can really be enough to simplify life and make it so, so much better. See, it isn't always about size unless you are rather fortunate in the size department. If limited, you might wish to consider having a station above your washer, to increase every little available wall area into practical units to work for you and not the other way around. By adding a small table on top, and a shove unit will save you from so much stress or were to fold, apart from your bed, therefore without bending down and slowly damaging your back in the process.
Ironing Station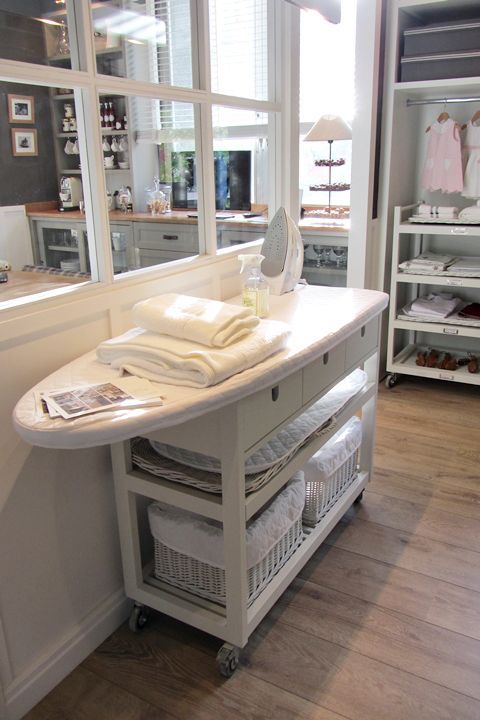 Tutorial via quiltingdigest.com
Have you filled your ironing board in pretty much every possible, free space of your home? Under the bed, in every corner of the room… This method is so simple and can be done by most people with a little know-how. A brilliant idea to organize everything next to one another from the washing machine to the clothes drop station to the clothes hanging dryer to the iron board. Everything to reach without jeopardizing space in the process.
DIY: Laundry Room Drying Rack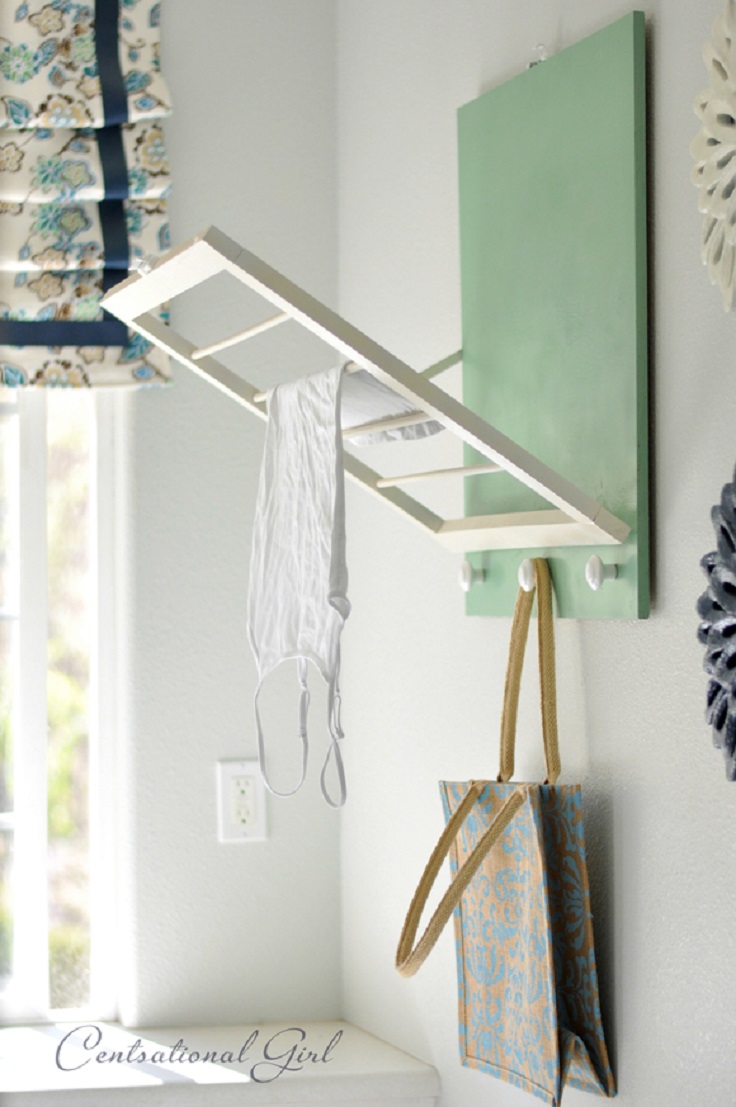 Tutorial via centsationalgirl.com
If you live in an apartment or within a beautiful yet small home, then you might not have the luxury of having an entire room dedicated to laundry. It's an expense. Again, this is such a small yet great idea to make your home less cluttered and without having your washing as part of the furniture for everyone to see. And at all times. This can support a small washing or even the bed linen which most of the time we do not know where to put them. It fits on most walls and also looks pretty good when not in use.
Cute Idea for Lost Socks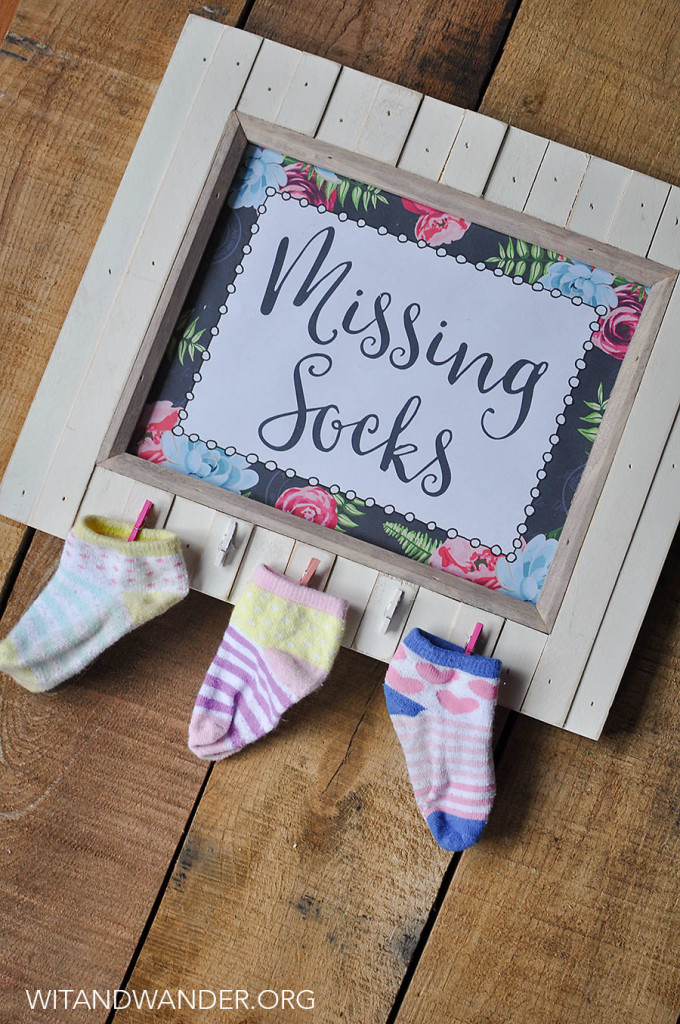 Tutorial via ourhandcraftedlife.com
We know. How does this happen? Yet, it always seems to happen; we always lose socks. Where do they go? Is there like sock heaven where one of the pair goes to the other, hey lefty, I'm off I'm tired and off to find a new foot. We mean, seriously? Where do they go! This could be fun for the kids too. Actually, we were all in a situation when we missed out on the other pair, well until then clip it on the wall and guarantee you won't miss it, but match them finally.
Ultra Functional Hamper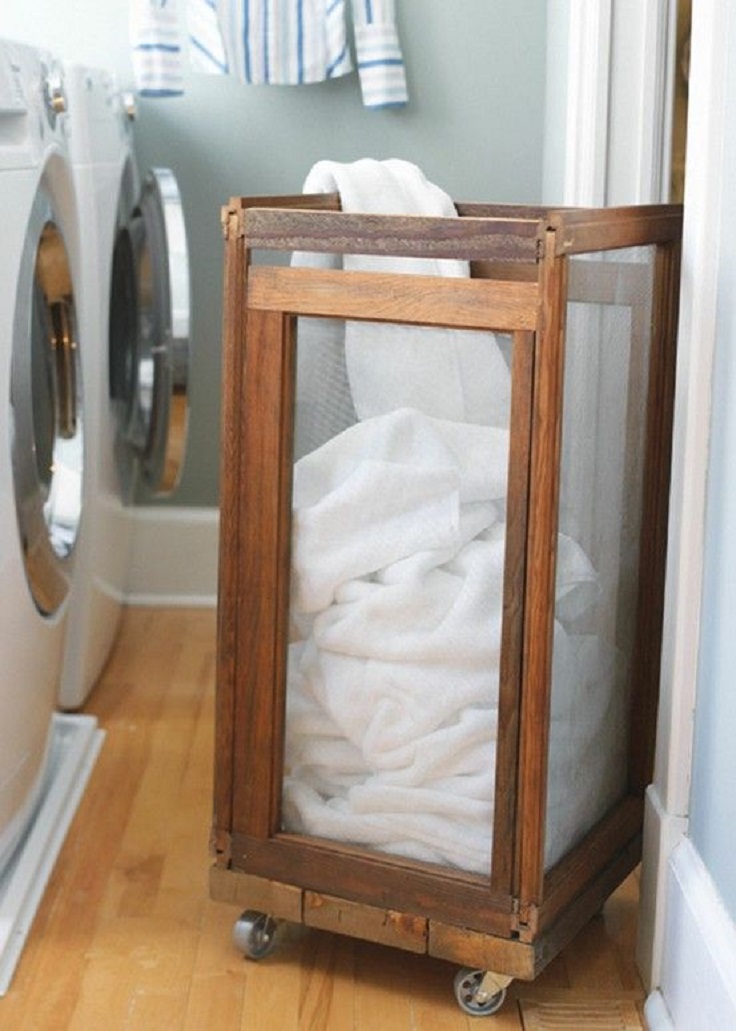 Tutorial via rustic-crafts.com
This will not exactly enhance the fun element of a room but certainly will make it a lot homelier and a lot more inviting. It may even make you want to do the laundry shores in the first palace! Or at least more pleasant! This is a great DIY if you come across a rather basic rectangular-shaped linen basket or hamper that you can polish up, varnish, or paint anyways to fit within your area. It will definitely put practicality in front.
Laundry Room Sorting Station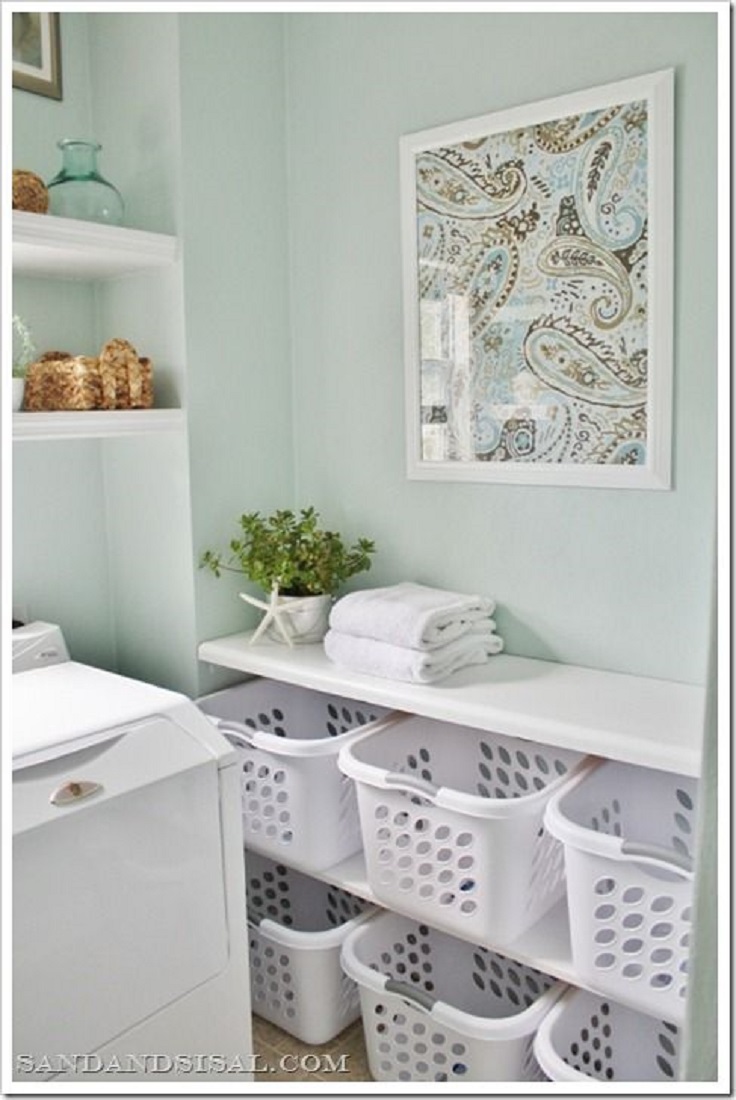 Tutorial via sandandsisal.com
If you have a spare room and might not know what to do with it because it is far too small as a guest room, and perhaps the kids are no longer living at home, then you might wish to consider making one of the smaller bedrooms into a laundry room to finally have some peace and quiet. It will literally make laundry fun. It will get everything sorted out in no time, in a really lovely space for your whites, blacks, colored, and cotton.
Curtains for the Washing Machine and Dryer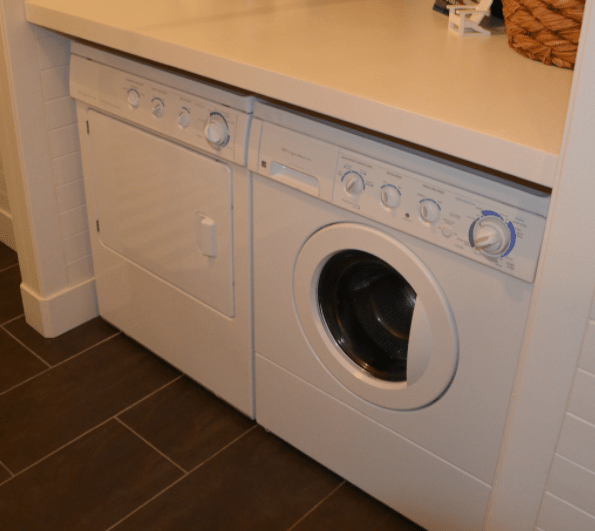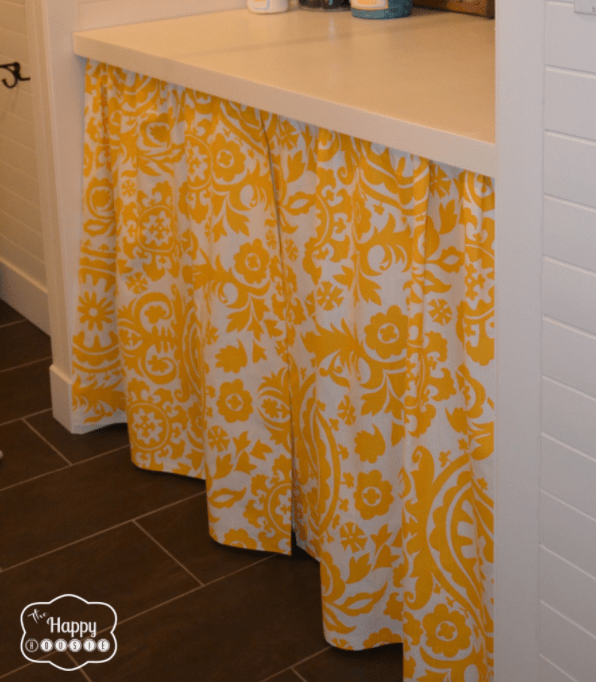 Tutorial via thehappyhousie.porch.com
Something that seems rather extravagant but we do not always wish to have our home appliances all on a show for you and others to feast their eyes on. We might not have the time nor the ambition in creating a wooden unit for it and therefore, a simple curtain really does the trick. It keeps your washing machine and dryer away from sight at all times. It will also add more harmony within a room without the brass look of plastic and the latest technology. Include a working shelve top to maximize the space and also the look of the finished article making it a lot more pleasant to look at.
Practical Laundry Storage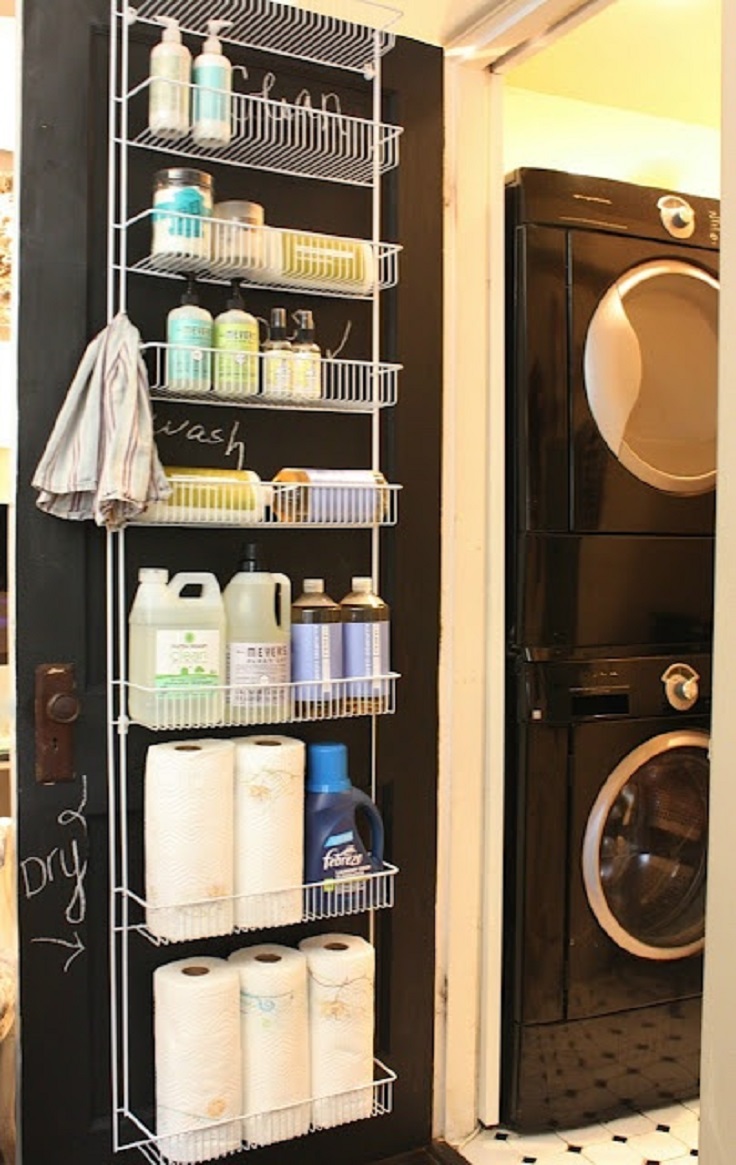 Tutorial via bobvila.com
We forget that genius is only around the corner, and we totally miss what is in front of our eyes at every given second. Instead of recreating the world, sometimes all you need is a 5-minute break and to really think about using what you have without spending too much money and downsizing your home due to storage units. Think of your laundry room door as the ultimate space savior laundry storage. These storages are already made and chances are will not cost much cash but save you space and tranquility.
Small Laundry Organization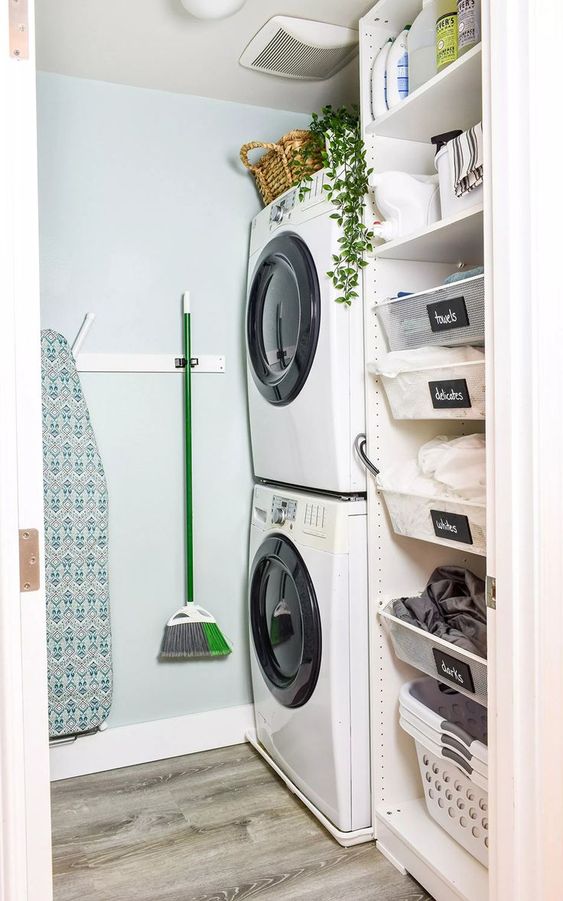 Tutorial via tagandtibby.com
Some of us might have had at one point in our lives wall closets taking the best part of an entire wall, but that isn't noticeable staying rather elegant hiding your personal things away. Well, laundry isn't what you would put on the mantelpiece either and therefore could sacrifice a 3-meter wall creating a unique laundry organizing station. Have your bedding sheets in there, kitchen towels, bathroom towels….anything that seems to get in the way of your every day to day cloth. It is a bit of work, but if you have that one wall that isn't doing much and appear to have your washer and dryer there too, think of increasing the space and hide it away from the eyes of your guests and also yours for a more harmonious space.
DIY Pretty Utility Cabinet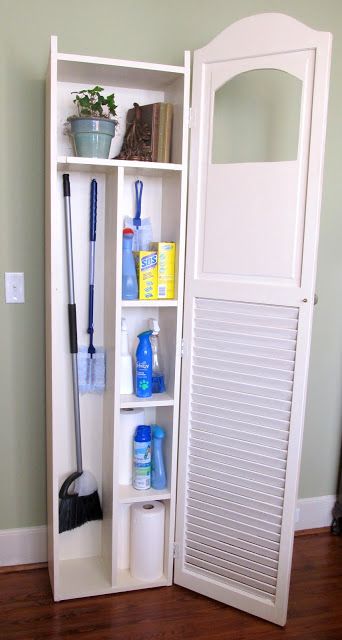 Tutorial via lindycottagehill.blogspot.com
Chances are the utility accessories to clean your house with, are all underneath a sink, then perhaps in the other room, and the rest of the cleaning apparatus could be hidden somewhere else. Think of the utility room as an all-in-one cabinet. Especially for the larger things like the bathroom for instance. Sacrifice a lovely cabinet and turn it into a piece of art where all your everyday cleaning needs are hidden away, nicely, making cleaning slightly more tolerable.