Do you plan on redecorating your home or simply adding some new features? You can make your home fresher and renewed by simply adding or removing some items, for example: changing the ornaments, removing the carpet during the hot summer days, adding fresh plants, etc.
The professional designers say, " The devil is in the details," so you should focus on changing little things in your home, like incorporating your old rustic ladder. The rustic ladder can be used in so many different ways.
You can store items such as towels, books, and clothes; you can display your favorite ornament collection and scroll down for more ideas on using your old rustic ladder.
1. Rustic Ladder Lighting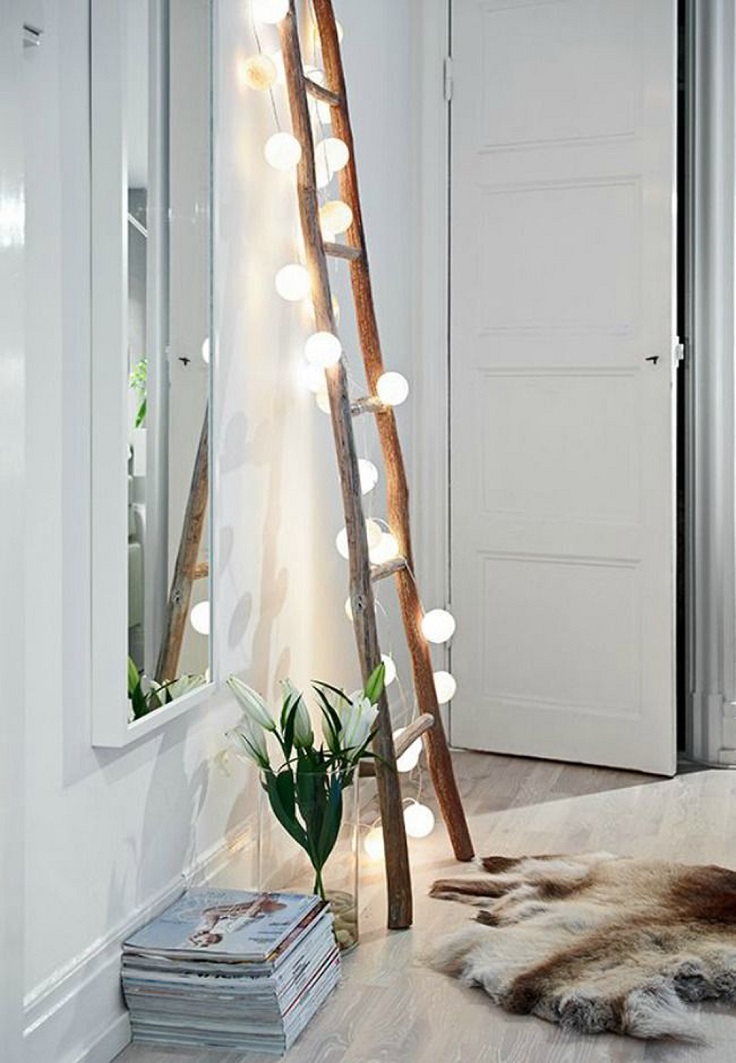 via anamiblog.com
This is an original and minimalist way to use your ladder to lighten your room. It is very simple to make, just find your rustic ladder and get some lights (you can use your Christmas lights). Wrap the lights around the ladder and lean the ladder on the wall. Plugin the lights and enjoy the new room atmosphere you created.
2. Functional Stowaway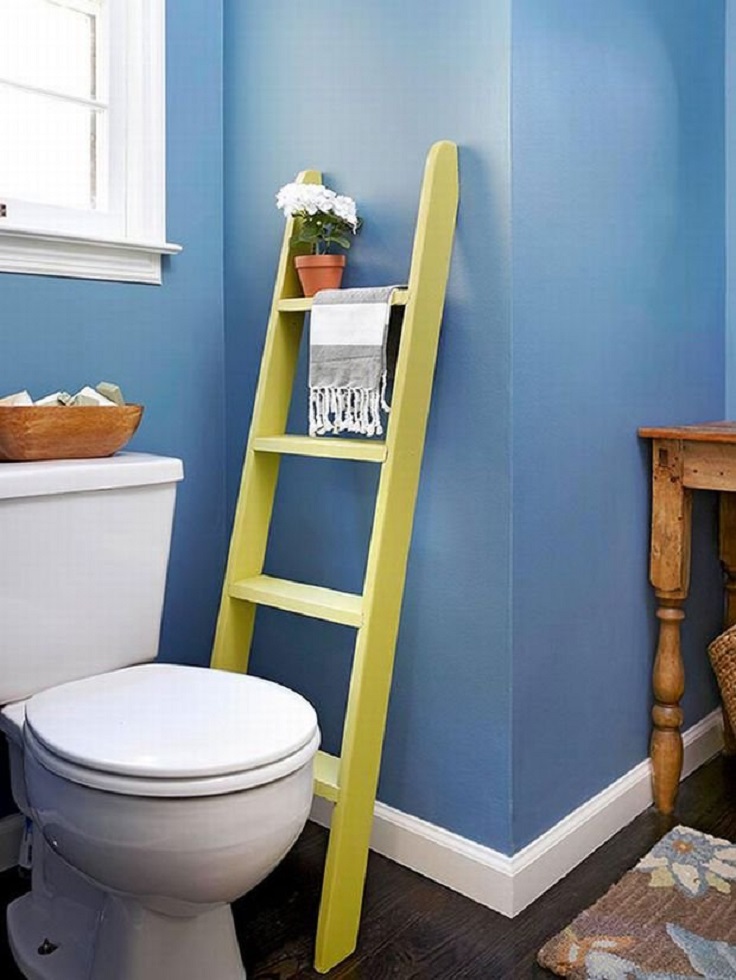 via czterykaty.pl
Decorate small vertical walls with your rustic ladder. Pick a color of your choice, paint the ladder (optional), lean the ladder on a wall in your toilet near the toilet seat, and use it to place newspapers, toilet paper, towels, and even small potted flowers.
3. Display Your Favorite High Heels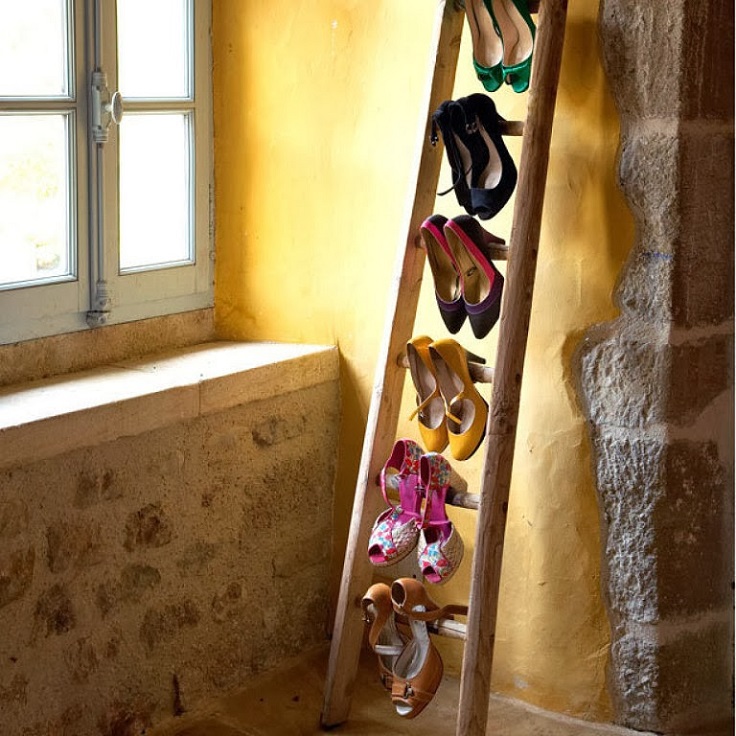 via blog.reformaslaosa.es
Women love having their favorite shoes near them. High heels aren't made to be stored in the closet; they are worth displaying. Your rustic ladder can help you to do that! Lean the ladder on a wall and hang your heels on the rung of the ladder. This will give your bedroom a more feminine feeling.
4. Ladder Book Shelf
If you own this type of two-sided wooden ladder, then you have the perfect shelf-material! Wide-open the ladder and insert platforms (wooden, glass, etc.) on three levels or more. Careful when placing ornaments and books; make sure both sides are balanced.
5. Kitchen Pot Rack
via diynetwork.com
Do you own lots of kitchen pots but don't have a place to store them? Is your kitchen too crowded with dishes that you feel you are suffocating? Don't worry; a hanging rack will do the trick. Hang your ladder on the kitchen ceiling and, using hooks, organize all your kitchen pots, it looks vintage, and it is useful, as it will free you lots of space.
6. "Blooming Ladder" In The Dining Room
This is the perfect way to bring spring to your home. A "blooming look" is just what you need to freshen your dining room. Dining rooms often can be the most boring rooms in the house to decorate, but we guarantee everyone, including you, will be impressed with this ladder project. Paint your wooden ladder (optional) and hang it on the dining room ceiling. As the seasons change, decorate it with specific flower arrangements.
7. Balcony Flower Stand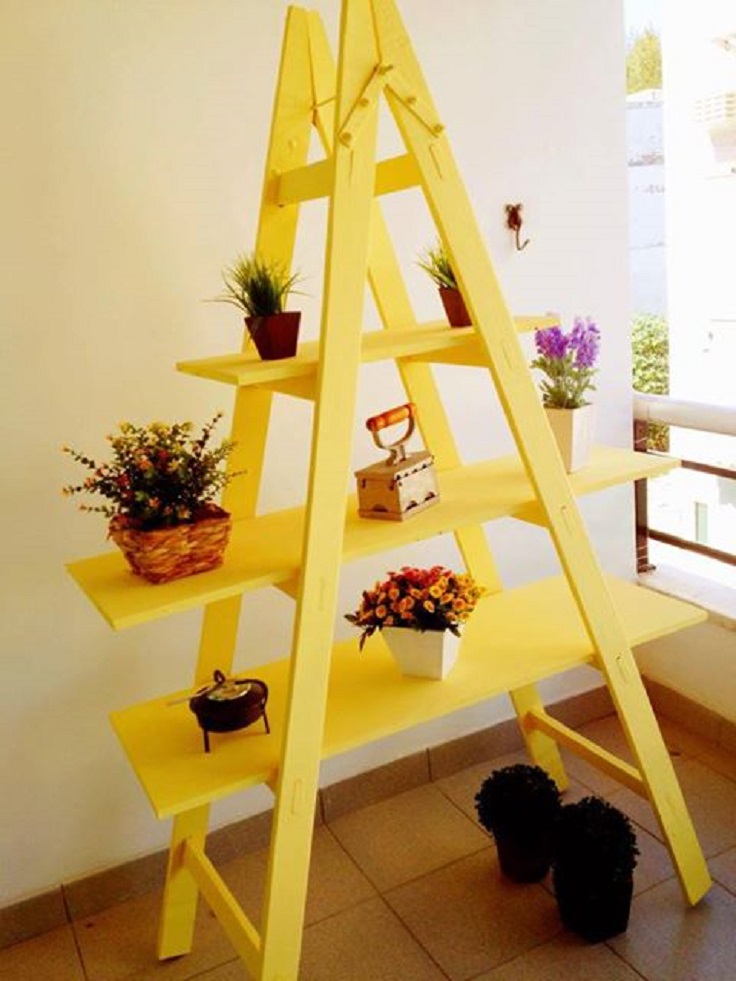 A fun way to organize your flowers and plants on your balcony or in your yard is with this wooden ladder flower stand. Paint your ladder in fun and eye-catchy colors such as bright yellow, hot pink, or green. Paint the platforms that you will be used to place the flower pots.
8. Horizontal Shelf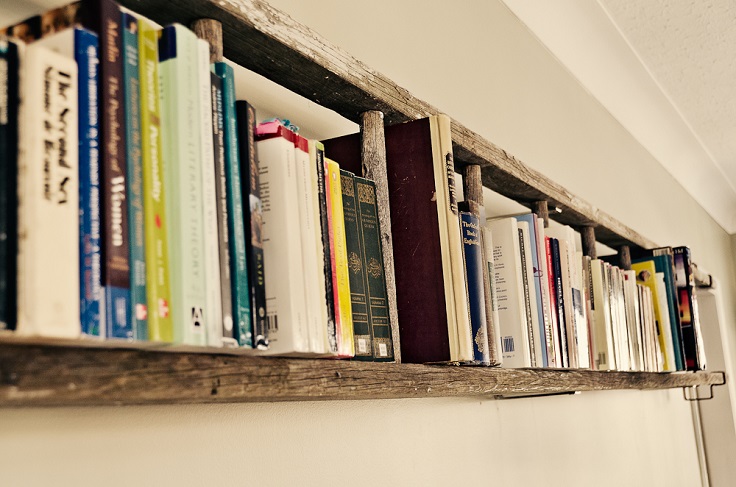 via dandelionexpress.wordpress.com
Another way to convert your old ladder into a shelf is to place it horizontally on your wall. This can be a little tricky than leaning the ladder on your wall, but it sure is original and exciting. This way, the ladder rungs will keep the books safe from falling.
9. Ladder Frame Holder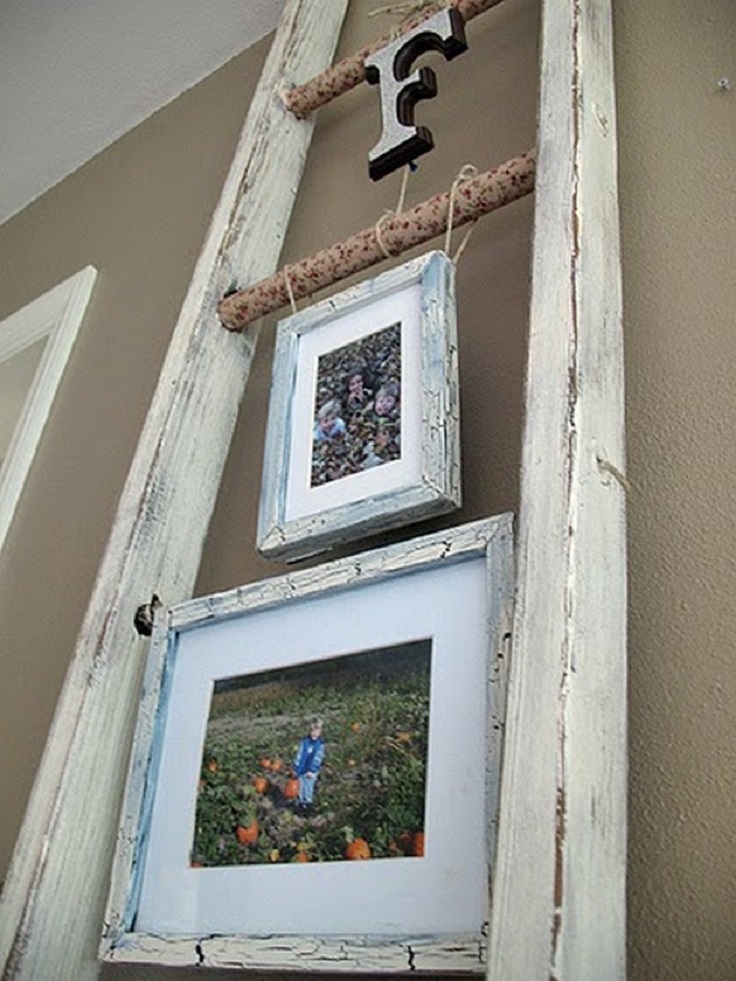 via vitamin-ha.com
It is not common to see this kind of frame holder; it will give your room a vintage look. Place the ladder vertically on your wall. Get some old picture frames made out of wood and hang them using twine on the ladder rungs. You can even make a family tree by placing family group pictures on each ladder.
10. Ladder Bedside Table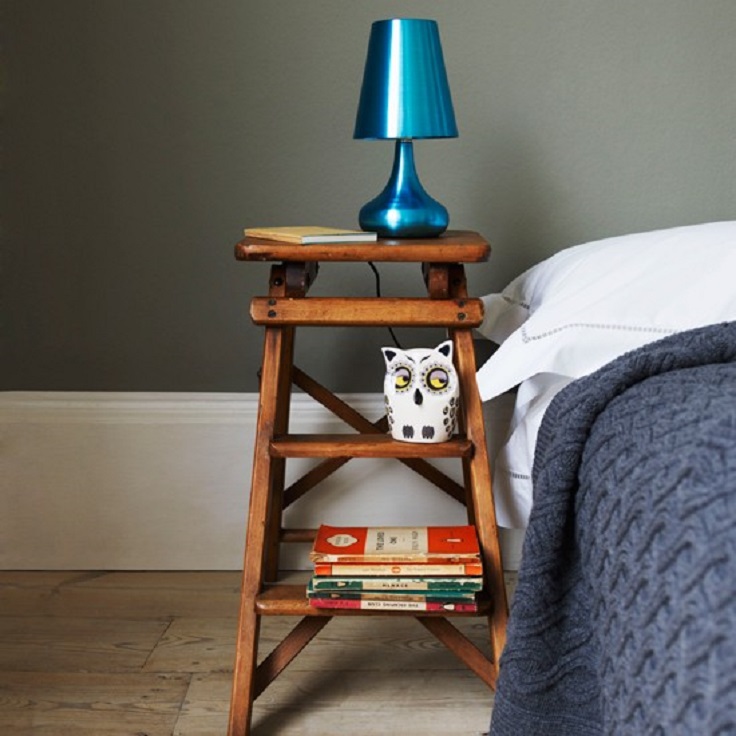 If you have one of these small wooden ladders, then turn them into a bedside table. Place the ladder beside your bed, add a lamp, your favorite books, small ornaments that can stand on the ladder rungs, and you have your own rustic bedside table.