Top 5 Swimming Pool Skimmer On The Market Today
Most pool owners will tell you that keeping the pool clean is quite daunting. It involves various tasks such as vacuuming, cleaning its accessories, and balancing the pool water, to name a few.
One of the most vital parts in the setup of your pool is a surface skimmer. Equipping your pool with the best pool skimmer is a good investment on your part since it can help prolong its lifespan. It serves as the first line of defense of your pool as its main purpose is to eliminate debris from pool water to keep it clean and healthy for everyone. Moreover, it prevents larger pieces of dirt and debris from entering the filtration system.
A pool skimmer works similarly to a drain. It also has a secure basket where debris is collected, and you can empty this out when necessary. However, it has a powerful suction, which is subtle enough that swimmers will not even notice that you have one installed in your pool.
In this article, we've listed down 5 of the best pool skimmers on the market today. Along with that, we'll provide you with essential information about the pool component, including how it works and what it can do.
How Does A Pool Skimmer Work?
The way a swimming pool skimmer works is rather straightforward. It pulls the pool water into the skimmer itself while removing debris at the same time. As mentioned, all the floating debris sucked up is gathered into the pool skimmer basket. Afterward, you have to empty the basket so that the trash will not block water from flowing into the skimmer.
Above-Ground Pool Skimmer
Above-ground pool skimmers are available in two flavors. The first one can be mounted on the side of your pool using a plastic arm. Another one, the floating models float around your pool while gathering debris randomly.
Built-in inground pool skimmers are typically rectangular in shape and made of white plastic. You place them throughout your swimming pool near the top of the walls. They are often covered about halfway by the water level. Some models have a weir or door at the front portion. This opens and closes according to the pool water movement and level. The weir will close once the pool pump is turned off, preventing any debris in the skimmer basket from floating back into your pool. There are also floating models which work independently from the pool filtration system and collect the debris while floating in the pool.
Although both the inground and above-ground pool skimmers function the same way, their installation is different. Since they are crucial at getting rid of debris and preserving water clarity, proper installation is extremely important.
Top 5 Pool Skimmers
Here's a list of the top pool skimmers available on the market today that can meet every pool cleaning need you have. You may also want to check out the best pool skimmer reviews at https://cleanup.expert/pool-skimmer/ to further help you out.
Solar Breeze NX2 Pool Skimmer
The Solar Breeze NX2 automatic pool skimmer offers the benefit of being entirely solar-powered. That means it does not need any charging of batteries to run. Also, the box comes with a chemical dispenser that can hold three-inch chlorine tabs, allowing you to skim your pool water while chlorinating it.
Another good thing about this device is that it is suitable for all pool types. You'll also love its big basket that will not clog. And since it has built-in batteries, you'll be able to run it at night time during summertime without interfering with the pool filtration system.
Pros:
Solar-powered
Works with any pool type
Large skimmer basket
It has a chemical dispenser
Cons:
It tends to get stuck, especially at night when its power runs low
Hayward Dyna Skim Above-Ground Pool Skimmer
The Hayward Dyna Skim makes skimming your above-ground pool very comfortable. You can purchase the pool skimmer as a kit. It comes with everything you need for installation, such as a skimmer basket, a gasket, faceplate, and screws.
What's more, its design allows for an easy installation in the pool wall. Once installed, you'll be able to clean your backyard pool in a matter of minutes. This pool skimmer works well at capturing large debris. It is made from heavy-duty, UV-resistant plastic material. On top of that, it's an invaluable skimmer for the upkeep of your inground pool.
Pros:
Ease of installation and maintenance
It can collect large debris
Compatible with some inground pools
Cons:
It is not compatible with every hose size
PoolSkim Pool Skimmer and Pool Cleaner
If you're on a budget, the PoolSkim pool skimmer and cleaner is a great option. The automatic skimmer connects to your pool's return jet, creating a whirlpool suction that can trap debris, including bugs and leaves. Since it functions with your return jet, you can expect less stress on the filtration system.
The design of this device is quite simple and will work with both in-ground and above-ground pools. Nevertheless, you may need additional adapters if you have a Coleman or Intex pool.
Pros:
Relieves filters system with a lot of strain
Simplistic design
Cons:
Some particles tend to pass through the net
You need additional parts for some pool types
SkimmerMotion Automatic Pool Skimmer
SkimmerMotion is not just a pool skimmer. It's also a pool cleaner and clarifier. Because it works with your pool vacuum, it can help reduce your cleaning time significantly. What's more, this premium pool skimmer is easy to install. Simply plug it into the outline of your pool, and it will begin to do its job efficiently. This device will create a whirlpool suction to pull and eliminate all debris on every corner and surface of your pool and into its collection basket.
Pros:
Energy-efficient and cost-effective
Sleek design
Cons:
It will require a 1HP filter pump to run
SkimDoctor 2.0 Automatic Pool-Skimmer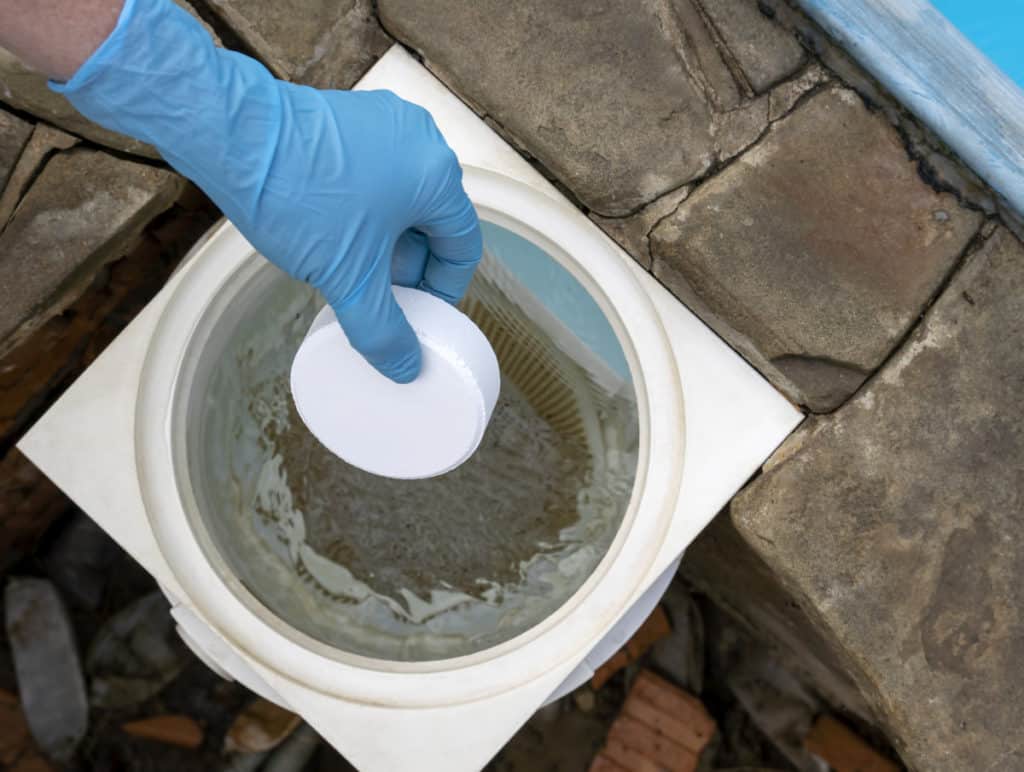 The SkimDoctor 2.0 has the ability to clean your pool three times quicker in comparison to a traditional skimmer. It will capture all debris and leaves floating around your pool before they sink to the bottom. The skimmer's fine mesh sock can house leaves, pollen, bugs, dust, and so much more.
Furthermore, this pool skimmer allows for hassle-free, fast cleaning and drying. The only thing you need to do is to grab the cleaner's tower to empty all the debris collected without the need to touch the water.
Pros:
Constructed with durable materials
Collects every kind of trash
Large debris basket
Cons:
Slower operation
Requires frequent cleaning
Only suitable for in-ground pools
What Can A Pool Skimmer Do?
Filtration and Circulation
Your pool skimmer operates as the main circulation area of your pool, besides acting as a gateway to its filter system. The pool pump begins the entire process by driving water into the skimmer, where it goes through the collection container. The skimmer will then separate every piece of large debris that may cause blockage to your pool filter and pump. Moreover, it will enable the filter to perform its job of eliminating smaller contaminants from your pool water more efficiently.
Aside from gathering trash like sprigs and leaves from the water, your skimmer will also help both the filter and pump maintain their good condition. It does this by making sure that the water that goes through the components is clear of anything that can possibly damage them.
Keep in mind that it is crucial to clean your pool skimmer weekly. But if there were storms, resulting in more debris and leaves in your pool than usual, it is advisable to wash it more frequently. Also, do not forget to check your skimmer basket to see if it needs cleaning as well.
Pool Vacuums and Skimmers
Without a doubt, pool skimmers are outstanding cleaning tools on their own. Still, they will not likely eliminate the need to vacuum your pool from time to time. For this instance, you can use your pool skimmer along with your vacuum to achieve sparkly clean and healthy water.
After assembling your pool vacuum, attach its hose to the suction hole of the skimmer. Doing so will enable even more water into the filtration system, resulting in clearer and cleaner water. Consider using a bag or manual skimmer for larger debris that has settled at the bottom of your pool. Or else, you may see yourself draining the entire pool just to remove the stains that have formed due to the breakdown of organic matter.
Chlorine Tablets
There's no need to spend extra bucks to get yourself a floating chlorine dispenser. Instead, you can directly add some chlorine tablets into the skimmer basket. The main benefit of doing this is that the chlorine tablets will dissolve more quickly since the skimmer pulls the water through. Hence, the pool water will receive a much higher concentration of the chemical. This, in turn, will provide you with more sanitary and fresher water.
Do not forget to get rid of the partially dissolved chlorine tablets from your skimmer when the pump is not functioning. Your equipment may get damaged if the highly chlorinated water sits in one spot. If you don't have a variable-speed pump, consider getting one. This type of pool pump does not use plenty of energy. Hence, you can maintain water circulation without worrying about high energy bills.
Should I Leave My Pool Skimmer On All The Time?
You only need to run the filter system of your pool for at least eight hours daily. That is enough time to filter the entire water. It is also advisable to divide the running time of the pump into two sessions of 4 hours. The first is during the daytime, and the next 4-hour session is at night.
Operating your pump daily for eight hours will result in unfiltered and stagnant pool water for 16 hours each day. Hence, it is more effective to run it twice a day since doing so will not give surface debris a chance to make its way to the bottom.