When it comes to our garden, everyone wants to have the most beautiful decorations there can be. Many budget-friendly tricks can help make your garden such a lovely place, from decorated pots to vintage boots and old car wheels.
In this article, we show you ten trellis ideas that you can use to decorate your own garden. There are different ways you can experiment with this – you can go for wooden pallet trellis or reuse old objects such as wagon wheels or old drawers by turning them into the raised garden boxes.
Scroll below to see what we've picked, and get ready for your new garden project!
1. Wagon Wheel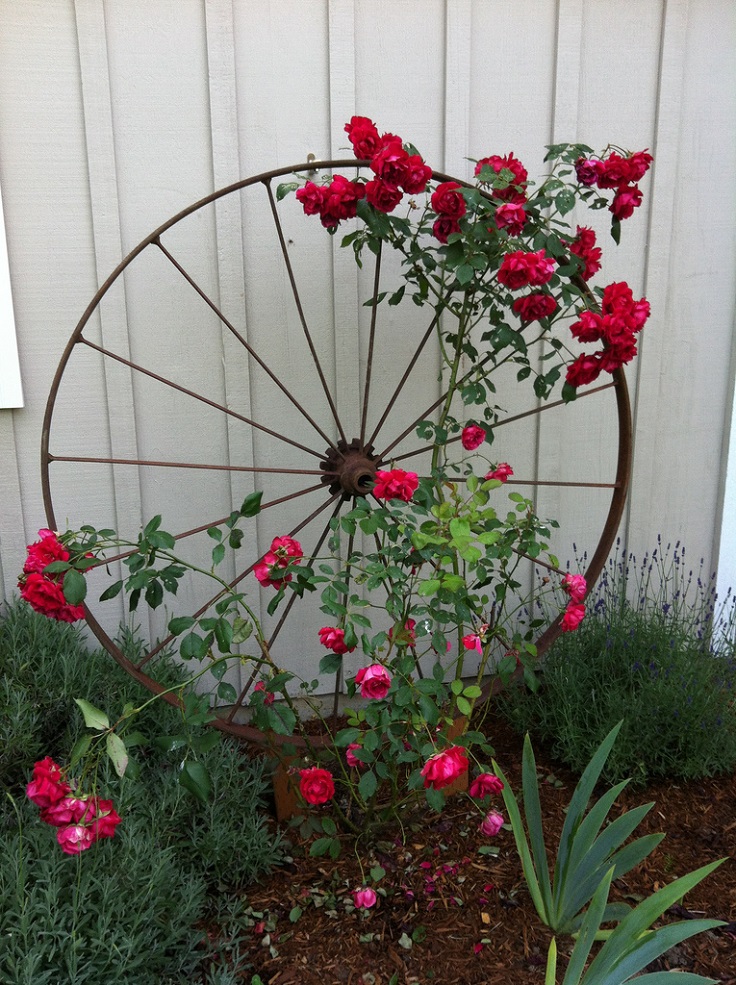 via flickr.com
Using a wagon wheel as a garden trellis is one of the most charming ideas you can come up with. Not only will it give your garden a nice vintage, rustic touch, but think about the good deed you're doing here – this is an excellent way of reusing old objects and turning them into the eco-friendly decor.
Finding a wagon wheel might not be that easy, but you can check at any garden store for decorations they have or search at flea markets if you already don't have one.
2. Patterned Trellis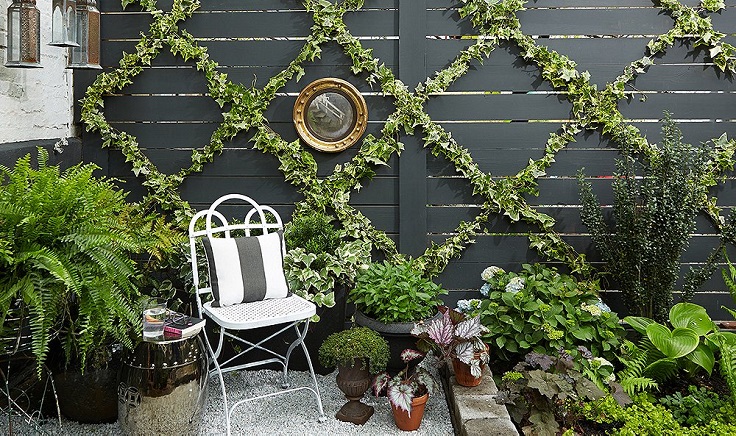 via onekingslane.com
This kind of patterned trellis might not be suitable for everyone, as it requires a lot of space and, specifically in this case – a vertical wall, but if you have the chance, then we definitely recommend you to do this yourself. You need to have galvanized wire, eye hooks, wire snips, measuring tape, drill, and small drill bits and vines (number of pots dependent on trellis pattern) for the project. Vines are maybe the best choice for the trellis, and you can choose between many flowers, such as jasmine, bougainvillea, climbing hydrangea, and wisteria.
3. Wooden Pallet Trellis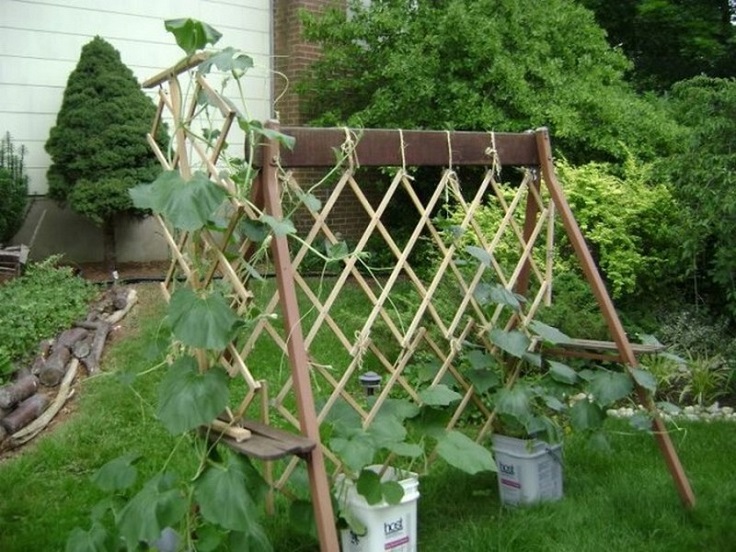 via palletidea.com
Wooden pallets leave plenty of space for experimenting, and you can come up with many beautiful ideas concerning your garden. One of them is exactly a trellis made out of wooden pallets, and this photo is proof of how good it can look! Wooden pallets are easy to find and not difficult to work with, especially if you already have experience with this kind of DIY project. If you're not into doing this your own, you can easily find this kind of trellis in many garden stores.
4. Pea Trellis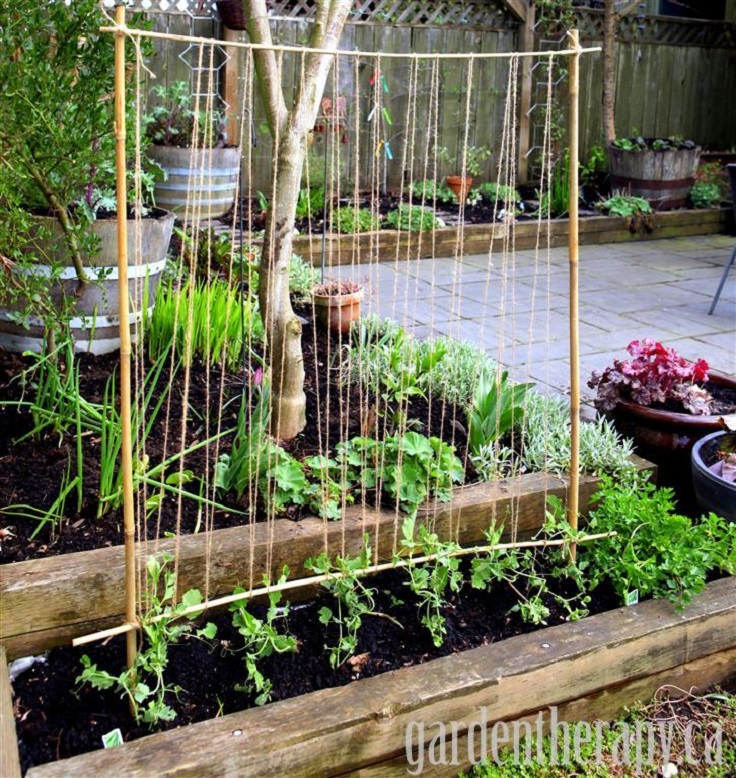 via gardentherapy.ca
Trellis isn't great just for growing flowers; they can actually be very helpful even for growing veggies. Take this one, for example – it's ideal if you're into growing your own peas! This kind of vertical trellis is especially good because as peas grow, they ramble and tangle along the ground, and this makes them vulnerable – there are snails, slugs, and other garden creatures that can munch the peas. For this project, you need bamboo poles of various lengths and a spool of garden twine.
5. Planter Trellis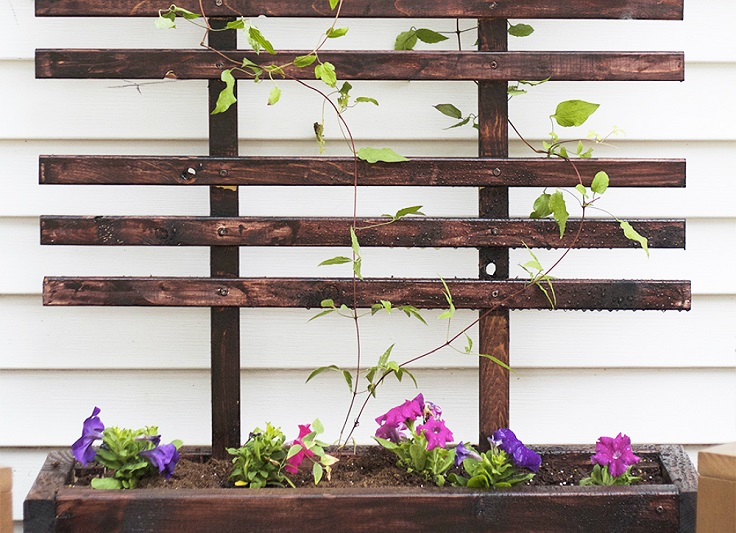 via bobvila.com
Unlike most trellis on the list, which are positioned on the ground, this one is built upon a planter. It's a perfect way to grow climbers, like hydrangea, clematis, wisteria, morning glory, jasmine… the choice is endless! You can also decide whether you want the trellis to be bigger or not, depending on how much space you can dedicate to this garden decoration. Either way, it's very creative, and we're certain that it will catch the eye of each of your guests!
6. Trellis for a Big Plant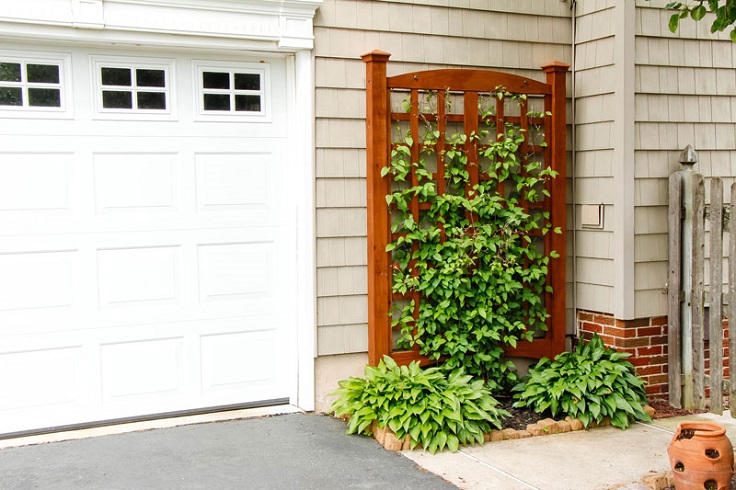 via handydad.tv
Bigger trellis is ideal if you want to cover a bigger space with them and to grow the bigger plant as well – especially if we're talking about climbing plants. A bigger trellis is also a good idea if you want to cover some old part of the house or even a dirty spot that goes on your nerves every time you see it! This way, with beautiful plants growing among the wooden pallets, the trellis is going to make your garden a very beautiful space.
7. Raised Planter With Trellis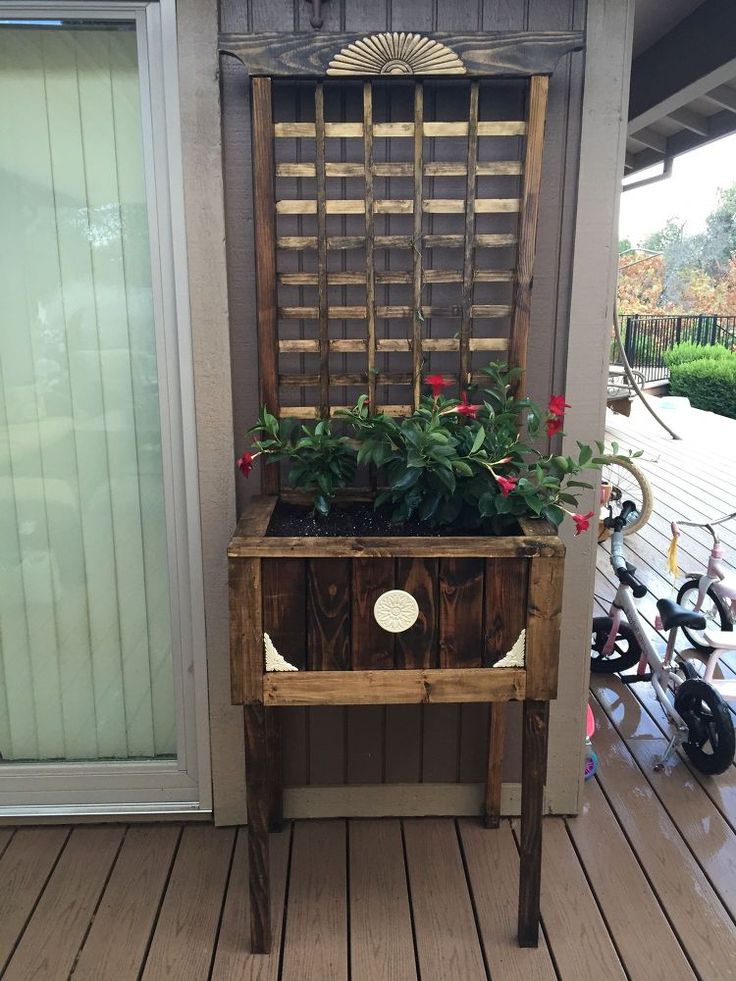 via hometalk.com
Here's another great idea of reusing old objects and being eco-friendly. Just like the wagon wheel, this raised planter with trellis is going to help you a lot if you're willing to create a vintage or rustic garden. If you don't have your own old garden box, you can build it yourself with plywood, and you'll also need wood glue, wood screws, a drilling machine, both miter and jigsaw, nailer, wood applique, stain, and paint.
8. Vertical Garden Trellis
via homebnc.com
Vertical gardens are a great way of decorating your garden if you have plenty of flower pots and even if you don't have a lot of space. They make a lovely display, and we must admit that it's a very creative way of arranging the pots. A vertical garden can be purchased, or you can always try the DIY way. It's very important to have all the needed tools and materials, like wooden pallets, drilling machines, nails, to name a few, and maybe even a friend to help you if you're new at this.
9. Trellis Raised Garden Box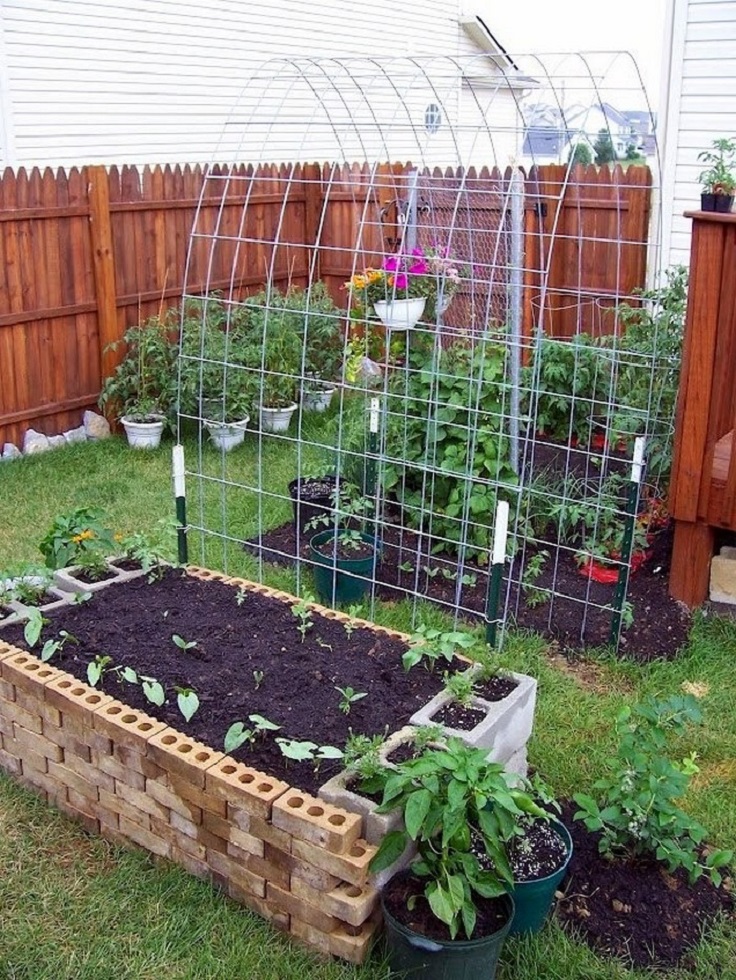 via fabartdiy.com
Combining raised garden boxes with trellis can make your garden as it came out of a fairy tale – look at this photo and imagine there are grown flowers in many colors and different shapes – it's going to be the loveliest spot in the whole garden, don't you agree? The best part is that you can make this yourself, which will make you love the trellis even more. For this project, you need nine pieces of 2″ by 8″ by 8′ Douglas Fir Timber, two pieces of 4′ by 16′ Cattle Farm Panels, some U-Nails, star bit, deck screws, hammer, drill, and circular saw.
10. Obelisk Trellis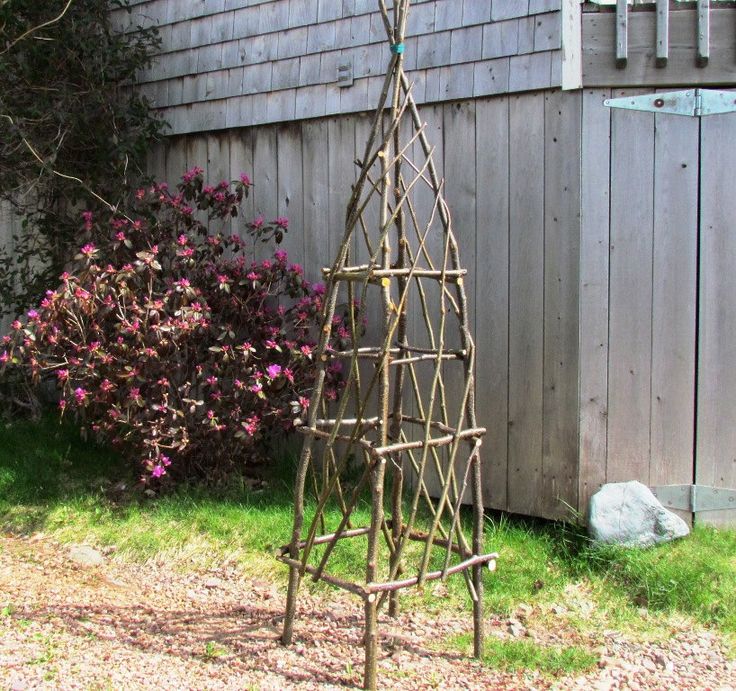 via gardenista.com
The obelisk trellis is one of the most popular choices when it comes to this matter. It has an interesting shape, and therefore it will be easy for it to become the center of attention among all the other objects in your garden. It's ideal, especially if you want to focus on a certain plant or place in your garden. Obelisk trellis can be found in many garden stores, or you can get in a DIY mood and make your own by using tree branches.