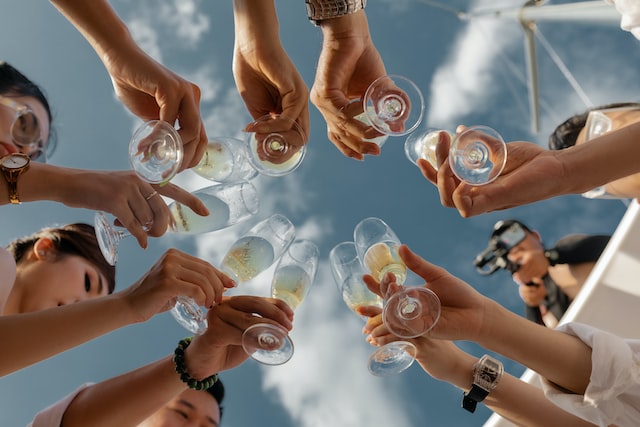 Bouquet arrangements are all the rage these days. Thanks to online and social media, it's easier than ever to find unique and interesting floral designs. Each with a diverse range of meanings, you can effortlessly find the perfect pick for every occasion. What's more, many online florists offer same-day or next-day delivery, making it even easier to get your hands on those beautiful blooms. This means that you can last-minute shop for an arrangement without having to worry about it not arriving on time. So, which occasion arrangements are most popular online? We've rounded up the top six most popular:
Anniversaries
Anniversaries, it turns out, are the most popular, with men being twice as likely as women to send flowers. The vast majority of anniversaries are sent to a spouse or significant other, but parents and children also exchange flowers on this special day. Favorite picks include roses (red for love, white for purity), lilies (symbolizing devotion), and orchids (a luxurious choice).
Birthdays
Birthday gift purchase's most popular choice is a surprise delivery of "Happy Birthday" balloons. Depending on the age and relationship of the birthday boy or girl, other popular choices include a teddy bear, cake, and of course, flowers. For something a little more intimate, adding a beautiful bouquet of their favorite flowers always shows an extra-special touch. The theme and tone of the birthday will also generally dictate what kind of arrangement you send.
Congratulations
Graduations, new babies, get well-wishes, and other achievements can all be expressed with a beautiful arrangement. And with a few clicks of a button, it's easy to have flowers delivered to recipients near and far. If you want your arrangement to really stand out, consider adding a festive balloon or some gourmet chocolates.
Just Because
It doesn't always have to be a unique occasion to send flowers. Just because arrangements are becoming increasingly popular, as people look for new and thoughtful ways to show their loved ones how much they care. And with the advent of the rising popularity, it's easier than ever to send flowers online to someone you care about, even if they live far away.
Get well soon
What could be more thoughtful than sending Get Well Soon flowers to someone who is under the weather? A colorful bouquet is sure to brighten their day and let them know you're thinking of them. If you can't make it to see them in person, a beautiful floral arrangement delivered right beside them is the next best thing.
Sympathy
Though flowers are often associated with happy occasions, they also play an important role in offering condolences after the death of a loved one. Sympathy occasions are often somber and difficult to celebrate, but they are an important part of the grieving process. Whether you choose a simple white lily, rose arrangement, or something more elaborate, sympathy flowers are a beautiful way to show your support during a difficult time.
Conclusion
As more and more people turn to the internet for their occasion planning needs, the bouquet options are endless. Whether you're looking for anniversary, birthday, Get Well Soon, or sympathy flowers, there are plenty of arrangements to choose from. And with many online florists offering same-day or next-day delivery, you can rest assured that your loved ones will receive their flowers in a timely fashion.