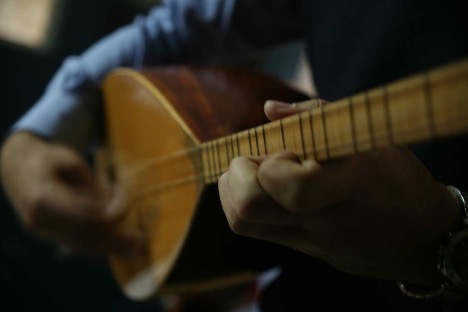 A 7-string, tear-drop-shaped instrument, the Saz is a common instrument in the middle east that has been around for ages.
The Saz's history goes back to the 4th century when it was a 3-string instrument used for religious ceremonies only.
There are many masters of the instrument but the top ranked among them are: Neşet Ertaş, Arif Sağ,Orhan Gencebay, Erkan Oğur and Aşık Veysel.
These players started playing Saz in their childhood years and have mastered the craft of playing the Saz and are all skilled enough to dazzle your minds with their beautiful, artistic playing and impeccable musical sense aesthetic.
Five Best Saz Players You Don't Wanna Miss
Playing the bağlama or the saz with feel requires a level of cultural appropriation. Here are five of the best Saz players in the world:
1. Neşet Ertaş
Neşet Ertaş was raised in 1938 by his musician father in a small village. That's where he learned to play the violin and bağlama (short-necked Saz) at a very early age. He entered the music industry when he moved to Turkey and recorded one of his fathers' songs, and started to gain recognition.
Ertaş plays anonymous folk songs and his own original tracks too. He fell ill during his peak popularity and resided in Germany for several years to get treated. He returned to Turkey and started producing records and performing at concerts again.
Ertaş passed away in 2012 and is a very well respected artist and musician in today's society.
Here's a glance of one Neşet Ertaş playing the saz.
2. Arif Sağ
Born in 1945, Arif is a Turkish singer, Saz player, and a leading figure in modern Turkish folk music. He started playing the Saz at the age of 6 years old and started singing folk poems at 14.
Arif Sağ has worked as a bağlama artist at TRT Radio Istanbul and has worked with a diversity of artists and solo compositions.
Arif Sağ played a vital role in introducing Turkish instruments to the world and has taught over 40,000 students in his music school.
With more than ten solo recordings and numerous other collaborations, Arif Sağ is one of the most accomplished and decorated Saz players of all time.
An interesting fact about Sağ is that he was a member of the Turkish Parliament from 1987 to 1991, and there have been two interview-style books written about Arif Sağ.
Here's Arif Sağ playing the saz live.
3. Orhan Gencebay
Orhan Gencebay is a Turkish bağlama virtuoso, music composer, singer, director, and actor, born in 1944. He was a resident bağlama player at the Turkish Radio and Television network at the age of 20.
He has collaborated with a wide array of artists in performances and music; among them is the world-famous Saz player Arif Sağ.
Gencebay has worked as a composer in almost 90 movies, 15 albums, 35 singles, and thousands of musical works in his career and is a very accomplished artist.
He was named a state artist by the Turkish Government in 1998.
Listen to the best songs by Orhan Gencebay.
4. Erkan Oğur
Erkan Oğur is a Turkish musician born in 1954. He is primarily a composer who has influenced numerous musicians with his musical compositions.
Oğur uses a combination of Turkish folk music and classical music with ancient traditional music in his compositions and has performed at concerts worldwide.
He is regarded as a master of the bağlama by artists worldwide.
Watch Erkan Oğur effortlessly play the saz.
5. Aşık Veysel
Perhaps the most exciting player on the list is Aşık Veysel. He was a Turkish Poet and bağlama virtuoso born in 1894.
He traveled the country and performed all over. Veysel did not have a complete record of his musical career, but a few songs and poems composed by him are still widely known.
An interesting fact about Aşık is that he was blind for most of his life, losing his sight at the young age of 7 years old. Aşık devoted his life to singing and playing the bağlama.
Listen to a rare and around 100 years old composition by Aşık Veysel.
Endnote
The Saz is an ancient instrument. Its teachings have been passed from generation to generation, with each generation contributing to its literature.
It originated from Turkey, so the most prominent players worldwide are Turkish as well. With the modernization of music, this art is slowly losing its popularity and fading away.
If you are a classical music enthusiast with a particular interest in Turkish folk, make sure you listen to the works published by all of these fantastic artists listed above and appreciate all their efforts in the way of music.