While crocheted clothing is usually associated with warm and cozy winter clothes, it doesn't mean that the same techniques and skills can't be used to create some light and breezy summer-time creations.
In fact, you only need to look at a crocheted doily and see that those lovely patterns do resemble some of the more intricate and expensive lace. Those are indeed nice, but you might not be able to wear a tank top made entirely from lace, and that's where crocheting steps in.
You might think that crocheted summer tops will be too hot to wear due to the woolen yarn used. However, that isn't the case. In fact, with the right type of wool and the right pattern, the top will be so comfortable that it will feel like you're not wearing anything at all.
The playful patterns usually have small holes, allowing more airflow and an easier way to cool down. The extra yet subtle show of skin will certainly draw some interesting male glances your way for the single women out there.
If you already stashed the yarns and needles for the season, take them out and take a look at our list of Top 10 crocheted summer tops. With the free patterns provided in each link, you will soon have enough casual yet flirty tops for the whole summer and a few gifts for your girlfriends as well.
Nautical Top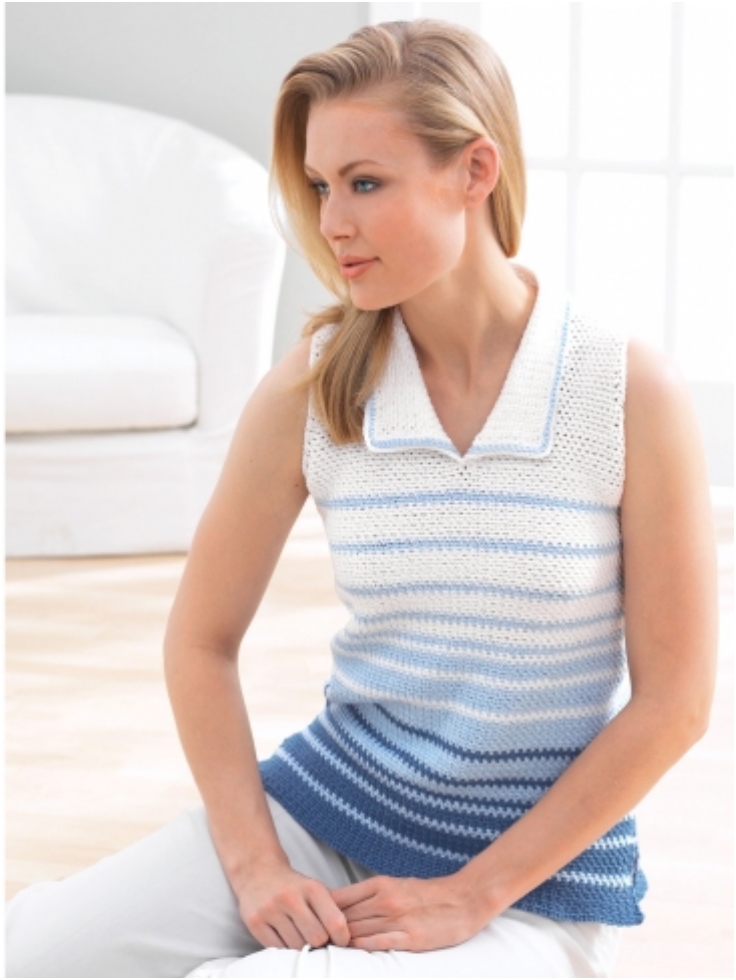 This classic sleeveless top with nautical themed stripes is a splendid summer top. The collar gives it just the right amount of formal look, making it perfect for taking long leisurely walks or for a nice casual meeting with friends or colleagues.
Sea Breeze Top
via lionbrand.com
The name says it all. Wearing this top will make you feel like a warm, and pleasant sea breeze always caresses you. It is easy to make and one of the more plain-looking top models, but you must have a top to relax on those lazy summer days.
Baby Doll Top
via redheart.com
A graceful one-shoulder two-tone baby doll top that you can wear on a romantic dinner or while hitting the club scene. The black and white combination gives it an elegant feel, but you can make it in whatever color combination you want, and it will become suitable for almost any occasion.
Elegant Asymmetrical Top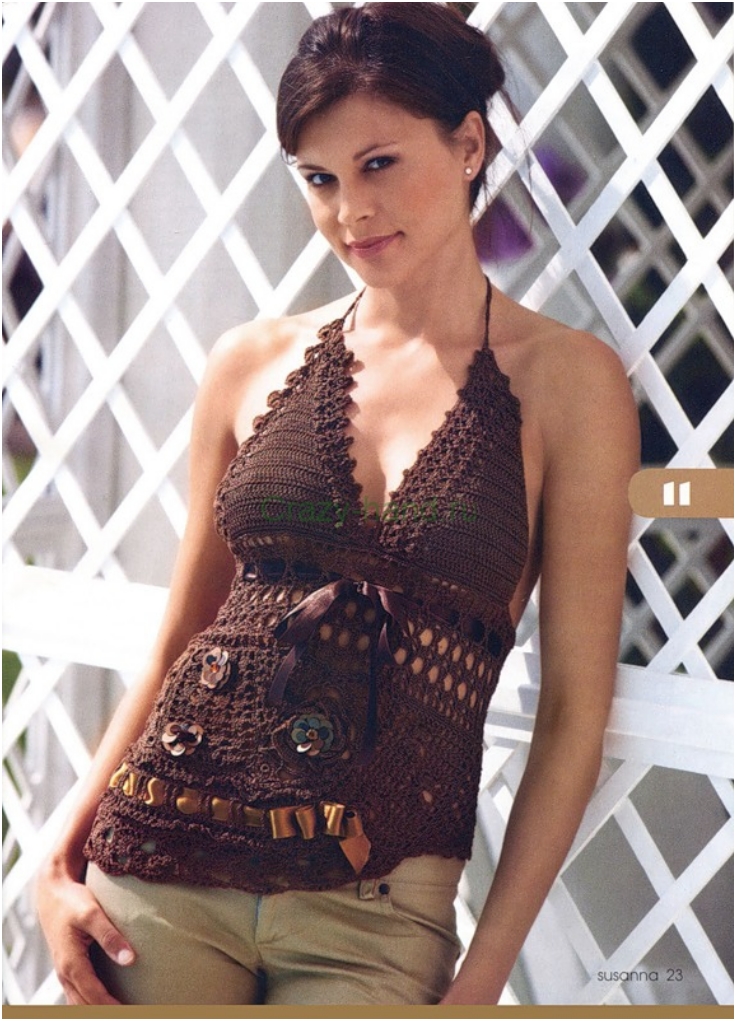 via crazy-hand.ru
If something is asymmetrical, it doesn't mean that it's not beautiful. This gorgeous top is proof of that. Elegant and a bit flirty, you can have fun with it and not just while wearing it, but while making it as well, since it can easily be accessorized with ribbons and flowers.
Crocheted Tops With Circular Patterns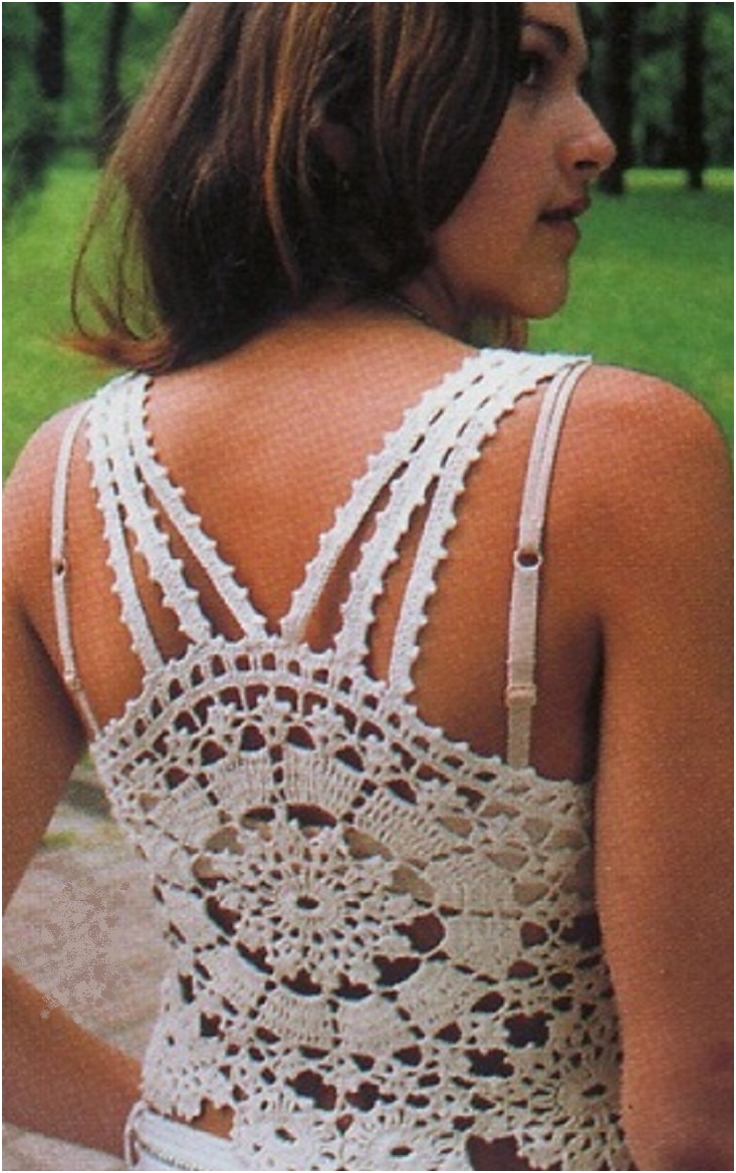 Crocheting is perfect for creating intricate circular patterns that are absolutely stunning even in doilies. Here's how you can transfer some of those amazing patterns onto summer tops, either in the front, in the back, or all over, so you can end up with the perfect lacey summer top.
Fan Pattern Top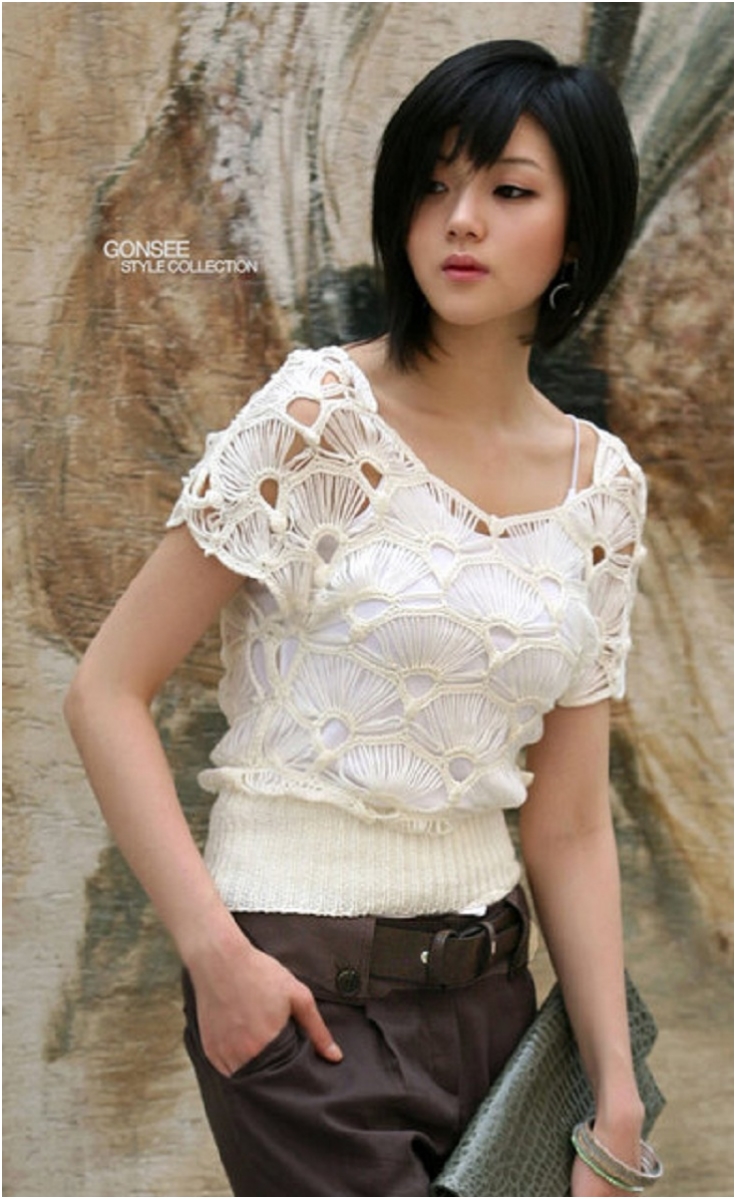 via crochelinhasagulhas.blogspot.com
A hand-fan is a lifesaver when you're out and about and the temperatures keep rising. Now you can incorporate that fun fan patter into a cool and elegant top that will be suitable for business and personal meetings on hot summer days.
Crocheted Halter Top And Shawl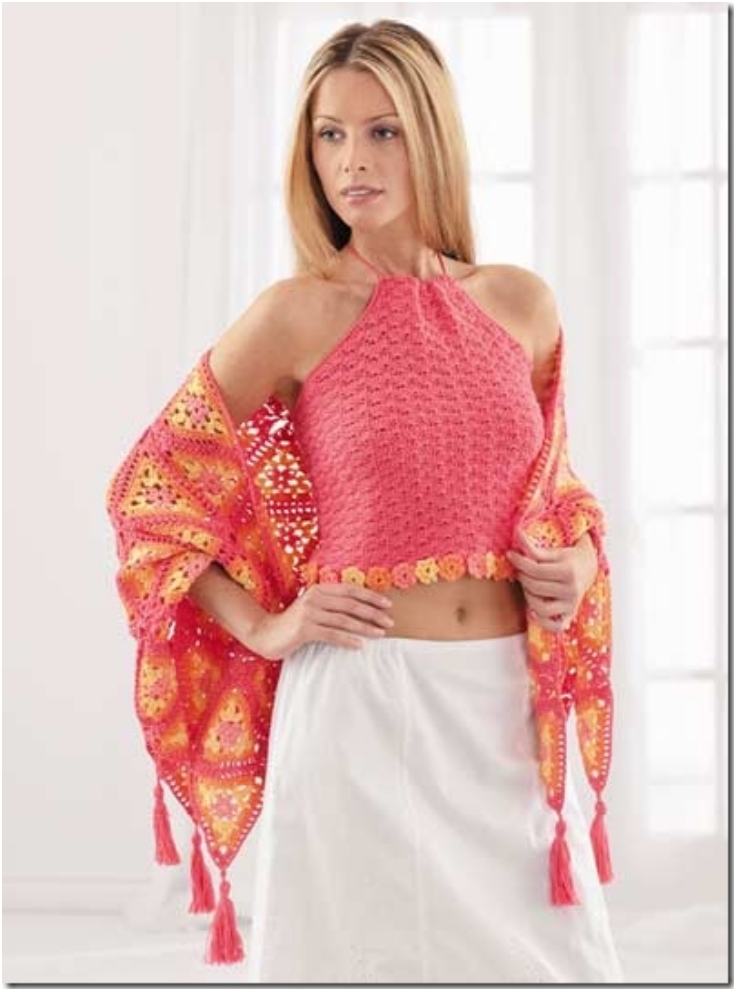 No matter how hot summer days can get, the nights are always cooler and even more so if you happen to be at some beach. A nice way to keep the most welcomed chill is with a light over-the-shoulder shawl, so here is a pattern for an alluring halter top with a matching flowery shawl.
Crochet Top With Stripes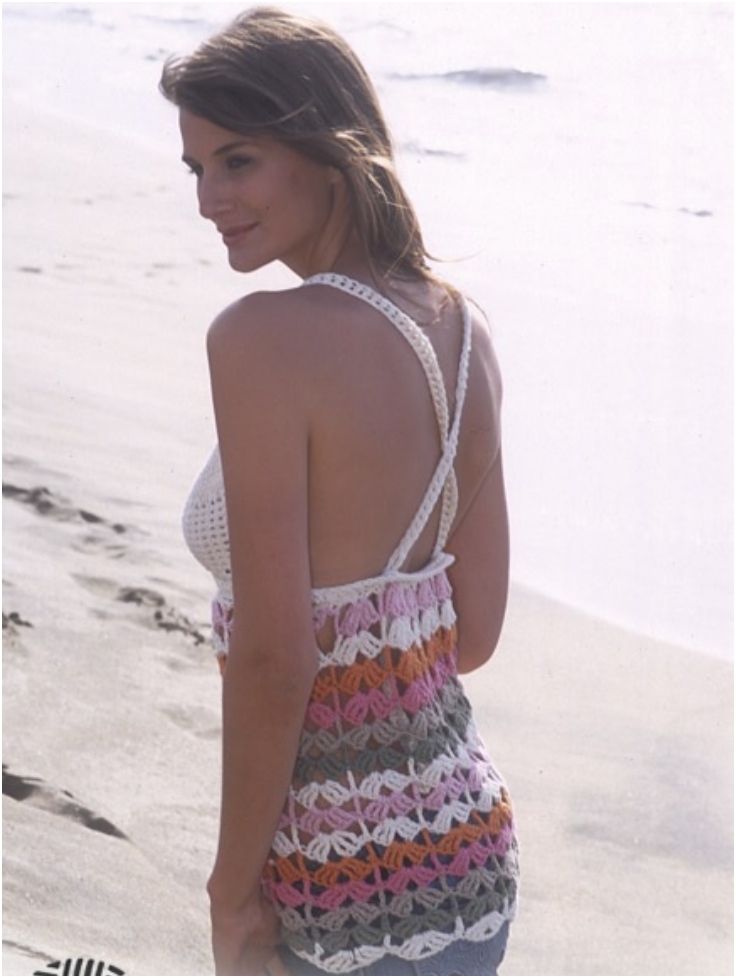 via garnstudio.com
Summer fashion is all about freedom and colors, and this crocheted top has both. The bow-like patter of the bottom part and the crossed straps give the top a playful and colorful edge, and it also goes great with jeans, shorts, or even a nice flowy skirt.
Net Stitch Camisole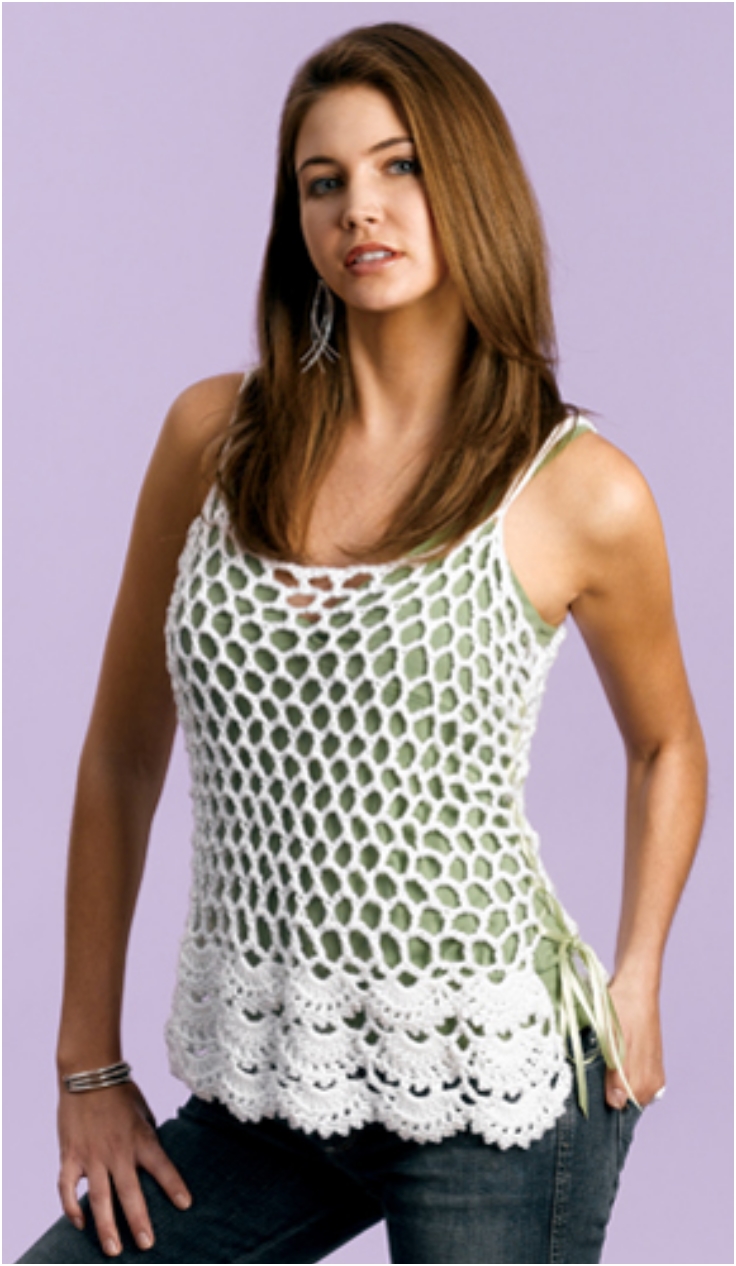 via favecrafts.com
Layering clothes is a nice style that can be difficult to obtain in the summer unless you have something like this. A net stitch camisole with scallop edges will give you texture and layers to your plain spaghetti-strapped top without adding extra warmth to your body.
Tunic Top With Crocheted Squares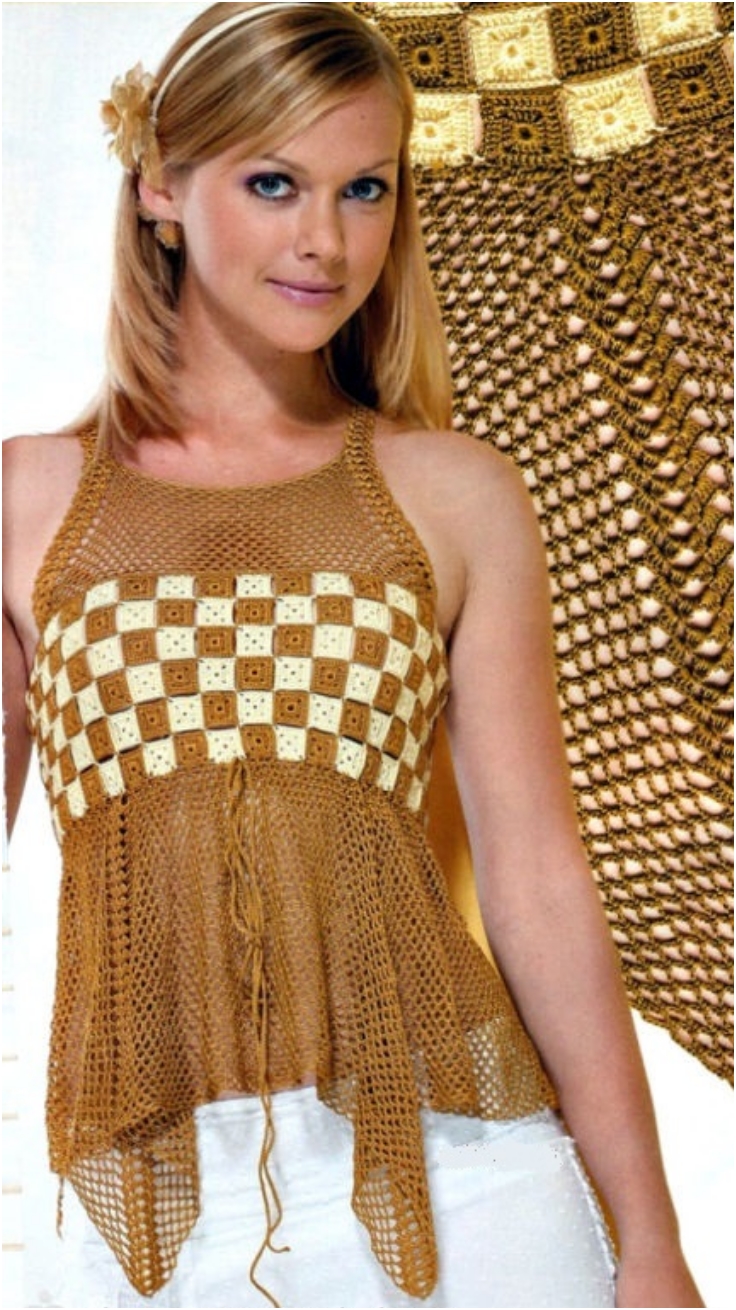 via baby.ru
All crocheters have made at least one crocheted granny square and combined it in some patchwork blanket or other project, but you must admit that this pattern never looked sexier than in the way that is combined in this gorgeous tank top. Absolutely stunning and great for every summertime event.