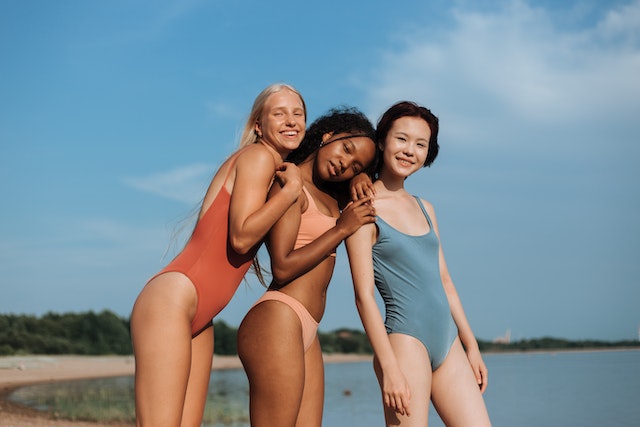 When you are investing in designer swimwear, you want to make the right decision. To make the right decision, you will need to decide what you want and why. Rushing into a purchase can leave you feeling unhappy and dissatisfied with what you have bought – which is a waste of money. Take a step back and look at everything before making a commitment; this way, you will be happy with your purchase. With that in mind, here are ten considerations to think about when browsing for and buying designer swimwear.
1. Budget
How much are you looking to spend on swimwear? Do you want your budget to cover one item, or are you looking to purchase several pieces that you can mix and match? If you do not have a budget in place, then you may end up spending more than you wanted to.
2. Sizing and Fit
Not all designers offer a universal sizing system. You may find that some designer swimwear will run small while others may run slightly big. It is therefore crucial that you know your measurements and sizing. If you purchase a piece of swimwear that is poorly fitted, it will make you feel uncomfortable.
3. Previous Collections
Some designers have created swimwear collections before, while others have not. You may find it useful to look at previous collections to get a feel for what is on offer. Doing this will allow you to see if they design and create the kind of pieces that you will love and wear.
4. Style of Swimwear
Knowing what style of swimwear you want to wear is helpful. Some designers only focus on one or two styles, and this may not be what you are looking for. It is therefore vital that you select a style before shopping or even browsing. For example, if you know that you want a bandeau bikini, make sure that the designer you are looking at offers this style – otherwise, you could waste hours browsing the wrong collections and stores.
5. Colors
What colors do you like when it comes to swimwear, and what colors compliment your skin tone? If the colors or hues are not right, it could impact how much you want to wear your new piece of swimwear. If browsing or shopping online, always try and look at several pictures to try and get an accurate representation of the colors on offer.
6. Prints
If you are looking for a piece of swimwear that stands out and turns heads, then look at those that have bold prints on them. Not all designers offer printed designs, but some are well-known for specific looks and prints.
7. Materials and Fabrics
Swimwear has a great deal of flexibility to it, but that does not mean that all materials and fabrics used will suit you or even make you feel good. Always look at the fabrics and materials used by designers, and make sure you are happy with them.
8. Availability
Some designer pieces can be purchased online only, while others can be found in boutiques and stores. How available is the designer you are looking at? Will it be easy enough to exchange items if they do not fit right – or look as good as you thought they would?
9. Usage
How often will you be using your new item of swimwear? Are you going to wear it simply on vacation for one year? Or are you planning to use it for a few holidays and years ahead? The usage may impact how much you want to spend on your new swimwear.
10. Quality
Just because swimwear has a designer brand attached to it, it doesn't always guarantee quality. Looking at reviews and recommendations from others will help you see if you are getting quality with your purchase.