Fall is here, and that means that many fruits and vegetables are in season now. One of our favorites is quince! Surely you have tried tarts, jellies, preserves with quince, but there are many other ways to bake with this wonderful fruit. 
Quince has many health benefits and is rich in Vitamins A, B, C, and fiber and minerals like potassium, copper, selenium, zinc, phosphorus, calcium, iron, and magnesium. Besides, it is low in fat, low in calories, good for weight loss and overall health, and yet quince gets neglected lately.
Quince was actually called the fruit of love and was associated with romance, marriage, and fertility, often given as a wedding gift to the bride in Ancient Greece.
This fruit has much more potentials; check out our list of Savory Quince Recipes as well for oriental stews and roasts.
Read on to see ten fantastic dessert recipes with quince.
Quince and Apple Golden Syrup Pudding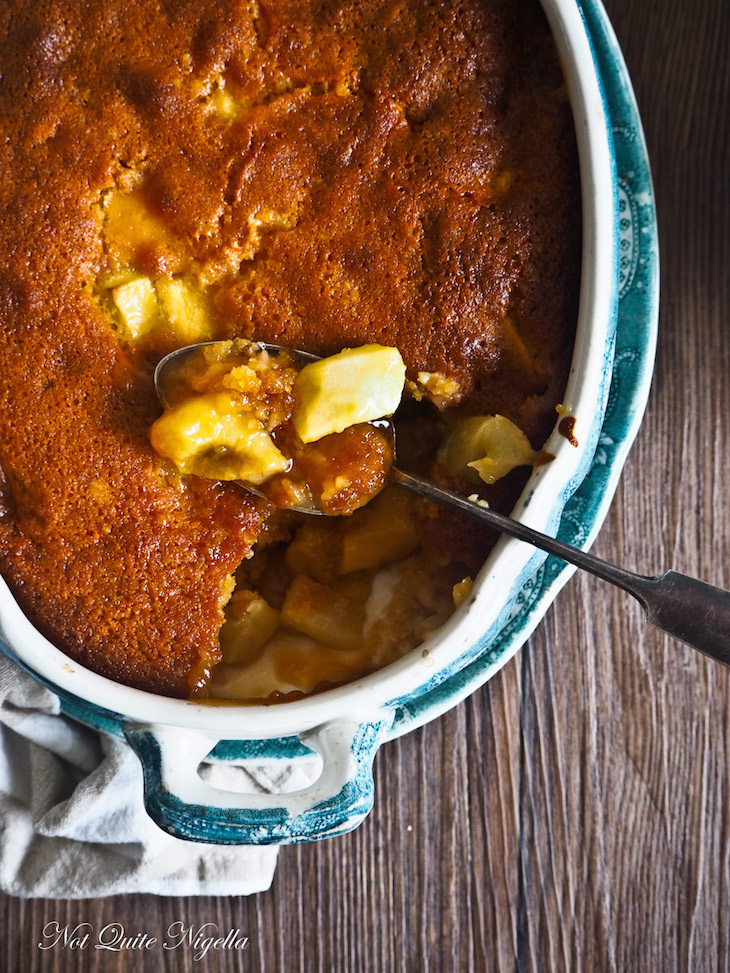 Recipe via www.notquitenigella.com
With a quick preparation and just under an hour of baking time, you can make this addictive Quince and Apple Pudding. The tender pieces of quince and apple will provide the base, topped with a light, buttery golden syrup topping, and the delicious butterscotch sauce at the bottom of the dish will be your favorite.
Quince Compote with Vanilla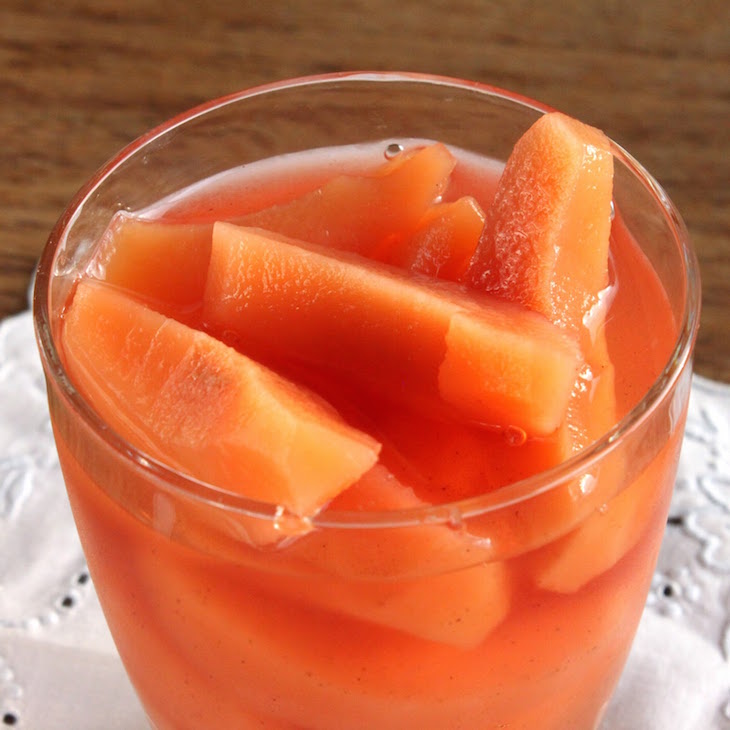 Recipe via www.inerikaskitchen.com
Poached quince is a simple and light dessert and also a healthy snack. To prepare this recipe, you only have to cook the quince wedges in water with sugar, lemon, and vanilla. Prepare a bigger batch because it will go fast and also it will keep in your fridge for up to 2 weeks. Try it with Greek yogurt, also delicious!
Quince Meringue Pie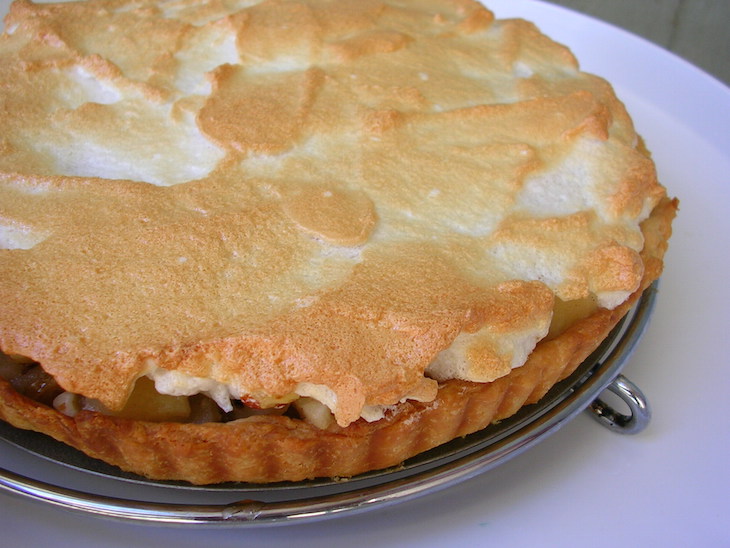 Recipe via mygardenerstable.wordpress.com
This meringue pie with a crust at the bottom and coarsely chopped almonds, poached quinces, rum, and golden raisins as a filling is truly a delicious dessert. For the meringue topping, you will need sugar and whipped egg whites.
Gluten-free Upside Down Quince Cake
Recipe via www.bojongourmet.com
Fruity, light, and easy to prepare, this upside-down cake gets a subtle spicy note due to the ginger and vanilla baked into the sponge. The dough is made with rice flour and oat flour, so this is a gluten-free recipe. You can replace it with wheat flour if gluten is not an issue.
Stewed Quince Dessert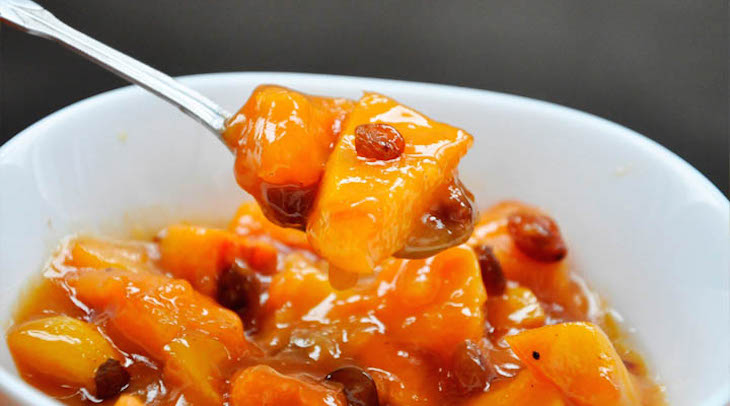 Recipe via gourmandelle.com
This is another very easy way to prepare quinces. The stewed fruit makes a light and finger-licking good dessert with lots of raisins, spices – such as cinnamon, cloves, vanilla – and rum adds a special flavor. Top your morning cereal bowl with a big spoon of quince compote!
Quince and Hazelnut Crumble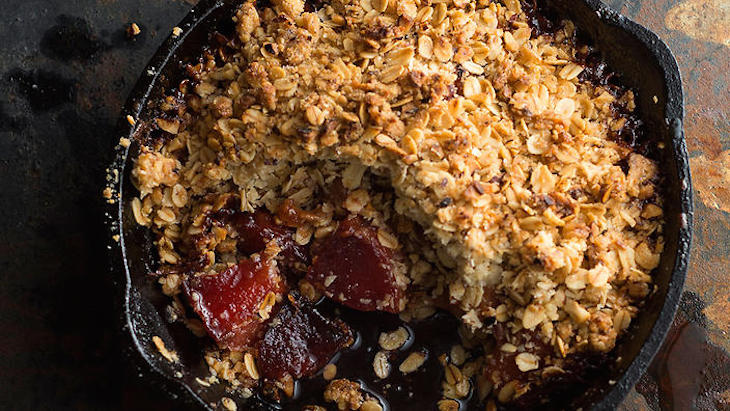 Recipe via www.sbs.com.au
Apple crumbles an all-time favorite; why not try it with quince for a change? First, you need to prepare the quinces. Cut them into large chunks and cook them with butter, sugar, and honey, stirring to coat the quince chunks in syrup. Once the fruit is tender, tip into an ovenproof dish, cover with the crumble topping – sugar, oats, flour, hazelnuts – and bake until perfectly crisp and golden. Delicious with thickened cream or ice-cream.
Apple Quince Tart Tatin
Recipe via pixelatedcrumb.com
This recipe is a twist on the French tart tatin with the added quinces. Simple to prepare and is all about the fruits, this tart tatin will not disappoint anyone. Quince will add floral notes and sweetness to this pastry. The caramelized quince is seriously addictive! Serve it with whipped cream or ice-cream just like the quince crumble.
Quince Ginger Sorbet
Recipe via www.thetarttart.com
Who said that ice-creams and sorbets are only for summer? Try this fruity, refreshing sorbet with quince and ginger. You will only need quinces, sugar, lemon, ginger and an ice-cream machine. Simmer the quinces until tender, put it in a blender, force it through a fine-mesh sieve and freeze the mixture in your ice cream machine.
Turkish Quince Dessert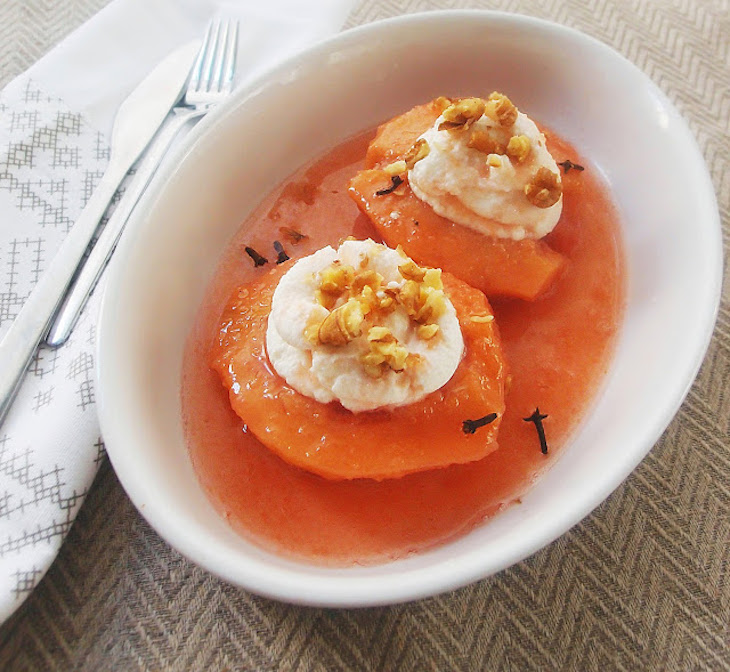 Recipe via promenadegourmande.blogspot.com
Ayva Tatlisi is a traditional Turkish dessert. The quinces are peeled, halved, and cooked in syrup (water, sugar, cinnamon, cloves) until tender. You will need clotted cream, ricotta and icing sugar, and walnuts as a garnish for the topping. Serve it chilled!
Quince Paste – Membrillo
Recipe via www.storyofakitchen.com
Membrillo, the Spanish quince paste, is eaten as a dessert and often served on toast for breakfast in its home country. No cheese board is complete without a piece of quince paste. To prepare it you will sugar, lemon and vanilla and time. It takes about 3 hours to cook it, but it worths the effort!