Having a home library used to be the prized item in many homes. With all the technology available, e-books and on-line reads, building up a book collection might seem a thing of the past for most.
Still, true book lovers will never replace the experience of holding a printed book, flipping through the pages as you dive into the world of fantasy with a computer or an IPad screen. And if you have a collection of books already, you need a place you can proudly display them which would also complement your interior decor.
If you're a book lover and are looking for a unique place to store your books or just looking for a way to keep your kid's books more organized, then you need to take a look at the projects we have here.
Most commonly made from wood, bookcases can also be made from other materials or a combination thereof, like metal, leather, or rope. To make things even more interesting, you can play around with shapes, to fit in more easily especially in the kids' room, and stir that love for books in your kids from an early age.
Check out these cute bookcase projects and choose the one that will best complement your room and proudly display your beautiful collection of books.
Ladders Bookshelves
Tutorial: instructables.com
Old-style ladders can be used for a variety of projects around the house, so if you have one gathering dust at your garage, here is a nice way to finally give it new life. With a few shelf braces and wood pieces for the shelves, this nice little rustic bookcase looks cute and it's an easy project for beginners.
Rocket Bookshelf
Tutorial: ana-white.com
Kids love themed furniture. And why wouldn't they, when it looks so adorable? Unfortunately for the parents, this type of furniture usually costs a lot more than the regular one and it's harder to find one that reflects the desires of your children. So, while we can't give you all the countless kids-themed bookcases, we do offer you a rocket-themed one that is out of this world.
Crate Bookcase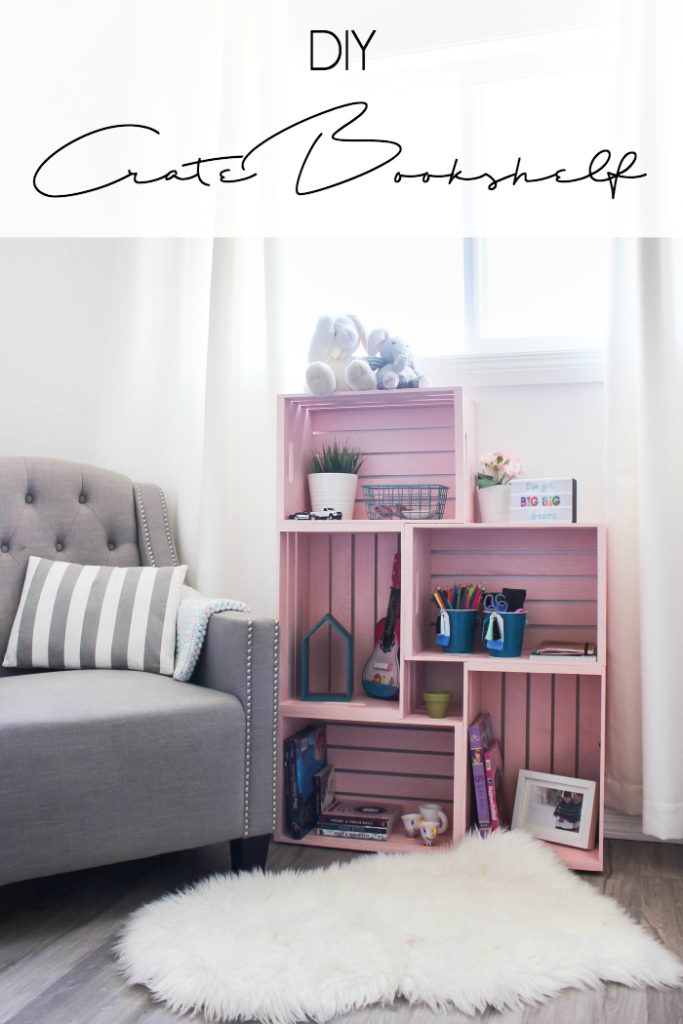 Wooden crates are also a favorite for many repurposing home-improvement projects, and they are easier to come by as most materials. Another great thing is that they can be used as-is, maybe with a bit of paint or minimal additional work.
Pegboard Bookcase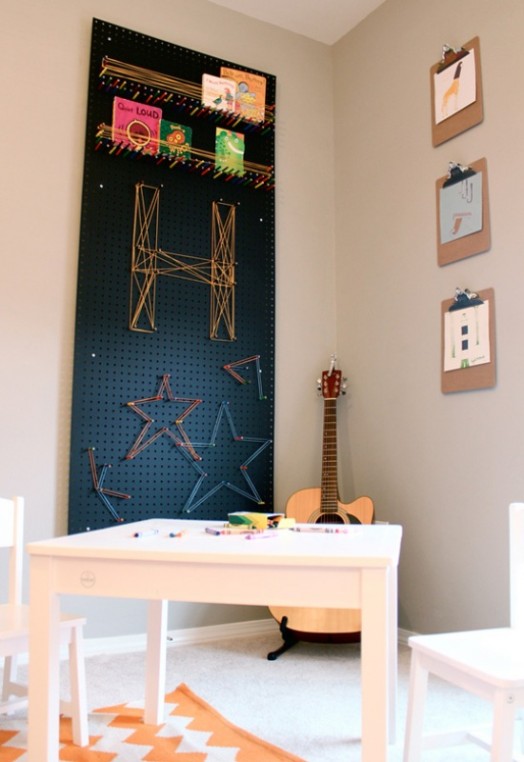 Do your kids get bored easily and they always need more space for small nick-nacks? Get a large pegboard and a bunch of old pencils, colored pencils or small pegs, and some rubber bands, and let your kids create the bookcase they want and change it whenever they feel like it. Useful and creative.
Minimal Corner Bookcase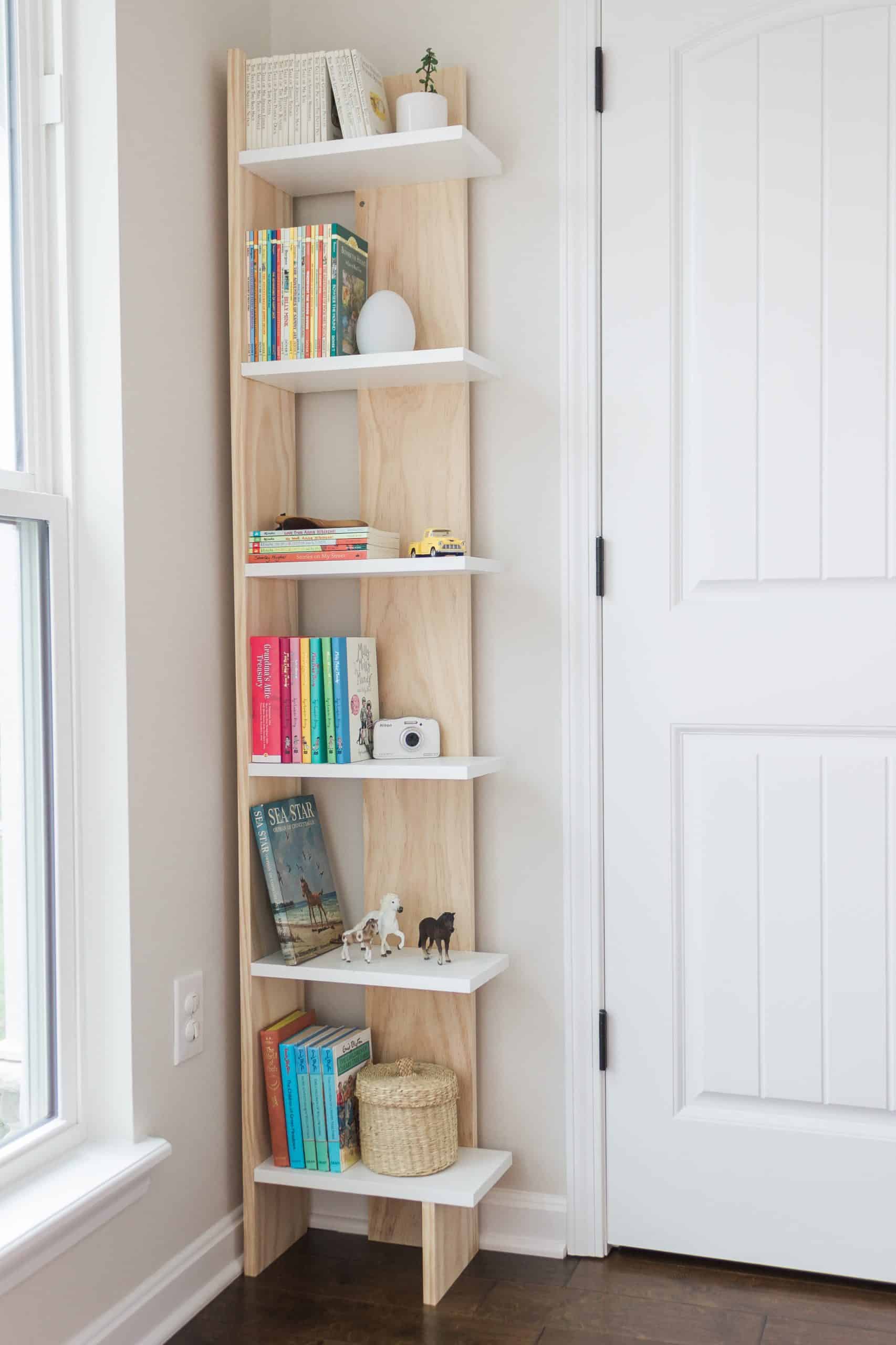 We're always trying to save space in our homes, trying to fit everything inside without feeling overcrowded. And many people often overlook the corners and the potential use for storage there. So if you have an empty corner and are needing a bookcase or some extra shelving, then this project will fit you perfectly.
Leather Strap Bookshelf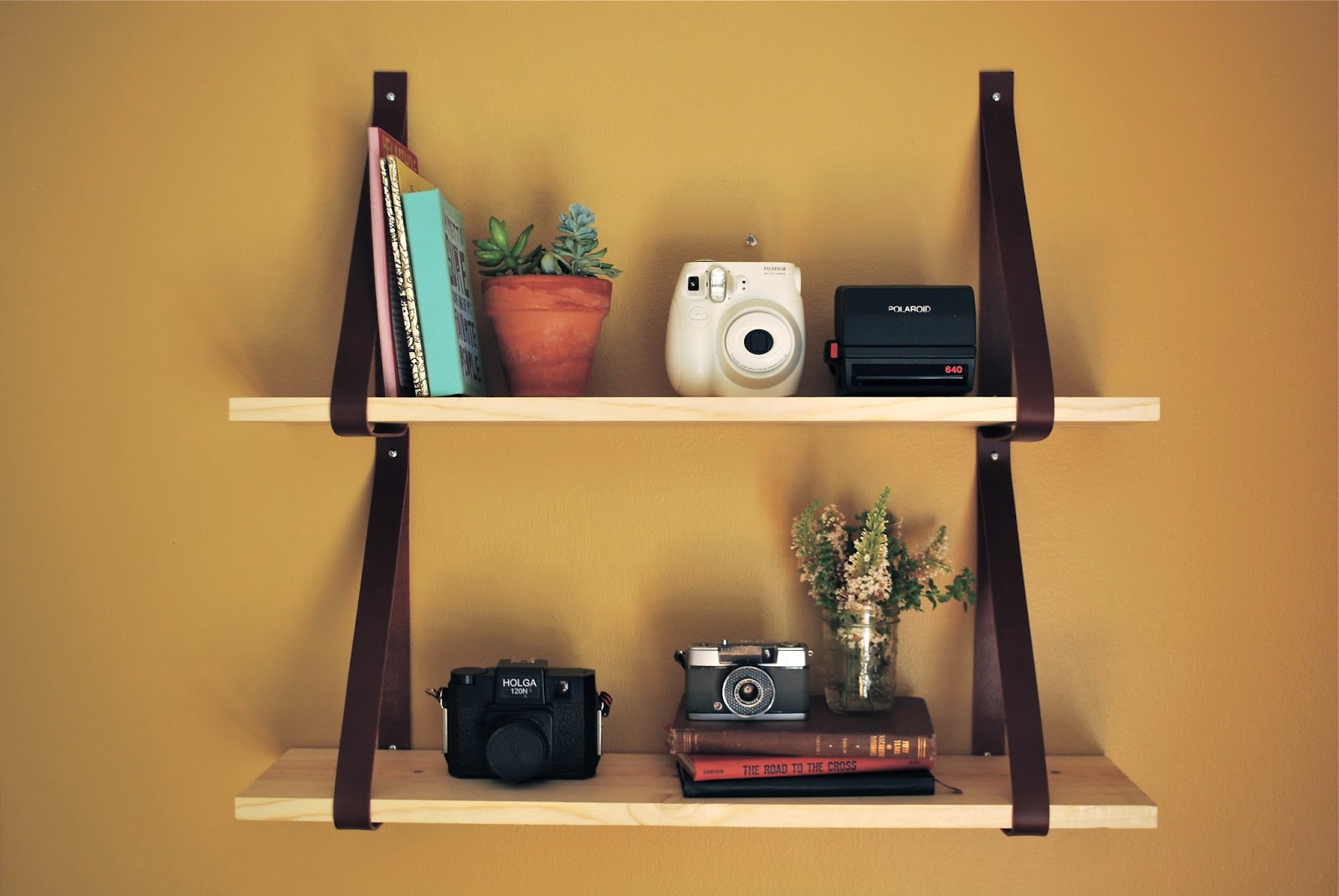 Here is another super easy project anyone can do and use it for more than just books. Small wooden planks, leather straps, and some hardware are what it takes to create these gorgeous hanging shelves to fill up your empty walls.
Tree Bookcase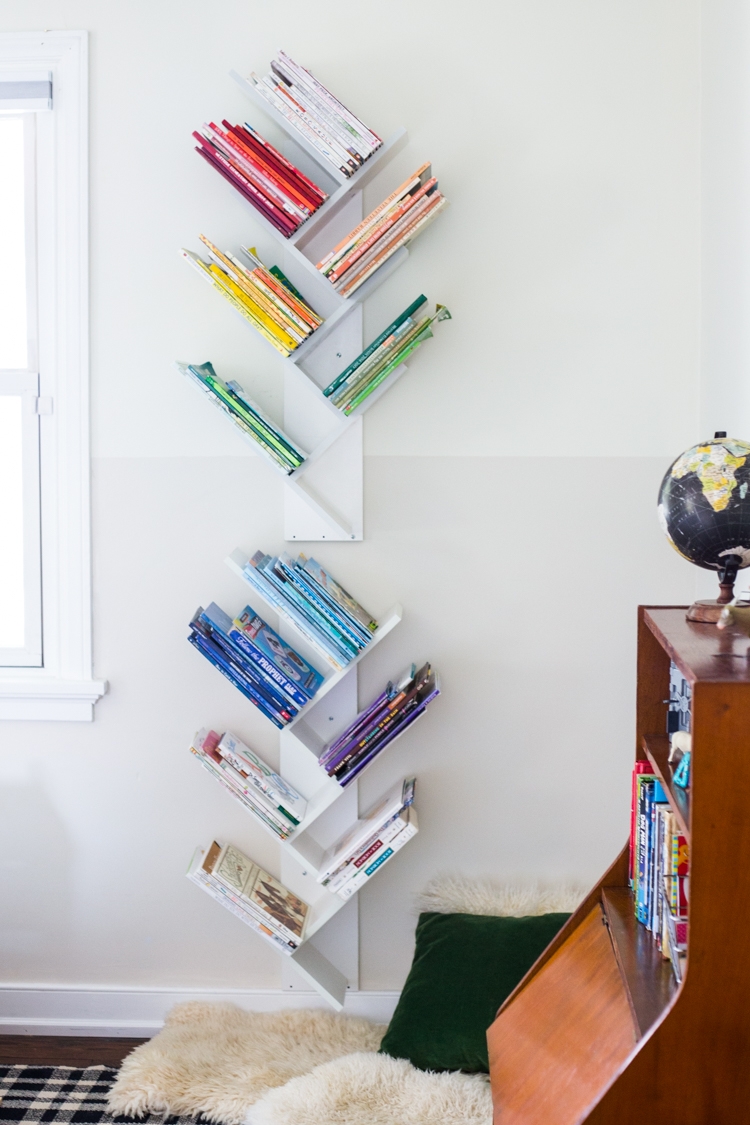 Another popular design for bookcases is the tree bookshelves. There are many different designs from using real tree trunks to plywood tree-shaped bookcases that are more suitable for kids' rooms. This design is somewhere in-between that will look good in any room of the house and it doesn't take up much space.
Industrial Pipe Bookcase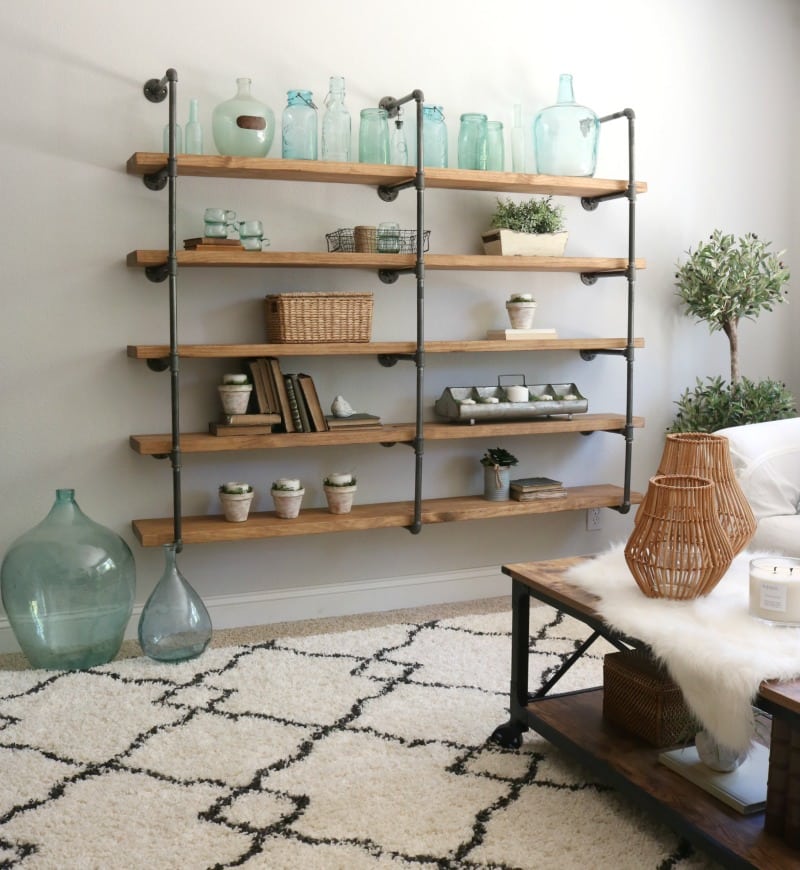 We had to include one bigger project to store a large book collection, some other memorabilia, and one that will solve that large empty wall problem. This industrial-style bookcase doesn't require much work, just the right materials. It's is easy to assemble and you can arrange the bookcase however you like.
Cloud Bookshelf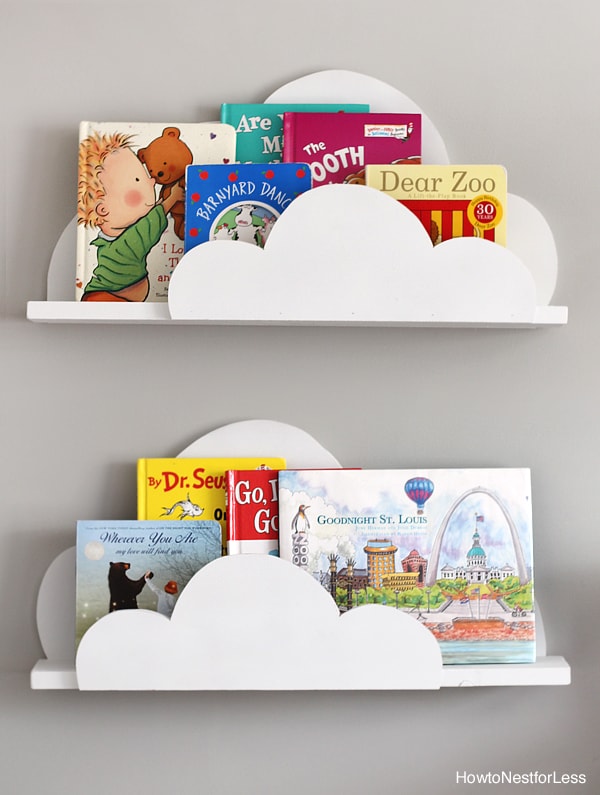 The problem with furniture for kids' rooms is that like for many things kids grow out of their childish phase and you often have to replace it. Here is a more neutral kids bookcase project that could probably be a feature of your kid's room for a lot longer. Clouds are a nice neutral design and will certainly be appreciated by toddlers to pre-teens, and even some teenagers.
Modern Bookcase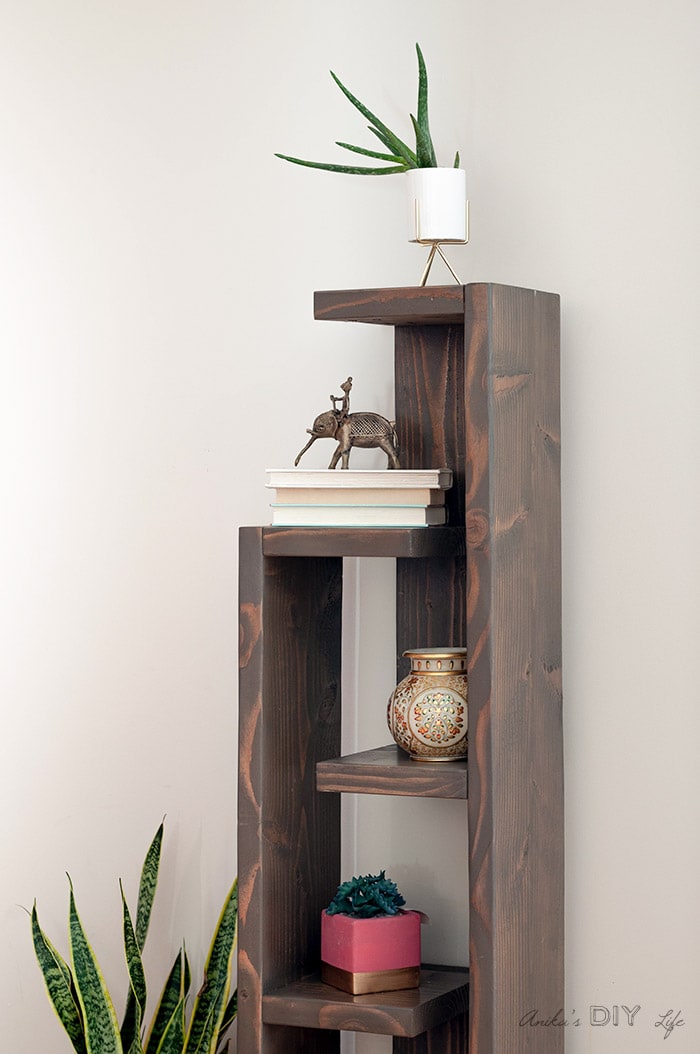 For our last project, we offer one lovely modern design that can not only serve a purpose for storing your favorite publishings, souvenirs or plants but can also serve as a modern sculpture. It will definitely find a place in your home decor and you'll definitely impress your friends when you'll say that you've made it yourself.
We hope these ideas and projects will help you in your search for your new bookcase or inspire you to start your own little library. Have fun creating and send us your thoughts and ideas in the comments.