Mirrors not only help us look at ourselves and get ready in the morning, but they also serve as a great tool to decorate and manipulate different rooms in the home. Interior designers would often use large mirrors to make a small room look bigger, or a poorly lit one look brighter. Mirrors can play a big part in your home decor and the overall feel of the house, so you should consider doing something special with your home mirrors.
Since they're available in all shapes and sizes, after you've chosen the right mirror for the place you intend to display it, it's time to look at the framing and what you can do with it./ Most people often choose to use small, different-shaped mirrors without a frame, glued or stuck on the wall in a certain patter. It does create a nice effect, but they to really make an impact, you need to make that mirror pop with the right frame.
Mirror frames can be made from all types of materials or modified from old picture frames into something new and different. In our list, we'll show you 10 ways to transform plain-looking mirrors into a centerpiece for your all. From recycled to crafting or building materials, here are some easy transformation projects for your mirrors.
Penny Mirror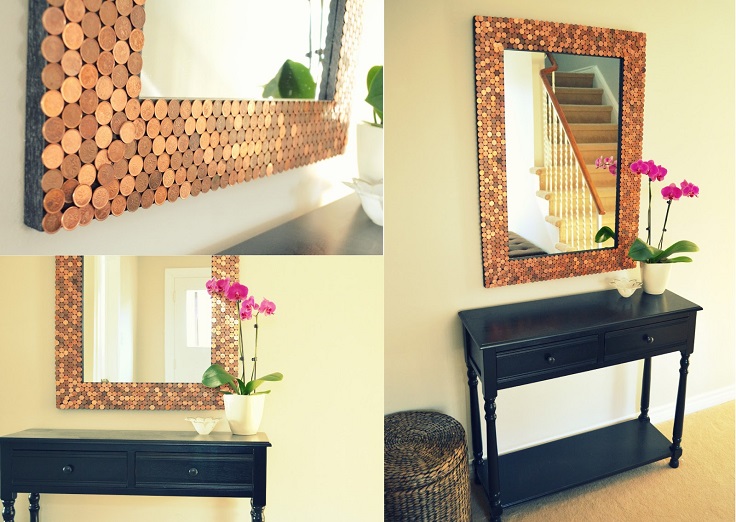 As you will see in our list, many things can be used for decorating the mirror frame, even coins if you have them to spare. Copper pennies create a wonderful mosaic effect for a mirror, and if you like this look, but don't have the coins, you can try to find blank metal or copper circles and use those.
Gem Frame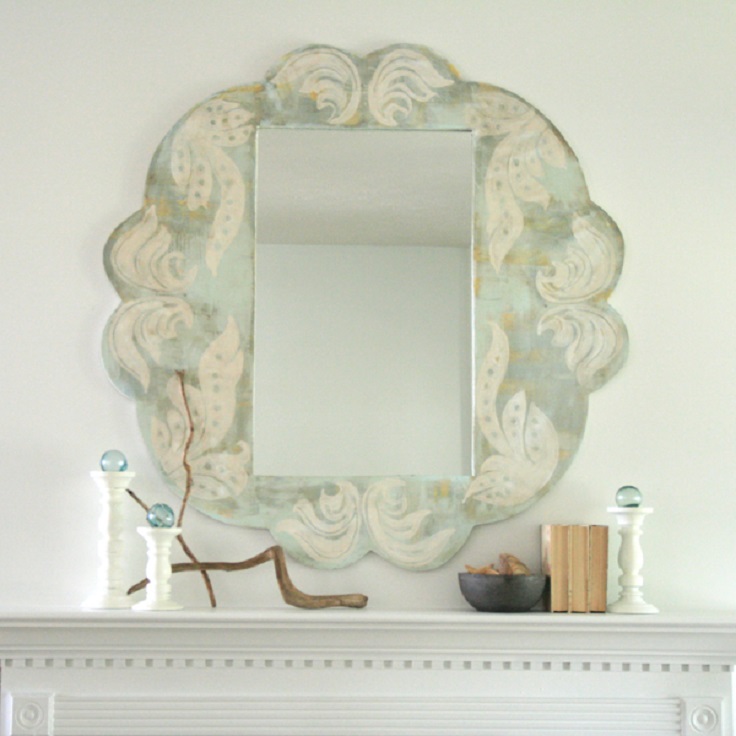 Frames can often be much larger than the mirror and in a wide variety of shapes and patterns. Here is how to make and decorate a gem-shaped frame for the mirror, and the easiest material for this is a sheet of plywood. And if you're not fond of this particular shape, you can create your own that will suit you best.
Jute Mirror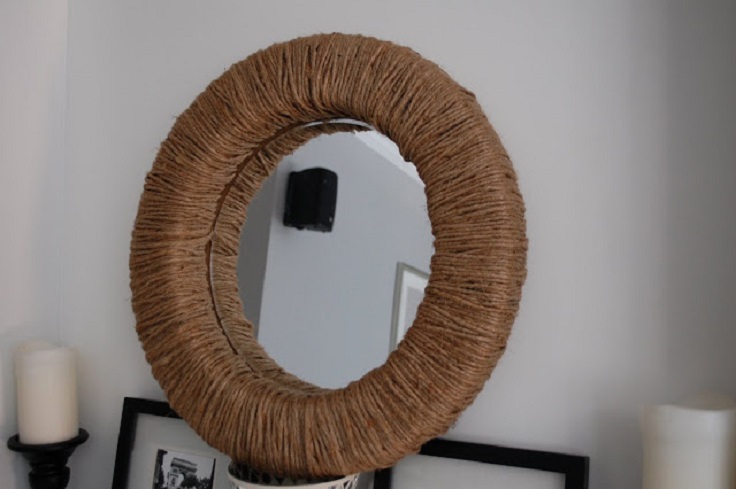 Small mirrors are easier to decorate in a way since they are more manageable to decorate. Here you can add depth and texture to the frame by using a jute-wrapped foam wreath to frame a small round mirror. Easy project for a beach or marine-themed decor.
Stone Mozaic Mirror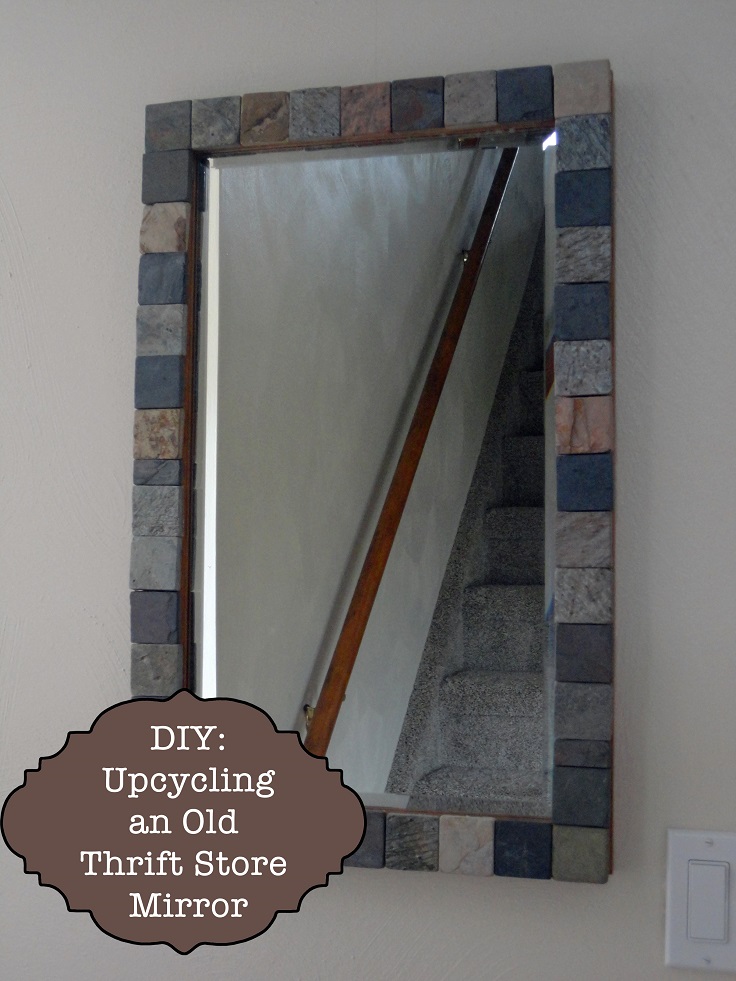 Stone is rarely used in decor since it gives out a colder feel for the home, but some people lie it and even prefer it. And for a large rectangular mirror, gluing on some stone tiles around the edges is a nice way to bring a bit more masculine, yet gorgeous piece of decor to your home.
Infinity Mirror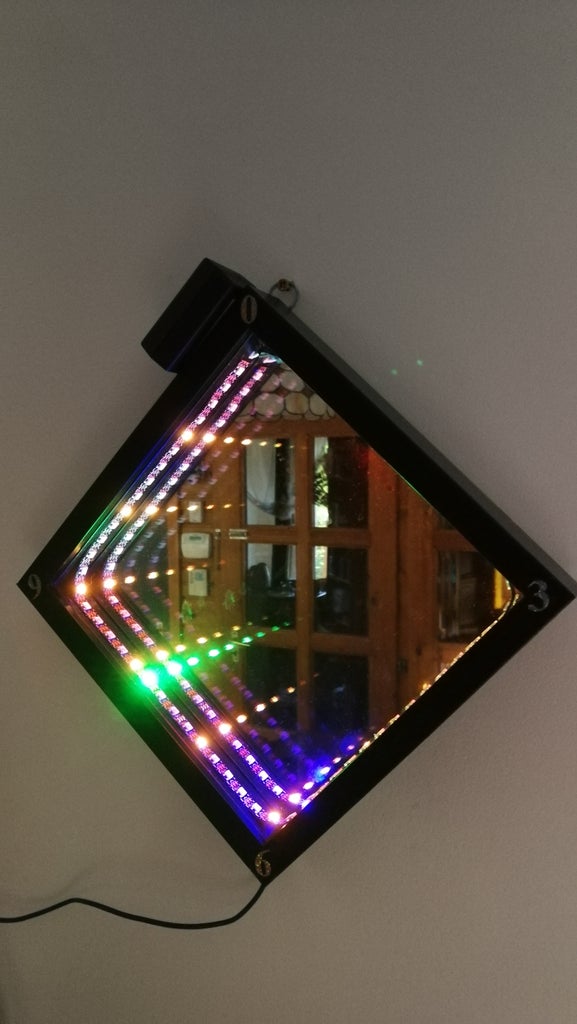 Do you know someone who can spend hours in front of the mirror? It's almost like they're sucked in a black hole. With this mirror everyone who gazes upon it will feel the same way, but not out of any narcissistic tendencies, but because the effect of the lights is so amazing. No special mirror frame is needed, anyone can do the trick, just needs a bit of technical know-how and to follow the instructions in the tutorial.
Patchwork Fabric Mirror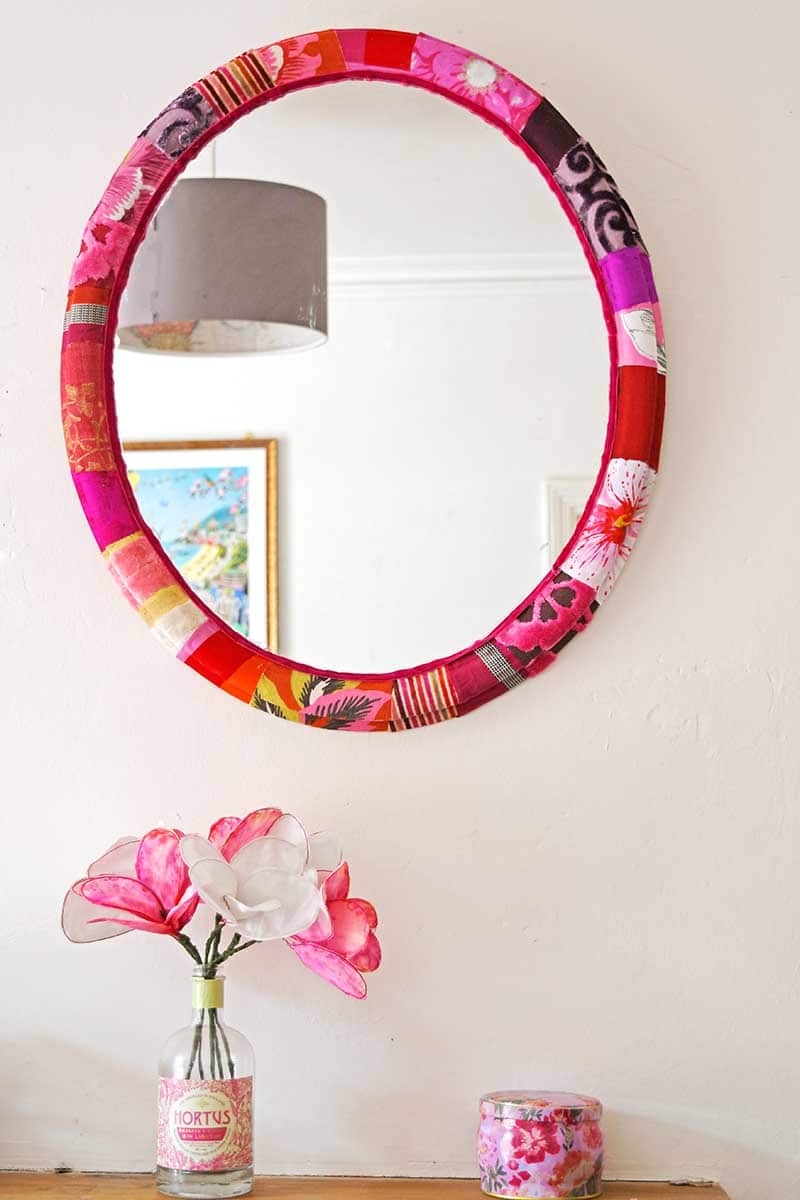 Seamstresses and who like redesigning their old clothes certainly have a bunch of leftover pieces of fabric somewhere. Now you can finally use them to upgrade your mirror into a beautiful and colorful item.
Wooden Pieces Mirror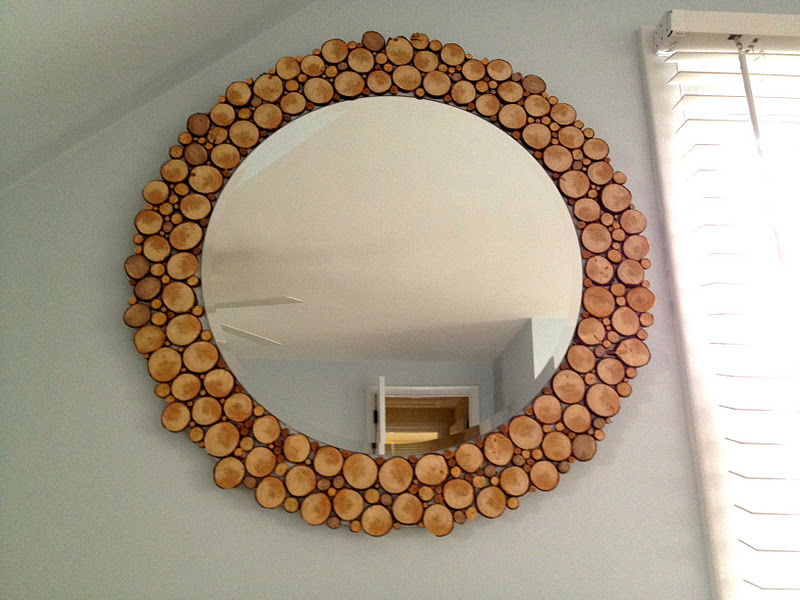 While stone brings in a colder, stronger feel to the home, wood brings in the earthy warmth. Small pieces of saw-cut wooden circles arranged around the edges of the mirror gives you a combo of modern and rustic design that can fit into the interior of many homes.
Glass Mosaic Mirror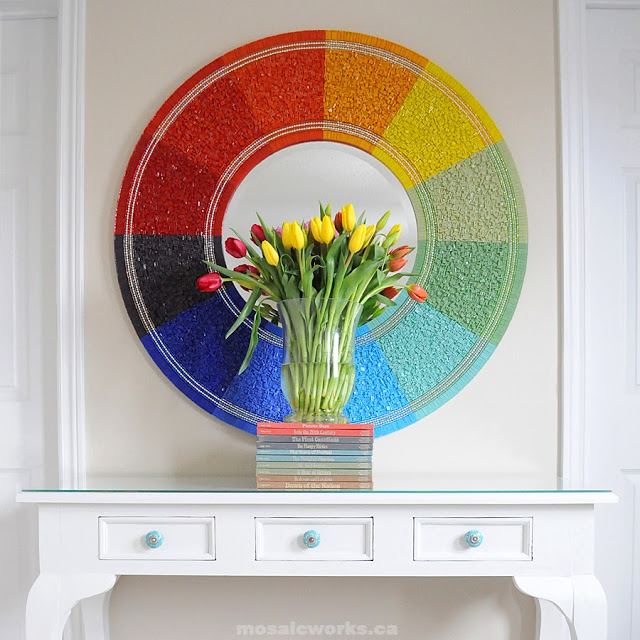 The materials for this project are not some leftovers from other projects, but if you do have them available, it definitely is worth trying out. Because every home needs a bit of color in it, you can bring in the entire rainbow in a small circle and hang it on the wall. And if you don't have any glass tile pieces, you can always use other materials, but with the same concept.
PVC Pipe Mirror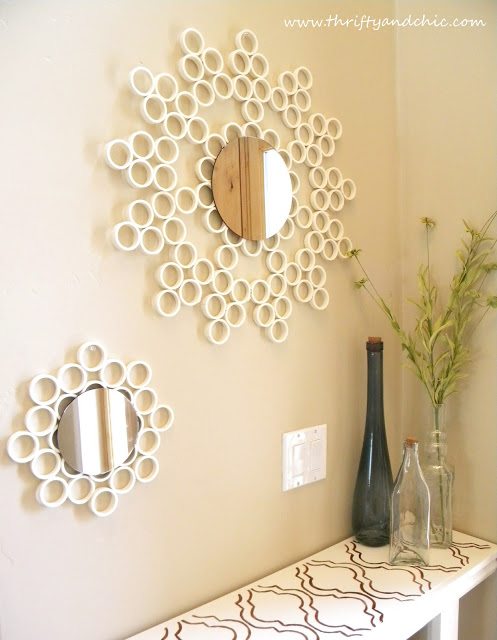 PVC pipes are not just for plumbing. They are affordable and with a little imagination can be used in a variety of projects around the home. For example, in this project, you can cut same-sized rings from a PVC pipe, arrange and glue them in a pattern, and secure the mirror over them. Create a simple bubble-sunburst pattern that will add texture and dimension to your mirror and wall.
Chrysanthemum Mirror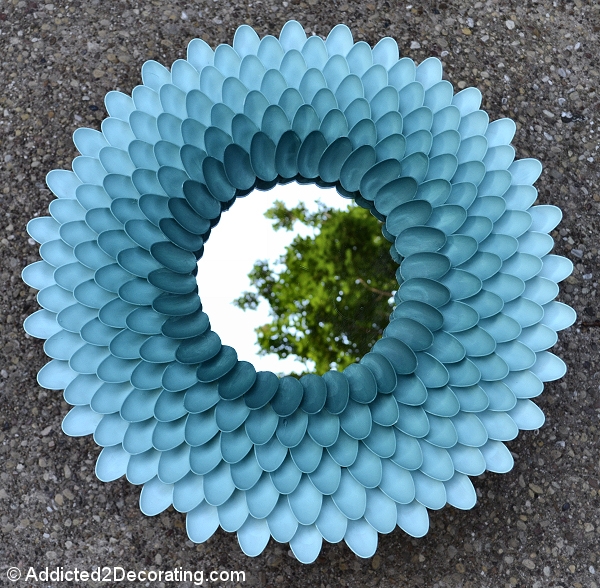 This is another large-frame mirror that has more beauty than practicality, and it will certainly lighten up your home. Looking at this chrysanthemum mirror, you'll never guess that it's made from plastic spoons and some paint. Yes, that's all you need to make this beauty yourself.
Tassel Mirror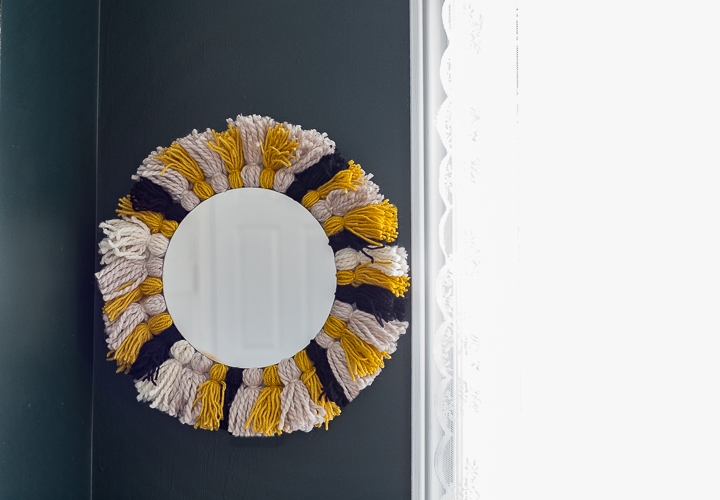 Macrame and yarn wall art has made a comeback and became quite popular in recent years. For macrame art, there are plenty of tutorials where you can learn to weave the yarn or rope into intricate shapes. Unfortunately, not many of us have the skills or patience to create yarn art. But everyone would be able to do this fluffy tassel mirror that will bring a bit of playfulness to the home.
That's all the projects we have for now. What is your favorite decorative mirror fram?  Share with us your thoughts and ideas in the comments.