We all know that makeup is the best friend for most women around the world, and some of us can't picture ourselves not wearing it. Makeup is another tool to appear more attractive.
But the first thing people usually notice about your appearance, are the eyes. Eye makeup can really change the way you look, open your eyes, and brighten the face.
The mascara is very important, it makes our lashes look so much longer and fuller, the eyeshadows can help you manipulate your eye shape and change it, and the pencils can elongate the eyes. Here are 10 beauty tricks for eye makeup.
1. Find Your Eye Shape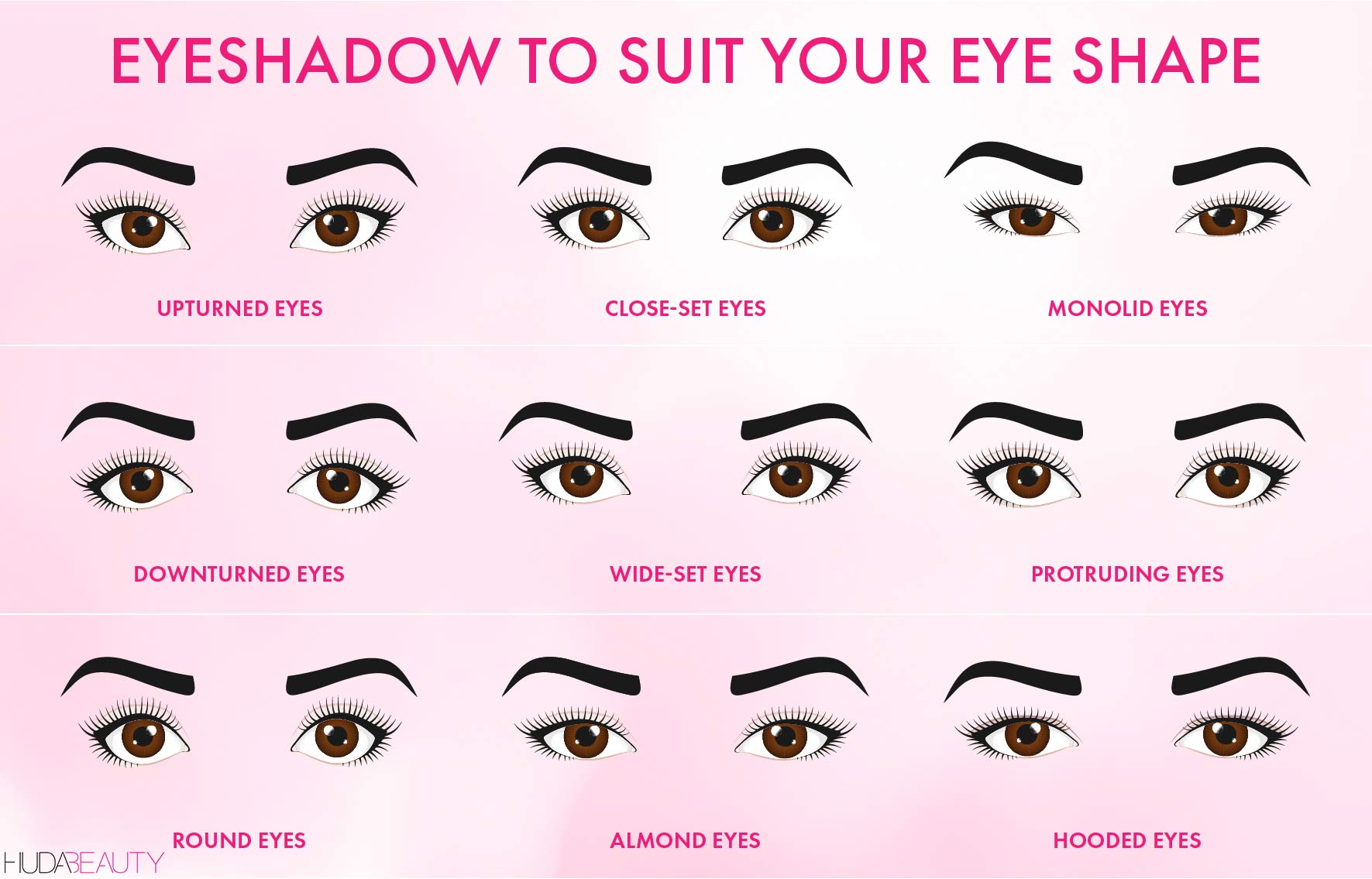 via  hudabeauty.com
Eyes are beautifully diverse in different varieties of sizes, shapes, and colors. And each eye shape comes with different makeup tricks and tips to enhance. Although any eye shape can wear any type of makeup they please, it's recommended to know, similar to how a dress might look better on a particular body type. Once you determine your eye shape, you will have a much better chance of creating a look that flatters your specific form. You will be able to tailor your favorite makeup, which is sure to turn a few heads.
2. Home-made Eye Primer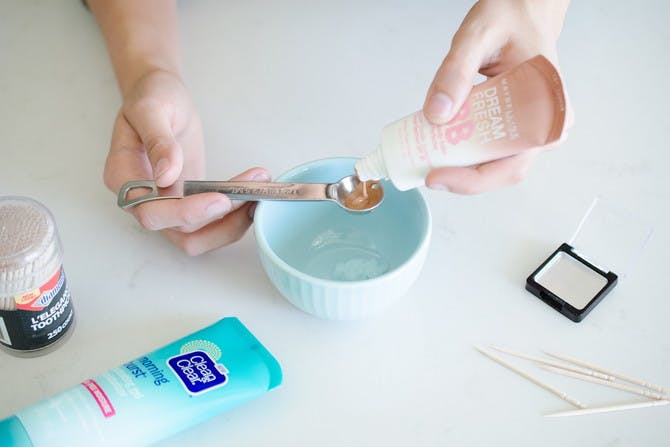 via wikihow.com
One of the secrets of keeping the eye looking great is using an eye primer. There are great ways to do them by yourself at home. The eye primer helps the makeup to last longer, and prevent the eyeshadows from creasing and fading. The skin has natural oils (much appreciated) which can make the eyeshadow a little break, fragmented, and non-existent after a few hours of wearing it. So, home-made eyeshadow primers can keep it looking better and last longer.
3. The Benefits of White Eyeshadow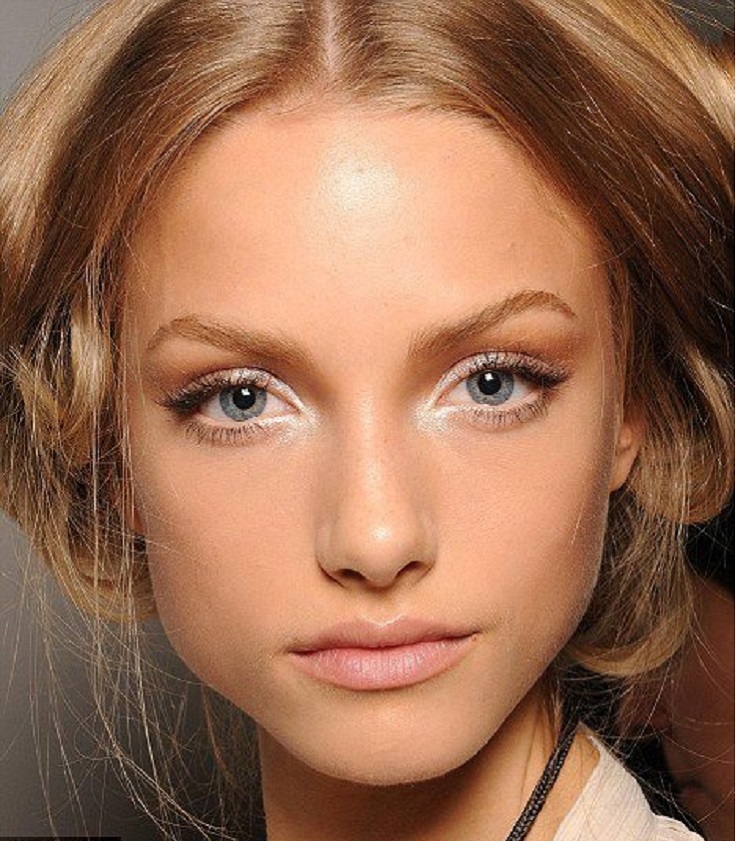 via byrdie.com
White is the perfect base color to use on eyelids when wanting to intensify any color shadow you choose to apply next. Even a concealer can be used so other colors can look as intense, bright, and colorful as they are. But honestly, white is actually a shade that can make quite a statement when you know how to use it. You want to highlight or define, create a dramatic eye look, and be calm yet glittery, definitely consider using the power of white eyeshadow!
4. Baby Powder on the Eyelashes Before and Between Mascara Coasts
via brit.co
This is a total beauty hack and myth! If you want your eyelashes to look thick and "fake", try this beauty tip that suggests dusting baby powder on your eyelashes in between mascara coats. Who doesn't like thick and dramatic eyelashes that make eyes pop? It's budget-friendly and saves a ton of time when you are in a hurry instead of applying false eyelashes with all the glue mess. Having glam eyelashes means you can keep the rest of the makeup minimal, still looking simple and elegant.
5. Heat the Lash Curler With Blow Dryer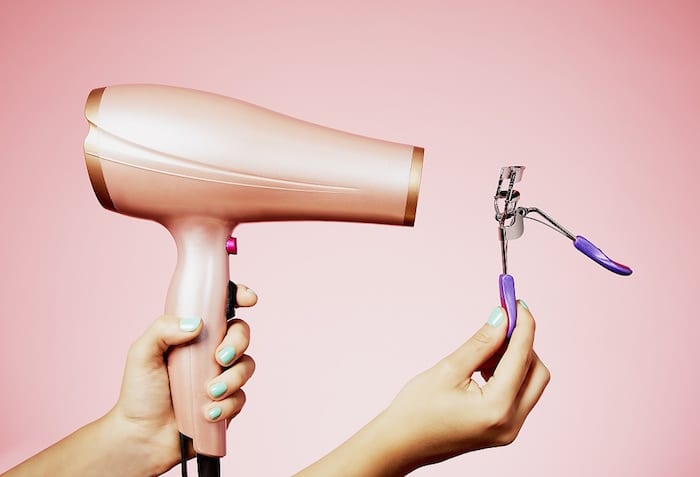 via seventeen.com
Curled eyelashes give you that cute doll eye effect, making you look more alert. You can achieve this effect by heating your regular eyelash curler with a hairdryer. Especially if your eyelashes are straight, this technique is ideal. And if you are concerned about not burning the delicate eye area, try testing the curler on the back of your hand or wrist too, make sure it's cool enough before using.
6. Double Liner For Sophisticated Look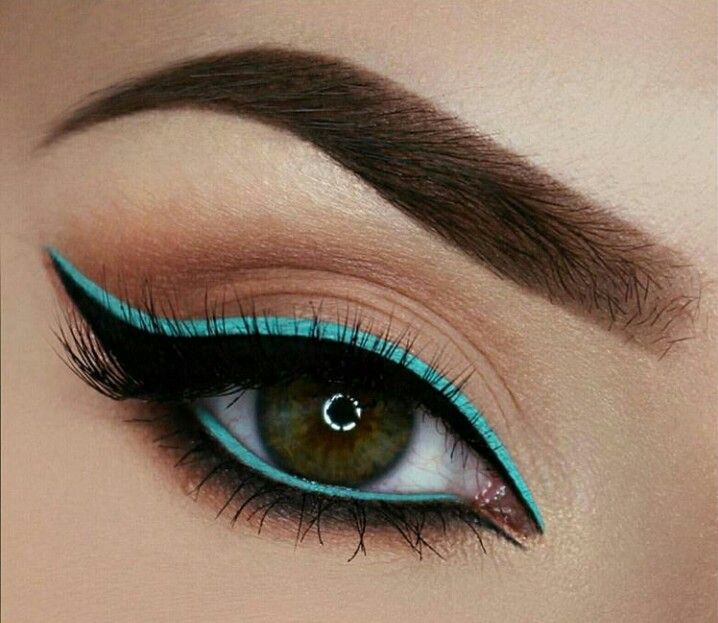 Another makeup trend if you are looking to amplify your look, is to try double eyeliner. This means applying two wings in two different colors. So if you are not a classic person and like experimenting you might like it. Basically, it takes two steps. First, you will need to start with creating a cat-eye style with your classic eyeliner brush, and after adding another line on top but this time in another color. You can be as adventurous as you like when choosing the second eyeliner color.
7. Use Tweezers to Separate the Lashes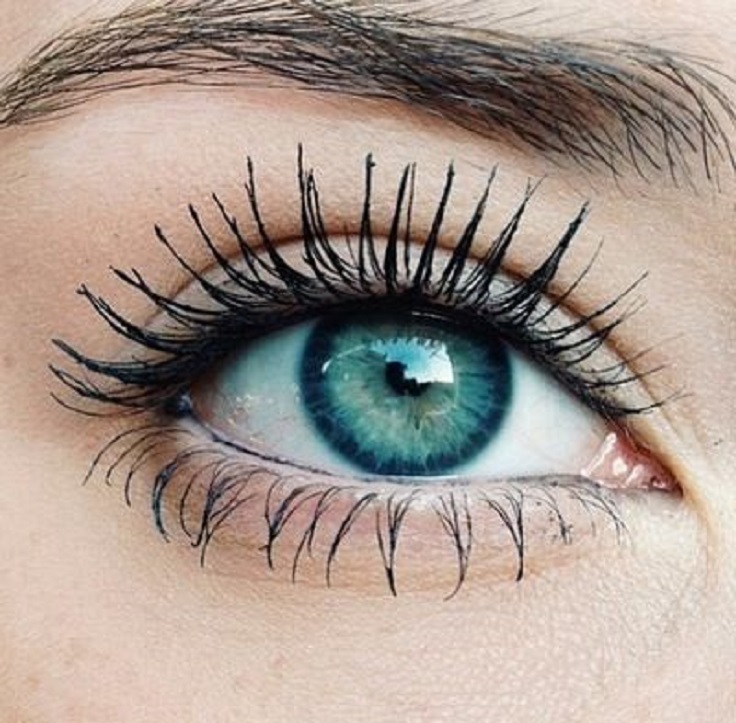 via stylecaster.com
I think every woman has mastered the art of clumping her lashes with mascara. Super frustrating especially after an award-winning makeup application, you wait until the end to apply your mascara, and oh no! Women try anything to separate the mascara clump into perfectly aligned lashes. Eyelash brush is the best, however, if you don't have one then tweezers are surely in your makeup kit.
8. Use Scotch Tape to Shape the Eye Shadow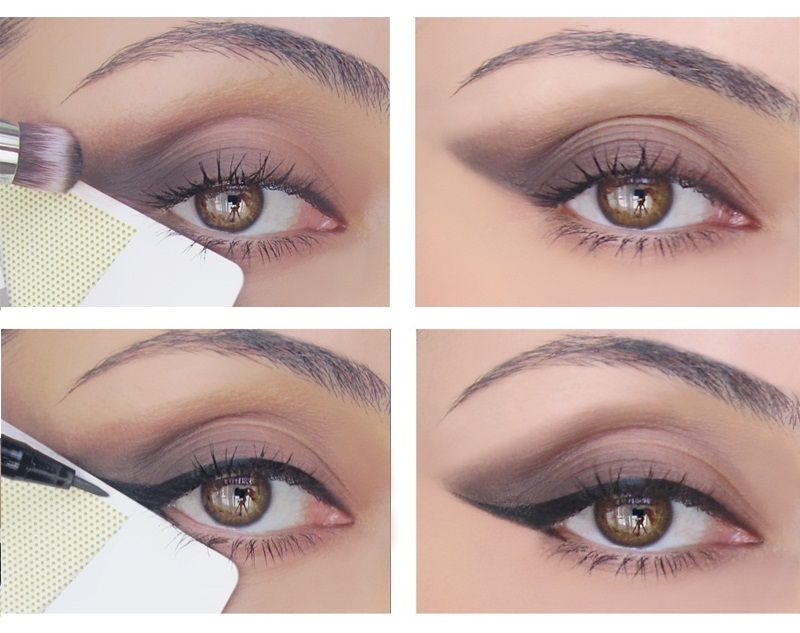 via refinery29.com
During the everyday "struggle" to look flawless, makeup plays a vital role. At one point every woman had a fallout from eye makeup on the cheeks and under the eye area spiling the well-blended foundation. To avoid such situations here is a simple and easy trick by applying scotch tape. If you don't have tapes specially made for these scenarios, here is a tip: avoid using the transparent strong scotch but instead use the milky one which is softer, or first stick on your hand, then put on your face.
9. Cut the False Eyelashes to Half for Natural Look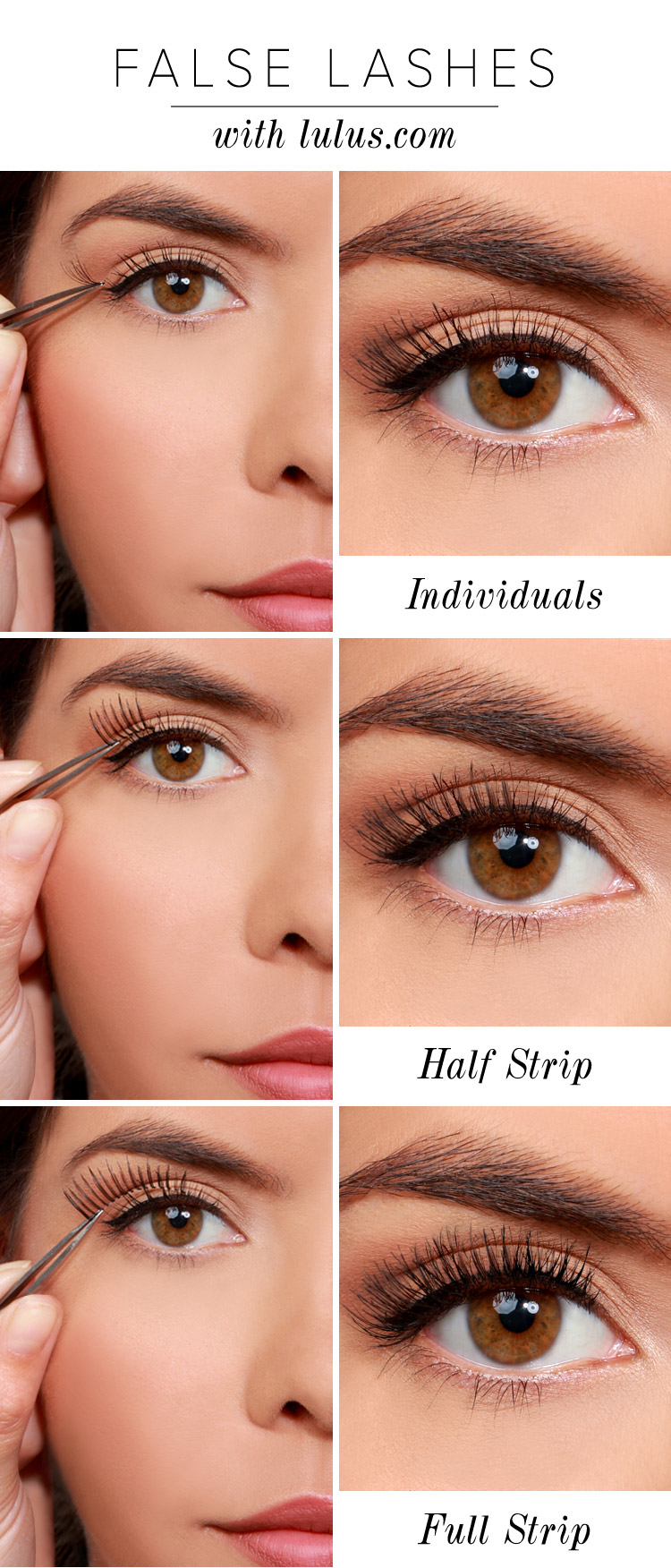 via lulus.com
An easy way to apply false eyelashes is to cut the strip in half, and apply both pieces separately which will make it easier to work into the lash line and look more natural. Applying half stripe or individual pieces you will achieve a natural or daytime look you can have throughout. By applying a full strip eyelash it will give you a smokier, filling, and more nighttime look. There is no wrong way, more of a preference.
10. Hairspray to Set the Eyebrows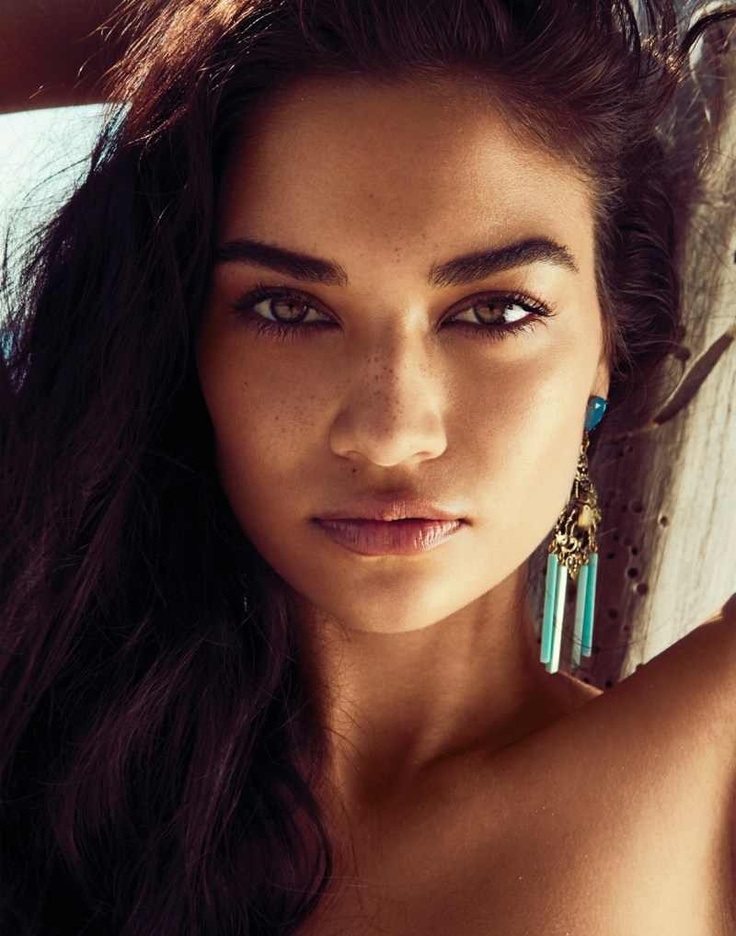 via oprahmag.com
On the days when your eyebrows are acting like an unruly child and you have no eyebrow mascara to put those rogue hairs in place, you can apply hairspray on your regular brow brush. Then brush to sweep the hairs from the inner corners to the arch up toward your hairline. Then change the angle to smooth the hairs at the tail end towards the top of your ears. If you don't have a brow brush, a toothbrush will do its job.