Flowers have the power to make any garden beautiful! They are the easiest and most often a cheap way to bring change to your garden and make it more joyous. Those of you who spend the summer nights in a garden, surrounded with beautiful flowers and trees, you know what it's like – it's like a paradise.
We have already shown you pink and blue flowers that can make your garden a paradise with their color,  so in this article, we are focusing on other flowers with another color – it's the purple we're talking about. If you love this color and you'd like to make a change in your garden, scroll along.
1. Balloon Flower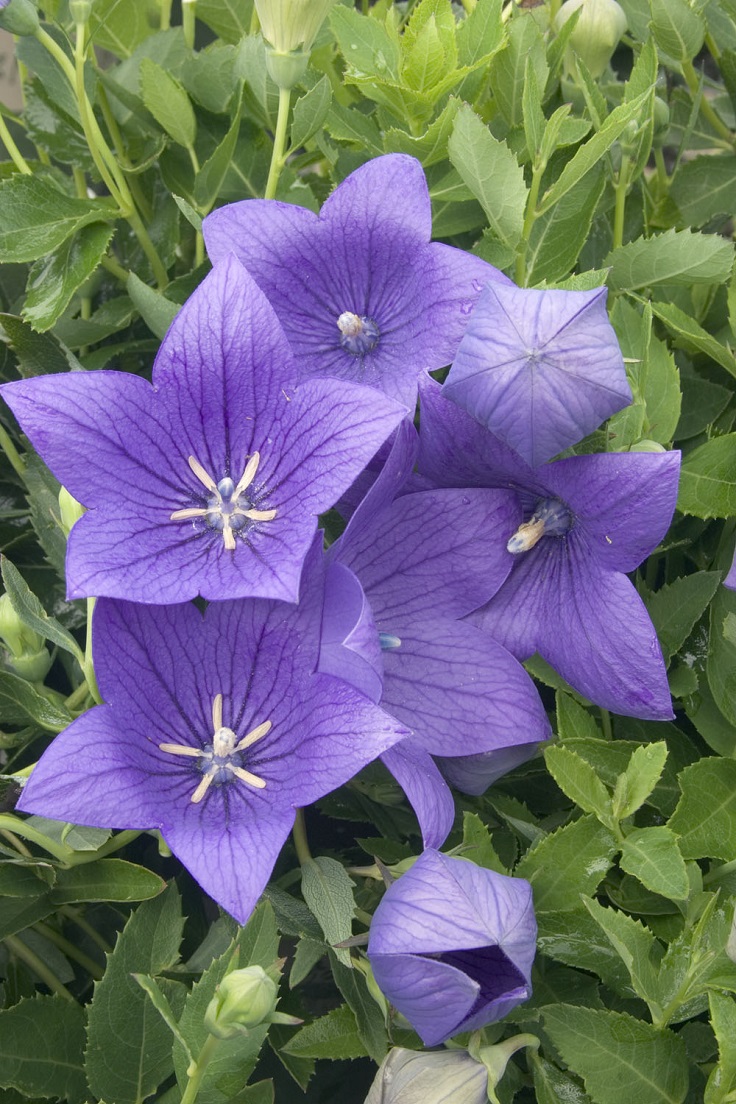 via monrovia.com
These gorgeous flowers are really easy to take care of, as there are just a few simple things you need to do after their establishment. The balloon flowers can be fertilized in spring with a slow-release fertilizer, and after that, just water them when needed. What you are really going to like about the balloon flowers, besides being so pretty, is that they will save you from worrying about pests and diseases – they are both pest and disease-free, at least most of the time!
2. Allium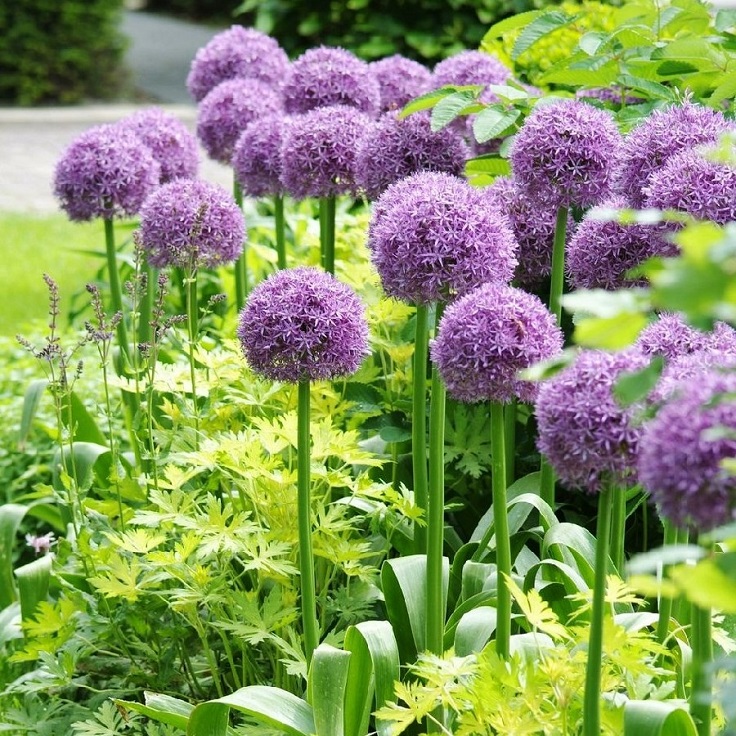 via edenbrothers.com
With their height, it will be easy for them to stand out from the rest of the plants and steal all the attention! Alliums have clusters of tiny flowers that together form one big flower ball that makes them so adorable, don't you think? The most important thing about planting alliums is to do it in autumn. After the establishment, alliums become drought-tolerant, and don't worry; they are pest-free and resistant to deer, voles, chipmunks, and rabbits.
3. Monkshood
via thespruce.com
The monkshood flower can also be found by its other common names – Friar's cap and Blue Rocket. It is similar to larkspur, but these two flowers differ in their stems. In medieval times, the flower was used as a medical plant, and in the modern day world, it was the first perennial grown as an ornamental plant. However, you should be very careful with this plant – it is deadly, so make sure pets and children stay away from it, while you should wear gloves when taking care of the monkshood flower.
4. Hummelo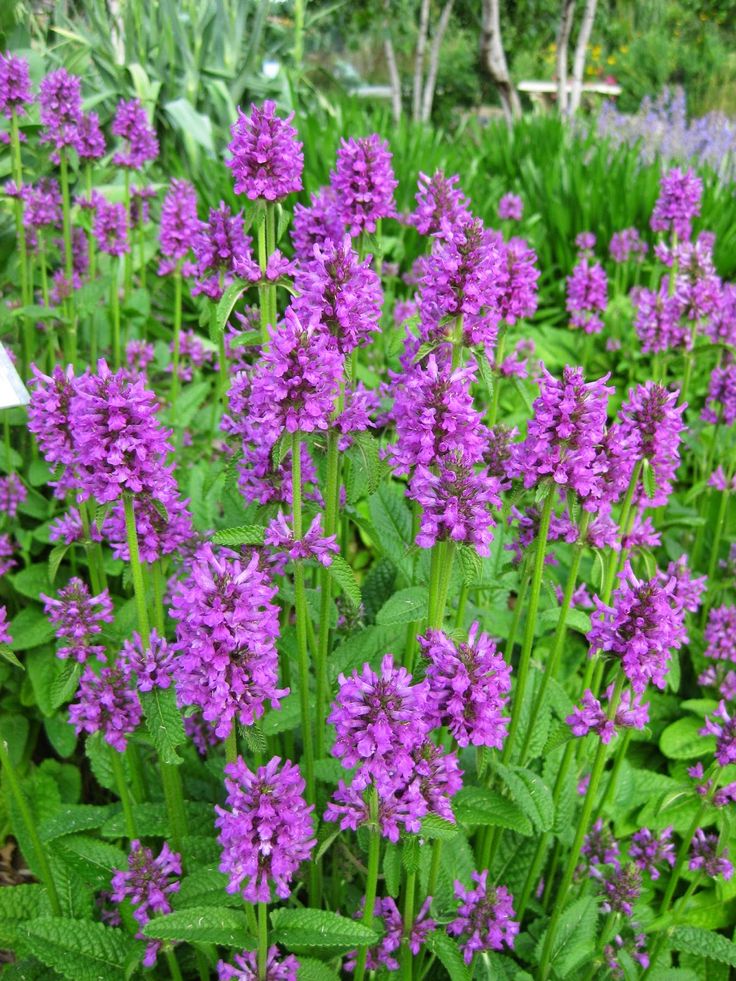 via rotarybotanicalgardens.org
The hummelo flowers are also known as betony or Stachys in latin. During the medieval ages, these flowers were very appreciated among people – the Italians had a proverb "sell your coat and buy a betony." At the same time, the Spaniards used to say of someone that they "had as many virtues as a betony." Well, we can't blame them for saying such things! The beautiful hummelo is generally pest-free, and instead of bugs, it will attract butterflies and bees.
5. Aster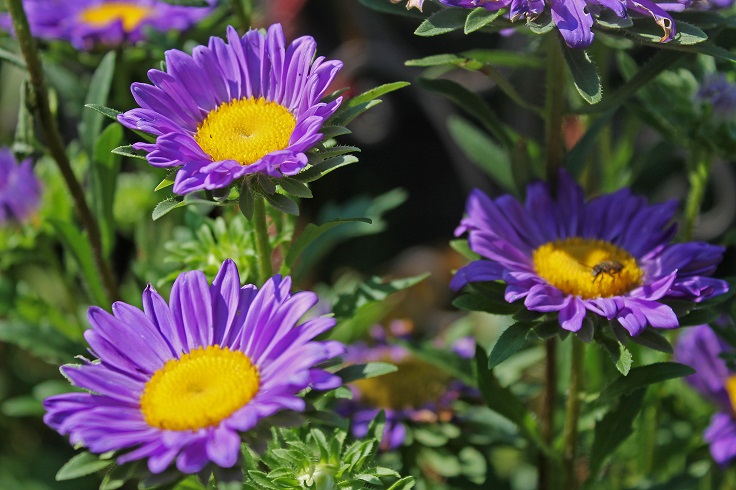 The aster flowers belong to the sunflower family, so it's no wonder why they look like so. In ancient times, this flower used to be burned to chase away negative energy, while today it is considered the birth flower of those born in September; therefore, the aster is seen as the symbol of autumn! However, unlike the previous flowers, the asters attract many pests and even birds because of their vibrant color.
6. Cyclamen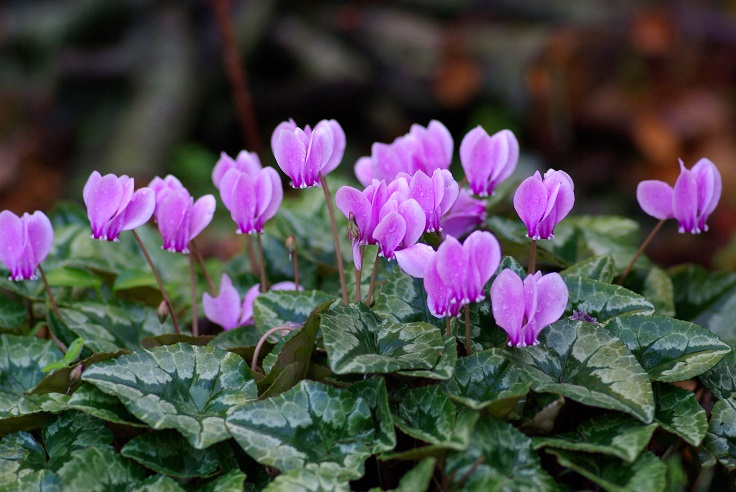 via gbif.org
Cyclamens are five-petaled flowers that come in pink, purple, and white. They are very delicate and adorable, with a light scent that will contribute to making your garden a fairy tale. Cyclamens flower throughout the year and are considered as low – maintenance plant. They are resistant to pests but toxic to cats and dogs, so make sure to keep them away from these beautiful flowers. Cyclamens make a great addition to garden beds, considering they are hardy and tolerate cooler climates.
7. Crocus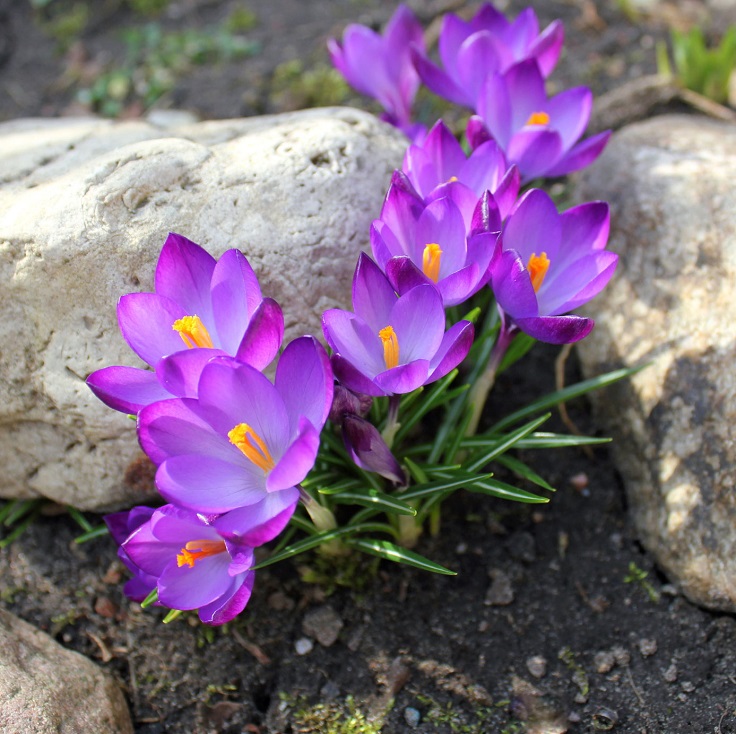 These tiny flowers sure know how to make any garden ground wonderful – don't you just wish to make yourself a garden carpet filled with pretty crocus plants? We sure do! They come in few colors besides purple, like white, yellow and mauve. What makes these flowers so unique is that the most expensive spice in the world comes from that – it's the saffron we're talking about. The crocus can survive for two years, and it's very hard to accumulate just 1 kg of this flower – for this, you will need 85.000 crocuses!
8. Pasque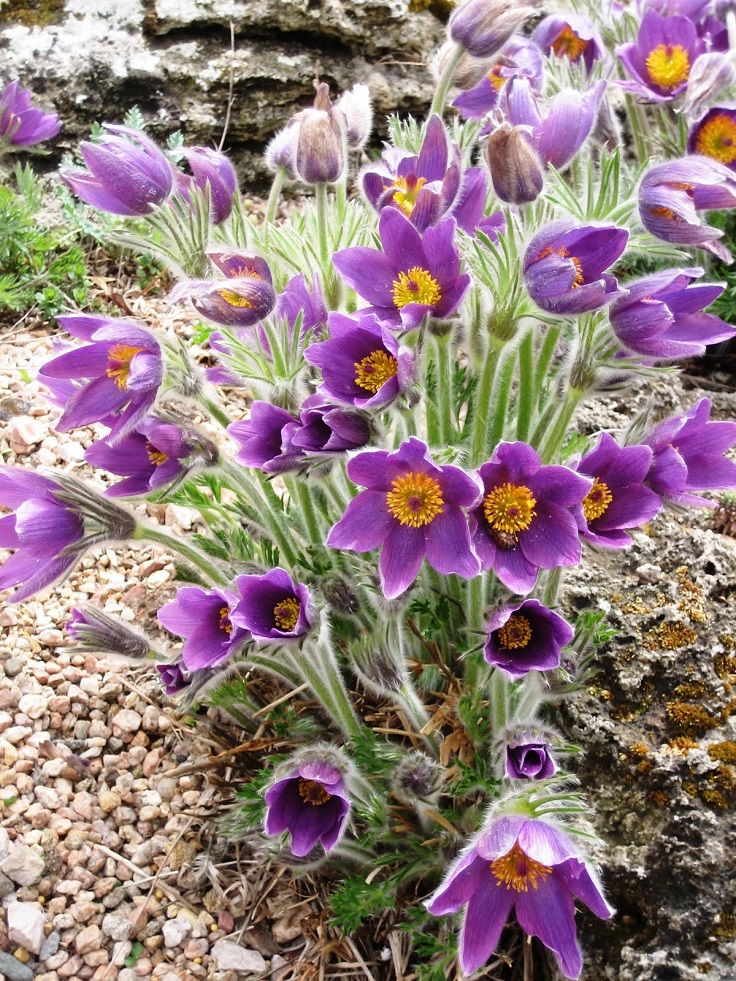 via pinsdaddy.com
The pasque flower is a member of the buttercup family. It represents a genus of flowers that are native to meadows, foothills, and prairies of North America, Europe, and Asia. They have a short blooming time, starting from late March up until early April. What makes these flowers so special is that they open their petals in the sun and then close them in the evening or during cloudy weather. Be aware that the pasque flower is poisonous! It is ideal for rock gardens and garden beds.
9. Petunia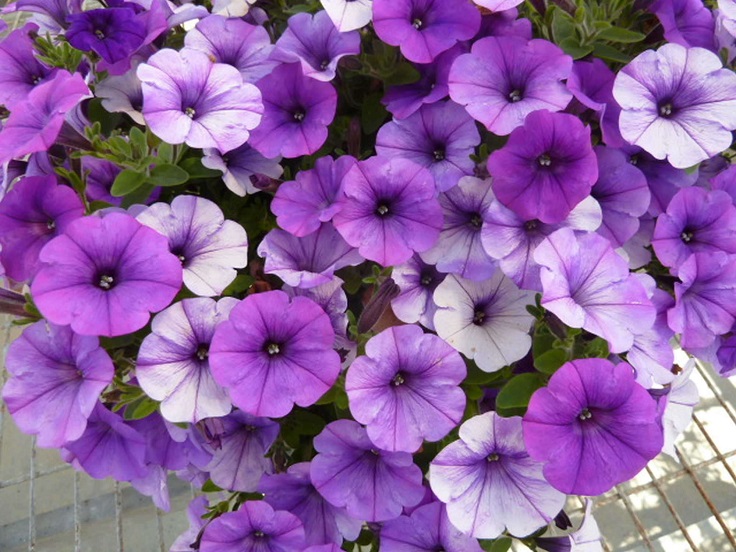 The petunia is one of the most popular garden flowers thanks to its gracious look and the fact that it comes in many colors, including purple, white, and pink, but it can also be multicolored. They bloom from spring to autumn, and depending on the variety, they can produce a single or double bloom. Petunias come in four main varieties, of which the Grandiflora is the most common among gardeners. Most of the varieties are propagated by seed and are annual.
1o. Rhododendron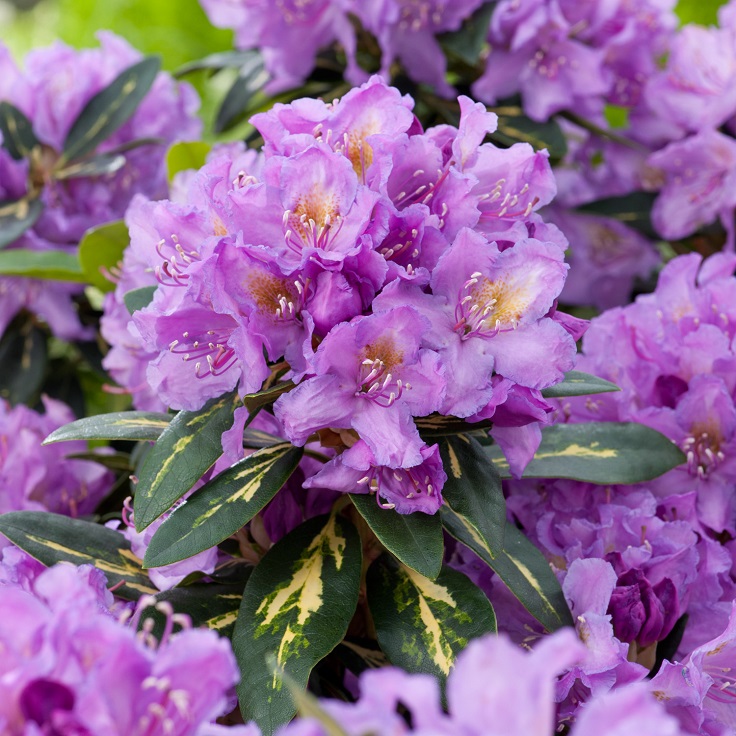 via dobbies.com
This lover of cool climates and well-drained soils is commonly found in mountains, coniferous and temperate forests, and tropical rainforests. The plant grows in the form of a small tree or bush, depending on the variety you choose. Unlike the rest of the flowers on the list, if kept in the best conditions possible, the rhododendron can survive up to 100 years! We are sure you will love the rhododendron; it's impossible not to love the ornamental leaves and fragrant flowers that it has!