Some might say there are a lot of reasons to celebrate today, while others would argue that celebrations are too few and too far between, yet both of thee sides would agree that no celebration is complete without at least some alcohol in the mix. Now, don't confuse drinking with getting flat out drunk. As adults, we all need to know our alcohol tolerance limits and know when to stop. But, how can one keep a party going if there is nothing with a bit of a kick to drink?
No matter the choice of beverage, you can be sure that if an event is worth celebrating, there would be some champagne around, even if it's a cheap one. but sipping from a flute might be a bit boring for some and maybe even pretentious, so why not keep the champagne in the game, but with some added exciting twist? Champagne shots. No, we're not talking about downing champagne from tequila glasses, but getting sweet bite-sized doses of champagne from some exiting jello shots.
Who says adults can't have pure fun at parties without getting wasted? These alcoholic jello shots are still not appropriate for underaged children, but they are mild enough that you can indulge in more than a few before getting just a bit tipsy. They are the perfect solution for keeping the party going longer and are excellent for serving on major gatherings and holidays, like New Years', for one.
So let's have a look at 10 of the best wiggly champagne jello shots that are simple to make and will keep your next party going for a lot loner.
Champagne and Lime Soda Jelly Shots
Jello shots are quite easy to make, with a few ingredients reemerging, so we'll be starting off with something as sparky as the champagne and just as tasty. Some champagne, some lime-soda, and unflavored gelatin, adding some food coloring if you want to make it more colorful, and don't forget the sanding sugar on top. Now that's a party-ready jello shot.
Raspberry Champagne Gelée with Pomegranate and Gold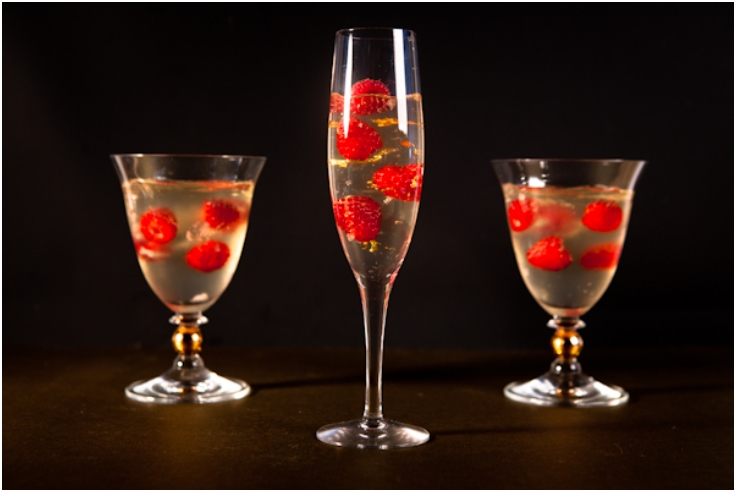 Champagne is often associated with the elite. And what's preventing you from feeling fancy and special, even when doing champagne shots? Start your champagne gelatin mix, add some raspberries and some edible gold leaf and you and your friends can enjoy the most lavish jello shot ever. And you don't even have to wear fancy clothing to do so.
Blueberry Lemon Fizz
Since champagne isn't among the strongest alcoholic drinks and even that percentage drops when cooked like it's required for some of these recipes. So to keep that alcohol levels on the up and up, vodka is often added, like in this recipe, along with the blueberries and some lemonade. So refreshing.
Mimosa with Orange Flower Water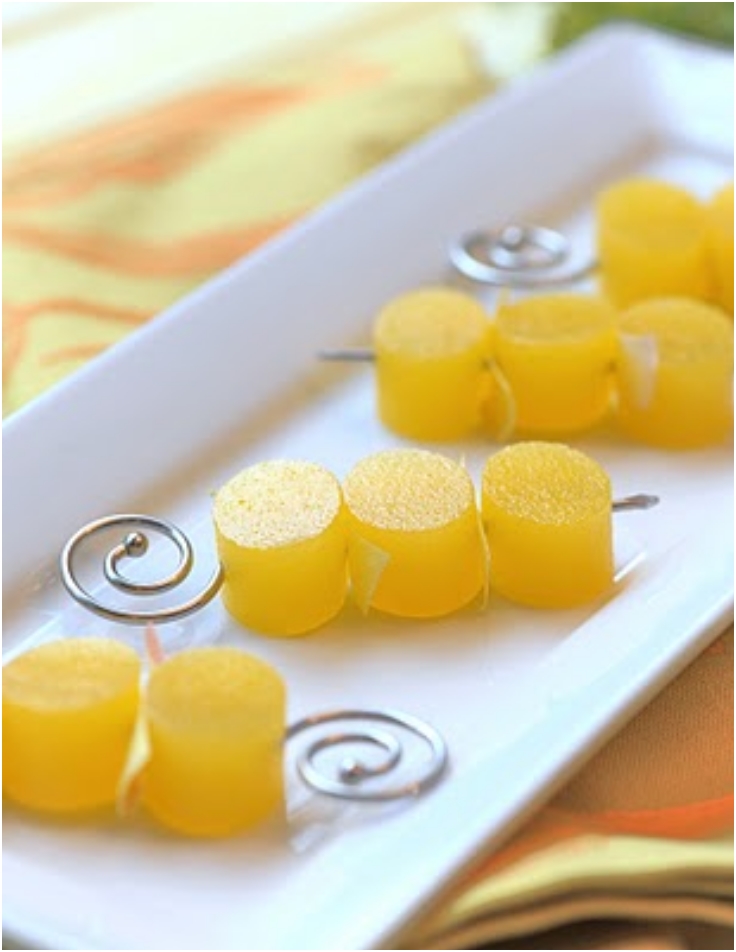 The neat thing about these alcoholic jellies is that you can shape them and play around with them, having something extra to add to a fun party. Like this orange juice and champagne jello shot, where small pieces are cut into circles and placed on skewers, making them a cute little "champagne on a stick" treat for the quests.
Champagne Jelly Shots In Strawberries
As we mentioned, the neat thing about jello shots is that you can shape them however you like, but you can also put them in cute cups or even better, in edible ones. You can't deny that these champagne jello filled strawberries look deliciously tempting.
Peach Fizz Jello Shot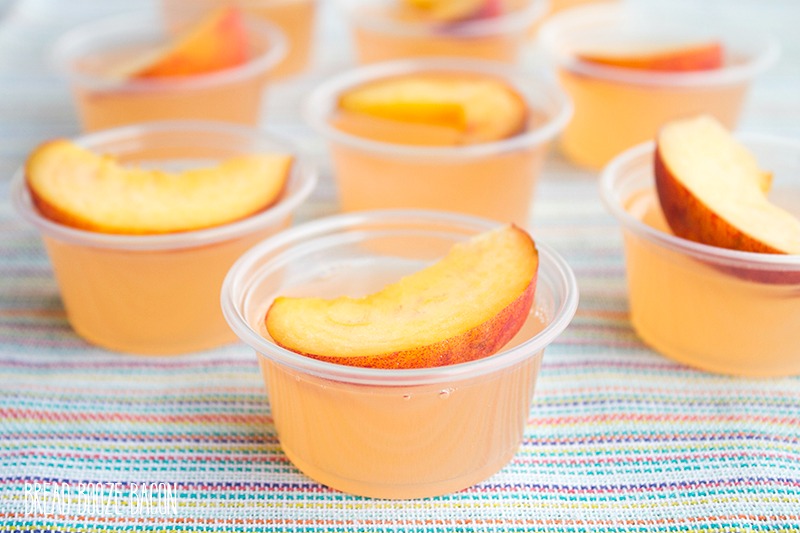 Combining the champagne jello with a fruity flavoring, be it from juice or fresh fruit, adds some much-needed freshness to these boozy bites. This peach flavored may not be a common combo but is absolutely irresistible.
Lime-Strawberry Champagne Jello Shot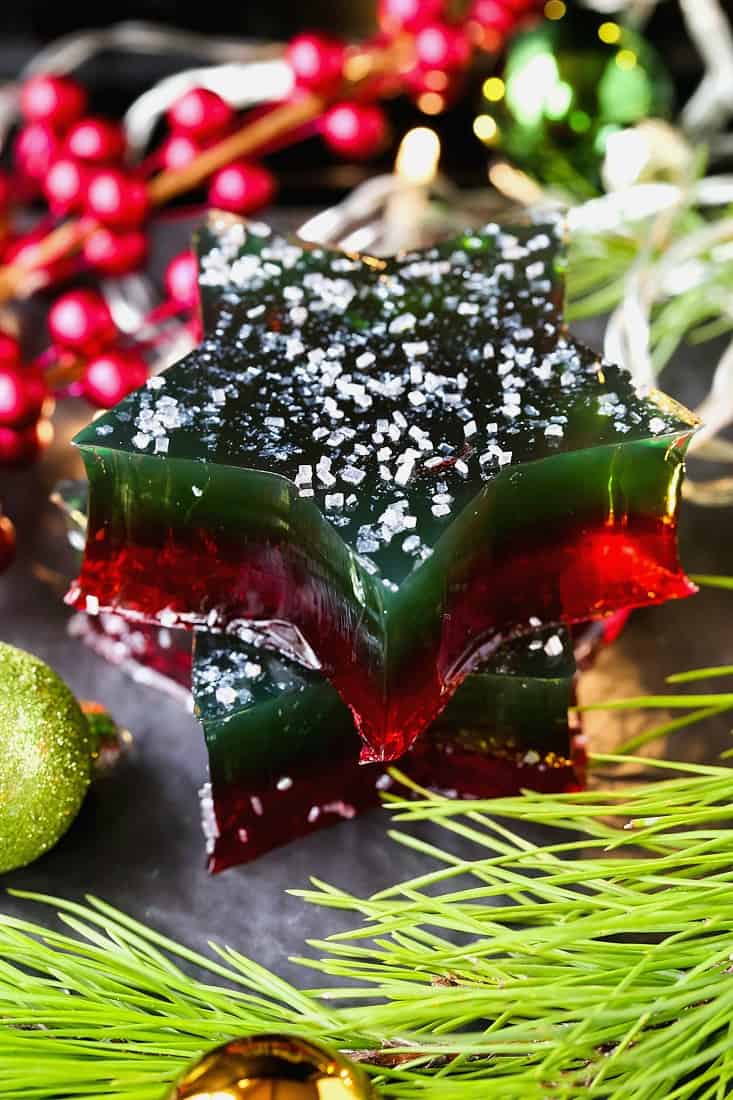 Since lime-strawberry is a very common champagne mix, we had to add it again, but this one is with a twist. The red and green colors from the lime and strawberry flavored gelatin will earn this champagne jelly shot the biggest cheer for Christmas.
Framboise Champagne Jello Shots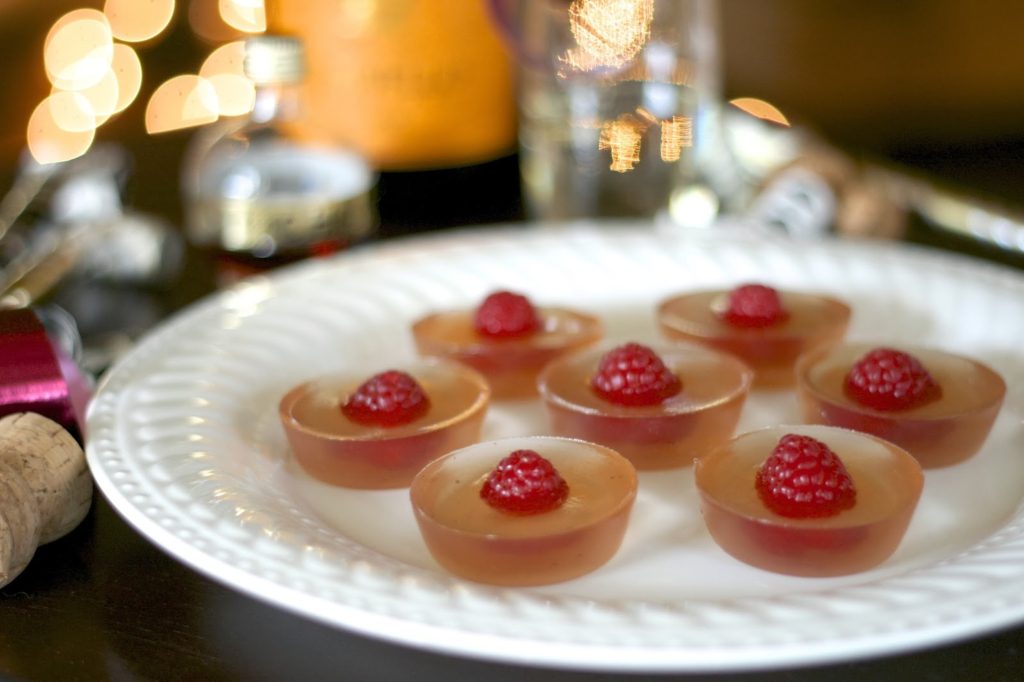 Speaking of holiday cheer, these framboise champagne jello shots with fresh raspberries would make a great addition to your New Year's festivities. These chewy treats will delight everyone and greet the New Year with a smile on their face.
Mermaid Jello Shots
Age is just a number and there's nothing wrong with wanting to throw festive-themed birthday parties for yourself even in your later years. Age shouldn't be a reason not to make your wishes come true, so if you're looking for something mermaid themed for your next party, you mustn't miss out on these magical purple mermaid champagne shots. Just have fun.
Strawberry Champagne Jelly Shots
For our last recipe for a champagne jelly shot, we have one last with a strawberry flavor. The flavor is mainly from the strawberry vodka, but there is also grape juice and the pièce de résistance that make this jello shot such a treat for the taste buds as well as the eyes, is the whipped topping and strawberries added on the top. They almost look too good to eat.
That's all the wiggly-jiggly jello shots we have for you for now. We hoped you enjoyed them and that you'll give them a try for your next festivity. Which do you think would be your favorite boozy jelly shot? Leave us your ideas and thought in the comments below.