In spring, we want to surround ourselves with flowers and bright colors. A little flower arrangement makes such a big difference to a table. It makes the whole room look brighter and more beautiful. To keep things as natural as possible and skip spending money on expensive vases, we recommend using mason jars as flower vases.
With just a little creativity, the plain dollar store mason jars will look stunning. Fill them with seasonal fresh flowers, and voila – you have a spring centerpiece. The ideas we are sharing today are all simple, easy to make, and budget-friendly. You can use these arrangements for a wedding reception, bridal shower, or simply as a nice decoration for your home.
Spring Tulips and Burlap Wrapped Mason Jars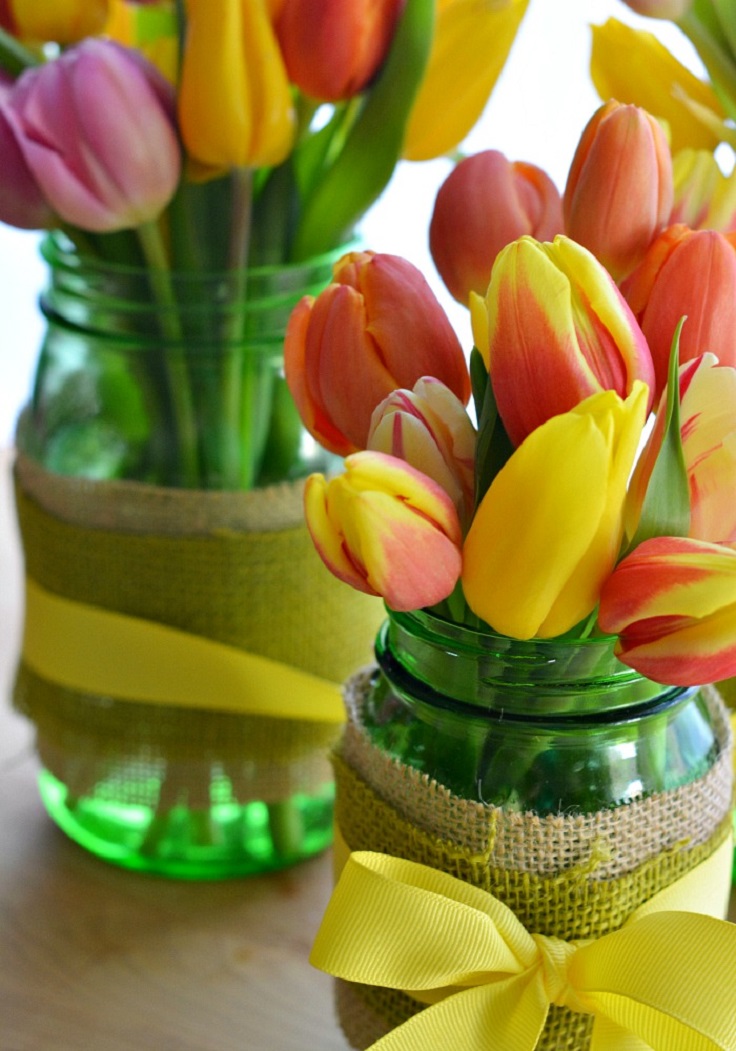 Nothing says spring better than fresh seasonal flowers. This time we choose tulips beautifully arranged in burlap wrapped mason jars as a gorgeous centerpiece for your table. They are easy to make – wrap the jars with burlap, tie a yellow ribbon, and fill them with colorful tulips.
Gold Mason Jar Flower Vases
Add some glamour to plain mason jars by painting them gold. Do not paint the entire jar though, make stripes using painter's tape. Use a golden spray to add the color. When dry, remove the tapes and add your favorite flowers. If you are lucky enough to have some in your garden or balcony, use them; if not, buy some spring flowers from your local market. It can't be any easier!
Glitter Mason Jar Flower Vases
via myuncommonsliceofsuburbia.com
You can make this glitter mason jar flower vase in less than 10 minutes. It is so easy and inexpensive, yet the final look is so pretty. All you'll need is glitter, mason jars, and glossy mod podge. Now pour about an inch of mod podge, add 2 tbsp glitter and turn the jar until it is well covered with glitter. When dry, fill it with beautiful roses and gerbera.
Back to School Flower Bouquet
Such a fine idea! Although the occasion that inspired this project was kids starting school after the summer break, we think this cute arrangement can be used as a decoration in kids' rooms or even in your office. Just get a smaller vase, put it in a bigger mason jar, fill the mason jars with plastic letters, fill the glass with water, and add flowers. Feel free to use something else instead of the letters.
Pre-made silk bouquet, raffia in mason jar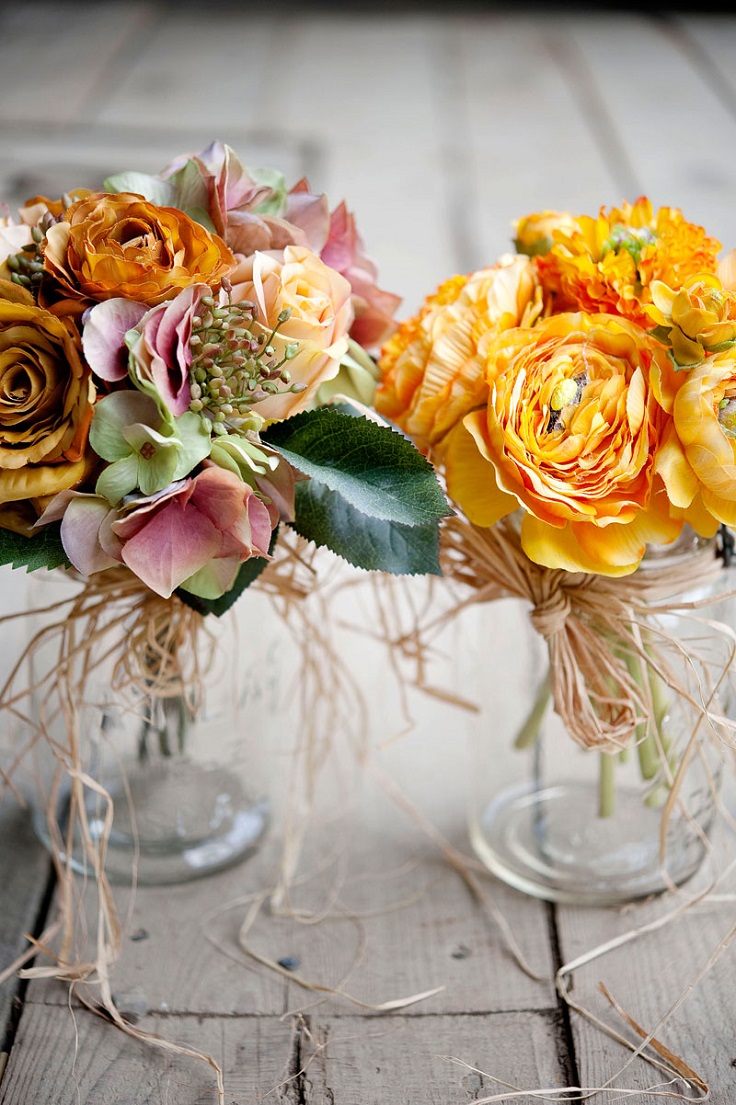 via blog.afloral.com
It can't be easier to make this beautiful flower arrangement. All you need is to make a couple of bouquets with silk or fresh flowers, fill a mason jar with water, put in the bouquets, and tie some raffia around the mason jar. Make them look natural and rustic by leaving some of the raffias to hang loose.
Vintage Blue Mason Jars
via thelittlegsp.com
To make these vintage blue mason jars, you will need to paint the jars blue using glass paint. The whole process is well described on the project's website (link above). When you have the blue jars, you just need to fill them with whatever flowers you like. Make a nice bouquet of mixed flowers for a special occasion, or just fill them with daffodils to brighten up your living room.
Hand Died Ribbon Mason Jars Flower Vases
We just love this hand died ribbon in wild rose color used in this project! You won't need anything else to add to this mason jar vases as the ribbon itself makes the deal. Wrap a ribbon around each jar's lid twice, and finish with a bow. Fill with fresh cut flowers in pink, violet, and yellow.
Mason Jar Photo Frame Vase in Radiant Orchid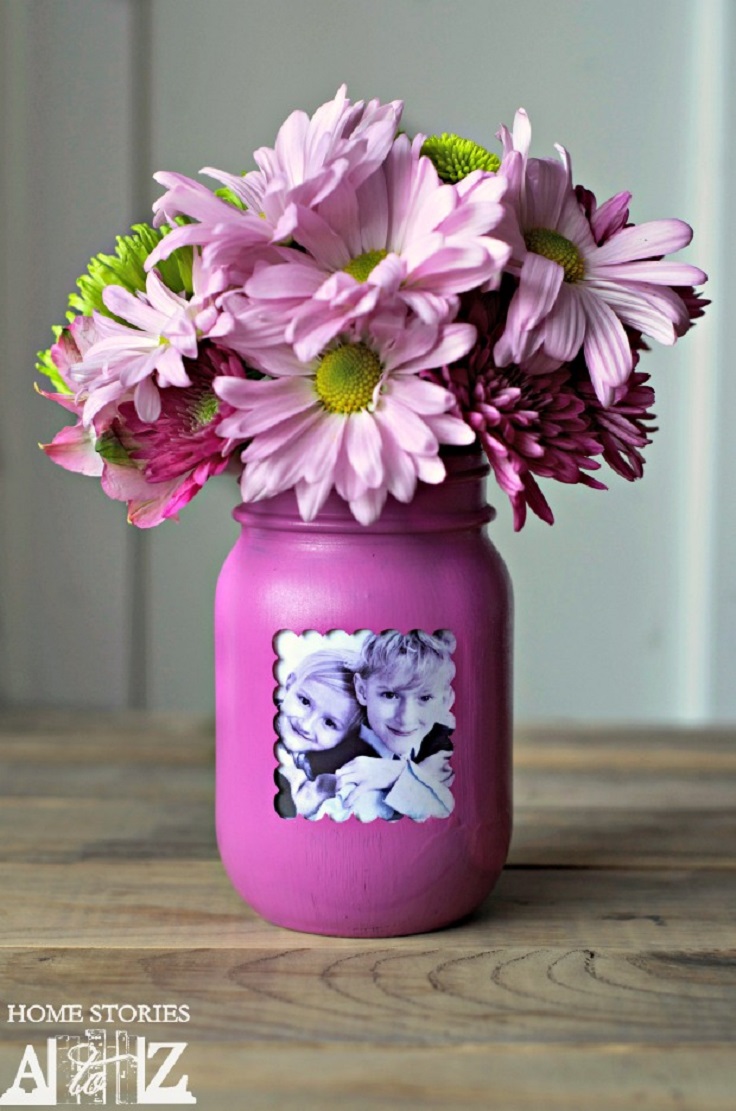 Radiant Orchid was Pantone's color of the year last year, so it is still quite popular, and we must admit it is a beautiful shade of purple. Of course, you can choose any color you wish for this project, but we prefer this one. These jars make a perfect gift or a decoration for your home. Filled with fresh flowers, they will add even more color and scent to the room.
Spring-inspired Mason Jar Bouquet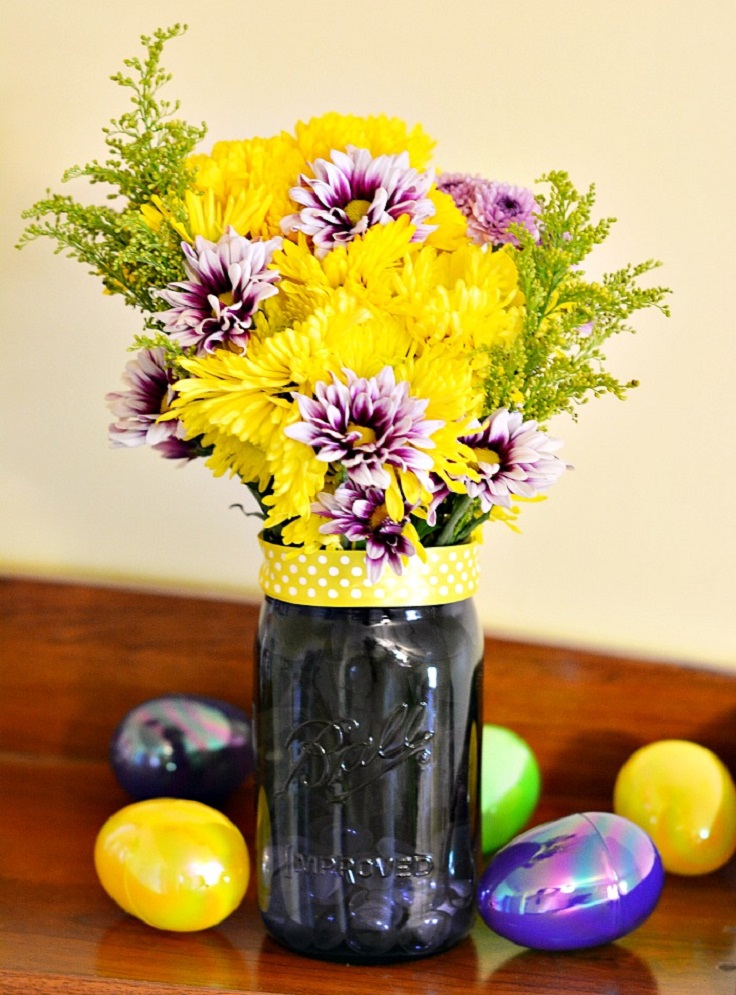 Thinks spring by creating this beautiful bouquet of fresh flowers and putting it in a nice mason jar with a gold ribbon around the lid. For an even more gorgeous effect, fill the bottom of the jar with some white/clear pebbles. Use flowers in yellow, purple, and white and a yellow ribbon with white dots.
Rustic Lace Mason Jar Flower Arrangements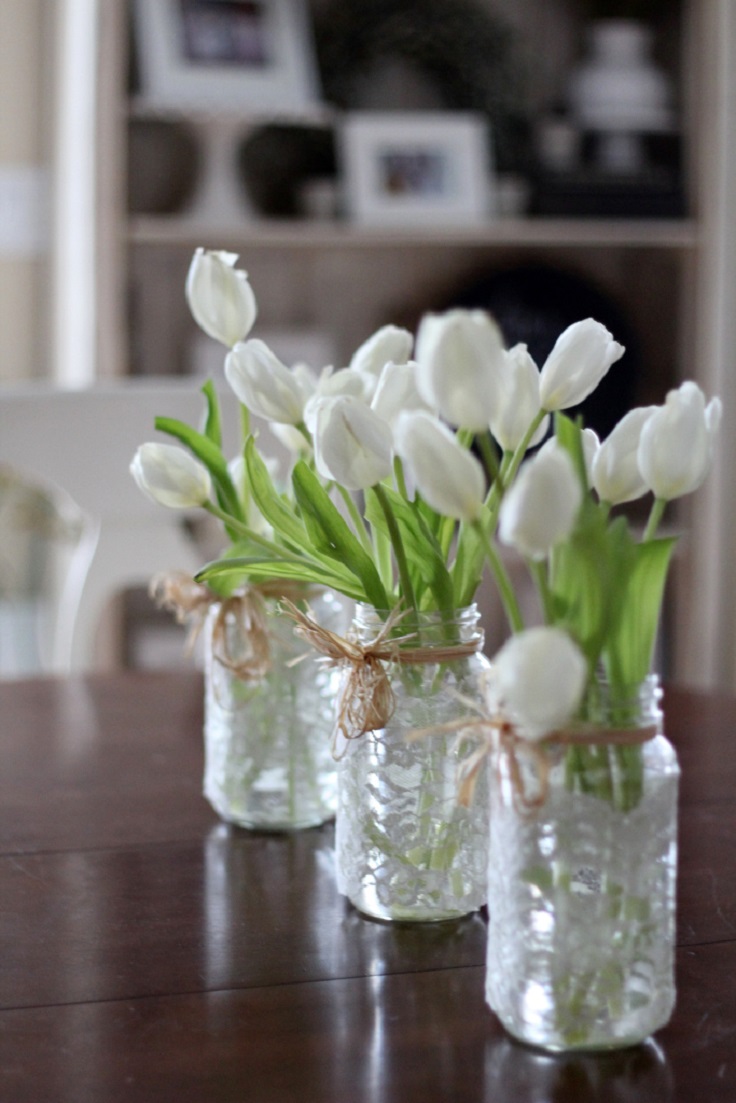 These lacy jars filled will make a perfect centerpiece for a wedding reception, bridal shower, or simply a stunning decoration for your home. To make them get some lace fabric, raffia, scissors, and a glue gun. Glue a piece of the fabric onto the jar, tie raffia around the lid and fill with white tulips.