Some may say that blowing thousands on a place to sleep and shower is total nonsense, a definition of  "senseless overspending". But the crazy and classy stuff we do are the ones that stay remembered.
In fact, "luxury" does not mean only sleeping and showing in a place, it's a total relaxation and pleasure, or an opportunity to spoil yourself (even maybe for just a day or two).
So, ready to live a life (or at least a weekend) of champagne and caviar? Did you pack your designer clothes for this fun countdown of the world's most luxurious hotels?
1. The Palms, Las Vegas, Nevada, USA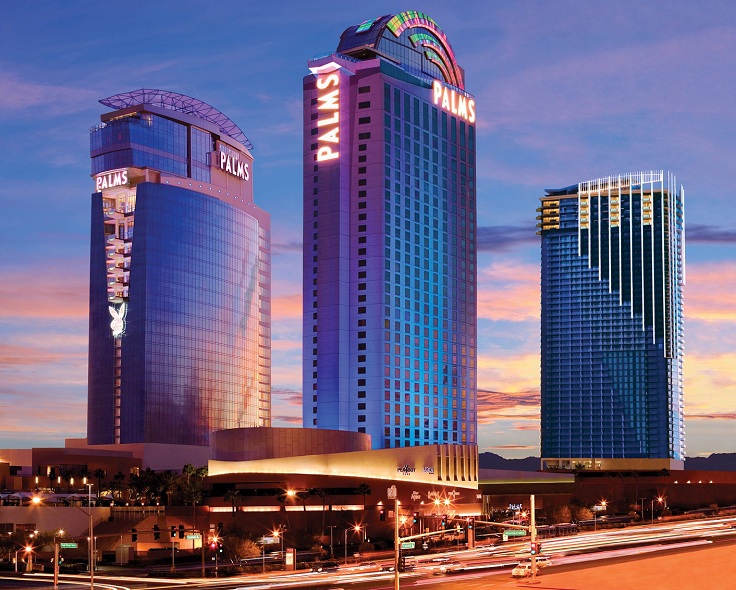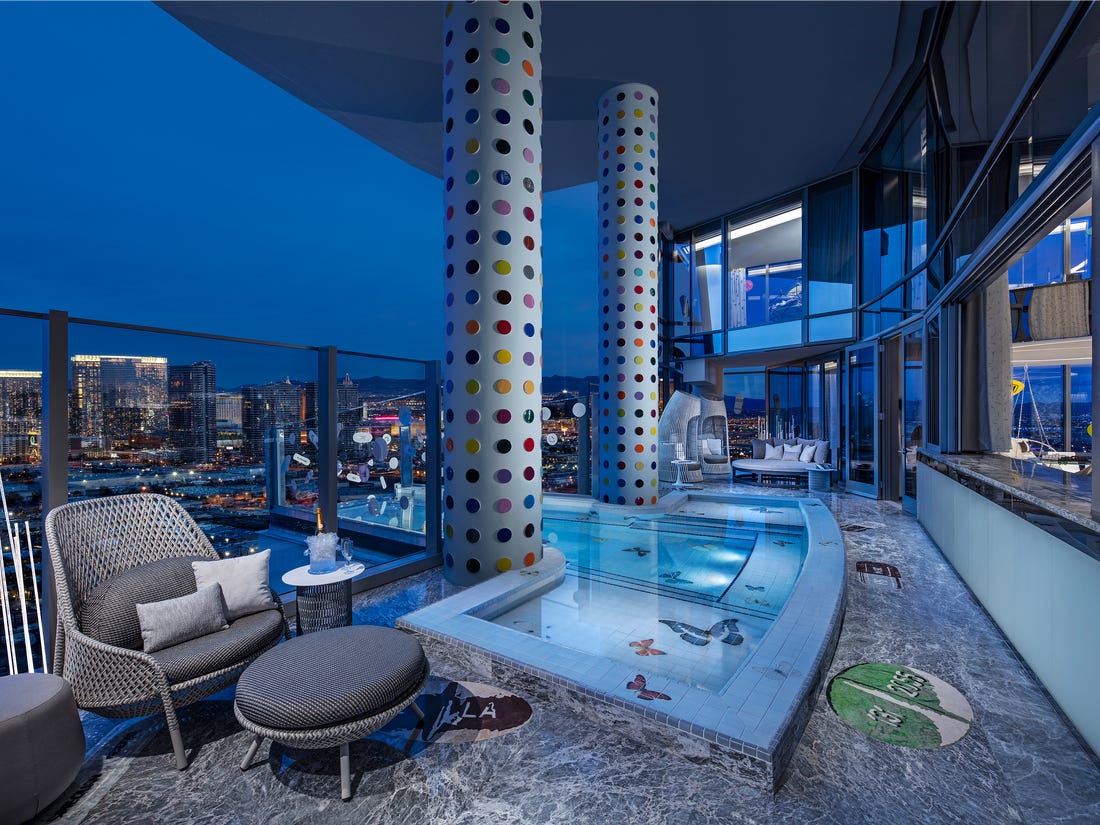 Photo Credit to dezeen.com
This two-story sky hotel is well known in America for luxurious and classy guests. The Palms has large rooms with glass windows which offer a fantastic city view, impressive interior design, the material, and infrastructure used inside is tremendous. Fascinating Penthouse with a private pool and sophisticated touches make this place a fairytale. A rotating bed, gym facilities, high floor bar with swanky digs is some of the fancy lifestyle many celebrities already experienced here.
2. Atlantis, Bahamas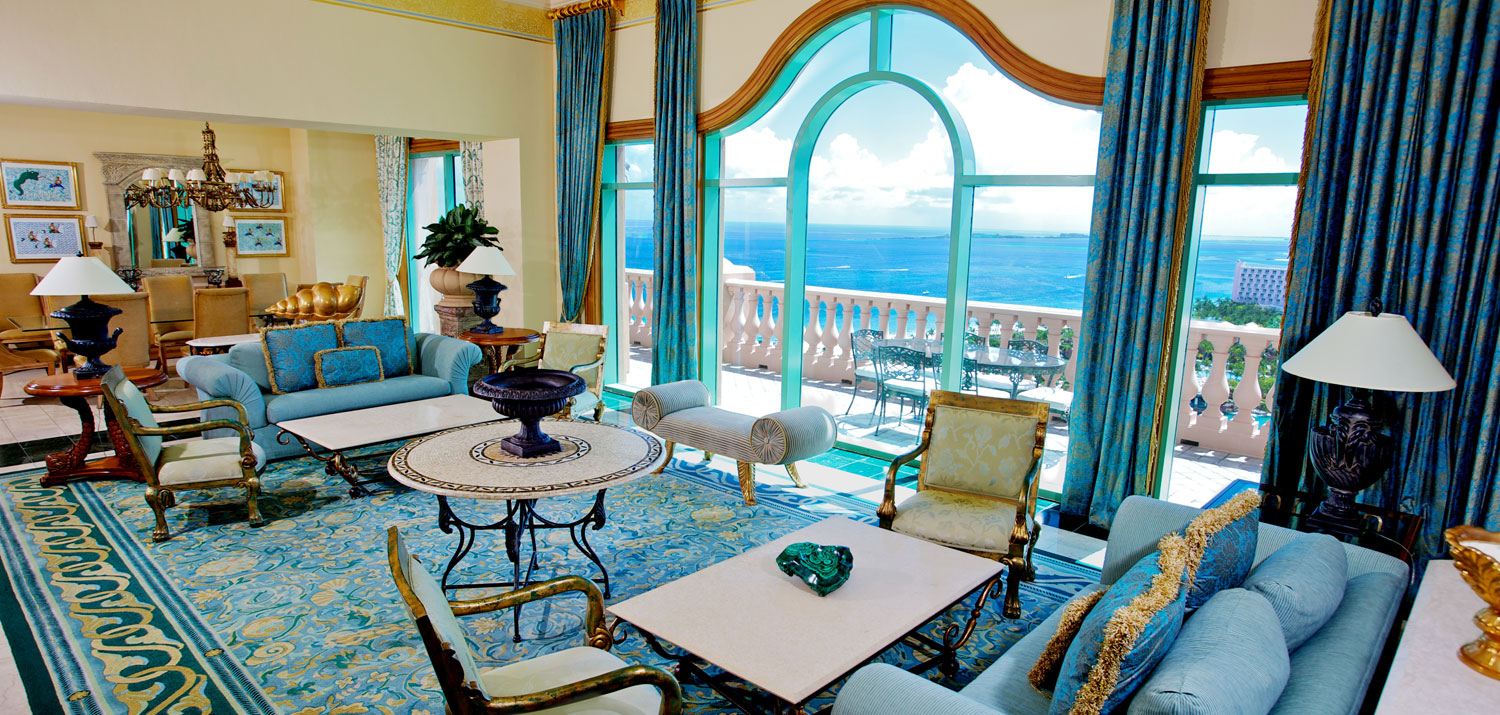 Photo Credit to atlantisbahamas.com
A legendary lost city Atlantis Paradise Island is a primer luxury resort destination in the Bahamas. Famous as one of the most expensive suites is Bridge Suite on the 23rd floor of this magnificent crown jewel. It spans 10 flush rooms with full-length windows, grand piano, twin entertainment centers, a formal dining room with 22 karat gold chandelier, a permanent staff of 7 butlers waiting to cater to your every whim. The resort offers 2,300 guest rooms, the largest casino in the Carebian, an impressive collection of boutiques and shops, meeting and convention facilities, a ballroom, and an amazing variety of restaurants and bars. Fascinating!
3. Mardan Palace, Antalya, Turkey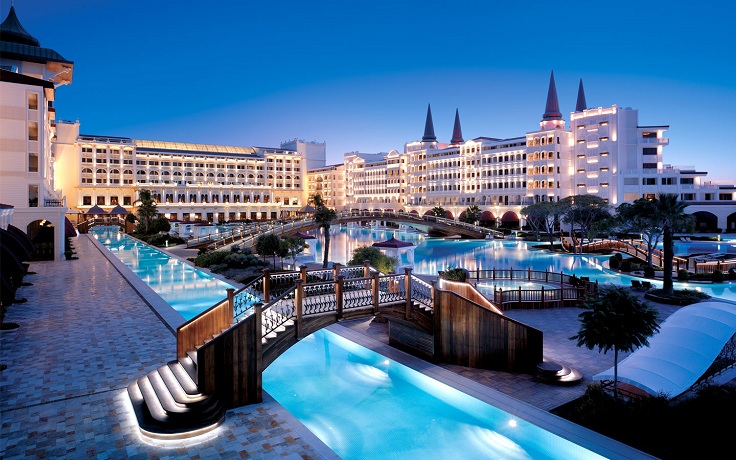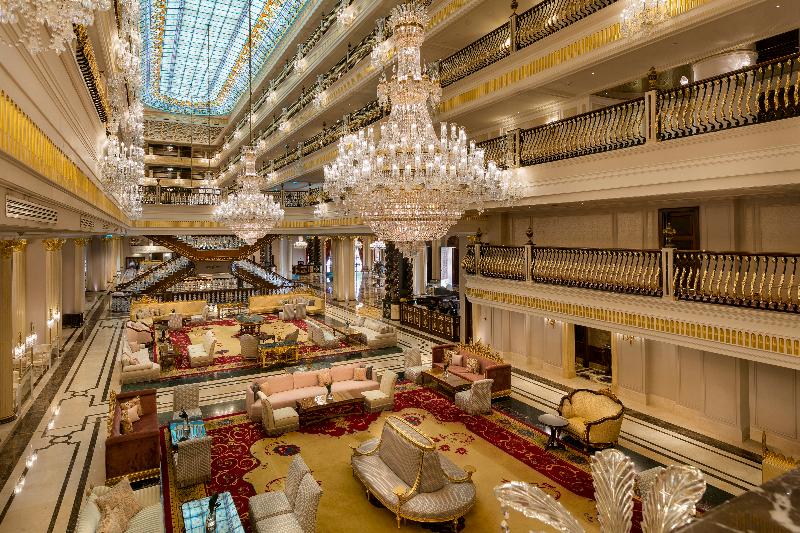 Photo Credit to fantastichotels365.com
This extravagant palace build by the Azarbajani billionaire Ismailov has made its mark as one of the most revered holiday locations in the world. Providing the largest swimming pool in the Mediterranean, complete with a sunken aquarium containing hundreds of exotic fish, and seventeen opulent bars. Astonishing gold leaf interior and marble floors fro, Italy, own private beach with white sand from Egypt, on of the largest wine cellars in the country, sports indoor and outdoor activities like tennis, beach volleyball, badminton, snooker, golf course, and bowling alley, are some of the luxurious facilities you can enjoy while staying here.
4. The Plaza, New York, USA
Photo Credit to pinterest.com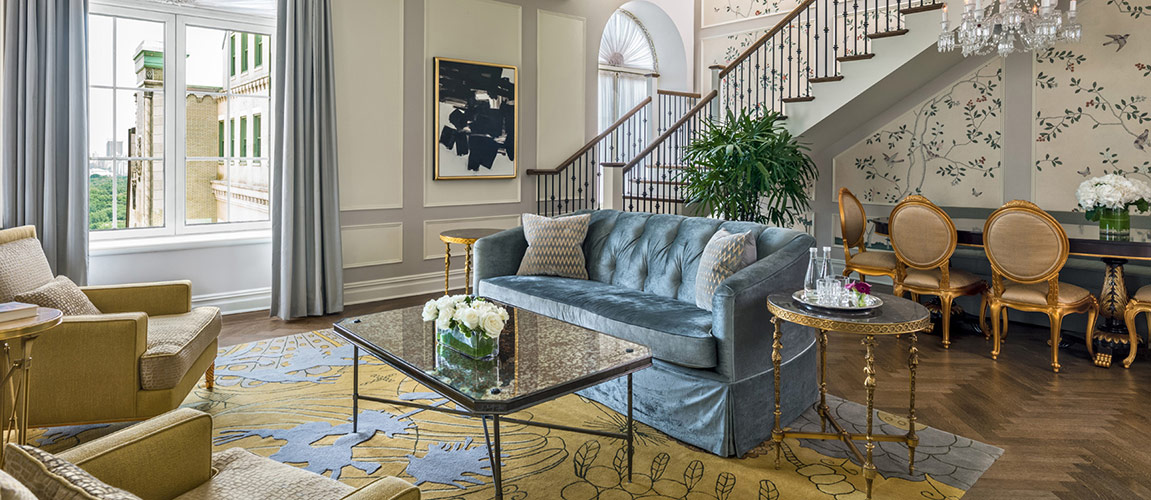 Photo Credit to elitetraveler.com
Famed in films, music, and literature, this has remained the hub of New York's glitterati since its opening nearly a century ago. The Royal Three Bedroom Suite is styled in the most opulent of old-world charm with a formal dining room for up to 12 guests, a library, a gymnasium, a grand piano, a full kitchen (for personal chefs), and is serviced by its own private elevator. Slap bang in the heart of the Big Apple, the Plaza has hosted some of the world's most illustrious parties and long remained the resting place of global icons.
5. Burj Al Arab, Dubai
Photo Credit to jumeirah.com
Drenched in gold, light shows, and an abundance of patterned carpet, the meticulous attention to detail, the water fountains, and the two-floor suites, Dubai's first 7-star hotel has gained a reputation as one of the most luxurious lodgings on the planet is Burj Al Arab. And beyond the unique over-the-top amenities like the attached helipad and hovering tennis courts, there is a vast array of futuristic dining and nightlife options, a manmade beach, it is not difficult to understand why. Their guest care is also seriously intensive. Upscale extras include in-suite check-in, 24/7 personal on-call butlers, and a chauffeur-driven Rolls Royce fleet, all catering to an extremely well-heeled VIP clientele that often includes royalty.
6. The Emirates Palace, Abu Dhabi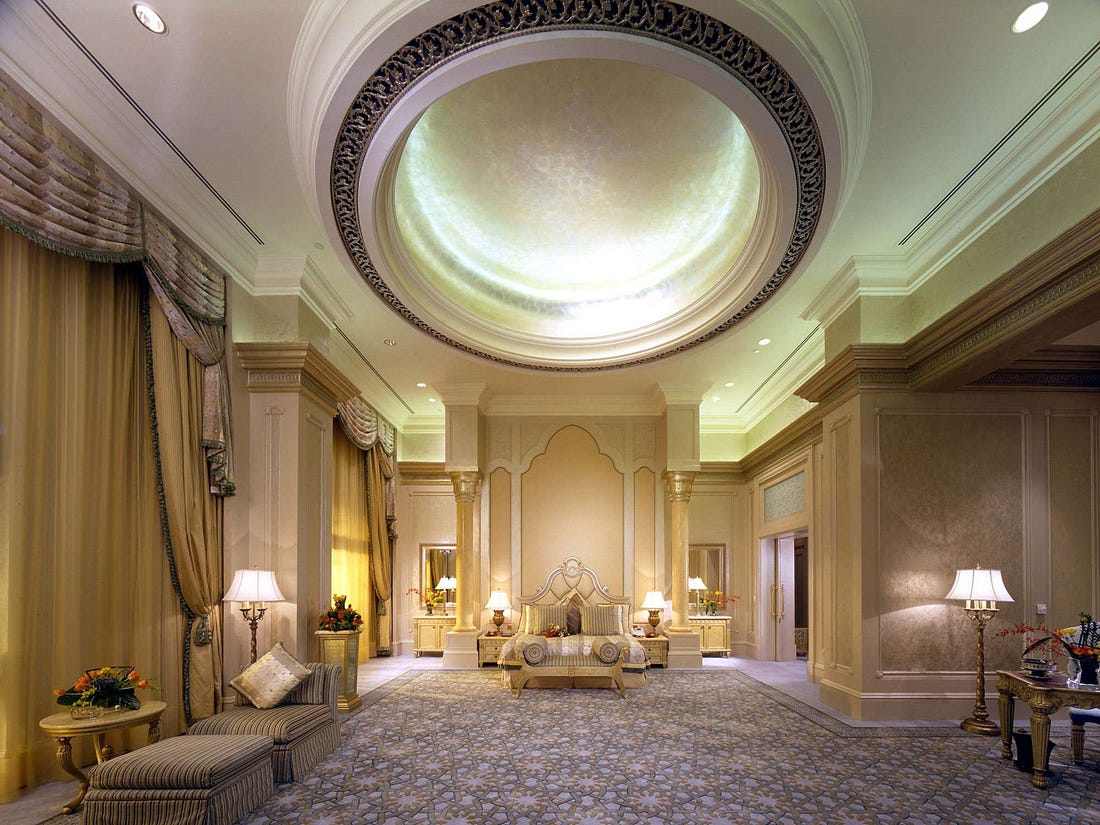 Photo Credit to mandarinoriental.com
Speaking of pure satisfaction, feel total gratification, and warm service with splendid décor that will surely overwhelm you is this $3 billion building Emirates Palace in Abu Dhabi. It has 400 impressive suites and rooms, each is absolutely stunning with the comfiest beds and chairs. Also inside, guests can marvel at the marble that adorns the interior, imported from over thirteen different countries, and the one thousand crystal chandeliers above, a myriad of pools and fountains, and two sumptuous spas. It's like a small pleasure fortress that also boasts the most prestigious marina development in the Middle East. Royalty!
7. Westin Excelsior, Rome, Italy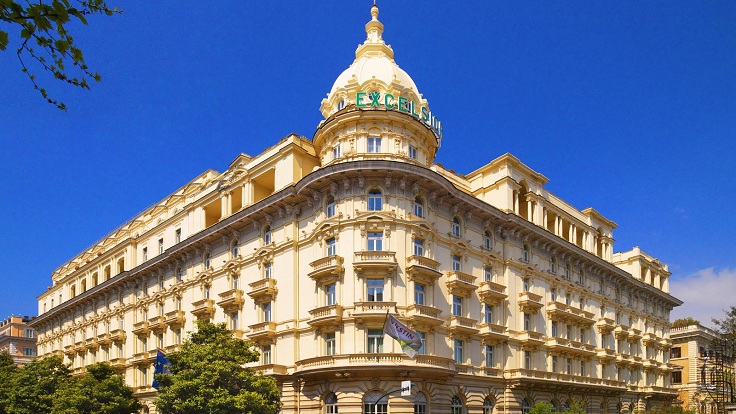 Photo Credit to marriott.com
Rome is a city full of romance and elegance. Westin is gracing since 1906, with its recently 'updated' and most prestigious room, is Villa La Cupola Suite, with a £7 million renovation. Prized as the largest suite in Italy is this signature luxury cocoon that spans two full floors. The room is adorned with classical Renaissance and Baroque-inspired interiors, yet contains all high-tech gadgets required by its affluent clientele. Containing hand-frescoed domed ceilings, a personal fitness studio, and spa, and a private dining room, this suite comprises all for the astute guest willing to pay the price.
8. Secrets Marquis Los Cabos, Baja, Mexico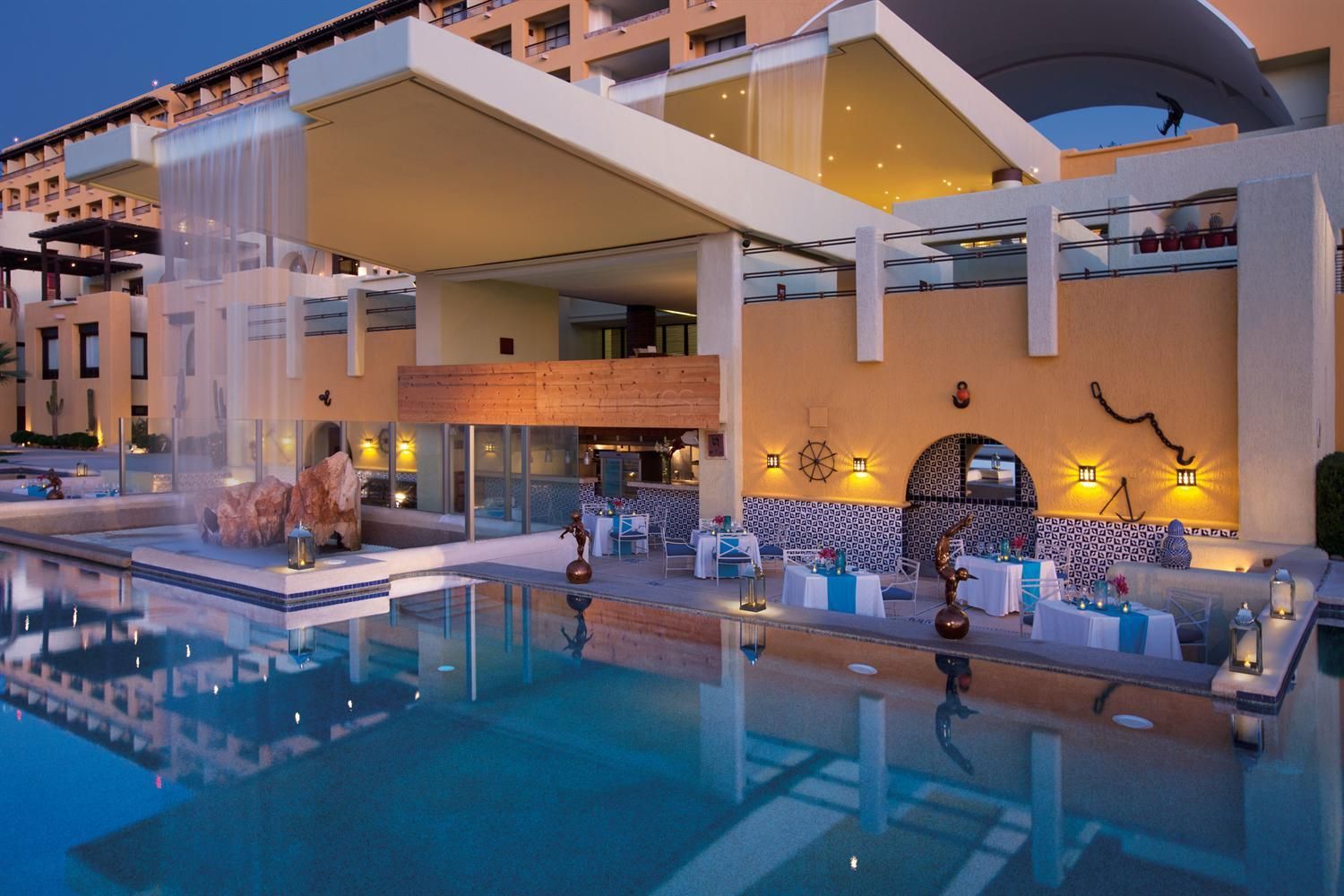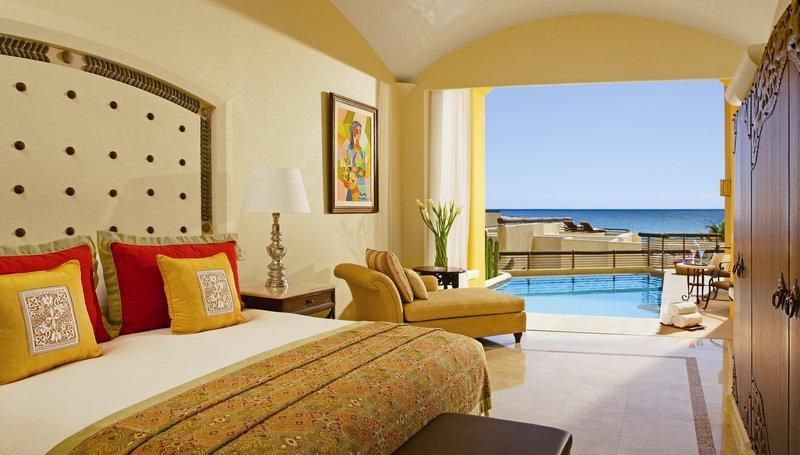 Photo Credit to pinterest.fr
What makes this hotel different from others is its background story. Gorgeous specially-commissioned sculptures, massive waterfalls, spectacular infinity pools, and a lovely serene spa set the stage for vacationing VIPs. (George Clooney's beach villa is next door.) Luxurious rooms boast balconies where you can often spot migrating whales, and there are also private villas with personal dipping pools. If your one of the luckiest, you can also witness the migration of whales.
9. Cala di Volpe, Sardinia, Italy
Photo Credit to marriott.com
This amazing hotel is surrounded by a lush green Mediterranean landscape. With its excellent sports and wellness facilities, this resort is a truly relaxing haven. It will take you 15 minutes side to side, to be able to walk along the magnificent white sand beach that this resort has. A total of 101 rooms and 10 suites all colorful with Sardinian-influenced decor, a tennis court, a kids club, an outdoor saltwater pool, water activities (kayaking, sailing, boat rides) are a part you can enjoy staying at Cala Di Volpe Hotel.
10. The Kayon Jungle Resort Ubud, Bali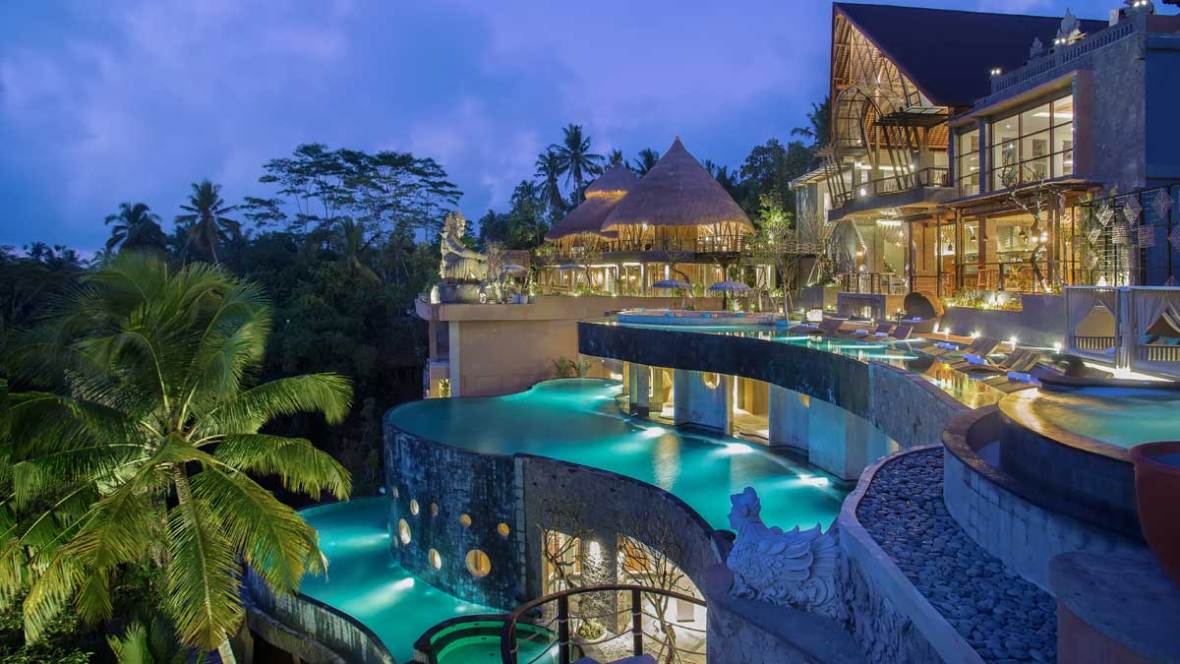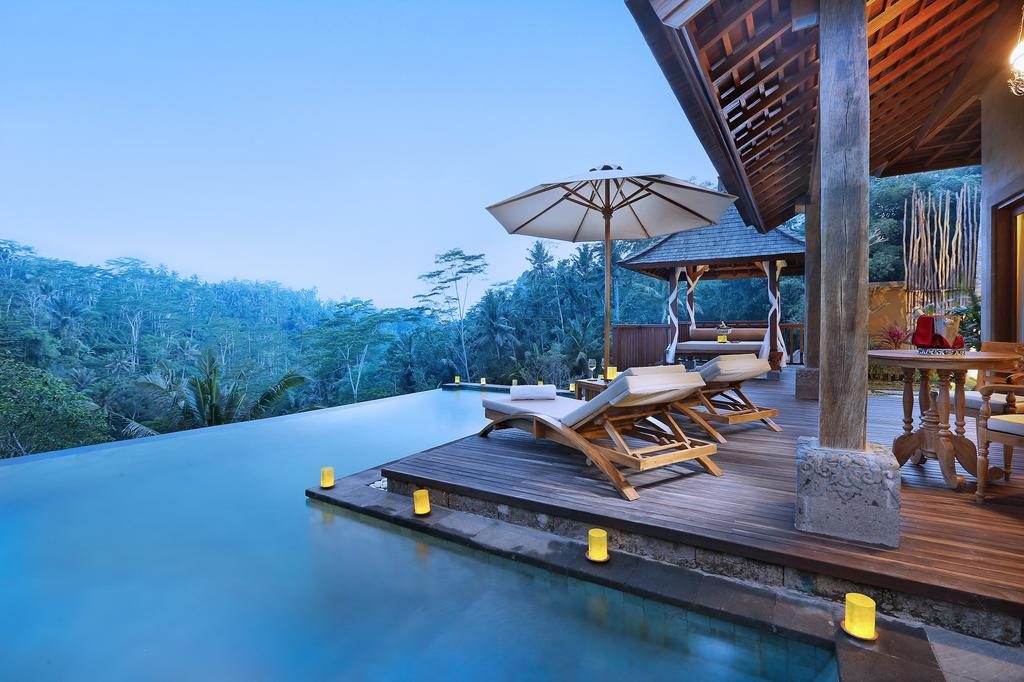 Photo Credit to thekayonjungleresort.com
This sanctuary of tropical indulgence is located within the traditional Balinese village of Bresela, Indonesia. Perched on Ubud's hill surrounded by the holy Petanun river and lush tropical rainforest gives you a relaxing vibe. Kayon which means tree of life creations and secret that grows from earth to heaven will offer you complete harmony with nature. This decorated story relief on a stone wall creates a romantic ambiance perfect for couples. Its fully-equipped rooms with large bedrooms, living space, and balconies overlooking the jungle is a truly must try Bali experience.