It does not take much convincing when choosing a tropical destination as your next travel. The tropical islands are a peaceful escape and place where you can slow down, reflect, distract yourself from the everyday routines, watch sunsets and sunrises, soak in the salty waters, "bake" under the sun, explore nature, and enjoy the place that doesn't demand anything from you.
The islands are so calm, making it a perfect beneficial destination where you can enhance your creativity and make memories while being surrounded by clear waters, sand beaches, palm trees, and blue horizontal.
1. Seychelles
via goway.com
A tropical island paradise, famous as one of the world's best beaches with sugar-white sand, tropical jungle, and crystal clear waters. Seychelles is made up of 115 islands floating on the Indian Ocean, a perfect place for romance and celebrations. Home for surprising wildlife, the world's smallest frogs, and some of the biggest tortoise. Away from the beaches, you can find islands with rugged mountains and untouched jungles ready to explore. From the coral gardens to the wildlife-rich deep wrecks, Seychelles offers some of the most diverse diving in the world.
2. Koh Tao, Thailand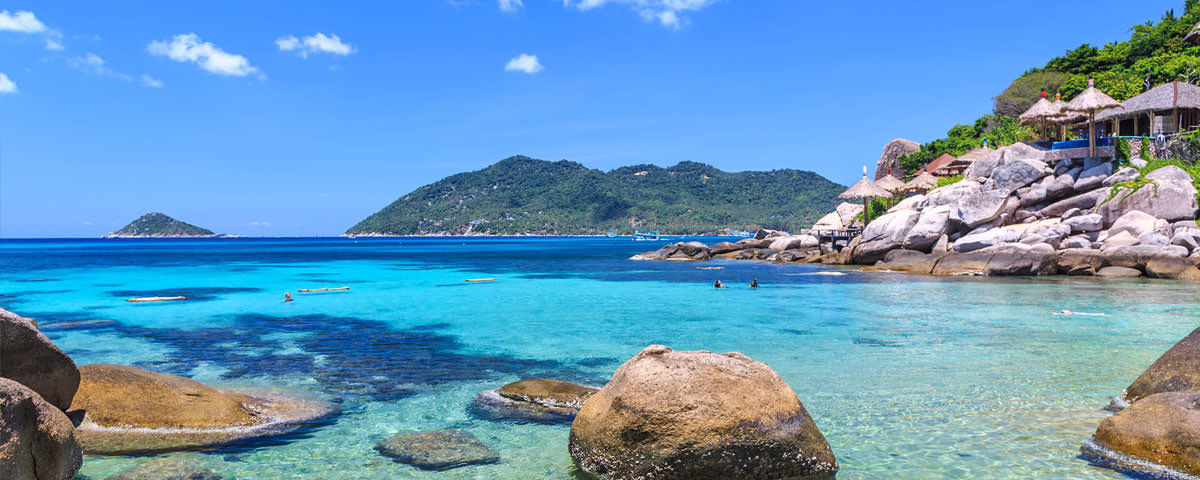 via kosamui.com
One of the many beautiful tropical islands in Thailand is Koh Tao, which means Turtle Island. Not only offers a place for relaxation, but Koh Tao has also built a reputation in the diving world as one of the spots to explore the coral reefs in the sea, popular for its colorful marine life. This island will be perfect for couples due to the romantic beaches, Thai spa with aromatic essentials, beach parties, boat trips, all of it for quite cheap prices. Exotic and cheap, could this sound any better!?
3. Moorea, French Polynesia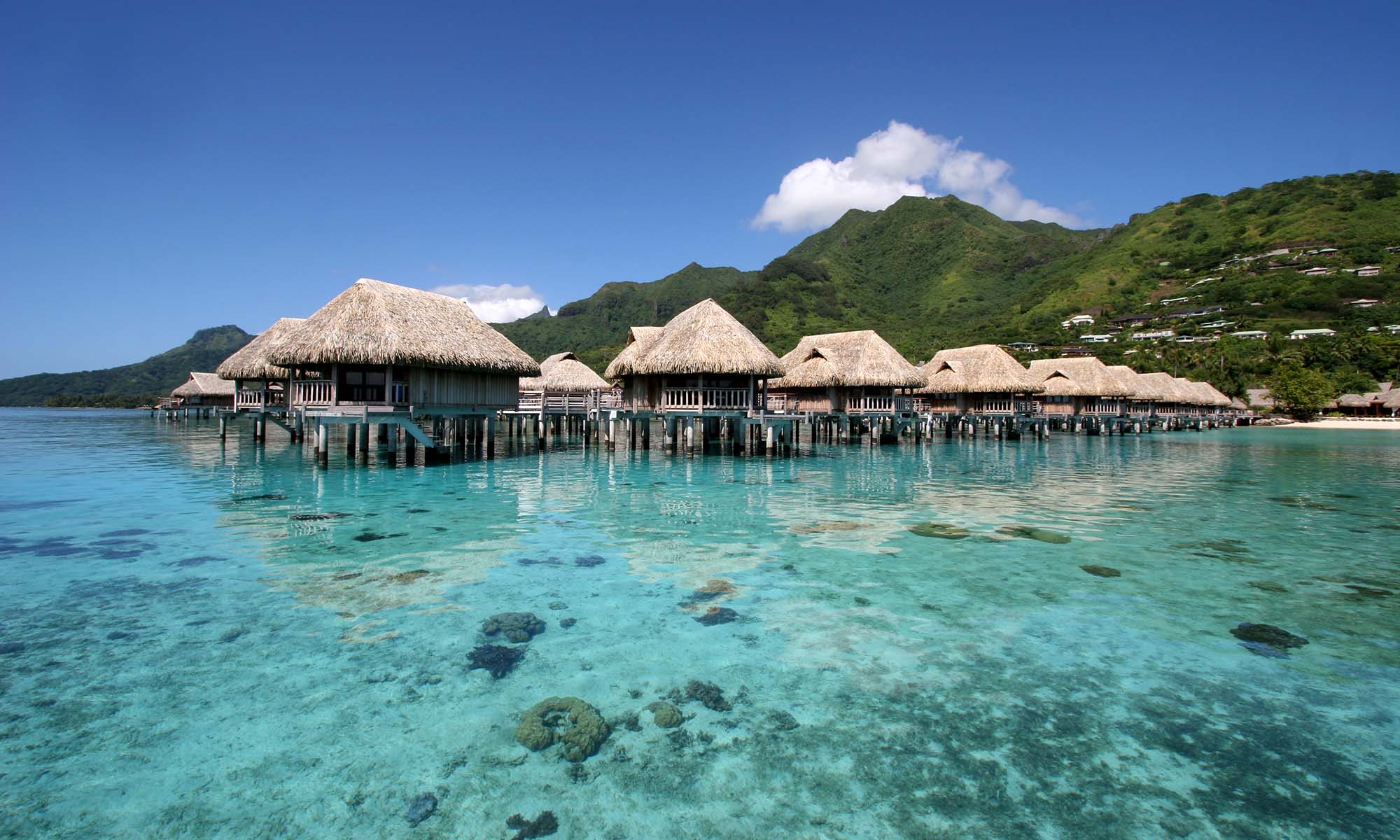 via tahiti.com
Moorea island is pride and attraction in French Polynesia. This island has eight voluminous mountain peaks rising from its translucent lagoon and it seems that this tropical destination is in the shape of a heart. So if you are looking for your honeymoon destination, this can be it. Here you can't get bored. There are plenty of activities you can experience, from safari tours, zipline adventure, and hiking, to boat cruises, snorkeling, and ray feeding tours. Tropical island and a spot to relax, yet have so much fun!
4. Tahiti
The biggest island in French Polynesia is Tahiti. This place is a hub of activities, having large markets where the local culture is exposed. An island famous for its black pearls from the lipped oyster farmed around the island, gourmet cuisine with French influence, waterfalls lying within the valleys of lush ferns, and endless lagoons with on water bungalows. Once there, you can't skip the Tahitian dance and music, played by the locals, merging the cultures into joy and pleasure.
5. Fiji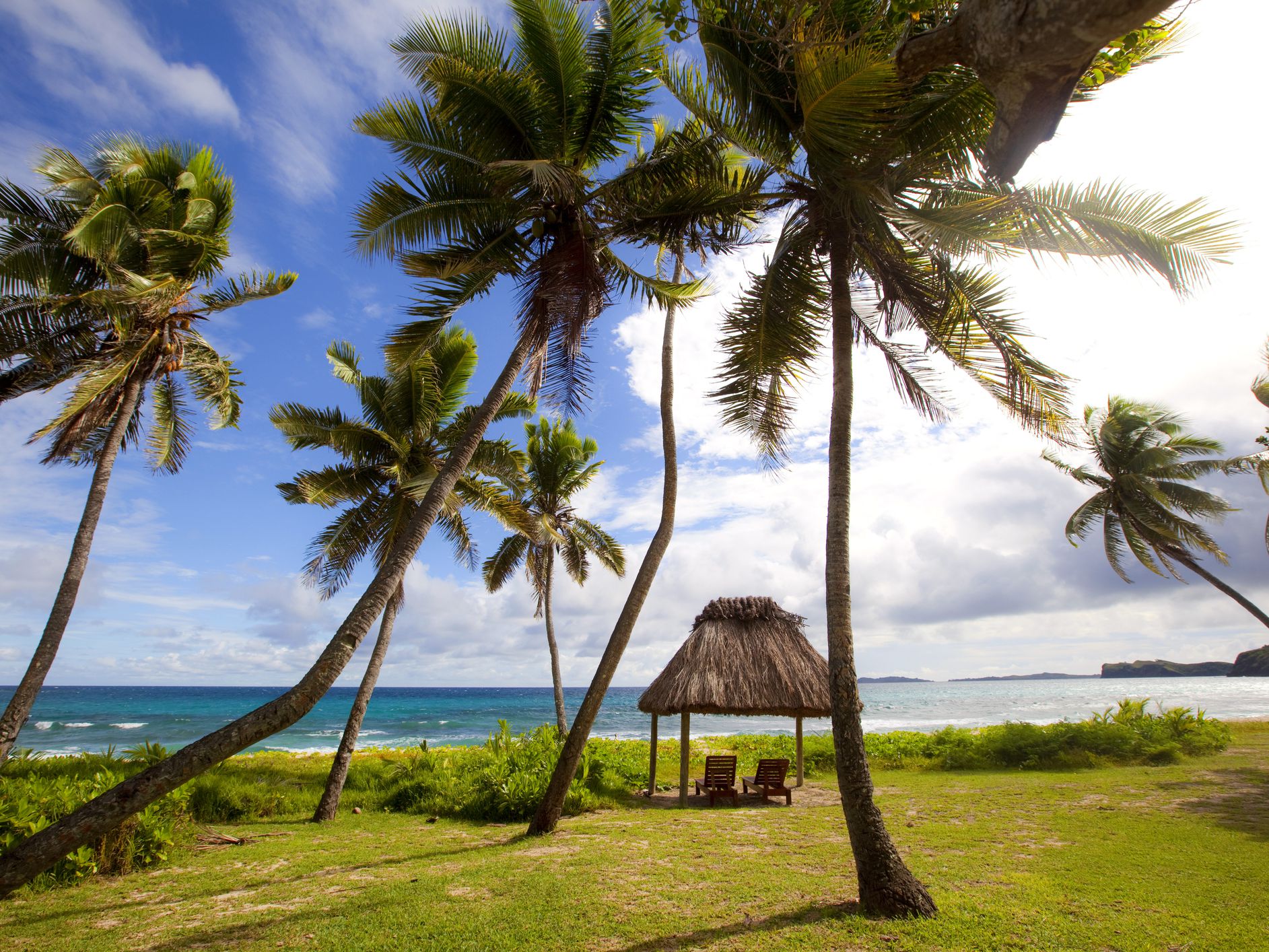 via tripsavvy.com
Fiji is the "Soft Coral Capital of the World". With more than 300 islands to choose from, you will find plenty of tropical attractions and rewarding things to do. A beautifully landscaped island is always a holiday dream, whether you are looking for an action-packed adventure, a mesmerizing cultural experience, or a relaxing vacation by the water. The name Fiji sounds exotic. It is no wonder why Fiji's top private island resorts have drawn a few celebrities to visit and enjoy.
6. Bora Bora
It is an unspoiled paradise with clear water and pristine beaches. A wonderful and mega-popular touristic destination where you will be able to enjoy a wide range of water sports, stay in luxurious hotels and resorts in over waters bungalows, and discover the sandy islets with a real tropical paradise feeling. Snorkeling and scuba diving is a huge attraction here. One of the most beautiful islands in the world colored in million shades of blue.
7. The Cook Islands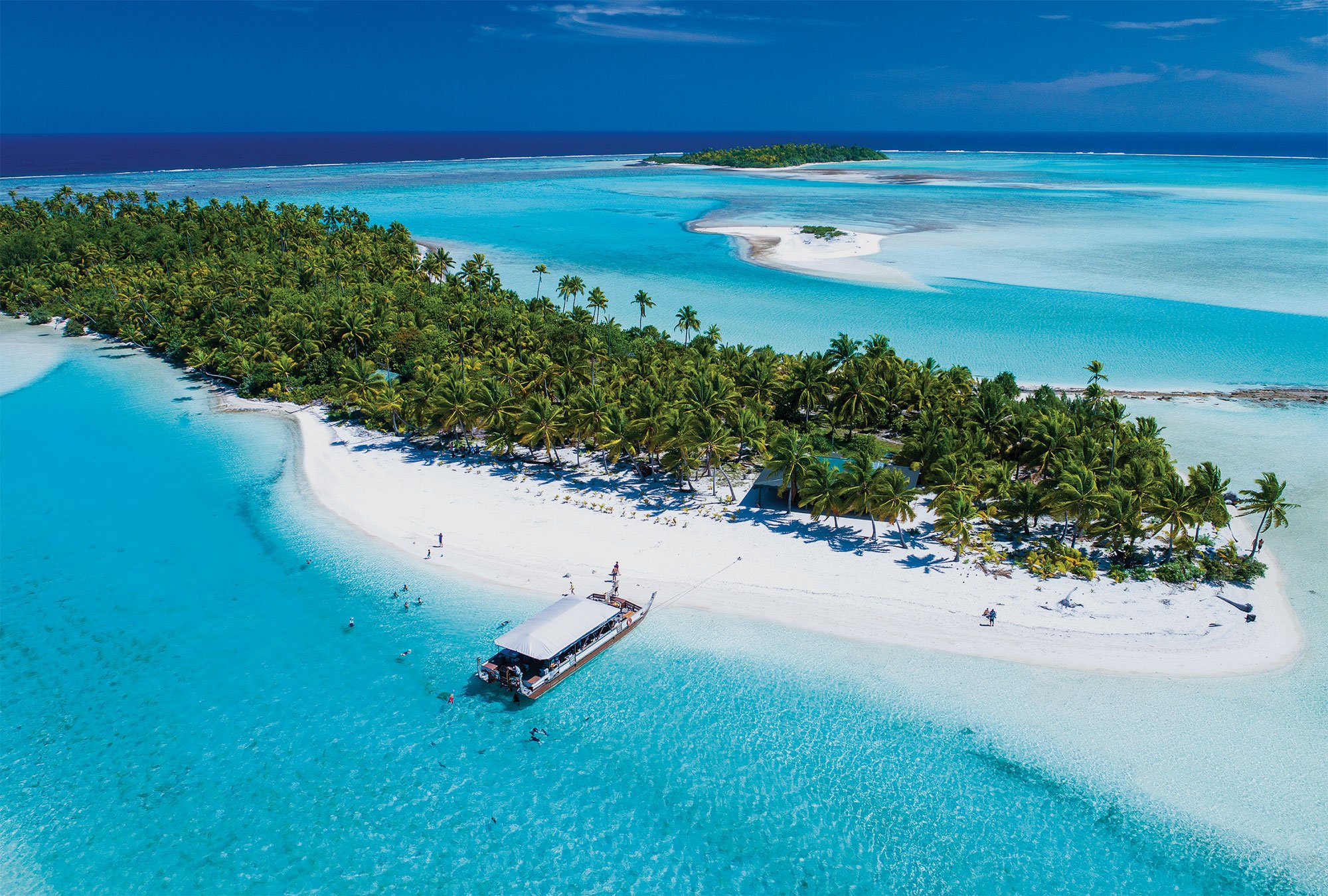 Cook island is like one big resort where you can easily go from pampering to pedal boarding, from kayaking to cocktails, from island hikes to island nights. The island has wander beaches with virtually nobody on them. Here the water is so blue and the sand so white. The locals, super genuine. They greet you with a kiss on the cheek and say "stay healthy". Home of 15 islands and each has its own natural wonders. The two most popular and visited are Aitutaki and Rarotonga.
8. Isla Mujeres, Mexico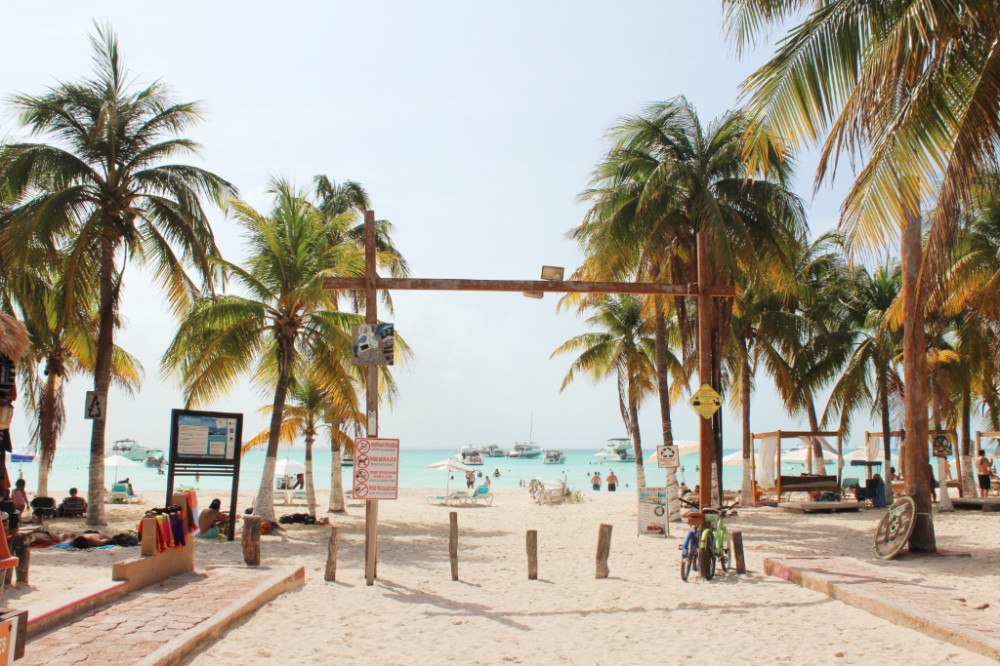 Isla Mujeres is a beautiful tiny island just off the coast of Cancun, Mexico. The sugar sand beaches, gently waving palm trees, and the giant iguanas are typical for this tropical place. In here you can be as restful or adventurous as you like. You can spend a day laying in a hammock, walking on the beach, or visit the tourist shops, experience the dining options and the nightlife scenes. There is a lighthouse reef, an underwater museum of art, and an ocean filled with colored fish waiting to be explored.
9. The Maldives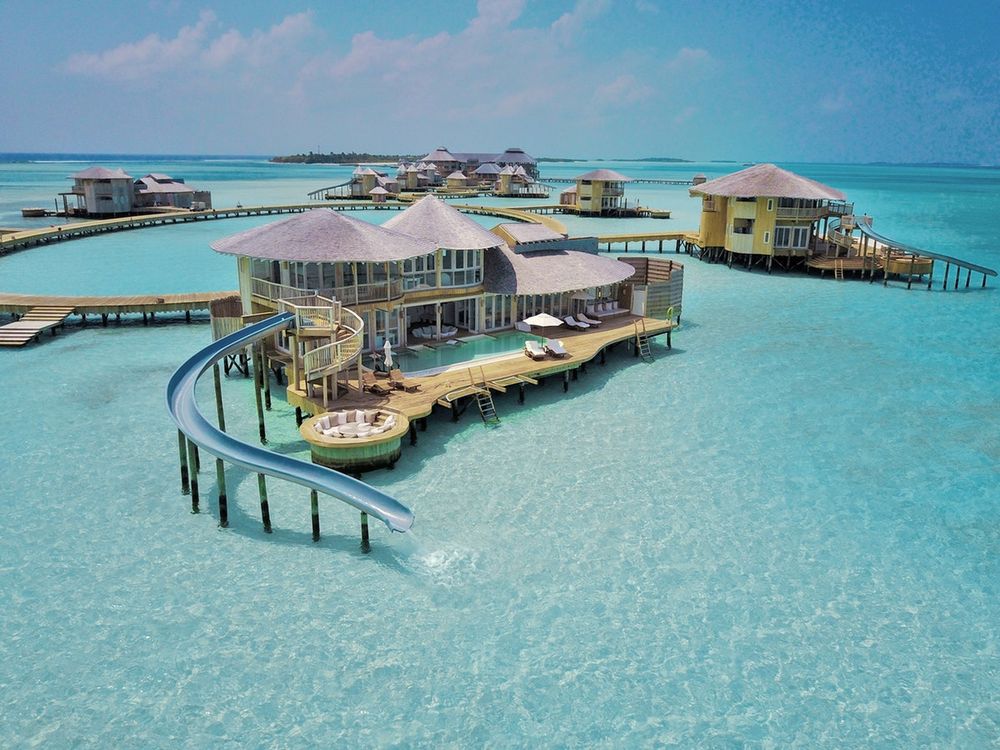 Beautiful scenery in paradise! The Maldives is well known for its crystal waters and sparkling white sands. You will surely have an experience for a lifetime. To reach the atolls you will have to take a boat or seaplane which adds to the whole experience. A trip here is an ultimate vacation where you get to enjoy luxury and privacy. Undoubtedly among the best reasons to visit is the soft white sand, perfect crystal waters, tropical beauty exposed through luxurious resorts where surely you will feel special.
10. Mnemba Island, Zanzibar
Surrounded by stunning reefs that create a sheltered lagoon, Mnemba Island is a veritable paradise that hosts a number of birds and smaller terrestrial fauna. You can watch the birds feasting on the sea lice while enjoying the wooden sun loungers and the warm tropical water. The colorful history and rich heritage add to the vibrant dimension of the island. A must-do in Mnemba Island is to discover the underwater world hidden by the waters on the Indian Ocean.