Decorating our home in the spirit of spring is always refreshing. When it comes to that kind of decorating, flowers are the perfect choice! They are beautiful, colorful, gentle and can make your room full of natural fragrances.
The good thing about decorating with flowers is that you won't spend a lot, and it neither takes a lot of your time. All you need is flowers and few other tools if you want something more decorative. Below you will find ten different floral ideas, that will surely brighten your home, making it more charming as well.
Choose your favorite and let it inspire you!
1. DIY Flower Wall Art
via homedit.com
A bit unusual, but very creative. If you want this kind of floral wall art, you'll need flowers, greens and berries, scissors, painter's tape, decorative washi tape and measuring tape, but this is optional. You can also use faux instead fresh flowers, but we definitely recommend the fresh flowers. Choose where you'd like your floral art to be and with painter's tape make a heart on the wall. Trim the flowers and stick them on the wall with washi tape. When you're done with fulfilling the heart, remove the painter's tape from the wall and voila!
2. Use Your Old Boots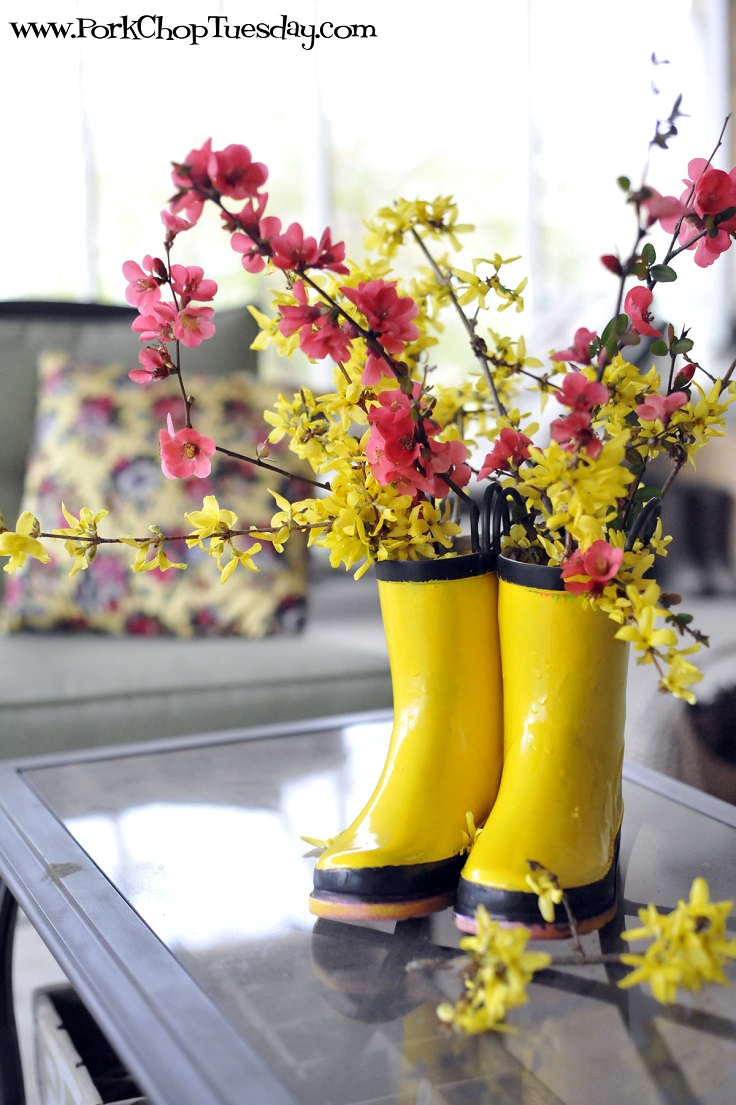 via porkchoptuesday.wordpress.com
Boots and flowers aren't a new idea, but is surely one of the best you can come across. You can decorate not only your home with boots and flowers, but your garden as well. It's unique and can save you from spending tons of money on decorations. Take your old rain boots, clean them and find some cute flowers to fill them. It would be also nice if you choose flowers which color would be the same or similar as the one of the boots – as previewed on the picture. We can see how adorable it looks!
3. Hang a Mason Jar Planter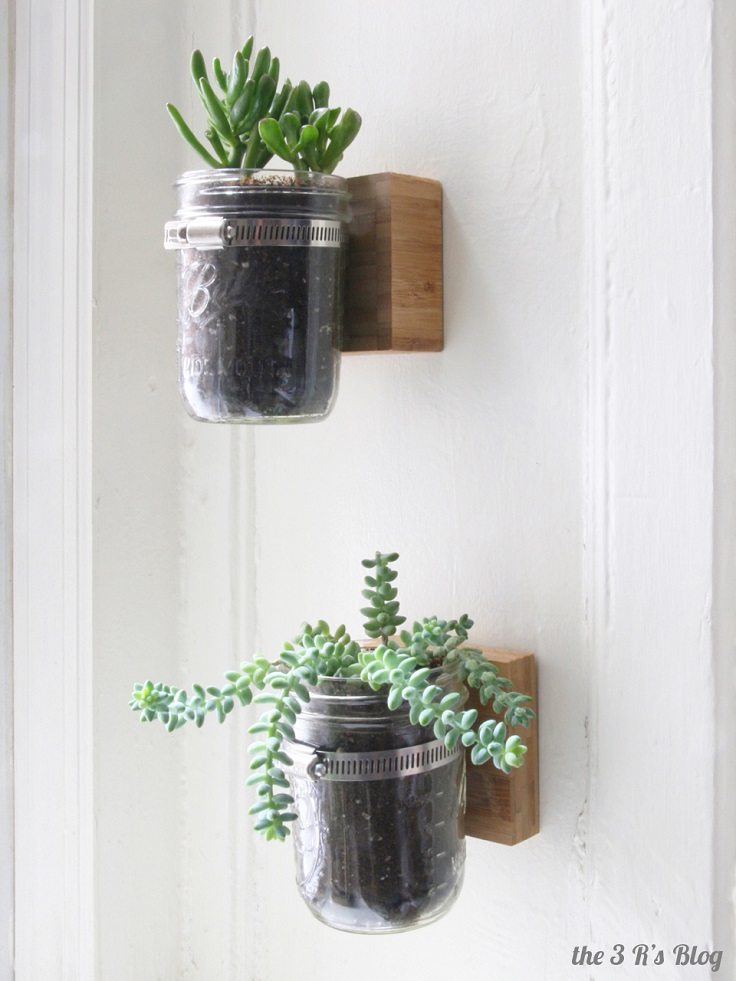 Mason jars can serve as very good and practical planters. But, if you hang them on the wall, that would be even better! You can even make your own hanging mason jar. Make sure you have wood, mason jar, pipe clamp, screw, 2 long nails, 1 strong fat nail, electric drill/screwdriver, pebbles, soil and a plant. You can choose even succulents, as shown on the picture. The hanging mason jars can look good in every room, and you can fill them with different stuff and not only flowers. For example, if you decide to hang them in the bathroom, you can fill them with cotton balls, soaps, or so.
4. Bouquet and Books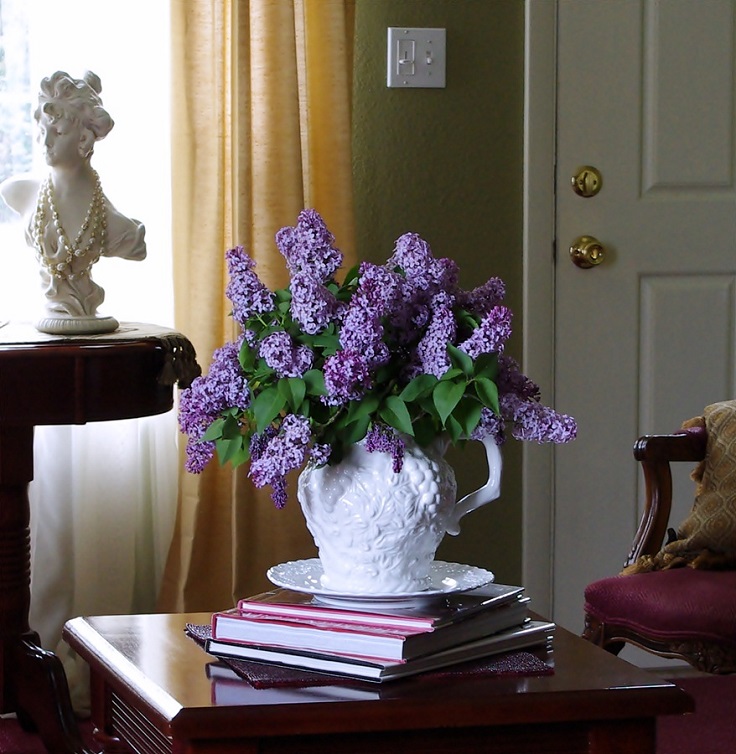 via happytodesign.blogspot.com
This is as easy as pie! All you have to do is to pick your favorite bouquet, put it a vase and place it on a coffee table, next to books, or on top of them. Such a classic. Another good idea is to pick a seasonal flowers, or flowers who have amazing scent, like lilacs. Your room will certainly smell so nice, that everyone's attention will be drawn to the source (your beautiful decoration as well!). This is a cheap, simple and always a good way to decorate a room.
5. Add Contrast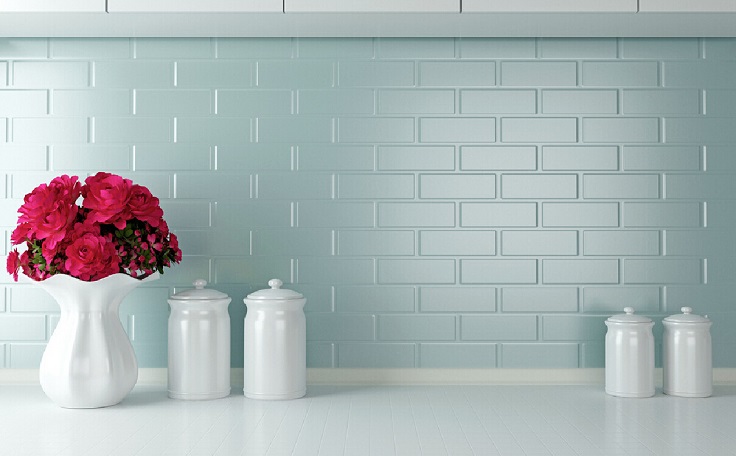 Bringing some contrast can be the very thing your home needs. If you have plain tones mainly, or minimalist way of house decoration, bringing a pop of different color can make a huge difference. For example, on the picture we have color – coordinated kitchen ornaments, and the only thing that stands out from the crowd are the flowers. This way they can easily get the attention of everyone! Especially if you use bold – colored flowers.
6. Coordinate the Colors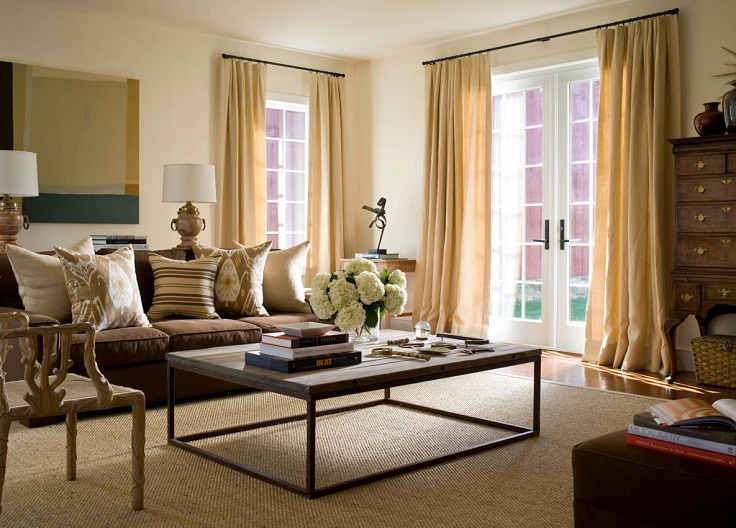 Some people really pay attention on colors even when it comes to small details. And yes, the flowers are a small detail, but they can make a big difference! If you also want every thing to be the in the same or similar color, do the same step with the flowers. But, to make it stand from the crowd, choose bigger flowers, some with more petals and buy more of them! Make the bouquet easy to be seen, and even easier to be admired to.
7. Vintage Vase
Vintage is still one of most popular ways of house decorating. There are tons of decoration that you can buy to achieve the vintage look, and if you're lucky enough, you don't even have to buy it – ask your parents or grandparents if they keep any old stuff. However, if you want an instant decoration, flowers can help with that. Place flowers in a basket, or flowers in a vintage vase – or both! The picture proves how good it looks, and the best [art is that you can put it in any room.
8. Play With Colors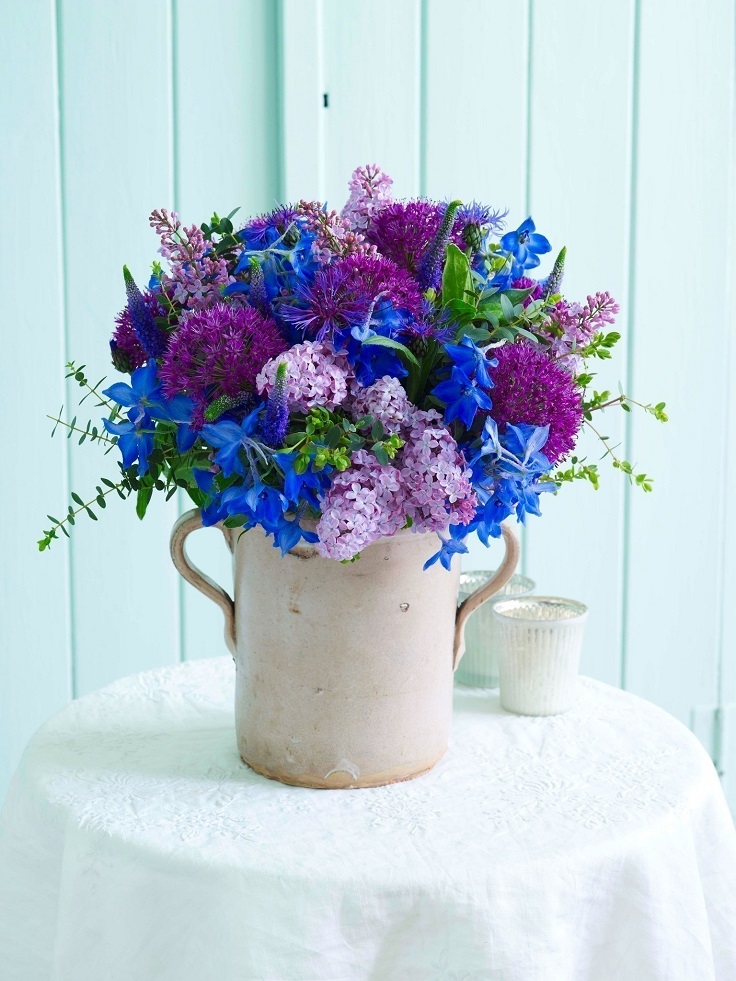 Colors matter. Period. So, don't forget to play with them even when it comes to flowers! This one is probably the most simple way of flower decoration. You don't need any other tools, just a vase and a bouquet of flowers in colors that make your heart skip a bit! It can be flowers in warm colors, flowers in so many different colors, or colors that go really well together, like those on the picture. Blue, violet and all their shades are such a perfect match!
9. Make it Mini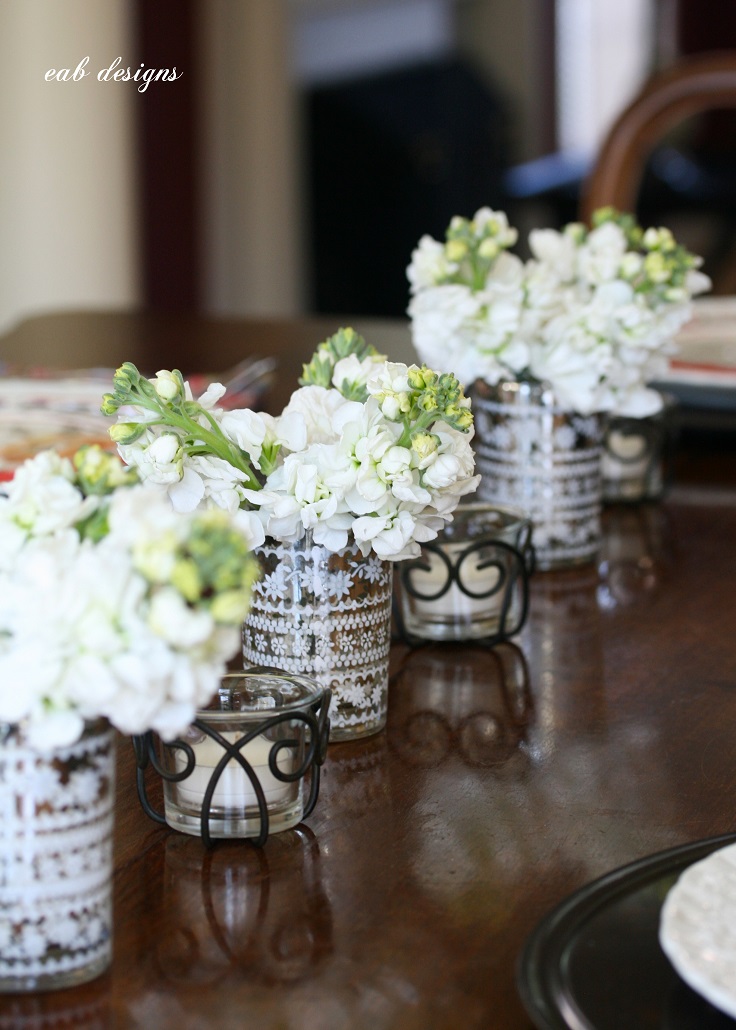 Here's another cute way to use flowers as decoration. Make mini flower bouquets and place them in small vases as well. Place them in different rooms, or you can put them all together in one place. They won't take much of your space, and they won't make a huge mess as well! Play with colors, combine different flowers or put them in different vases.
10. Use Teacups as Planters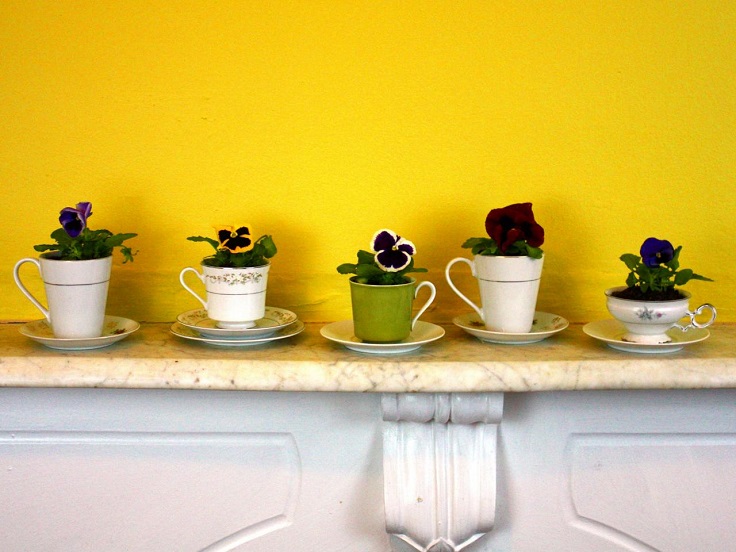 via diynetwork.com
How creative is that? Plus, it looks super adorable! To make your own teacup planters, you need drill with 1/4″ ceramic bit with a tungsten tip to make a hole in the bottom of the teacups for future water drainage, but before you do that, place the cup under a piece of wood (we don't want any furniture damaged!). Put inside the dirt and the plant, and also don't forget the place the cup on top of the saucer.