Decades after the first episode was released, Star Wars is still one of the most popular film series ever created. Thanks to achieving this status over the years, having a Star Wars movie on the market wasn't enough – there were shirts, badges, posters, home decoration… Everything that a fan can wish for!
This also means that you can get cupcakes, cakes, appetizers, and other food prepared according to the theme. In this article, we present you ten Star Wars cakes that can be prepared for birthdays or any other occasion (or for no occasion at all!). Check them out and let us know which is your favorite.
1. Star Wars Dark Chocolate Cake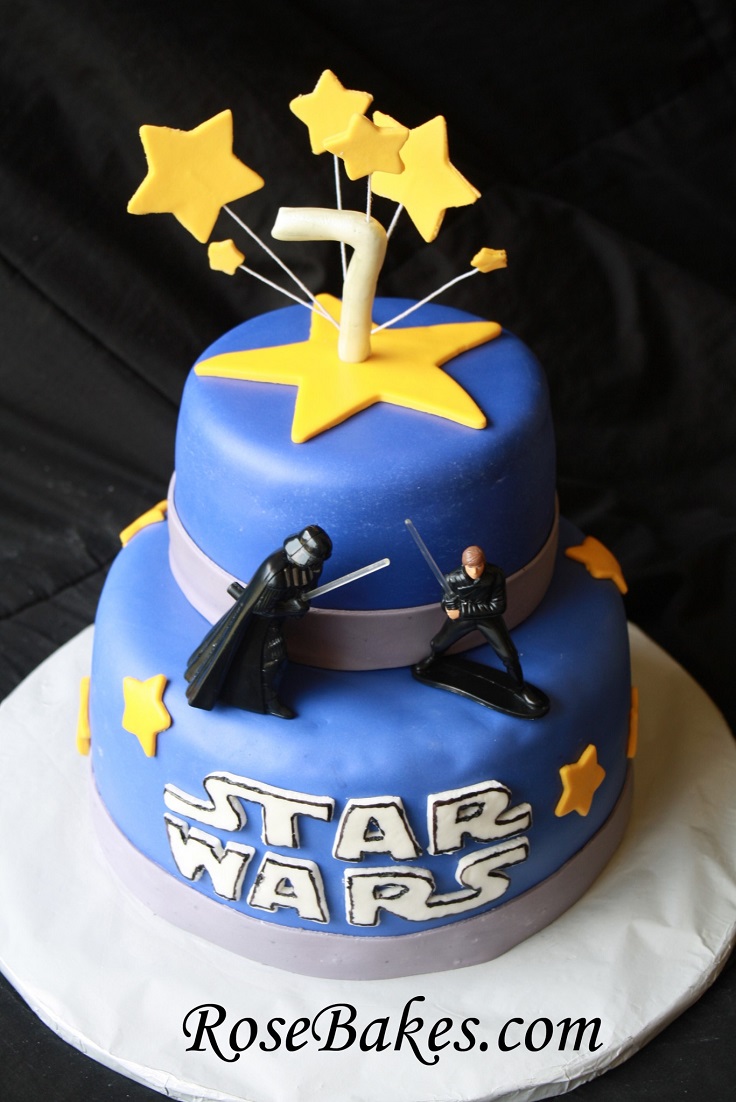 via rosebakes.com
This cake is delicious as much as it is pretty! It's a dark chocolate cake that requires just a few recipes, and we're sure that you'll want to prepare it for every birthday that follows. You need the following ingredients: 1 chocolate cake mix, 3 whole large eggs, ½ cup water, ½ cup oil, 8 oz. sour cream, and 1 small box of instant chocolate pudding. You also need to prepare the stars on wires and the letters of the movie.
2. Chewbacca Cakes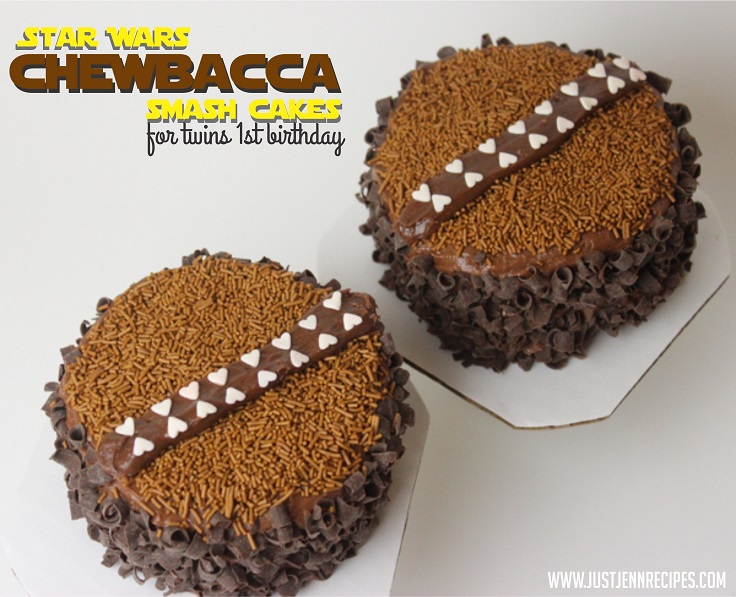 Inspired by Chewbacca, these cakes are the perfect choice for twins. This way you'll have two same, beautiful and delicious smash cakes that will spare you for questions about why somebody's cake is better than the others! The best part is that you just need few ingredients to prepare it – chocolate frosting, chocolate curls, brown sprinkles, chocolate brown icing, and tiny white heart sprinkles.
3. Sarlacc Caramel Bundt Cake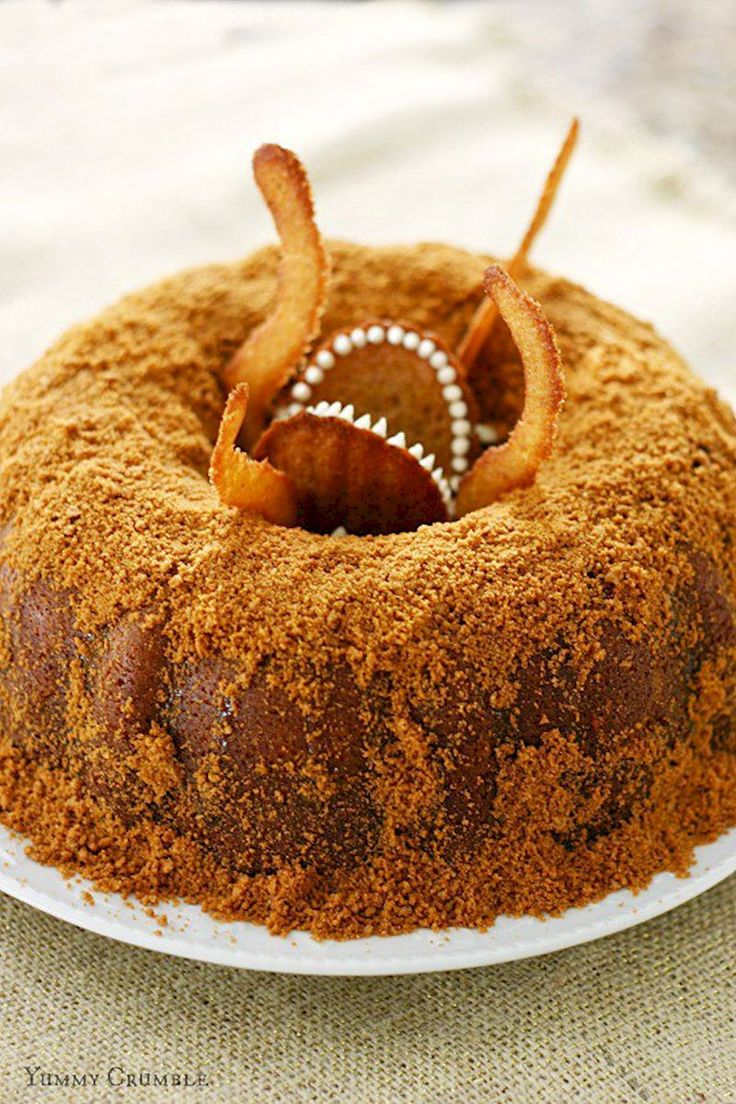 via yummycrumble.com
Here's an interesting way to upgrade the ordinary bundt cake. It's very delicious, but it requires more ingredients and more time in the kitchen. You need to prepare three things – the caramel bundt cake, the biscoff madeleine, and the cookie tentacles. After you're done preparing everything, the last step is assembling the whole cake.
4. Star Wars Space Cake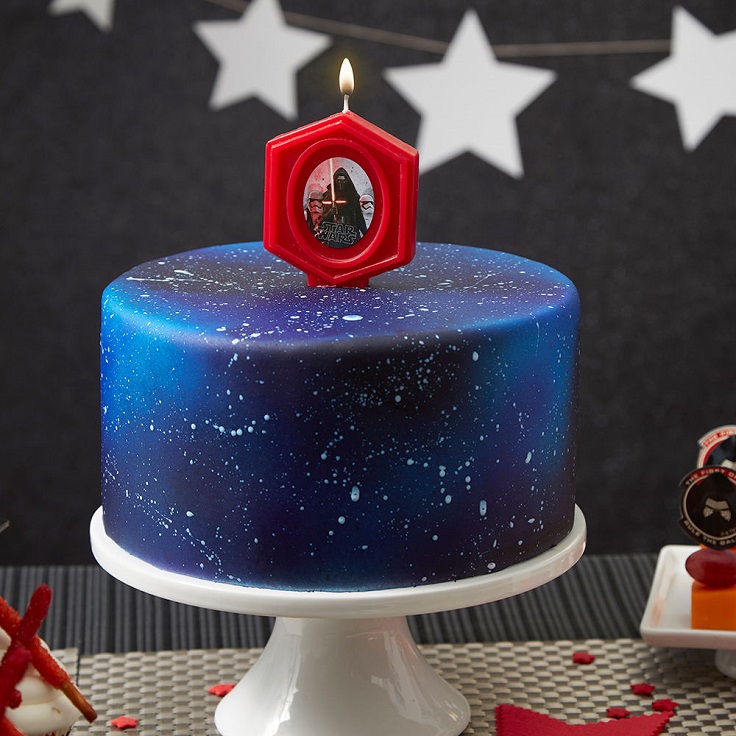 via wilton.com
The space cake is totally different from the rest, and you can guess why – instead of the typical cake frosting, this one is covered with space! To achieve this effect, you'll need to get creative in the kitchen and buy the ingredients needed for that, such as food color sprays and icing colors. When it comes to the cake's taste, just pick your favorite recipe.
5. Yoda Roll Cake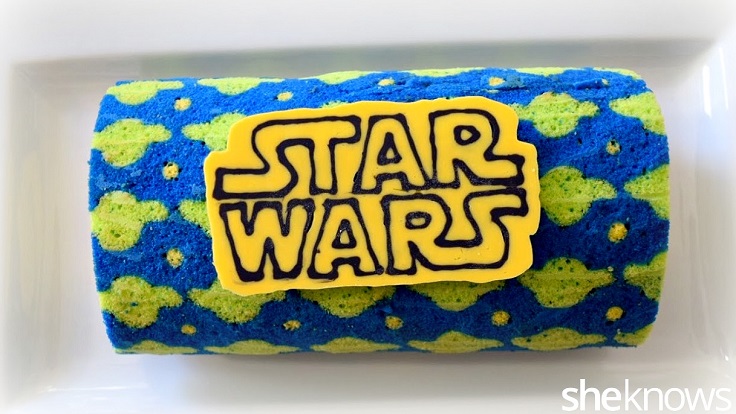 via sheknows.com
Patterned roll cakes are really interesting thanks to the colors and their size – especially if you make this super cute and tasty Yoda roll cake! First of all, you need these ingredients – 1 box cake mix, 6 eggs, 1/2 cup vegetable oil, 1/2 cup water, blue food gel, light green food gel, 1 quart-size plastic freezer bag, 1 can prepared frosting, and Yoda pattern (you can download the link for free on the website below the link). It takes about 1 hour and 30 min to be ready.
6. Jabba The Hutt Brownie Cake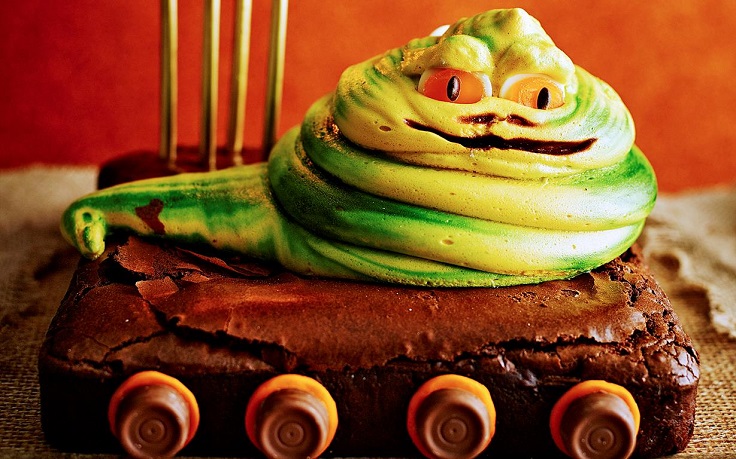 Fan of brownie cake? Here's how to make it Star Wars – themed. First, to prepare the cake, you'll need 370 g dark chocolate, 250 g butter, 2 cups caster sugar, 4 eggs, 2 cups (300g) plain flour, and 2 tsp vanilla extract. To create Jabba the Hutt, you'll need a marshmallow icing for that – 1 1/2 cups caster sugar, 1/2 cup cold water, 4 tsp powdered gelatine, 1/2 cup hot water, and 1 tsp vanilla essence. At the same time, it would be great if you already have some experience in making this kind of cake decorations. You will find it easier, but even if you don't have any, it's still worth the try!
7. Death Star Cake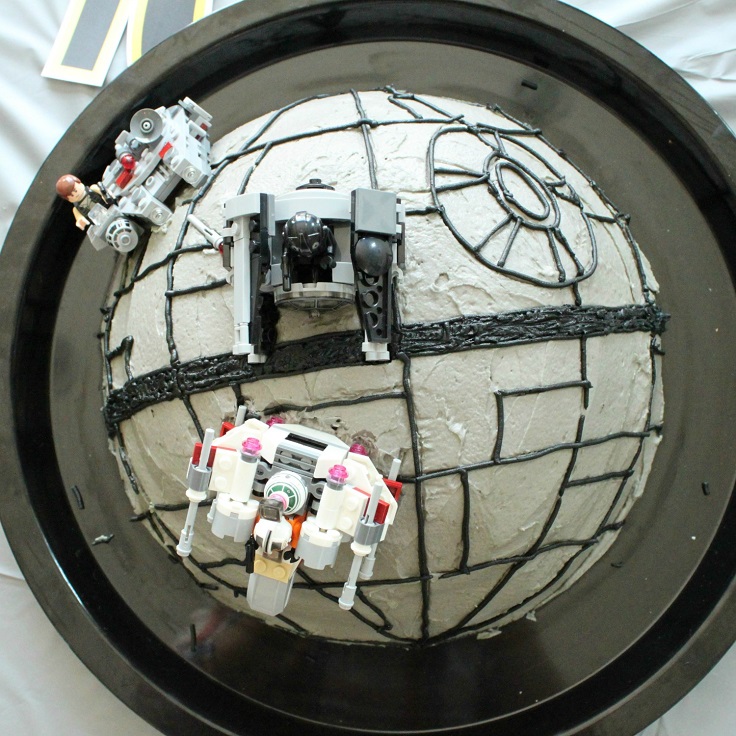 If your kid is fun of Star Wars, this cake should definitely be in your first three choices. Not only it tastes amazing, but look how awesome it is! A chocolate Death Star with Star Wars Lego figures – seems like every kid's dream cake, right – chocolate, toys, favorite movie? It will take you some time to make everything the right way, but once you see your kid all happy about it, you'll know that every minute spent in the kitchen is worth it.
8. The Light Side vs. The Dark Side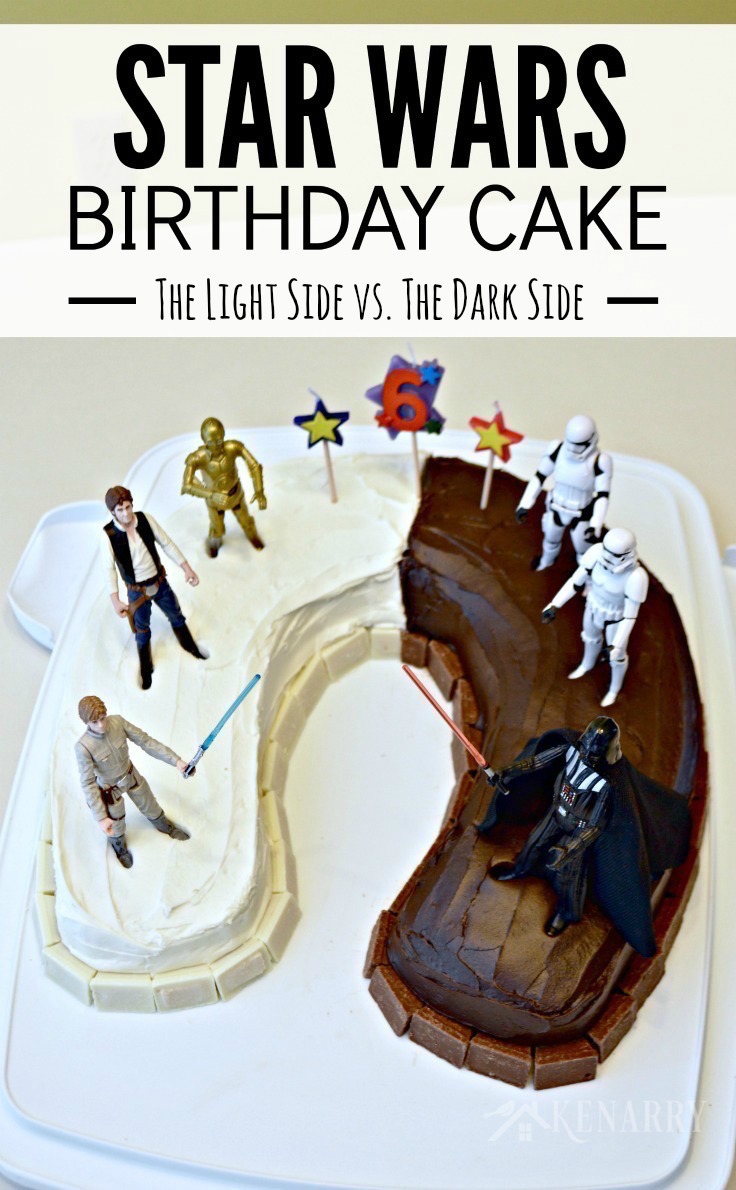 via kenarry.com
Ain't the no tastier way to present both Sides from Star Wars! Here are the ingredients you need: white cake mix, dark chocolate cake mix, a horseshoe or U-shaped cake pan, a drinking glass or vase, cupcake pan, white frosting, chocolate frosting, white chocolate candies, dark chocolate candies, and a knife or spatula for frosting. To make it appear more interesting, add figurines on both sides, such as Luke Skywalker and Darth Vader.
9. R2D2 Cake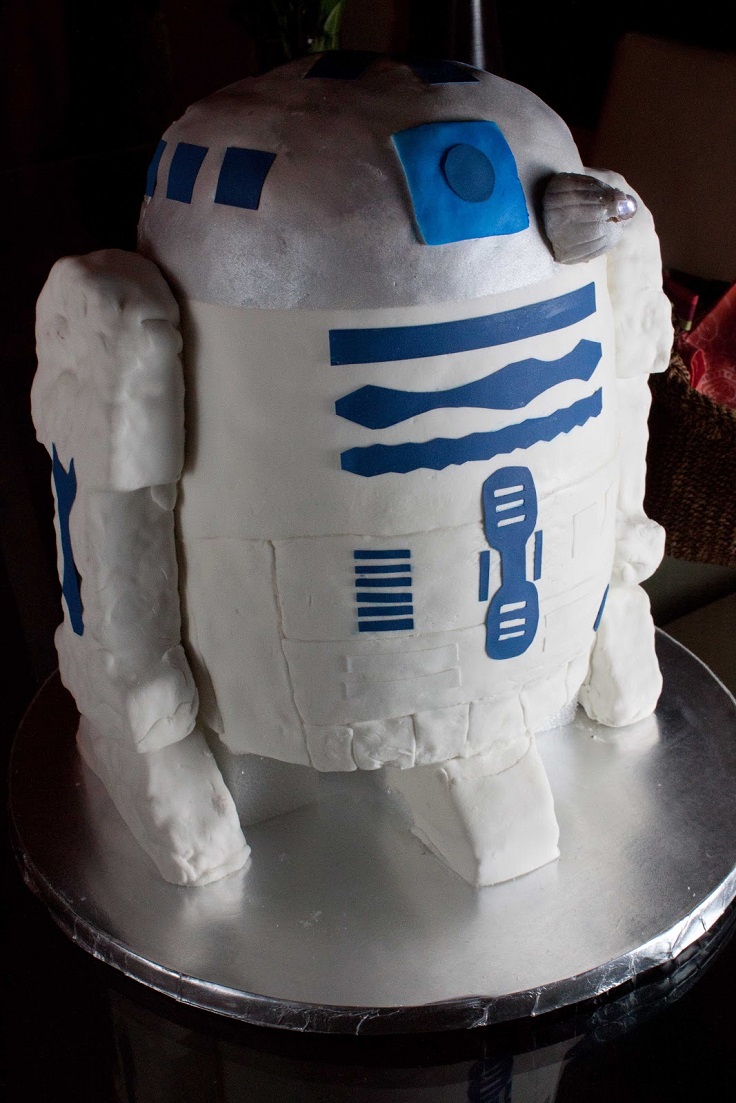 Creating an R2D2 cake really requires a lot of work. You need to follow five steps to have it ready: first, make krispie layers the morning of or the night before, the second step is to make one bundt cake for the dome head, then make three (3)-9inch round cake layers. After this, you need to prepare two buttercream batches to start and make two batches of homemade fondant. The last thing is assembling everything!
10. BB-8 Star Wars Cake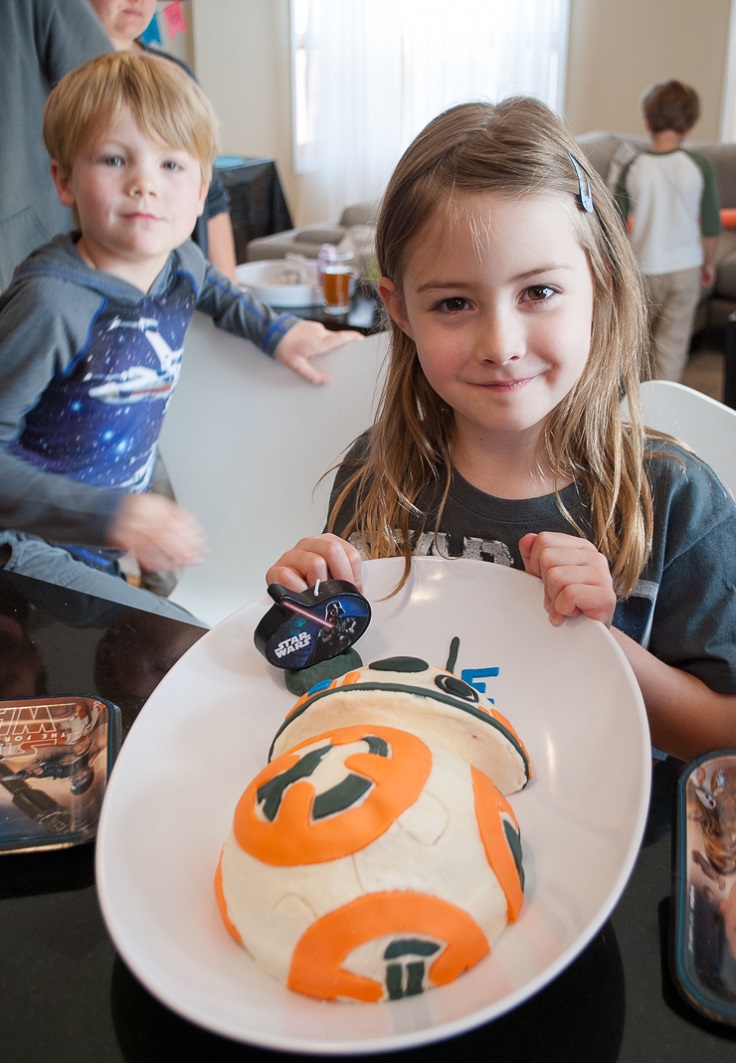 Small, but very nice looking cake! This is a vanilla cake, but it is always your choice on choosing the recipe. What makes this cake so special is that it represents BB-8. Here's what you need to make this cake for any Star Wars fan: free printable BB-8 cake pattern  (these are sized for a 3-D Ball Cake Pan, and you can find them on the website), 3-D Ball Cake Pan, fondant and fondant rolling pin, wax paper, and professional food coloring.