Building your own furniture is not only fun but also a cost saving solution. When you move into a new apartment and have to furnish it from scratch, often a low-budget option comes first. Which is not necessarily a bad thing. There are endless advantages to making your own furniture.
You are the one who decides about the design, the size, the color and the materials so you can be sure that it will fit your space and your needs. Plan ahead and see what devices you have – TV, satellite box, WiFi router, DVDs etc. – and what would you like to store on your TV console. You are the designer, you decide about shelves, cubbies without having to sacrifice fashion or function.
Here are ten fantastic DIY projects to build your own console.
1. DIY Reclaimed Wood Console
via ana-white.com
One of our favorite is this beautiful reclaimed wood console. The herringbone pattern on the doors makes this console a unique piece of art. The sliding barn door sitting in metal track is really practical if you want to have an open display but also to cover the not so pretty things.
2. Repurposed Dresser TV Stand
Would you have thought that this pretty console was actually a dresser before? The builder got an old dresser that was not in the best condition and decided to repurpose it to a beautiful TV console. By removing the top two drawers he created enough space for devices. The wooden drawers combined with the white paint gives it an elegant look.
3. Pallet TV Stand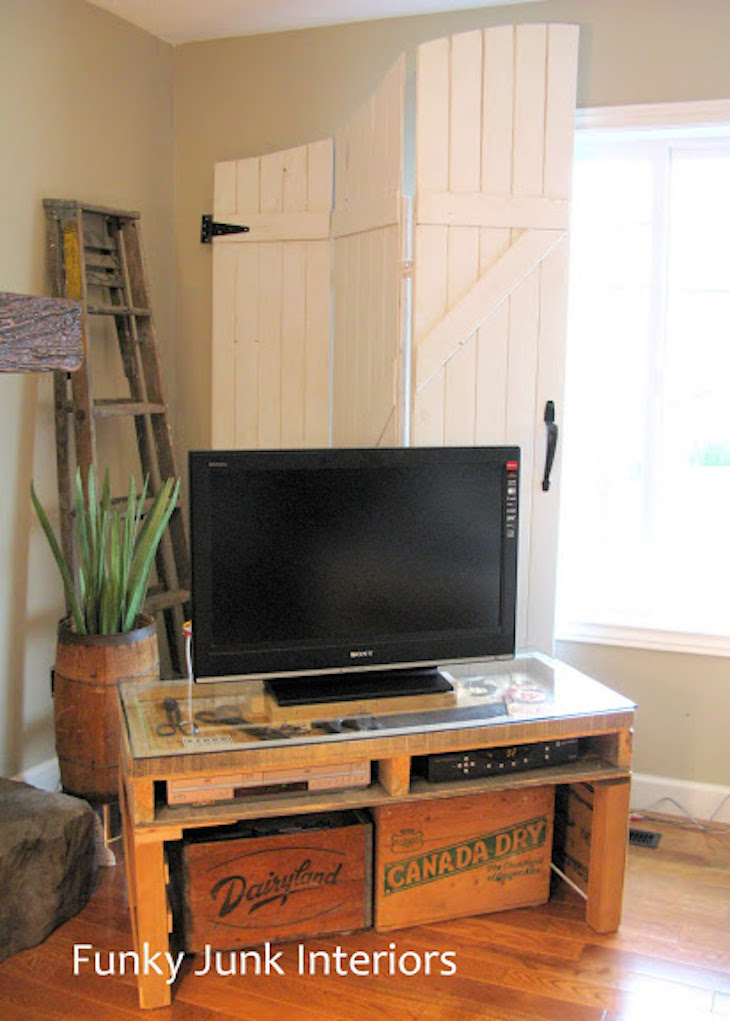 via www.funkyjunkinteriors.net
Here is the good old palette solution to prove that there is nothing that can not be done with pallets. The top part is what we love about this project. It is actually sunken in, allowing for display case out of the top. Put some authentic crates underneath for extra storage for DVDs or devices.
4. IKEA Hack Shelving Unit
By simply removing the two middle shelves you can build a cool and functional constituencies console from an IKEA shelving unit. Put your TV on the top, the devices on the bottom shelf and fill the two empty compartments on the sides. Whether you buy or build two storage boxes it will look great anyway.
5. DIY Craft Crate Console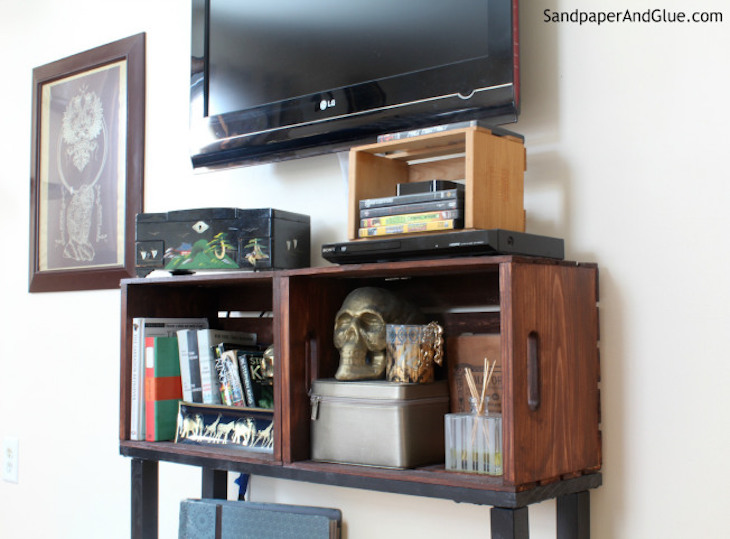 To build this cool looking TV console you will need a some craft crates – 2 pieces to be more precise – a hobby board and wood for the legs. Use the hobby board as a base to mount the craft crates on it. Add more crates to create a longer console. Design and create according to your needs.
6. Simple Crates Console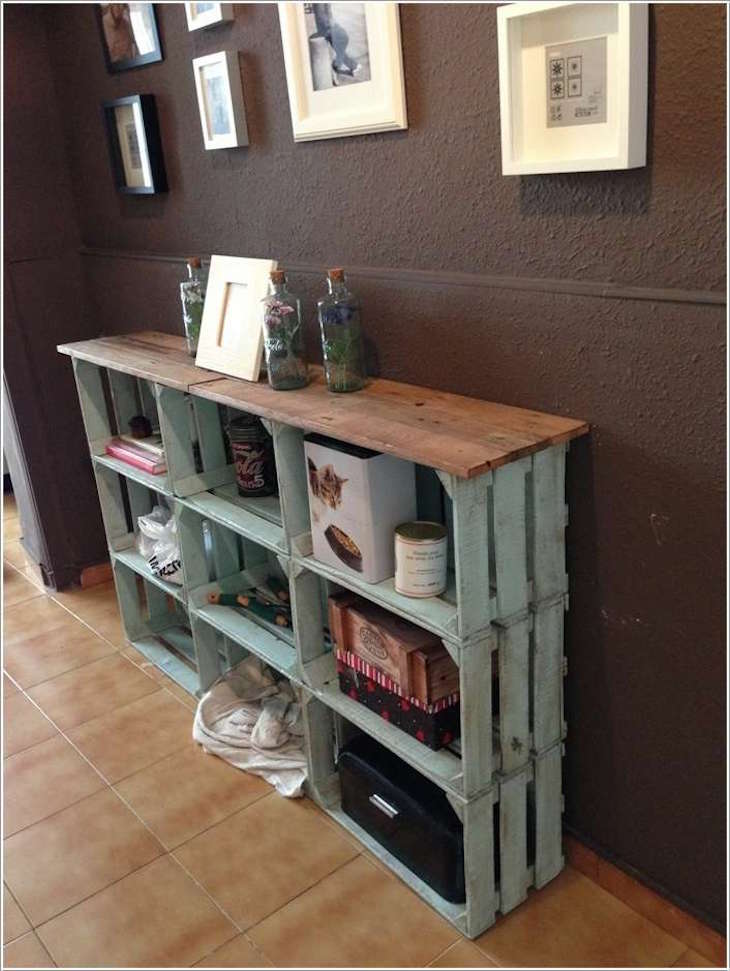 via www.amazinginteriordesign.com
It can't be easier than this. Get nine craft crates, screw them together, add a wooden top board and you have built your very own console table. Although this one is not used as a TV stand, you could easily put your TV on it. The pastel green painted crates and the added wooden top gives it a chic and shabby look.
7. DIY Wood and Canvas Crate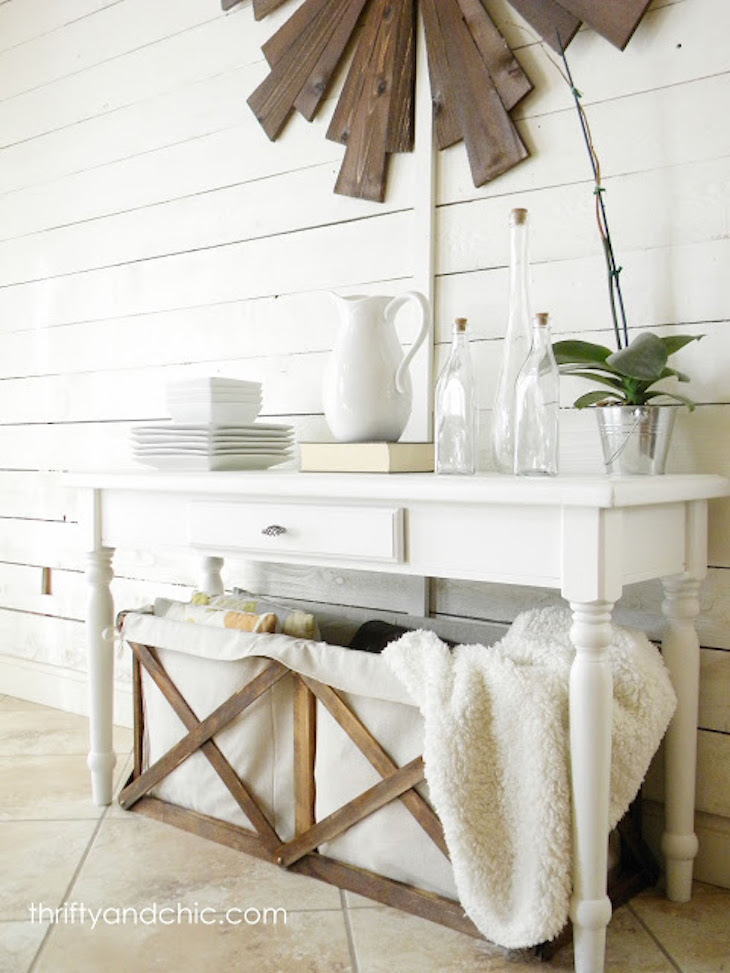 This project is not about how to build a console but how to utilize the space underneath. Build this beautiful canvas crate and to lighten up any plain console. It will be a perfect storage place for blankets, larger other pieces that you might want to move out of the cabinets.
8. Concrete Blocks and Wood
via www.homedit.com
This is a super simple design to create a shelving system for the living area. Depending on the size you choose, you can use it as a bookshelf, TV console and even other items will fit on it. The concrete blocks and the baskets underneath provide extra space.
9. DIY Farmhouse Console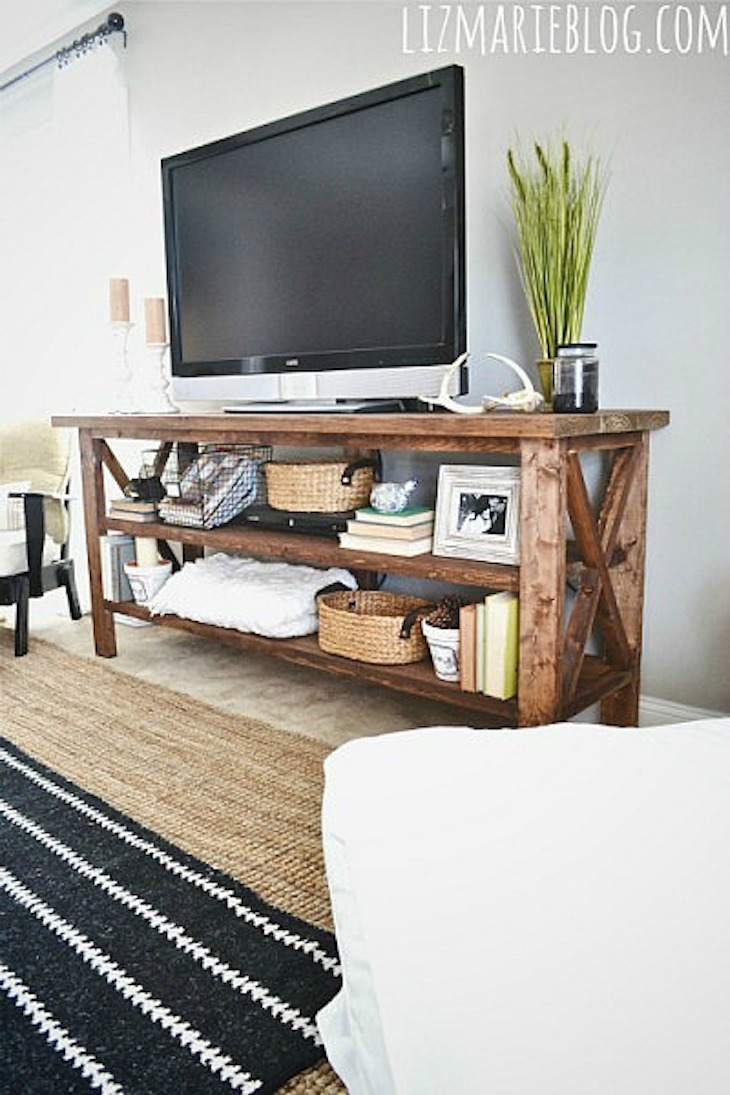 All you need are tools and materials, and some woodworking skills to build this beautiful rustic console. Follow the detailed step-by-step tutorial and ask your hubby for some help if you are stuck. Even better to build it together! The tutorial is for an extra long console but you can adjust the measurments accordingly.
10. Repurposed Kitchen Cabinets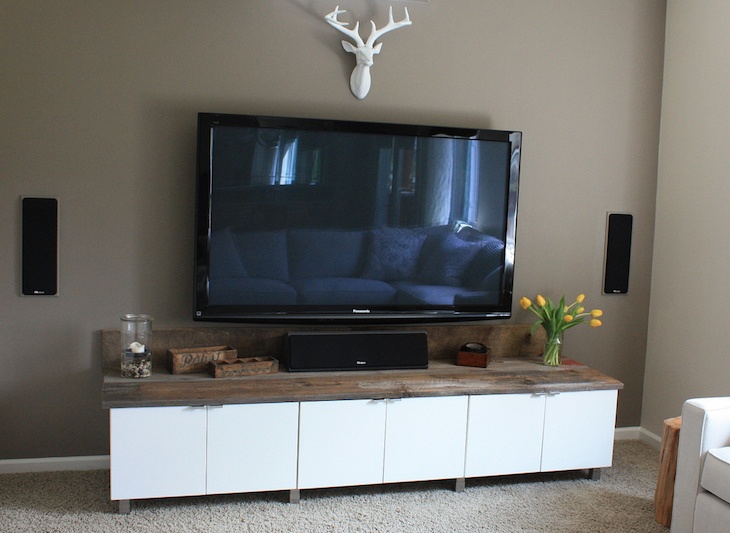 IKEA wall cabinets look good on the kitchen wall but they also function perfectly as a modern, stylish console. The wood fixed to the top of the cabinets adds warm and rustic look. On this particular one the builder actually used old barn wood. It looks stylish and provides plenty of storage space.