Vietnam, a country of remarkable diversity, is often described as two distinct halves: the North and the South. Each region possesses its unique culture, cuisine, and natural beauty. Embark on a trip through these two captivating halves of Vietnam, where tradition and innovation coexist harmoniously, offering a profound insight into this fascinating country's cultural and geographical diversity.
Hanoi: The Heart of Northern Tradition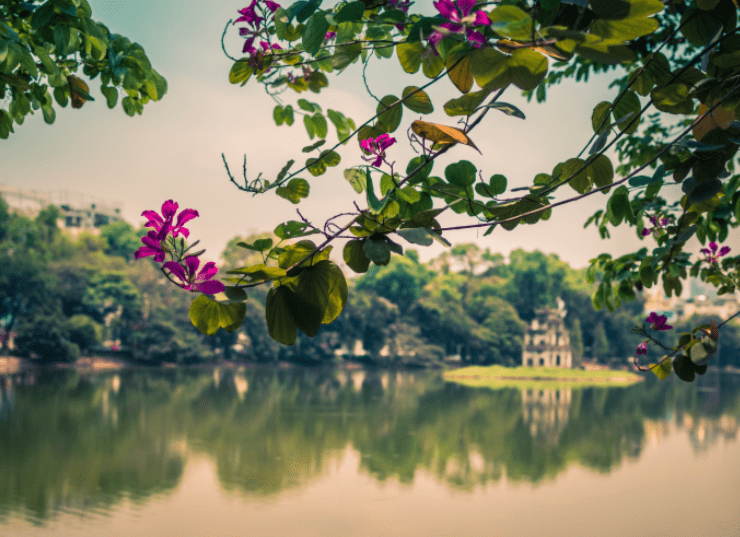 The journey begins in Hanoi, the capital of Northern Vietnam, where tradition runs deep. The Old Quarter's labyrinthine streets, each dedicated to a specific trade, transport you back in time, revealing the region's rich heritage. You'll encounter age-old rituals like the morning tai chi sessions by Hoan Kiem Lake, where locals gracefully move through their routines, embodying the spirit of Northern Vietnam. Explore the Temple of Literature, a serene oasis in the bustling city, where history whispers from ancient stones, and savor a bowl of steaming pho. This quintessential Northern Vietnamese dish carries with it centuries of culinary tradition. If you're considering a journey to this multifaceted nation, iVisa.com suggests sorting out all your travel documentation for a seamless exploration of Vietnam's two halves.
Sapa: Majestic Mountains and Hill Tribes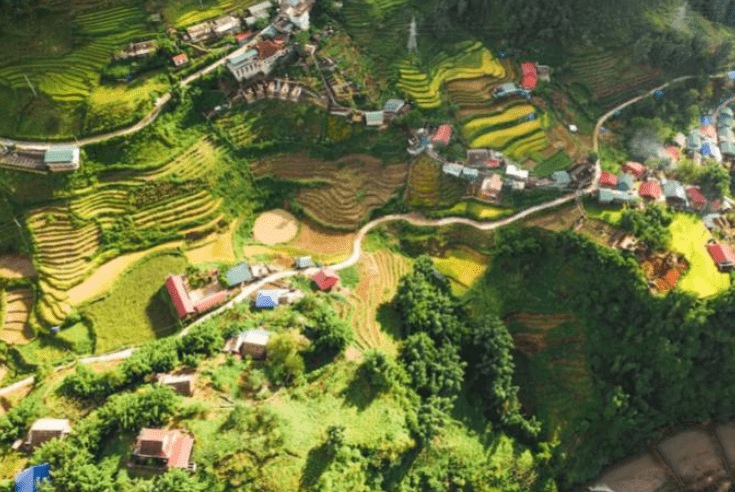 Venturing further north, you'll reach Sapa, nestled amidst the majestic Hoàng Liên Son mountain range. The terraced rice paddies that cascade down the slopes create a visual symphony of greens, a masterpiece of agriculture and nature's artistry. Here, you can trek through the countryside, meeting ethnic hill tribes like the Hmong and Red Dzao, whose vibrant clothing and customs offer a glimpse into the region's rich cultural tapestry. The Fansipan Mountain, Vietnam's highest peak, beckons adventurous souls with its challenging hikes and promising panoramic views that stretch beyond imagination.
Also Read: Top 10 Most Photographed Cities Worldwide.
Halong Bay: A Natural Wonderland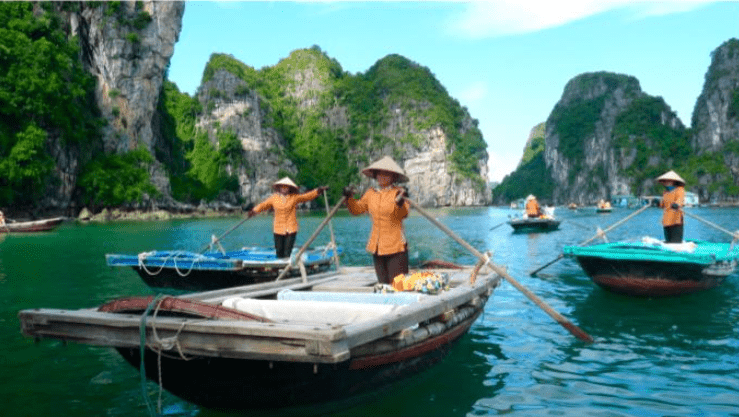 Heading east to the coast, Halong Bay awaits, a UNESCO World Heritage site known for its otherworldly limestone karsts. A cruise through the emerald waters unveils hidden grottoes and caves, where nature's hand has sculpted breathtaking wonders over millennia. While kayaking, you can navigate through secret lagoons, discovering the bay's hidden secrets. As the sun sets, the bay comes alive with the glow of lanterns strung from traditional wooden junks, creating a surreal ambiance that merges the beauty of nature with the traditions of the sea.
Ho Chi Minh City: Southern Dynamism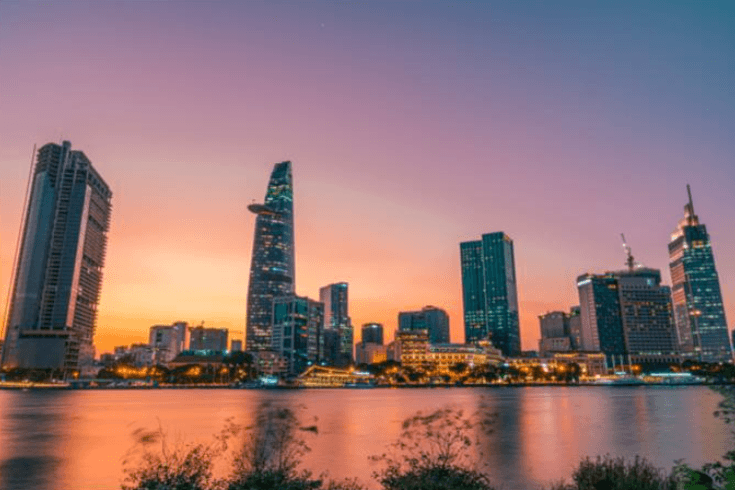 Heading south, your path leads to Ho Chi Minh City, once known as Saigon, where the essence of dynamism and modernity permeates a cityscape that thrives on contrasts. The city's skyline, adorned with towering skyscrapers, stands in stark juxtaposition to the colonial-era architectural gems of District 1, eloquently mirroring Vietnam's swift and transformative journey. Explore the historic Cu Chi Tunnels, a network of underground passages used during the Vietnam War, bearing witness to a history of resilience. Indulge in delectable Southern Vietnamese cuisine like banh mi and pho, which capture the essence of the region's culinary heritage.
Also Read: Top 10 Honeymoon Destinations to Visit in Asia.
Mekong Delta: The 'Rice Bowl' of Vietnam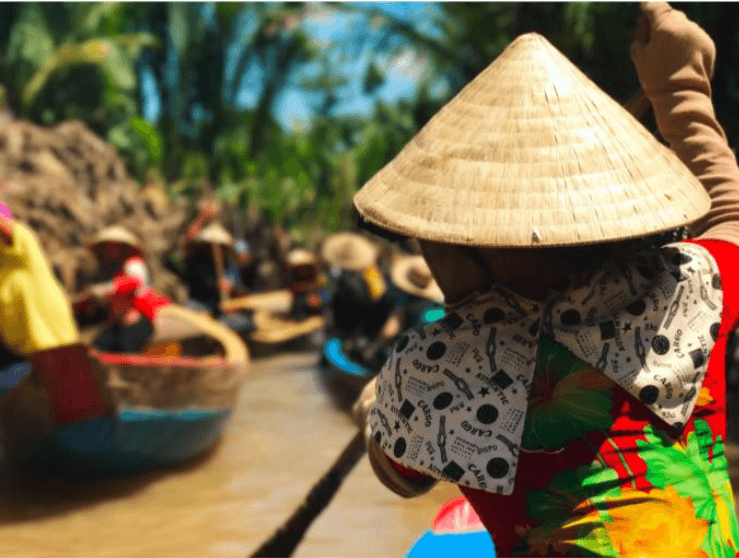 The Mekong Delta, often called the 'Rice Bowl' of Vietnam, offers a tranquil contrast to the city's hustle and bustle. Explore the maze of waterways, visiting vibrant floating markets where boats are laden with tropical fruits, vegetables, and fresh seafood, a testament to the region's agricultural abundance. Immerse yourself in the local way of life by staying in a riverside homestay and participating in activities like making coconut candy and rowing a traditional sampan boat, connecting with the river's rhythms and the people's warmth.
Phu Quoc: Tropical Paradise in the South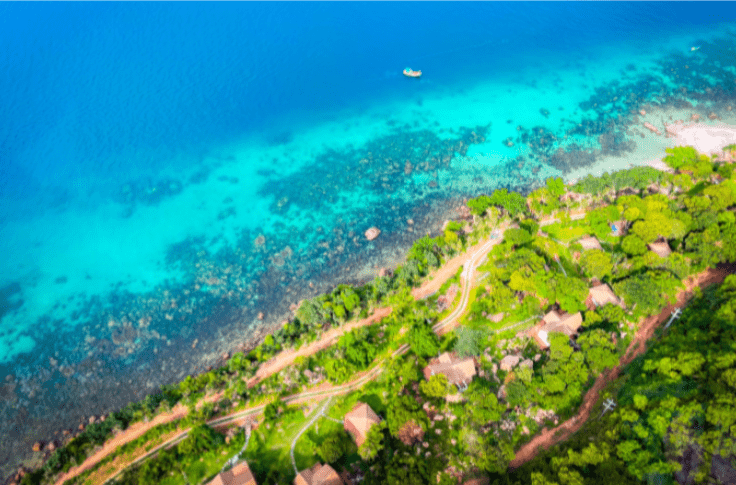 Finally, you'll find yourself in Phu Quoc, a tropical paradise in Southern Vietnam. Pristine beaches with powdery white sands and crystal-clear waters beckon beach lovers, offering a serene escape from the world's cares. Explore the island's lush interior, home to pepper plantations and dense forests, where nature thrives in all its glory. Savor fresh seafood at the island's night market, a sensory delight that encapsulates the essence of island life. Phu Quoc is a place of relaxation and rejuvenation. This tropical haven leaves an indelible mark on the soul, the perfect ending to your exploration of Vietnam's diverse beauty and culture.
Also Read: TOP 10 Signs that you have been to South East Asia.
Vietnam's division into North and South is not just geographical; it reflects its rich tapestry of culture, cuisine, and nature. From the Northern traditions of Hanoi to the mountainous landscapes of Sapa and the ethereal beauty of Halong Bay, to the dynamism of Ho Chi Minh City and the tranquil Mekong Delta, and finally, to the tropical paradise of Phu Quoc, Vietnam offers a kaleidoscope of experiences that celebrate the nation's diversity and captivating contrasts.