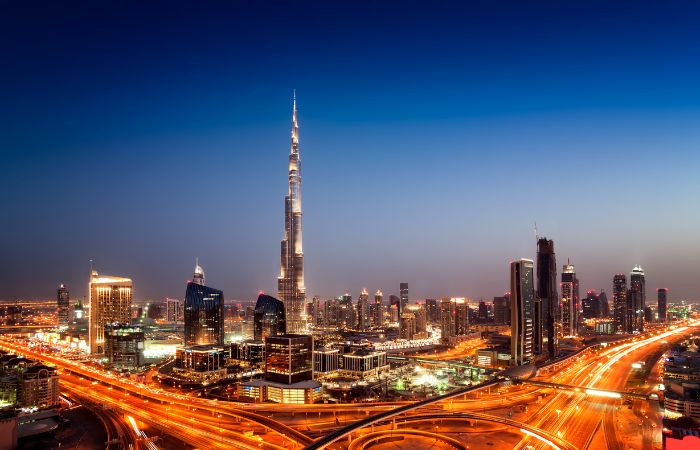 Dubai is a land of miracles and its magic begins as soon as you step foot in its dazzling cityscape. The first thought you would ponder is' How does a desert city transform into this glistening jungle of towering skyscrapers?' It wouldn't stop there, as you would have countless other questions about the city. The city of Dubai will continue to amaze you with its never-ending list of attractions. The larger-than-life style of modern Dubai and its deep-rooted cultural heritage make Dubai a truly breathtaking destination. It is no doubt that if you are crazy about exploring the world, then Dubai has to be on your travel bucket list, and here's what you should include in your Dubai travel plan.
Shop like no one's watching!
Shopping comes second nature in Dubai. There is no way you will be able to resist the allure of magnificent malls and retail avenues.
Dubai Mall – The most popular mall in the emirate located in the heart of Dubai Downtown is a must-visit. It is not just amazing as a shopping destination but is also home to unique recreational attractions. In fact, the mall is so big that you can spend an entire day exploring, shopping, dining, and having fun at this colossal mall. However, don't limit your shopping experience to Dubai Mall. Look beyond the biggest shopping mall in the UAE and you find countless options with amazing ambiences.
Souk Madinat Jumeirah – Located a few minutes away from Dubai Mall is another charming shopping venue that fuses the Arabian charm with modern merchandise and amenities.
Mall of the Emirates – Another famous mall in Dubai that offers an inbuilt ski resort to beat the heat in Dubai! Boasted as the first shopping resort in the world, the mall is home to more than 80 luxury brands and is tucked between two amazing hotels – Kempinski Mall of the Emirates and Sheraton Dubai Mall of the Emirates Hotel.
Some other fantastic places to check out for shopping include Ibn Battuta Mall which gives you a glimpse into traditional Middle Eastern shopping adventure and Jumeirah Emirates Shopping Boulevard, where you might catch a glimpse of famous celebrities during your shopping adventure.
Discover the splendours of Old Dubai
As its main image, Dubai exudes opulence and sophistication, but its cultural heritage is equally impressive. For a deeper glimpse of Bedouin Dubai, head to the Dubai Creek area of the emirate which is historically the first place of settlement of Emiratis.
Abra ride – Hop on to an abra – a traditional boat that has been ferrying people across the Dubai Creek. For just 1 AED per person, this is an ideal way to experience the most historic quarter of the emirate with the backdrop of its enigmatic modern skyline.
Al Fahidi Historical Neighbourhood  – This area comprises of the city's oldest structures which is its antique heart. This historic neighborhood is best explored by wandering down its maze-like streets of narrow alleys and exploring the original simple architecture built by merchants long before Dubai became a global city.
Dubai Souks – Set forth to the traditional bazaars selling gold, jewels, spices, and perfumes that take you on a shopping spree in the traditional style where you can even haggle and get fascinating deals on Middle Eastern merchandise.
Dubai Frame – A visit to Dubai Frame at Zabeel Park will complete your Old Dubai experience by combining the past, present, and future of Dubai in a captivating way for you to grasp the wonders of Dubai. The attraction tagged as the biggest frame in the world is one of the best places to enjoy a unique perspective of cultural and modern Dubai from a single spot.
Sun, sand, and splash!
Dubai is a city that spells just one climate – hot. Throughout the year, the temperature either becomes hotter or milder. However, Dubai has many amazing beachfront water parks that offer a refreshing respite from the scorching heat alongside plenty of fun and adventures.
Aquaventure water park – With over 100 thrilling rides, Aquaventure is the biggest water park adventure in the Middle East. Atlantis the Palm Resort at Palm Jumeirah is home to this world-famous water park featuring some of the world's most hair-raising water slides, which are only for the brave who are willing to face their fear of vertical drops and swooshing through shark-infested waters. Additionally, the Aquaventure water park has its own private beach shore, tranquil lazy rivers, and idyllic cabanas for a relaxing beach holiday in Dubai. If you're looking for luxury, book a stay at Atlantis the Palm and you won't have to purchase Atlantis Water Park tickets as they are included in the stay!
Laguna Water Park – Located at the La Mer Dubai, Laguna is a new addition to the list of Dubai water parks. With its seafront ambience and an array of water thrills, it has become a popular Dubai attraction. The water park is a favourite among adventurers who enjoy surfing and can take advantage of WaveOz, the first 180-degree surf wave simulator in Dubai. It is ideal for those who also want to relax and enjoy beach walks since the water park is so close to a pristine beach.
Explore the unbelievable!

Believe it when someone tells you Dubai is a land of miracles. This desert emirate outperformed all other cities in the world to become a phenomenal global city against all odds. But it doesn't stop there! Dubai continues to amaze the world with remarkable attractions that have everyone wondering how a desert city is able to achieve such an accomplishment. You would regret not visiting these one-of-a-kind attractions on a Dubai trip.
Al Qudra Lakes – With Dubai's zest for offering its guests some of the most amazing experiences, it developed some of the most surreal attractions for a Middle Eastern desert city. Drive along the Al Qudra Road and you will come across a man-made oasis teeming with gorgeous lakes, sand dunes, and desert wilderness. Al Qudra Lakes is an oasis of peace away from the bustle of the city and is a favorite of nature lovers. If you are a bird-watcher, then at Al Qudra Lakes you can spot almost 150 species of birds including black swans and pink flamingoes. The intertwined Love Lakes is one of the most picturesque and intimate places to visit for some quiet time with your beloved. Al Qudra Lakes is also one of the best camping spots in the UAE.
Dubai Miracle Garden – Step into this vibrant land and you would be left rubbing your eyes in disbelief and pinch yourself to make sure that what you are watching is not a mirage. With more than millions of colourful blossoms, Dubai Miracle Garden is an instant mood uplifter and a soothing balm for the eyes that have only seen glistening metallic towers and sand dunes in the emirate. Located in Dubailand, this gorgeous garden is the world's biggest floral garden innovatively created and preserved using recyclable resources. Throughout the garden, you can see some amazing creations made entirely out of flower blooms and plants. There are several major highlights at this attraction that you definitely should not miss, such as the giant Emirates A380, Disney Avenue, and Floral Clock.
Ski Dubai – Would you like to go skiing on your Dubai holiday? You read that right! Skiing in pristine white snowy terrain is quite possible in the desert city of Dubai. Just head to the Mall of the Emirates which has an indoor ski resort. The temperature-controlled indoor winter wonderland will take you on an alpine journey where you can enjoy skiing and snowboarding, enjoy chairlift rides, and even watch adorable penguins waddling around.
View Dubai from a bird's eye view
It is exciting to stroll through Dubai city and take in its beauty, but getting a bird's eye view of the city is an experience you will never forget. A trip to Dubai would not be complete without experiencing Dubai's stunning city skyline, and while there is a multitude of ways to do so, some of the best are from the elevated viewpoint attractions.
At the Top Burj Khalifa – When you visit Dubai Burj Khalifa is a definite not-to-miss attraction. The tallest standing tower in the world will charm you with its audacious beauty. This soaring tower is hard to miss from anywhere in Dubai Downtown as it dominates the city skyline scenery of Dubai. Once you have marvelled at the grandiose of this attraction, head to the 124th or 125th level for the 'At the Top – Burj Khalifa' experience to get an unrivalled view of the entire emirate. An evening spend at Burj Khalifa is the most memorable one as you get to witness the combined scintillating sights of the illuminated Burj Khalifa and the dazzling spectacle of Dubai Fountain set right beside it.
Ain Dubai – The recent addition to Dubai's extraordinary landmarks, Ain Dubai is the world's largest observatory wheel. Set on Bluewaters Island near Palm Jumeirah, a visit to Ain Dubai is a wonderful way to spend some quality time with your near and dear ones in a spacious pod while taking in the beauty of Dubai from different angles. During a 38 minute rotation, you get to view the breathtaking scenery of Dubai's modern skyline and sweeping views of the Persian Gulf. Once the pod reaches the top, you will be treated to an amazing view that will last forever in your memory.
View at the Palm – Palm Jumeirah is boasted as one of the most scenic man-made spots on the planet. The view from the top is a sight to behold! However, to get that view, you either had to take a ride on a flight tour or jump of a plane during a sky diving session. Recently unveiled new attraction – The View at the Palm makes it possible to enjoy beautiful views of the Palm Jumeirah from above. Although it is not a bird's eye view, it is as close as you can get to avoid an expensive flight tour. Set on the 52nd floor of the luxurious Palm Tower, The View at the Palm offers unparallel 360-degree views of the Palm Jumeirah and the serene Gulf waters. The sunrise view at this attraction is one of the most mesmerizing experiences you will hold close to your heart about your Dubai holiday.
Spend a day in the desert – Desert Safari Tour
Put on your sunscreens and shades and zoom off to the edge of modern Dubai city. Here, visit the Arabian deserts, the very beginning of Dubai. This was once how Dubai looked. Nevertheless, the vast expanse of sand dunes has become popular among visitors and locals alike as a desert safari destination. A desert safari offers various activities such as, Jeep safaris, dune bashing, sandboarding, quad biking and camel riding. Dubai desert tours are flexible based on how much time you want to spend and what kind of experience you want. An excursion in the Dubai desert ranges from half days tours to early morning adventures to overnight stays. You can spend an evening or a whole night in the desert experiencing the tranquil ambience of the Arabian night in the desert after viewing a gorgeous sunset on the desert horizon. It is the perfect way to unwind, relax, and enjoy some great food in a more laid-back outdoor setting – perfect for those seeking an escape from the daily grind.
Conclusion
This selection of experiences is what makes Dubai extremely popular among foreign visitors. However, when you are done experiencing these things to do in Dubai, you have merely scratched the surface. Dig a little deeper and you find a whole treasure trove of unique experiences. There is so much more you can see and do here. For instance, go skydiving at Palm Jumeirah, try a sea breacher ride along with other amazing water sports Dubai has to offer, stay in luxury at Burj Al Arab Jumeirah or Atlantis the Palm Dubai or simply enjoy an eloquent brunch or afternoon tea to experience the splendid Dubai hospitality. If you are looking to raise the fun and thrill quotient, head to fascinating recreational parks such as IMG Worlds of Adventure, Dubai Parks and Resorts, VR Park to name a few.  It is essential to know that Dubai is an emirate that evolves constantly and that, every time you get a Dubai visit visa online and explore the city, you can always find something new and extraordinary to enjoy.