We all have stacks of CDs sitting around our home that are doing nothing but collecting dust, because we have already transferred the files to our iTunes. You could toss out all of those CDs or and our advise is that you could use those CDs to make some pretty awesome crafts.
Because of that beautiful reflective, rainbow-catching back, a CD can make for some really beautiful DIYs. We are here to give you 10 amazing ideas how to reuse old CDs and make your room refreshed or make a funky bowl or reflective candle holder.
You can make for your home or it could be a gift for your friends or loved ones. Easy, fast and creative idea and the perfect way to recycle old CDs from your shelves. So you turn memories into another more modern memories this time. Check out our list of proposal and choose more than one idea.
Make a Collar Elegant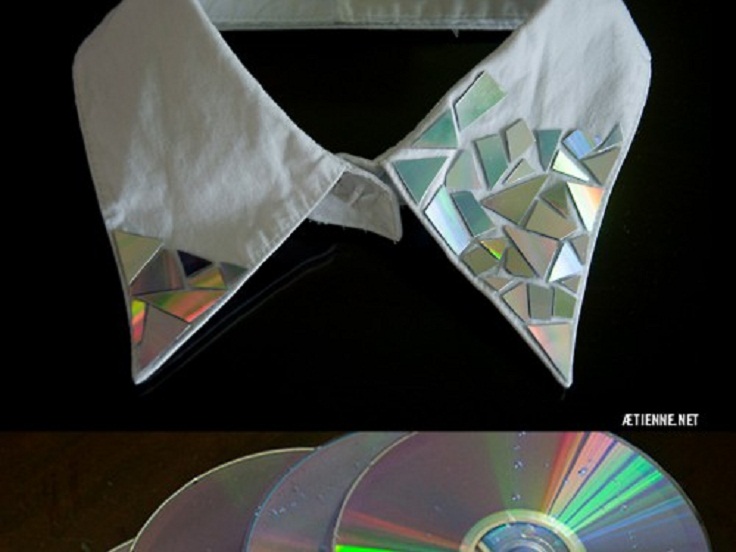 via altpress.com
Add a little bling to your collar. If you have old t-shirt or shirt that you have not worn for a long time because it seems old and old fashioned make them alive. Put new accessories or stuff on it like parts of CD which is also unnecessary thing in your home.
Beautiful Wall Art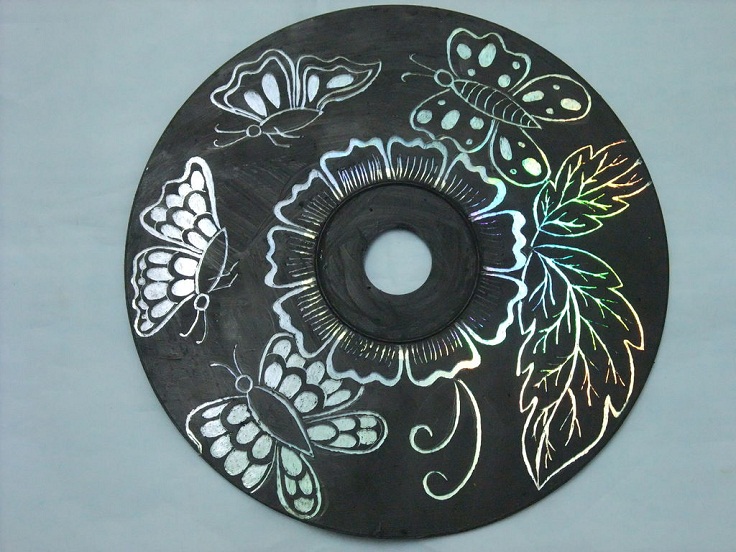 By painting a CD black and etching out a pattern, you can make beautiful wall art. This would be stunning when the sun shines in the room a CD black and etching out a pattern, you can make beautiful wall art. You are free to choose decoration you want so it could be nature or love inspired. Makes it like a part of classics art.
Vintage Picture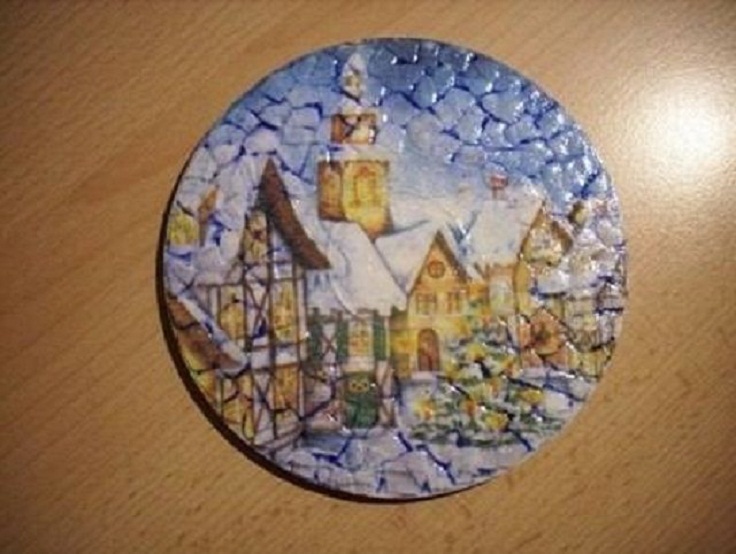 via viraldips.com
Who would ever think that this beautiful creation was made out of egg shells and a CD? You need: 3 egg shells, one CD, led paints and brush, so you can use more type of brushes from thin to professional. Step by step make this piece of art and be careful without hurry because it takes time to dry properly.
Keep Your Tables Safe With CD Coasters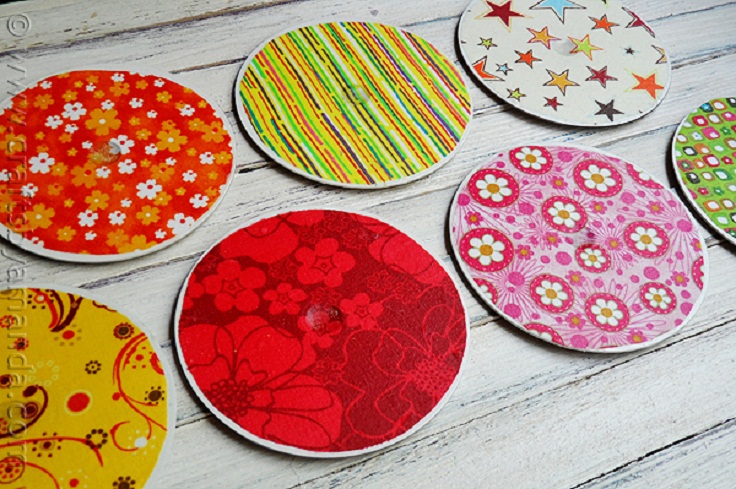 How many tables or surfaces have you damaged with wet glasses or something sticky? Keep your tables safe with CD coasters. Cover the CDs with colorful or mono adhesive paper. But two sided covering is included for more aesthetic look.
Make a Modern and Funky Lamp Cover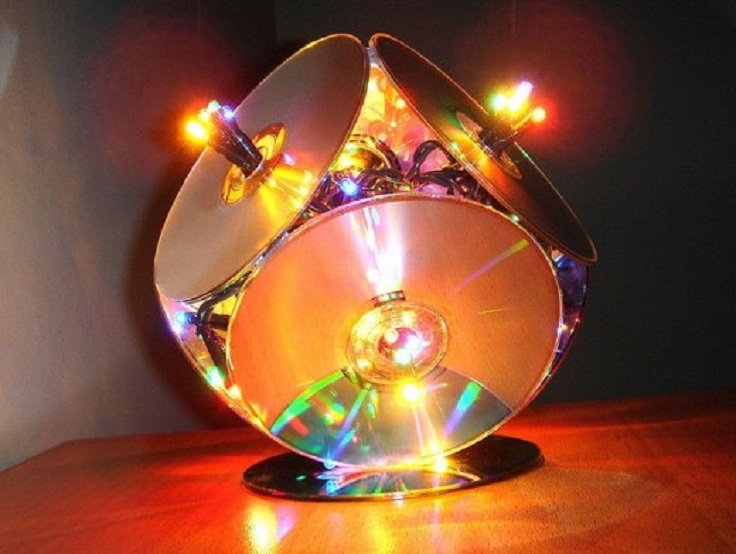 via wellingtonboot.hubpages.com
For everyone who loves homemade romantic stuffs in their bedroom or modern and funky. You can choose different color of bulb and you are free to paint on CDs in color by your choice. Make a modern and funky lamp cover and make a most creative gift for your parents.
Make a Necklace
Every girl desires necklaces in every color. But what if it is possible with home made accessories. Our idea is to make a necklace from your old CD with painting part of it. Choose the most appropriate color which will fit with much of your clothes.
Eye-catching Lamp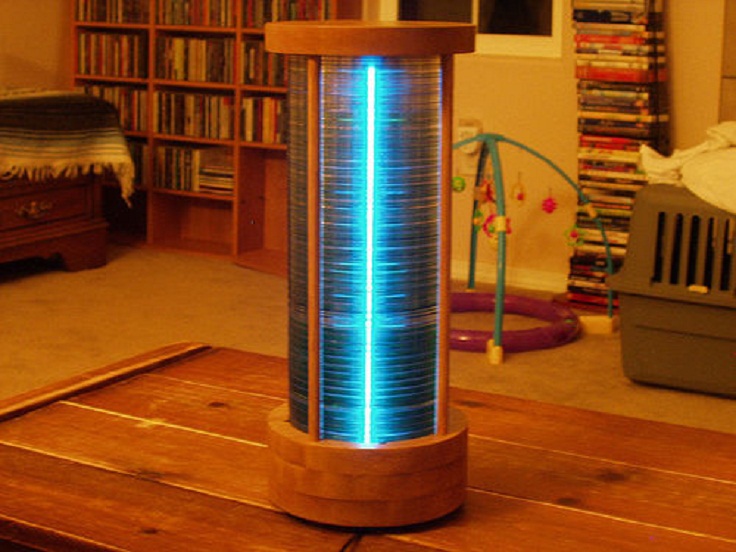 Make an eye-catching lamp from a stack of CDs. Lights are an important feature of most rooms in the home, and if you would like to create your very own lamps and lampshades. Put in the middle of your living room and makes romantic and elegant look of this room. Or put it in the corner so it will give faded look of the room. This DIY is practical because you can use all old CDs in one home made project.
Stunning Mirror Frame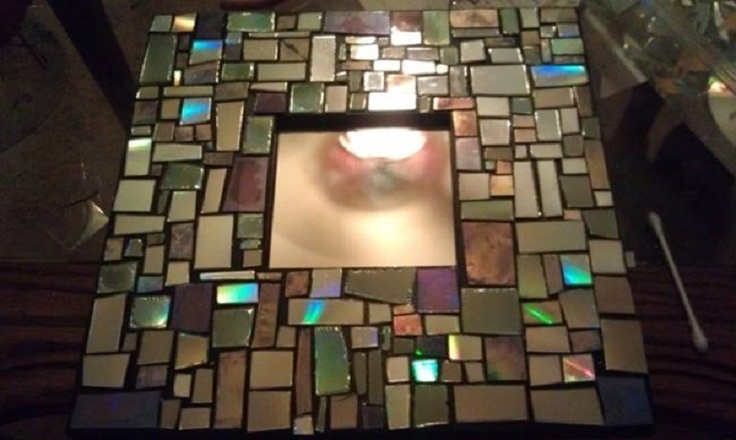 The first thing when we get up in the morning is look at the mirror right? Give your mirror a unique look with this incredible DIY mirror frame idea. You can make this stunning mirror frame by cutting or smashing up your old CDs and pasting them to the frame.
Reflective Candle Holder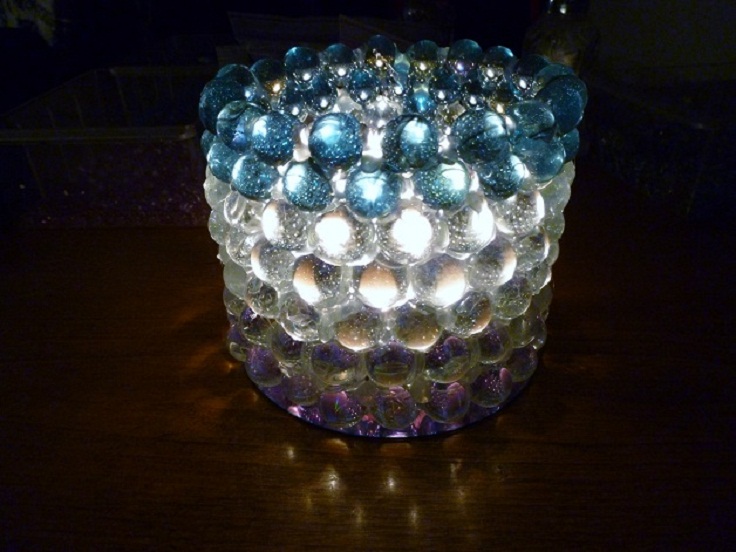 via lakecotoday.com
Marbles and an old CD can make for a beautiful and reflective candle holder. Dazzle that gives CD makes it a special glow of the candle ornament. If you put color candle you can feel the magic that will radiate with carefully arranged Marbles. Perfect place is in bedroom or somewhere in the romantic corner of your home.
 How about a small and Kid`s clock?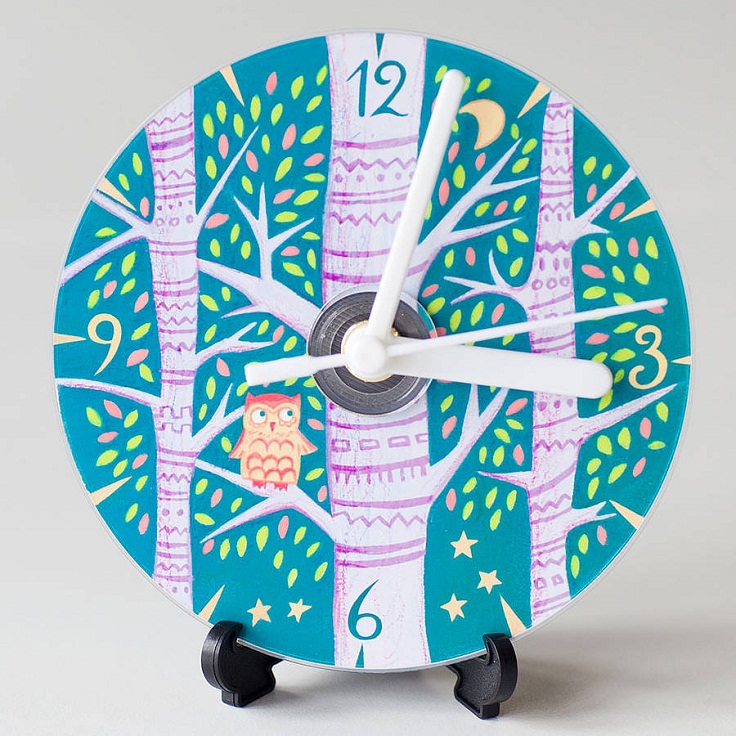 Perfect idea for baby`s room or your kid`s room. Because you will paint this CDs you can make it together with your kids or they can choose a color or picture and your will make the perfect masterpiece for them. Do not forget to include numbers and working mechanism is extra stuff you should buy or take from another clock at your home. Enjoy!