Do you have an old dresser that you don't know what to do with it? You can't throw it away for sure because we have excellent ideas for making new furniture from the old and useless dresser.
There are few steps, but they are easy and simple, and the final product will be unique and modern. You can use the whole dresser or just some parts of it like the drawers. You can change the look with just paint, or you can add or take some details. In the bathroom, living room, kids' room, or the back yard, the old-new dresser will be perfect furniture for the entire things that you don't have a place!
Here are some new ways to repurpose an old dresser…
Dresser Turned TV Stand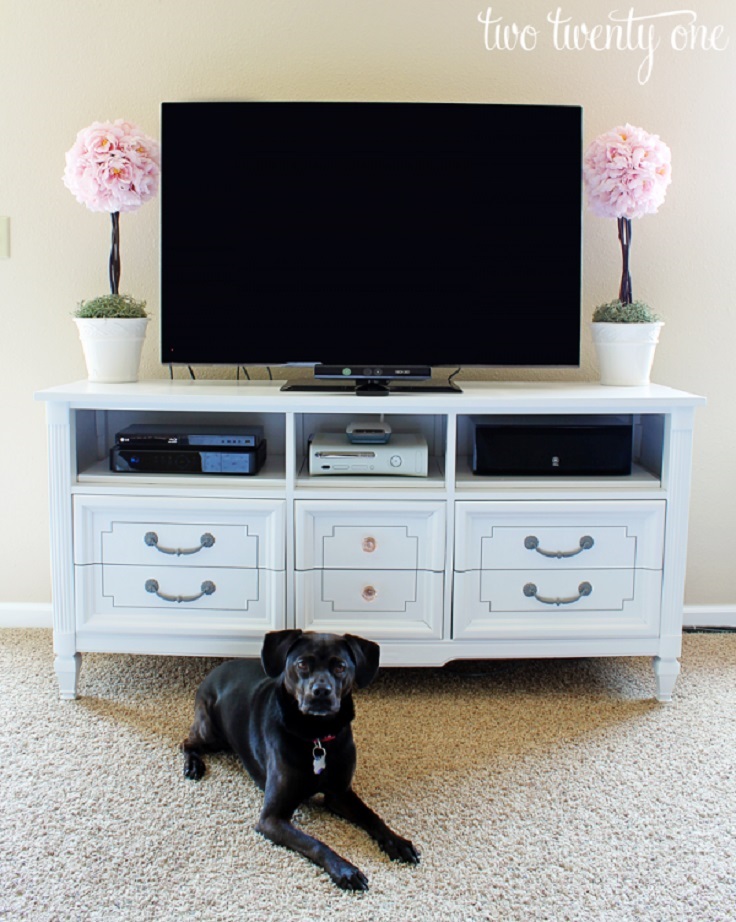 via twotwentyone.net
This project is totally worth sharing. A $50 old dresser is being transformed into a beautiful TV stand. Just paint the old dresser in your favorite color and remove the top drawers so you can have space for your DVDs, video games, and other accessories.
Dresser-Turned-Island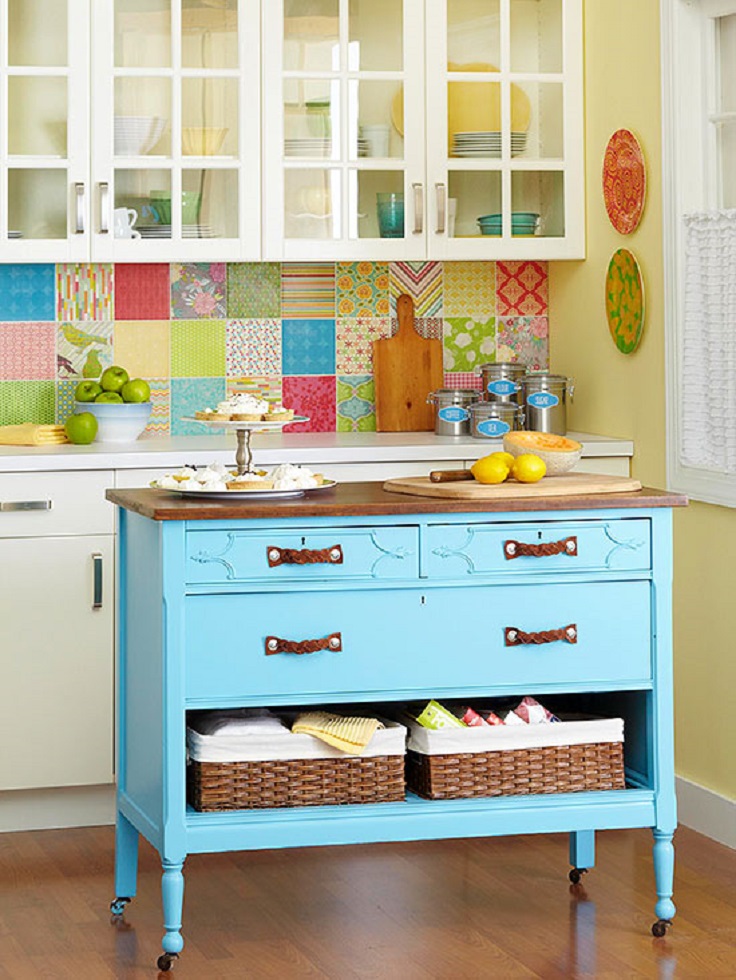 via bhg.com
We love this idea! You can turn an old dresser into a beautiful kitchen island in just a few easy steps, as explained in the tutorial. A vintage wood dresser would be perfect for this project, so if you don't have one, you can always search through thrift shops. The two-toned look is simply stunning.
Ugly old dresser turned chic liquor cabinet & bar
Take a look at this genius tutorial to turn an ugly old dresser into a chic cabinet. Martha Stewart's Sharkey Gray was used for painting the cabinet, and the result is gorgeous. It looks uneven and aged in some spots, which makes it perfect. The custom finish was added with wooden flourishes.
How to paint a geometric design on a dresser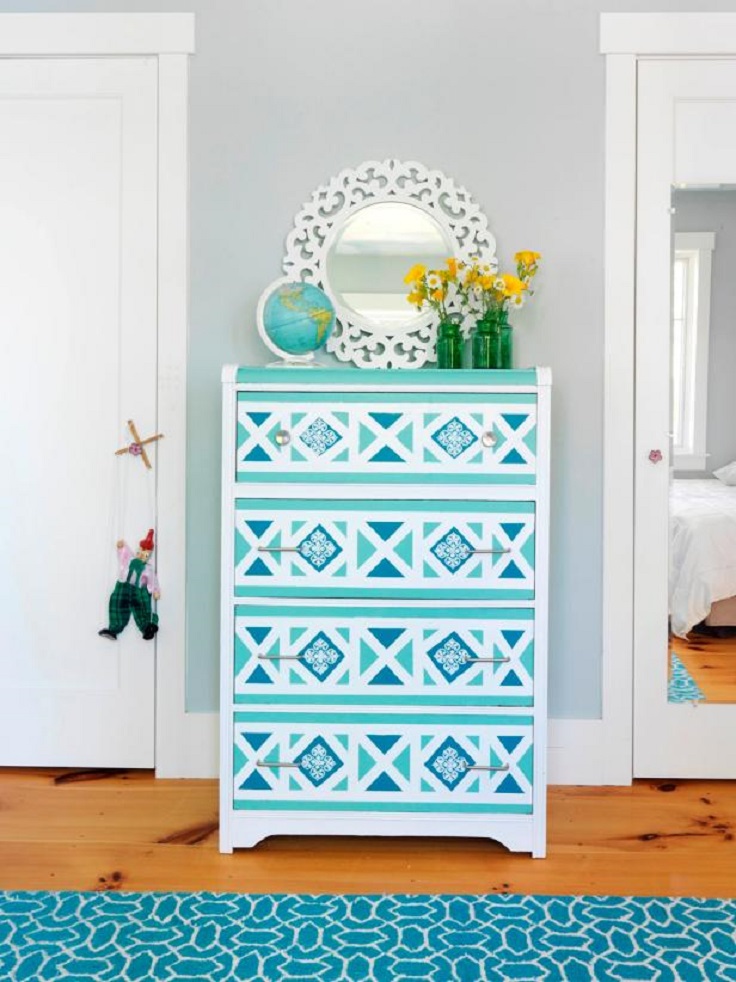 via diynetwork.com
A little paint can make such a difference. Turn your old dresser into a chic piece of furniture by painting a geometric design. You will need white paint and two other colors of choice and an old wooden dresser of course. A little preparation, painting, finishing touches, and voila – you'll have a whole new dresser to be proud of.
How to Revamp an Old Dresser with Old Maps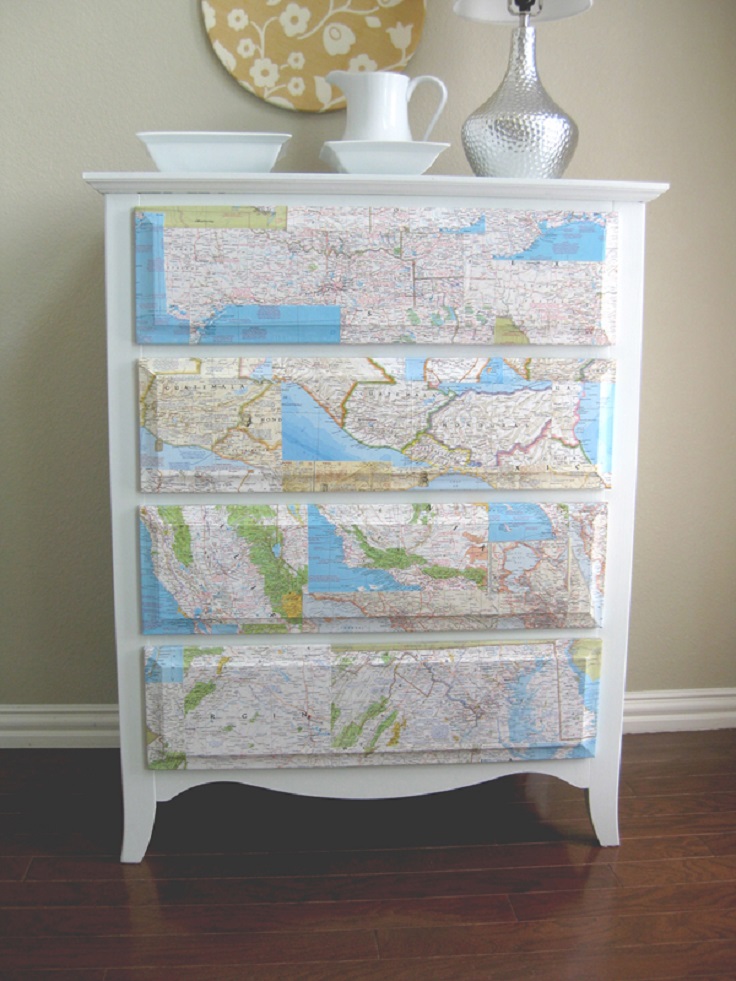 via freshome.com
Such a clever way to revamp your ugly old dresser. Use old maps to make the dresser for your modern home. Mod Podge, a sponge brush, and several damp paper towels glue the maps onto the wood with scissors. Paint the dresser in your preferred color, and you are done. The result is stunning.
How to turn a Dresser into a Bathroom Vanity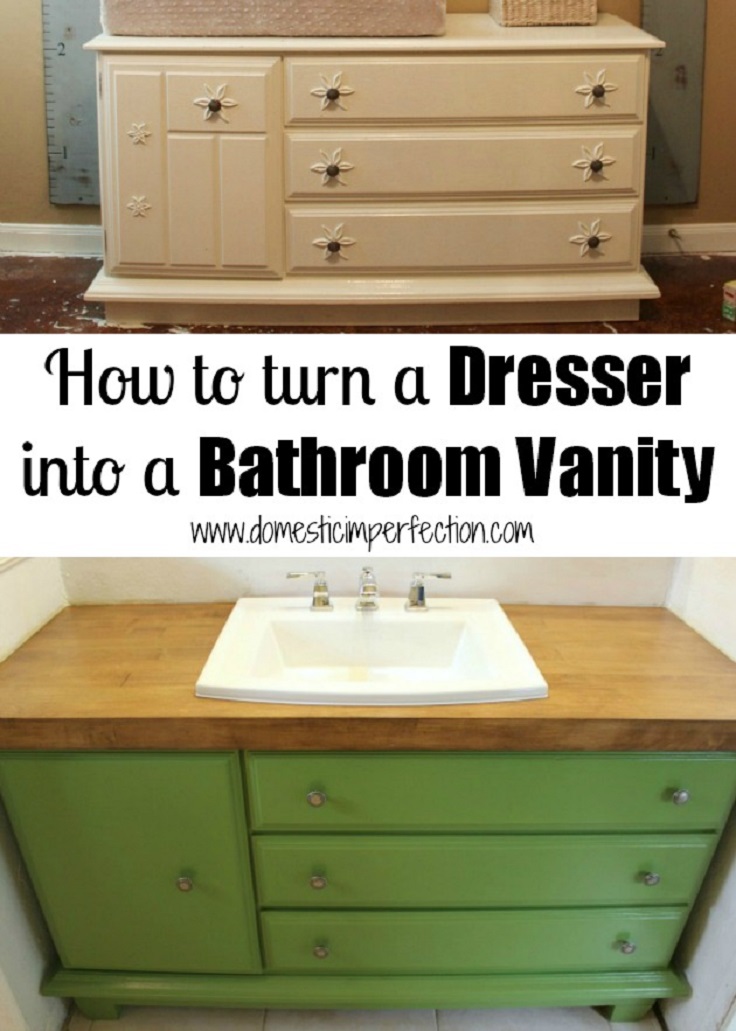 Transform your old dresser into a bathroom vanity. It is a great way to renovate the bathroom on a low budget. Paint the dresser into your favorite color, then follow the step-by-step tutorial on the link above. Some photos will guide throughout the project.
DIY Craft Closet Office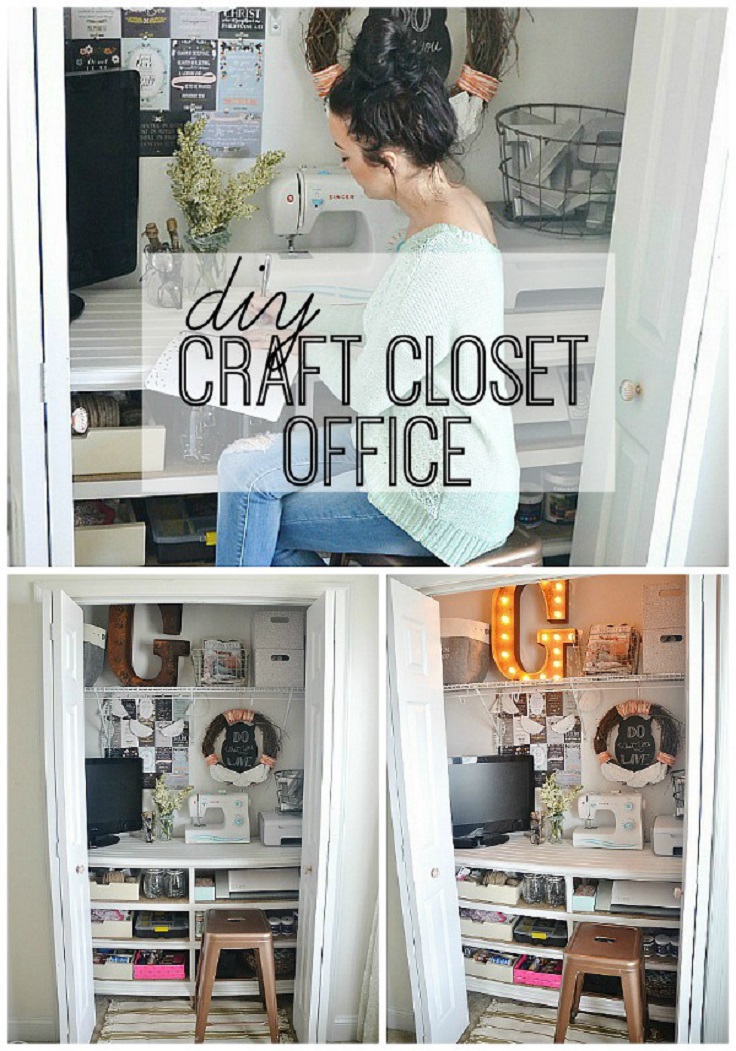 via lizmarieblog.com
You love crafting, and you have so many materials that you truly have a problem storing them. Why not create a craft closet office? It is such an awesome, budget-friendly idea. And all you need is an old dresser that you will transform into your own personal craft office. Creative and fun.
Lovely garden/potting bench
via jardendesigns.blogspot.com
With the spring being already here, you will surely need to spend more time working in the garden, so it is the perfect time to organize your tools. You can create a lovely garden bench by repurposing an old dresser. Paint it in bright, bold colors to go along with all those spring flowers in your garden.
Old dresser into bench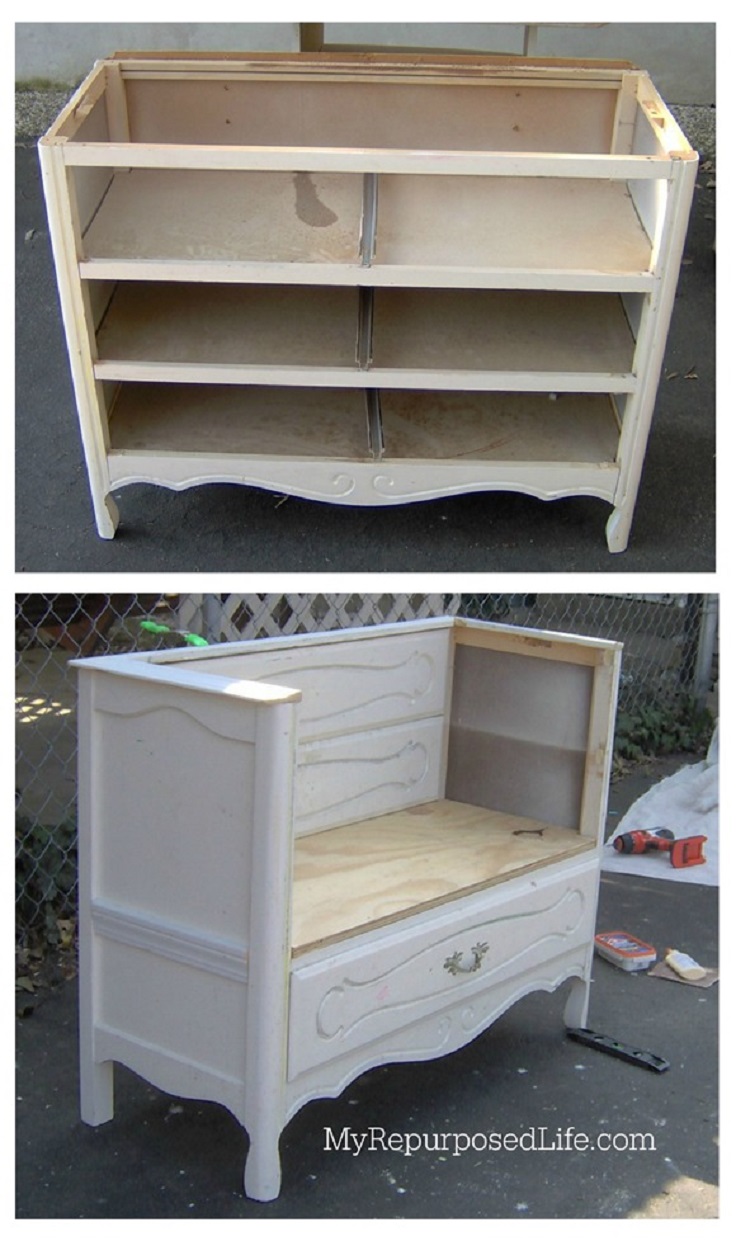 Get an old dresser, remove the top drawers, add a piece of plywood to take a seat, and paint it in a color that goes well with the rest of your furniture. Make a soft place to sit by covering a piece of foam with a nice fabric. You will get an awesome bench that will look as good as new.
DIY Lego Table from a repurposed dresser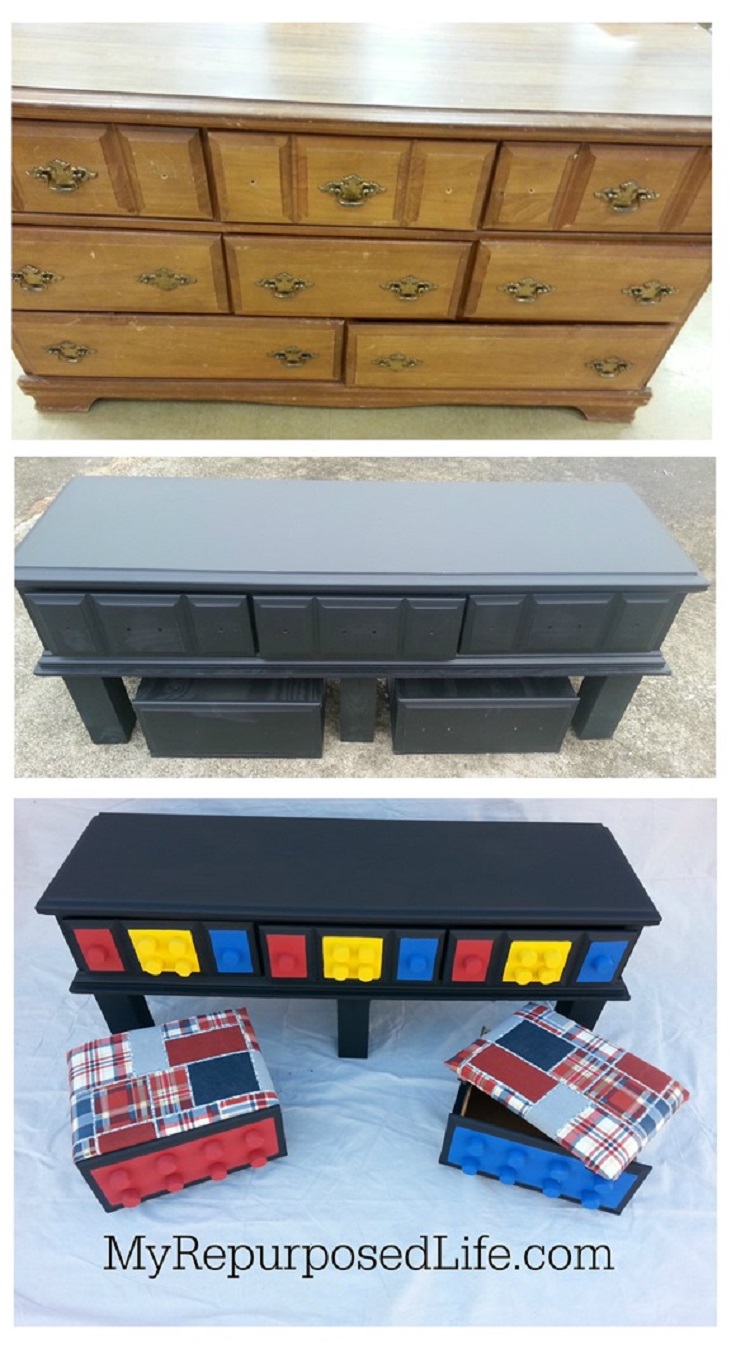 Make a cool addition to your kid's room by transforming a dresser into a lego table. The kids will totally love it. But this lego table is beautiful but practical too as it offers a lot of storage space, which is always needed in a kid's room. You can even make lego nubs to go with the table. Perfect!