We do tend to forget that before a fabulous dinner, your guest will see the way the table is set up while having their nostrils played with the terrific smell coming from your kitchen. Lovely crockery is important for the best wow factor so is your choice of cutlery and glassware.
However, what's in the centerpiece of the table makes the table so to speak. Here you will find a super tablescape fit enough to host royalty. Color coordination is a must especially suiting the room and environment itself.
Great ways to create that wow factor bringing warmth, style, and charisma. Looking to have a dating anniversary with your loved one? Check these out.
Purple Wonder

This color screams keywords such as royalty, grandeur, pride, extravagance and the list goes on. So, if you wish to show off a little then this could just be the color for you. It creates something almost sensual, deep, and meaningful. In this instance, from the tablecloth to the napkins to the flower arrangement, we can clearly see a natural flow of color coordination. Make a cocktail to go within your color theme and what not serve a bottle of red wine. To go the extra mile, consider having purple chair ribbons.
Taking The Beachfront To Your Very Own Home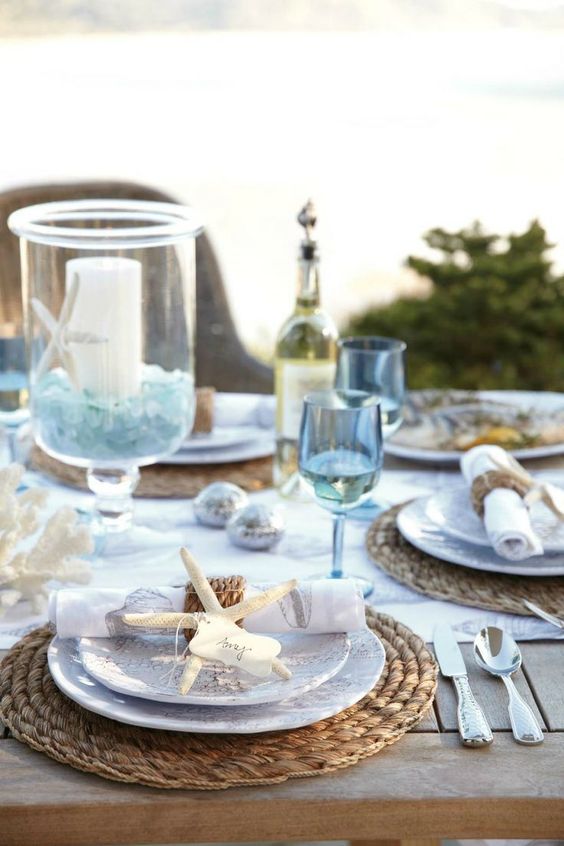 via happywedd.com
Seasick in terms of wishing from the deepest of your heart you were by the beach, feet covered in sand with a lovely Gin and Tonic? However, all of this is incredibly far away? Well, why take the beach to you? On your own turf? Decorate with shells from the beach you might have once had the pleasure to pick up while on your exotic holiday. Blues are preferred, of course, mimicking the color of the sea. Include either blue or even beige napkins. Fill in some sand in vases scattered across the table. This table is wonderful anywhere on the planet, even under the snow to bring a little exotic warmth to the table theme!
White Is The Color Of Purity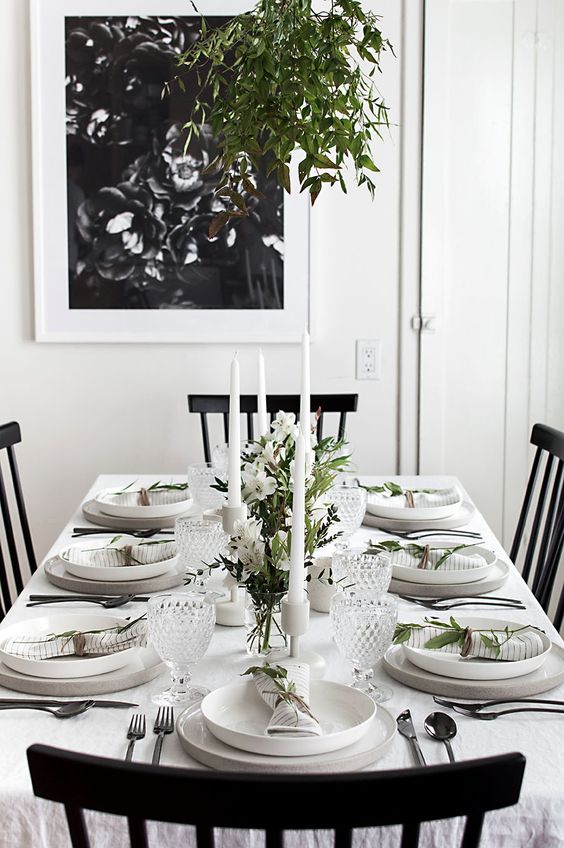 via homeyohmy.com
Some tablescapes can be very fussy and hard to create. But, ever heard of simple so beautiful? We can sometimes fuss over, so we understand that once home you may wish to turn it down a couple of notches. And we'd agree profusely! Using your normal crockery and gathering some beautiful little branches in and around your garden or en-route to the rural parts of where you live, creates beautiful and natural elegance to the finishing touches. Have small hand-made bouquets of white and green flowers as the centerpiece and off you go. Why not create a white theme for your guests also?
Did Anyone Say Gold?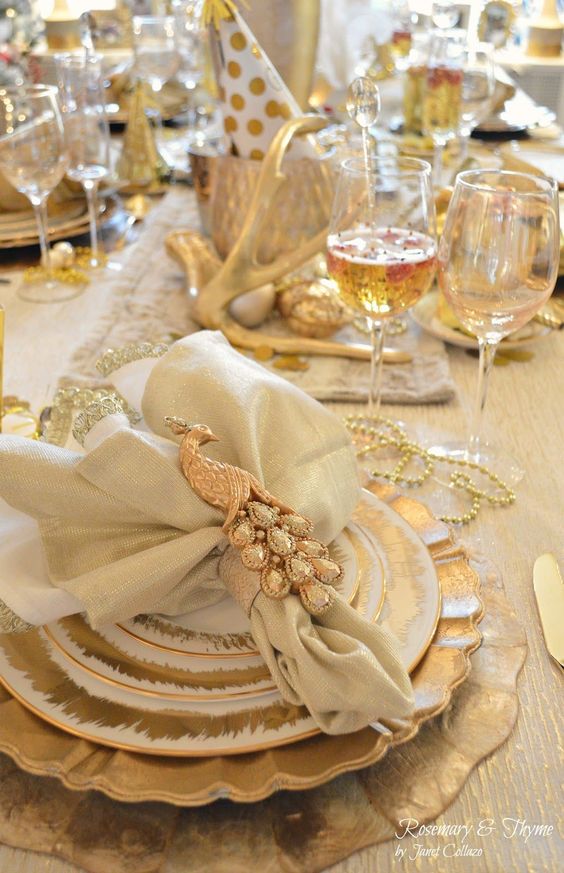 via pinterest.fr
If you have visited the United Arab Emirates lately, or the beautiful extravagant palaces of the Kremlin down in Russia, then you might have come home to a few ideas and perhaps even looked at your home once back from holidays thinking how ordinary it was, and missing all the bling; for a moment at least as it does wear off trust us. An extravagant love of gold and ideas for you and your next celebration. It is also perfect for New Year's Eve because it is all about a little wow on the day, always saying and wishing to have a more prosperous year than the previous. Nowadays you can buy gold leaf sparkling wine, with or without alcohol to suit the theme. Get all the masks and you're ready for the celebration of your life.
Black Caviar Theme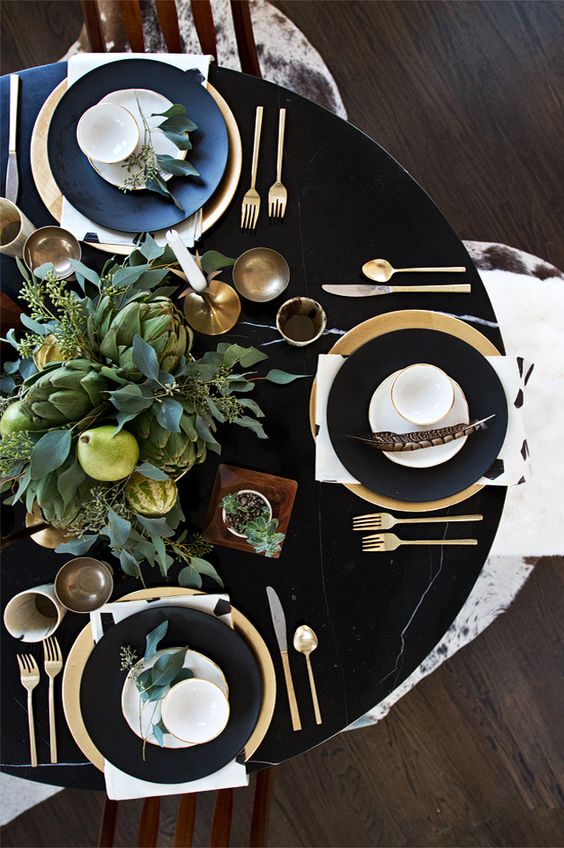 via mydomaine.com
If the overload of gold was too much in the previous, then how about marrying jet black with touches of gold. This makes an absolutely stunning table and will suit most country homes with the dark wood around and the abundance of wildlife away in the mountains nearby. Why not have a little caviar as the entree, with a glass of bubbly, or serve up a lovely game casserole with dark and deep roots vegetables within the same theme to have an overall match of colors.
Dried Flower Clouds Over The Dinner Table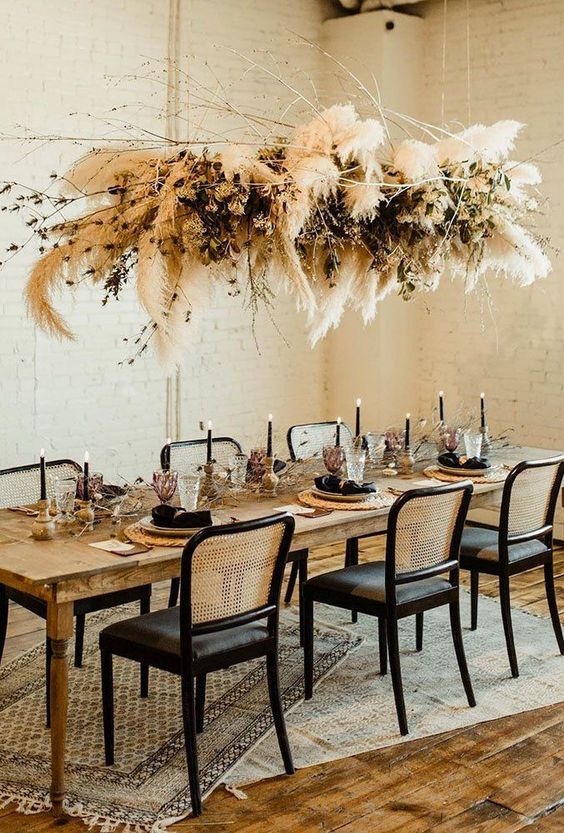 Tablescapes are what we are writing about, but what if space is an issue and you still wish to create the same? You could have a dried flower theme hanging from the chandelier, and if you haven't got one to hand, we won't tell you to buy one, but to do hanging baskets from the ceiling? Not only will this add a wow factor, but will add character and personality to your home and within the chosen living area without going for a full makeover. Looks absolutely superb in most homes wishing to add a little depth and life to space. On the table itself, add a couple of touches from the above centerpiece, and your guests will be in for a treat.
Not St. Valentine's Dinner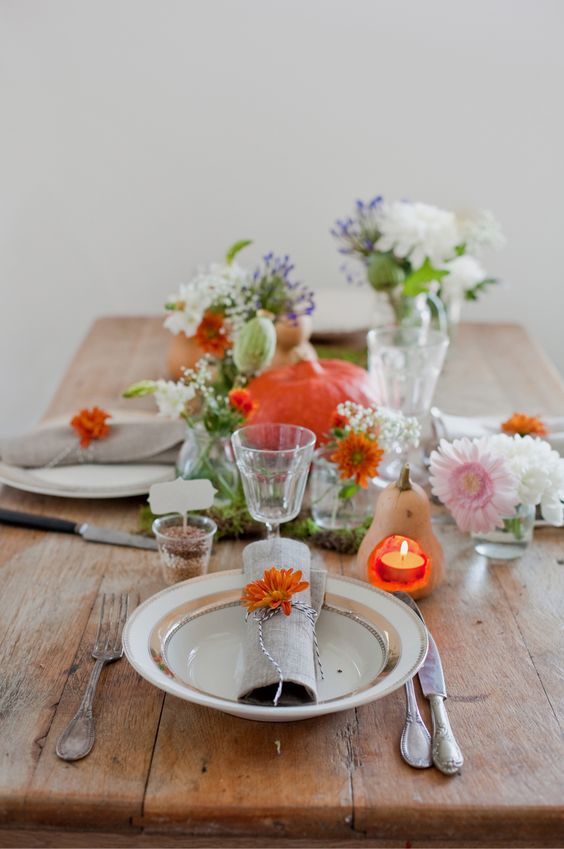 via pinterest.fr
As the name entitles, this will not be your typical red roses Valentine's but this could well be for non-occasion. Whichever is the date of non-relevance? What are we getting at; it is the simple fact of doing something superbly romantic without going overboard for your loved one while still in bed for example, while you're doing the hard work. And just for the surprise element for the name of love. Beautiful and simple and will make the romance born again relighting all fired in the world where romance and love is concerned.
Easter Kids Table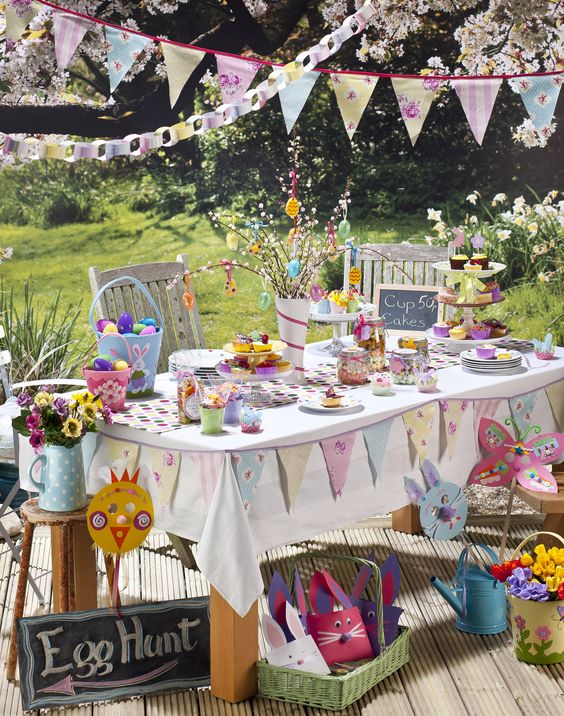 via interest.fr
If you are planning to have the noisiest party of the year, then Easter with the kids on the hunt for chocolate eggs is on! This is a terrifically cute idea to entertain the children at the age where they start to really appreciate things. Make the children individually in their home have to do something craft, related to Easter. Make them bring it and quickly dispose of everything in and around the table. Decorate with balloons, a lot of warm colors, nothing pastel than you are not fifty, and hide a lot, as in a lot of eggs! This will surely be a day to remember with the perfect setting creating one of the most anecdotic days of all. Have garlands all over and everywhere.
Not So Tacky Halloween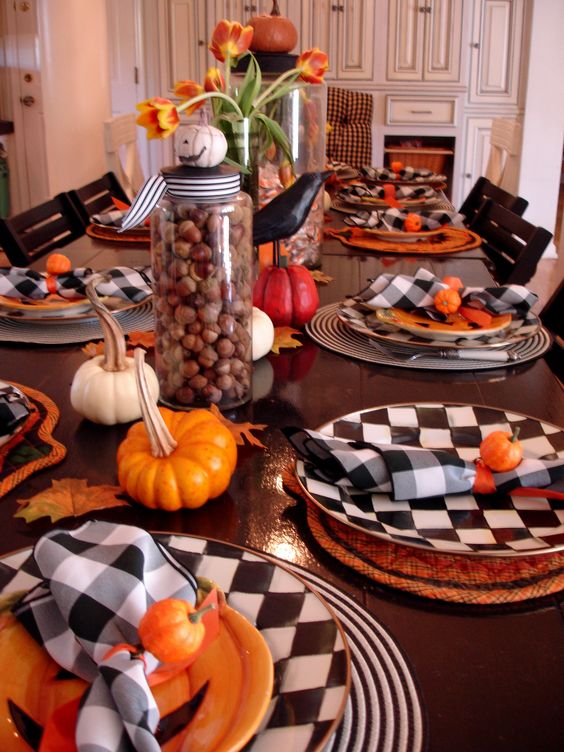 If you love to host a good party, but aren't a fan of fussy tablescapes but still wish to stay within the momentum of this celebration, then this could give great ideas. The checkered black and white plates give a lot of Alice In Wonderland theme, with the usual suspects such as the small pumpkins, and oranges in and around the table. You will create something super smart that isn't tacky at all but rather tasteful for all the grown-ups to feel in the festive mood. Add your favorite colored tulips in the middle to add nature to your theme.
Buffet Style Tablescape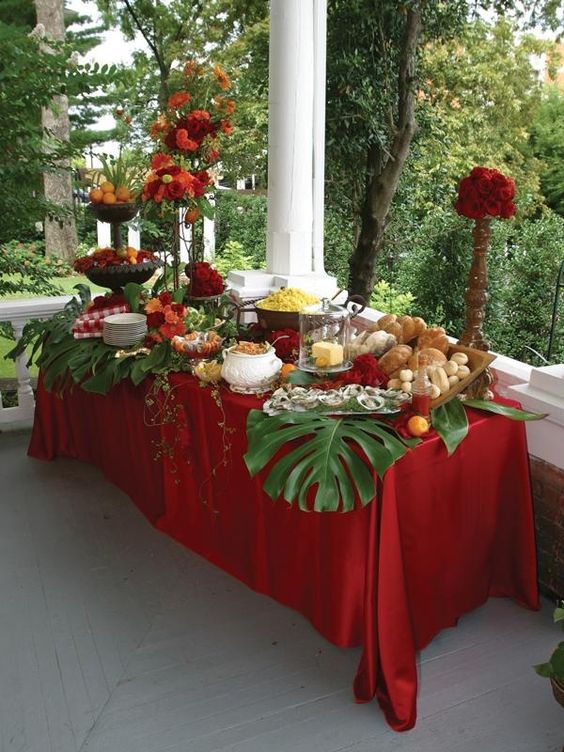 via banquetking.com
What about if you are inviting more than the table can fit? Then a buffet. No matter the occasion, a buffet can be from the non-fussy to the super fussy sorts, so it all depends on you! This example shows you that a little elevation on a flat surface can really create something dramatic to the eye making your guests want to never be too far away from the eating station! Gather flowers and plants from the garden and elevate some of the food elements. Include all your salads, canapes, cheeses, bread, etc. you might have planned for the event.