If you are a leather lover, regardless of whether it is faux or real (but we prefer faux), we are sure that you think it is a great idea to make some fancy outfits with it this autumn.
For you, in this article, we have collected the best 10 outfits with leather shorts and skirts that will blow your mind. This fall fashion week promoted leather, and we thought of giving you guys some great outfit ideas.
These outfits will inspire you and make you want to own a pair of these shorts or skirts. Look like the fallen goddess; take a look at these inspiring photos, and re-create them by your taste.
Enjoy them and tell us which one you liked the most!
Fashion Week Trend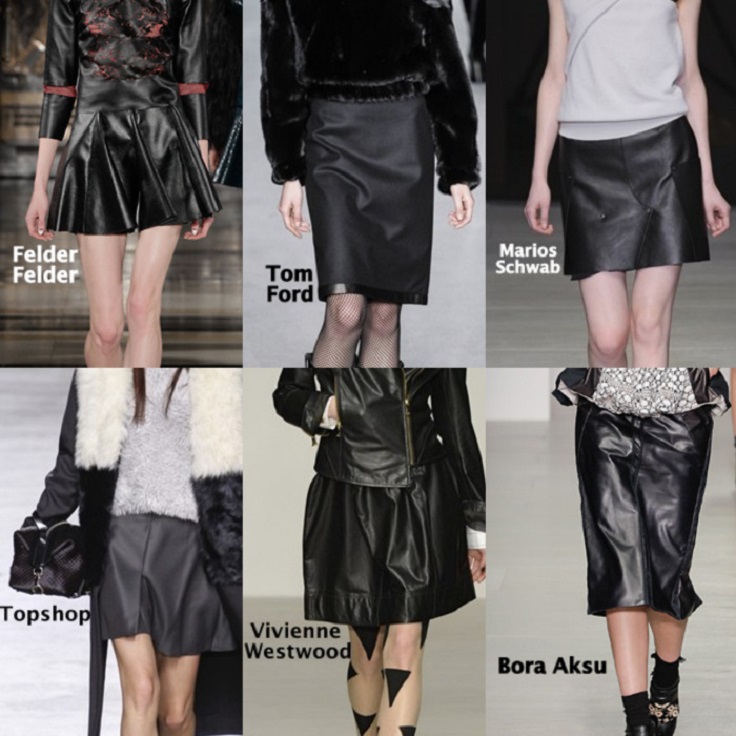 As you can see, there were many leather skirts to the fashion week, so don't hesitate to wear your leather skirt or shorts this fall, you will surely be stylish with them.
Leather Shirt and Faux Fur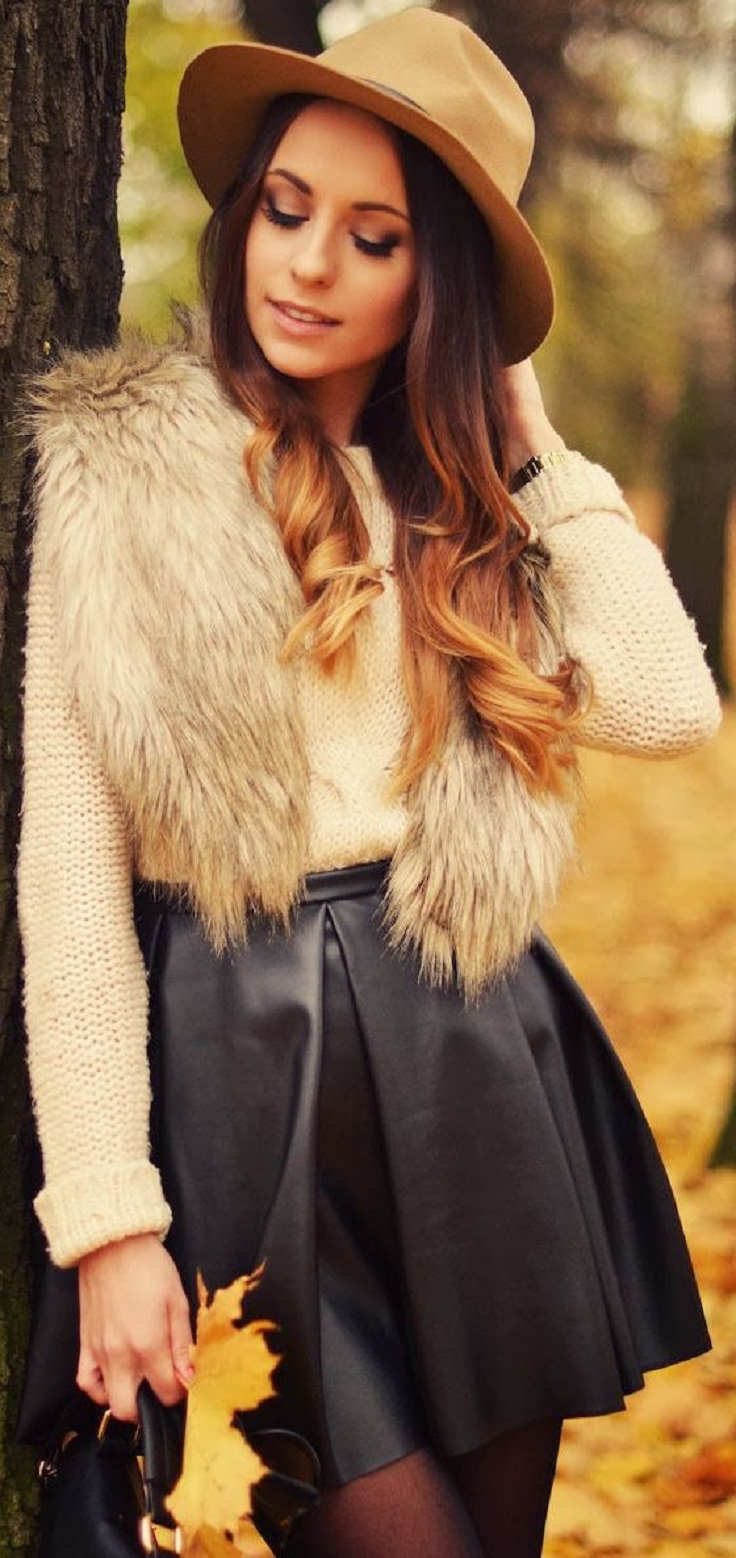 via lolobu.com
While wearing your favorite skirt, it is a great idea to spice the look with some brim hat and faux fur. As you can see, this combination looks amazing, and it is completed with that amazing curls on the hair.
Black Leather and Oxblood Coat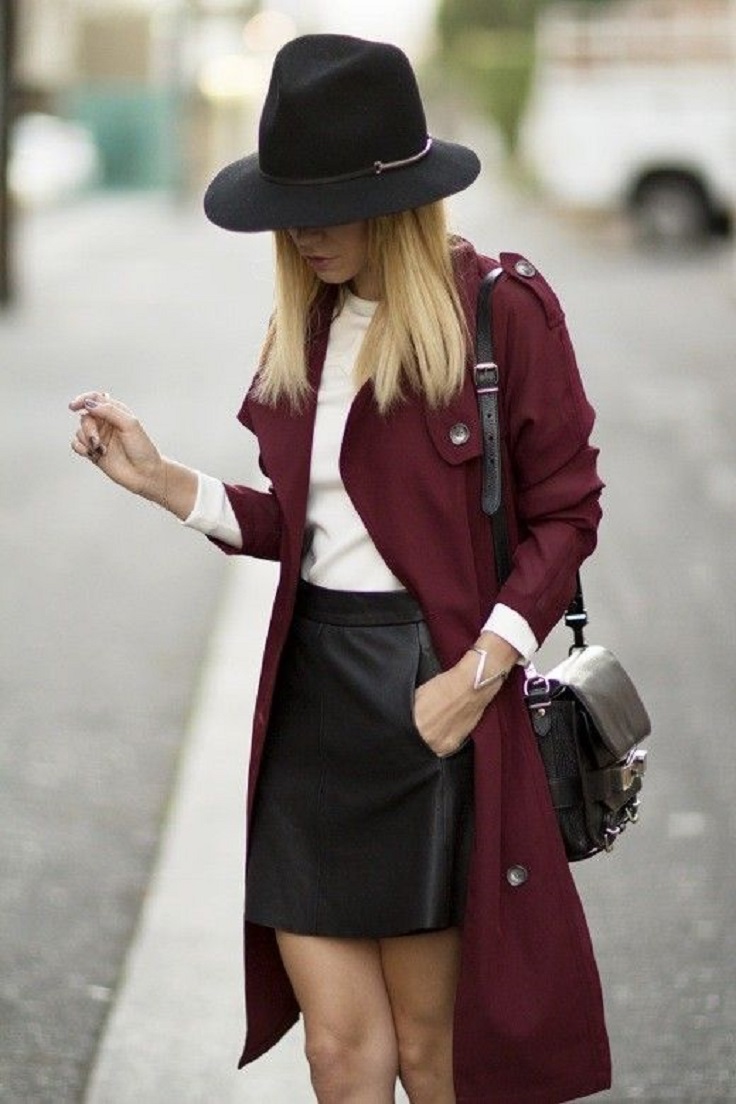 via hercampus.com
Short black skirt and bordeaux long coat for the chilly days. The hat is optional, but it makes the look whole and fits amazing. The white shirt makes this look so classical.
Chick Leather Outfit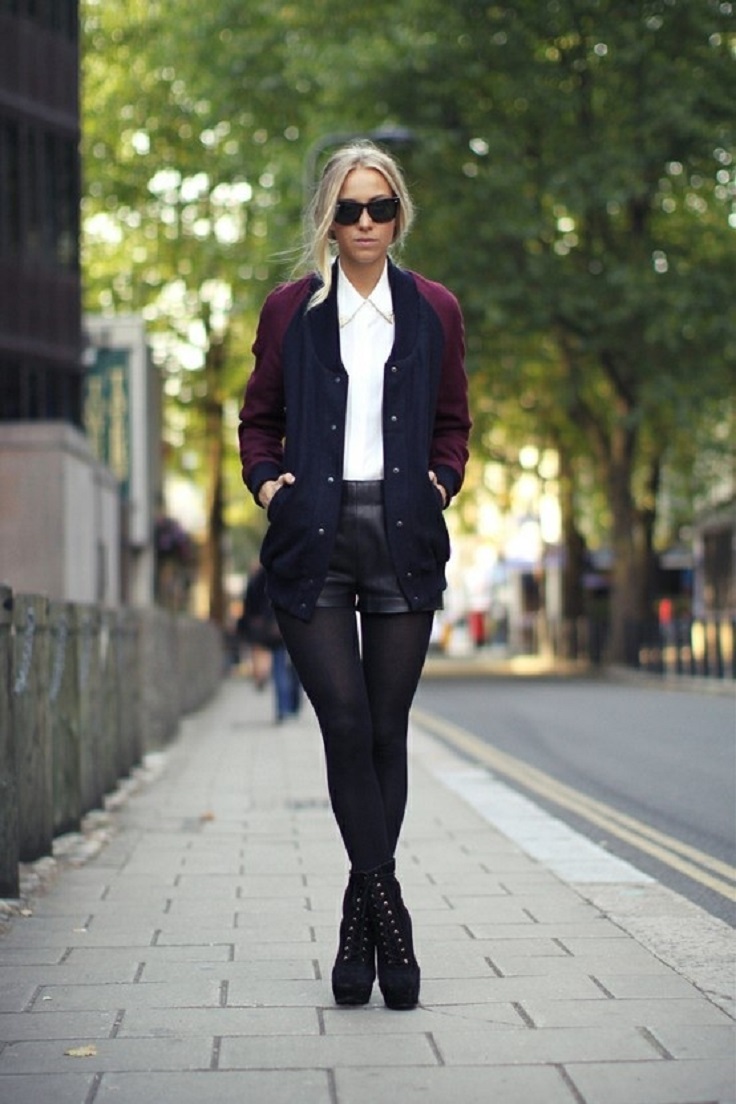 Black leather shorts and black tights below them makes this look great for the cold days. You can combine them with boots, tall or short, and you can choose a sweater or a coat.
Brown Leather Pencil Skirt
via stylenews.us
This beautiful brown long pencil skirt in this picture is combined with black and white stripes shirt, pointed-toe black high heels, and a good-looking black and white handbag. Some say that you can't mix black and brown, but this is the best proof that rules are made to be broken and that two colors look great together when they are combined the right way.
Shorts whit White Sweater
via lolobu.com
This casual look consists of black leather shorts with black tights, a simple white sweater, and a warm coat. You can wear this outfit almost anywhere because it is casual and feminine at the same time.
Eva Longoria's Favorite Brown Leather Shorts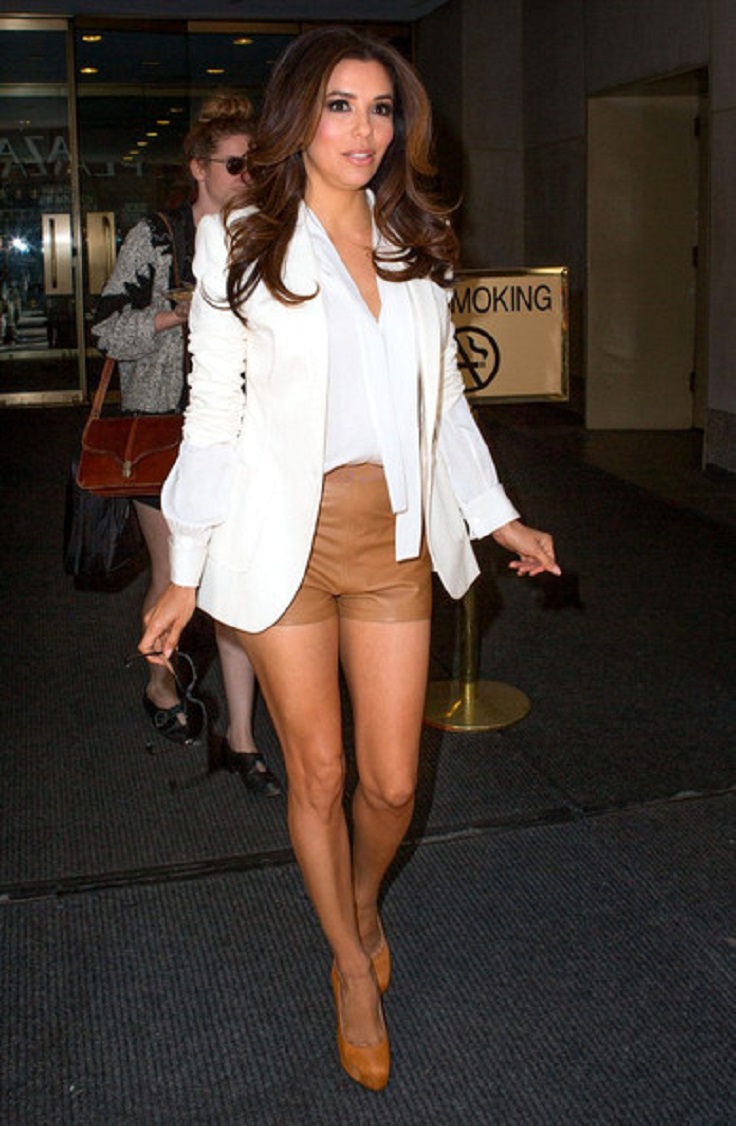 via zimbio.com
Here is Eva Longoria wearing her favorite brown leather shorts. We are not saying this out of anywhere, but Eva has been seen wearing them in so many different combinations and ways that it is just amazing! Who says that celebrities shouldn't wear their clothes more than ones? In this picture, she has made a fabulous combination of a white shirt and white jacket, and on the feet, she is wearing some gorgeous brown high heels.
Bordeaux, Black, and Gold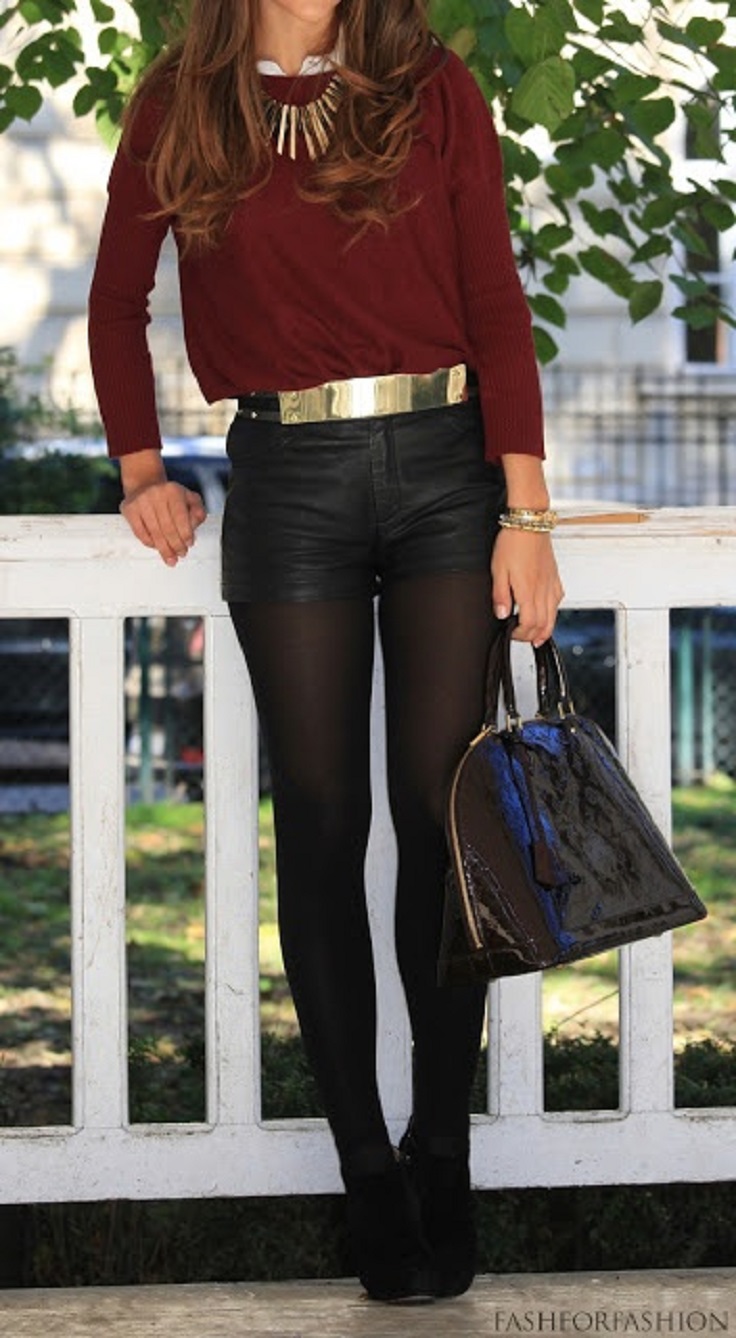 via fashforfashion.com
We have already seen these colors together in the pictures above, but the thing special in this photo is how she combined the gold details with these two colors. It sure looks stunning.
Beauty in Black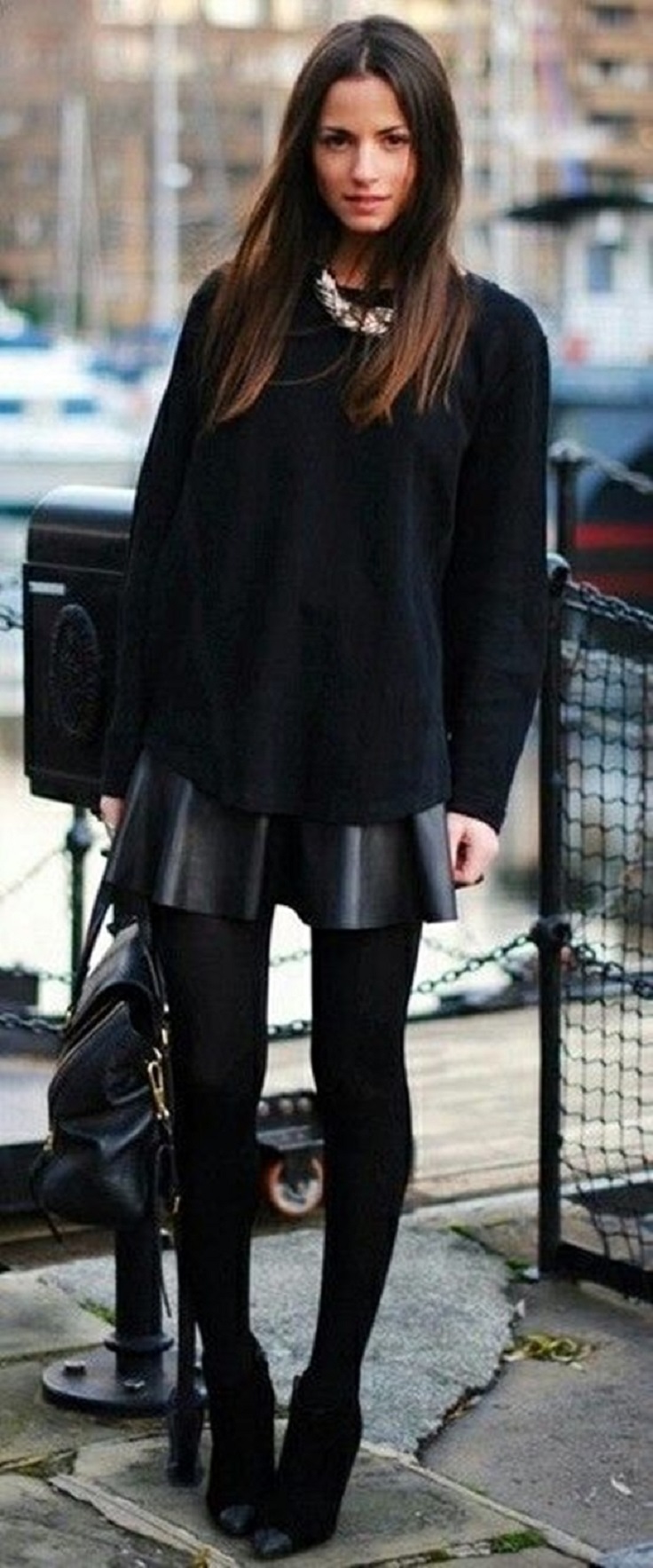 Some girls love the back color and want to wear it from head to toe. This is one example of that look. This girl is wearing black shoes, black tights with a black leather shirt, a plus-sized black sweater, and the same colored bag. The only thing that is here to break the monotony is this big beautiful silver necklace.
Almost Black
via lolobu.com
If the look above was for the girls that love black, this look is for the ones that like gray with it. You may think that there isn't much difference, but the gray can really change the outfit's whole look. This coat looks perfect with this combination.