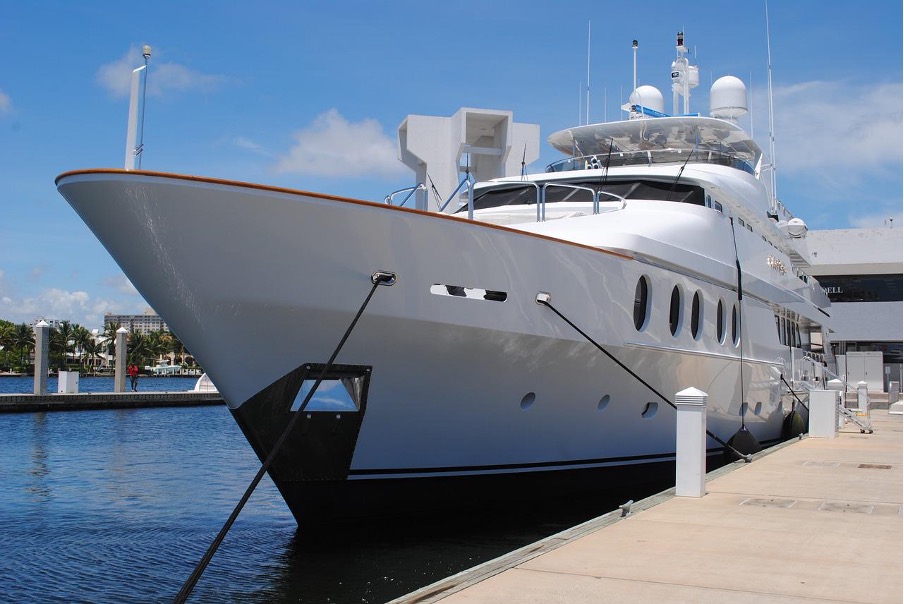 A yacht may be defined as a sailing vessel or a boat, but it's so much more than that – it's a recreational boat that defined an entire luxury lifestyle.
Over the years, yachting has become quite a popular activity. In fact, according to Grandview Research, the current global yachting market is valued at $8.89 billion. The growing numbers indicate the popularity of this sport and the same research shows that the market is estimated to grow 5.4% by 2030.
That said, choosing the right destination is extremely important if one wants the right yachting experience. Croatia is one of the top destinations in this regard. It lies on the Adriatic coastline, connects to a number of islets, boasts perfect Mediterranean weather, and is home to a number of natural wonders.
If you want your vacation to begin and end in luxury, then you can charter a private jet to get there. If you're wondering how much it might cost you then you can simply use a private jet charter cost estimator to get an approximate rate.
Once you are there you can simply charter a luxury yacht and conquer all these elite destinations:
1. Dubrovnik
Located in the south of Croatia, Dubrovnik is the perfect destination to charter a yacht. Its lovely blue coastline is dotted by an archipelago of islands, so the yacht can be stopped at a number of private beaches.
Dubrovnik is also a UNESCO World Heritage Site, so it's brimming with culture. However, that doesn't take away from its luxury aspects. In fact, Dubrovnik is a premium luxury shopping destination; from designer boutiques to quaint upscale markets, you can buy anything and everything your heart desires there.
2. Korčula
Also known as "little Dubrovnik", the island of Korcula spans 20 miles and is one of Croatia's most treasured and well-preserved destinations. It's covered in dense forests and features several medieval structures, including squares and churches.
It has an incredible wine culture and hides a collection of private sandy beaches that are away from the general public's eye. Korcula is part of the Dalmatian archipelago and yachting there with a delicious summer smoothie in your hand, enjoying the hot sun and a cool breeze, would be the perfect vacation activity here.
3. Hvar
With a total of 936 nationally recognized monuments, the island of Hvar is one of Croatia's prettiest destinations. It's filled with fields of lavender and the waters surrounding it are calm and perfect for swimming. The island is steeped in history and has been the center of wine culture since 384 BC. It also hosts the oldest public theatre in Europe.
Yachting there would be an extraordinary experience as the fragrance from lavender encompasses most of the land and it feels like you're in heaven while exploring the area. Other than that, Hvar is also a cocktail party central, so it's definitely a great place to host that exclusive yacht party while you're vacationing.
4. Split
Home to some magnificent Roman and medieval era relics. Split is another Croatian city on the Dalmation coast that is excellent for visiting while yachting in Croatia.
If you're looking for ways to make your vacation more luxurious, then you can explore the Old City, while maintaining your upscale tastes by visiting the Ivan Meštrović Gallery or walking along Split's sea-front promenade, Riva.
5. Šibenik
Home of the UNESCO heritage-protected "Klape Choir", Sibenik is Croatia's music central. It's also one of the safest and most convenient locations for boats to dock.
Moreover, if you want to explore the city itself, then you'll find a lot of secluded locations to take a stroll while experiencing the natural environment. If you're a connoisseur of fine cuisine and like collecting recipes from each continent or place you visit, then you'll certainly enjoy Šibenik's unique culinary culture a lot.
6. Zadar
Zadar is famous for yachting because of its excellent weather conditions. It's also the entry point for exploring the Kornati islands and is chock-full of lovely beaches that look even more stunning from the waterfront.
This Croatian city also hosts a number of amazing music festivals including the Hideout Festival, Fresh Island Festival, and more.
7. Pelješac
Pelješac is the Croatian place for windsurfers. It's the second-largest peninsula and boasts a number of lovely sunshine hours, so anyone who loves the sea wind and sunbathing would love to charter a private yacht here.
One can anchor at the Orebić port and explore the city. It's got a bustling street life, cozy tavern-style restaurants, and more.
8. Brijuni
The Brijuni archipelago consists of two major islands, and the serene water body between them is an excellent yachting destination. It also consists of 12 mini islets, and sailing around them is a truly wonderful experience as you get to see the untouched beauty of nature from the middle of the water.
Brijuni is also home to some rare flowers, so if you get the chance, do try to explore the natural terrain.
Other than that, Veliki Brijun is also home to a Safari park with lots of exotic fauna. From ostriches and peacocks to Indian elephants and mountain Zebras, you'll find a variety of animals there. There's even an Istrian homestead there where one can look at the indigenous animal species of the island.
9. Poreč
Located on the Istrian peninsula and coastline, Poreč is located on the northern part of the Adriatic coast. It used to be a Roman colony and is still home to the Euphrasian Basilica (which is considered the 6th Byzantinian wonder of the world). Porec is also where Croatia's largest water park is located.
It's a city that is usually bursting with tourists, but if you charter a private yacht here, you can experience all that it has to offer in the private luxury of your charter. The secluded bays are perfect for sailing and exploring if you don't want to immerse yourself in busy tourist life.
10. Rovinj
As the coastland hub of culture, history, and delicious cuisine, Rovinj borders the eastern and western Mediterranean. It's perfect for sailing on a yacht as the waters are tranquil, the weather is perfectly sunny, and you can anchor at the ports to explore the destination. Rovinj is home to a number of art galleries, an open-air theatre, along with a number of restaurants, bars, and clubs. It's the beating heart of Croatia and definitely worth exploring.
So, whether you're trying to throw a killer party this summer or simply want to get on the waters for some me-time, these yachting destinations in Croatia will certainly allow you to have the best of them all.