When you are expecting guest you really don't want to risk it or worry about how the dessert will turn out. Your best bet is to go for a safe option and that would be a some of these gorgeous looking trifle recipes! One of the great things about them is that they are easy to make. Whether you are an experienced baker or beginner, trifle is a great dessert choice.
For a quick and easy version you can use pre-made ingredients or make them yourself, it will be delicious. Trifles are sweet and creamy, with the added textures of fruit and sponge and you can make them a few hours ahead of time.
Hey! Did you know…
The longer it sits, the more the layers mesh together into one thick fudgy dessert. Plus they are very practical to make as they don't have to look perfect. Serve it in pretty glasses to display those beautiful layers and it will surely be a wonderful finish to the dinner.
1. Poached Pears and Gingerbread Trifle recipe
Recipe via pamelasalzman.com
This Poached Pears and Gingerbread Traditional Thanksgiving Trifle recipe is going to fill your kitchen with warm, spicy fragrance once you start baking the gingerbread sponge. Pears poached in white wine, vanilla, cloves and cinnamon will add an extra flavor. You can use ready made whipped cream and pudding if you don't want to do everything from scratch.
2. Cranberry Orange Trifle recipe
Recipe via www.obsessivecooking.com
The Cranberry Orange Trifle features cranberries, orange zest, and Grand Marnier liqueur. It is quick and easy to make especially if you use store bought pound cake. This layered holiday trifle is not only elegant, but it's filled with fruits, whipped cream, and custard. Top each glass with sugared cranberries and a rosemary sprig for some festive holiday decoration.
3. Gingerbread Pumpkin Trifle Recipe
Recipe via www.hungrycouplenyc.com
With this Gingerbread Pumpkin Trifle Recipe you can present in traditional flavors on the Thanksgiving table. You'll have to bake a gingerbread cake with crumb topping which you can actually make a day ahead. A few hours before serving, whip up the pumpkin cream and layer them into mason jars.
4. Baileys Chocolate Cheesecake Trifle Recipe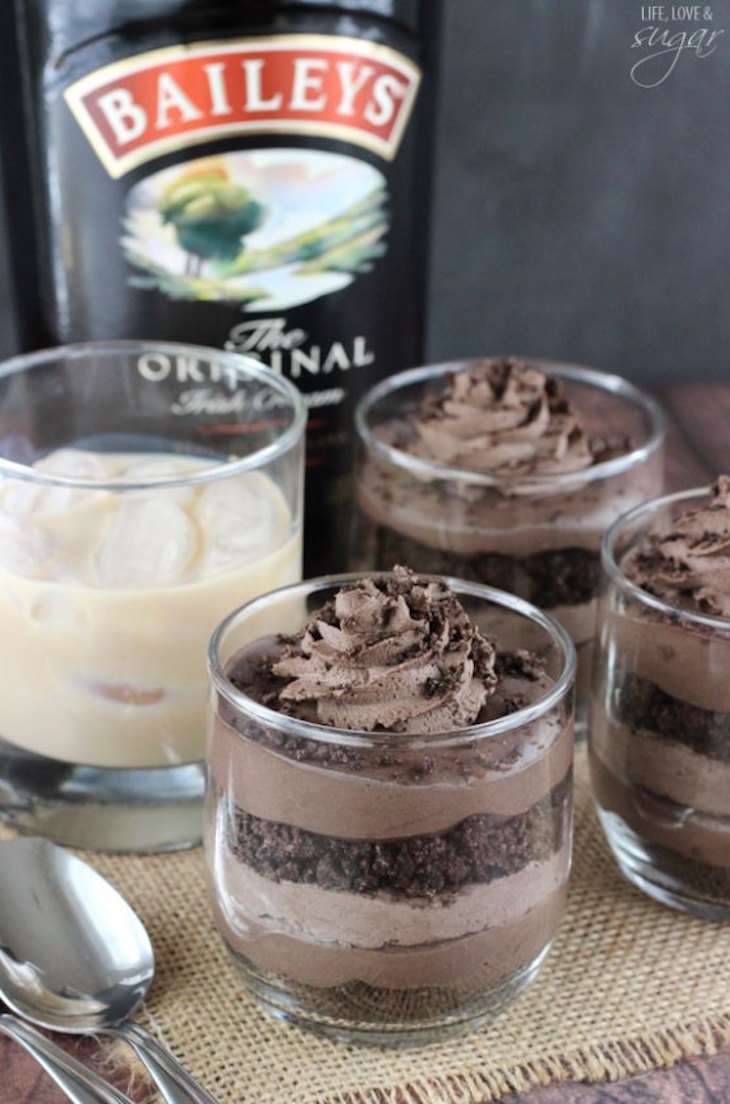 Recipe via damndelish.com
What can be more delicious than a chocolate trifle with all the amazing chocolate cream and sponge layers? The answer is: the Baileys Chocolate Cheesecake Trifle! Add four tablespoon Baileys to the cheesecake layer and take the trifle to the next level!
5. Triple Chocolate Thanksgiving Trifle Recipe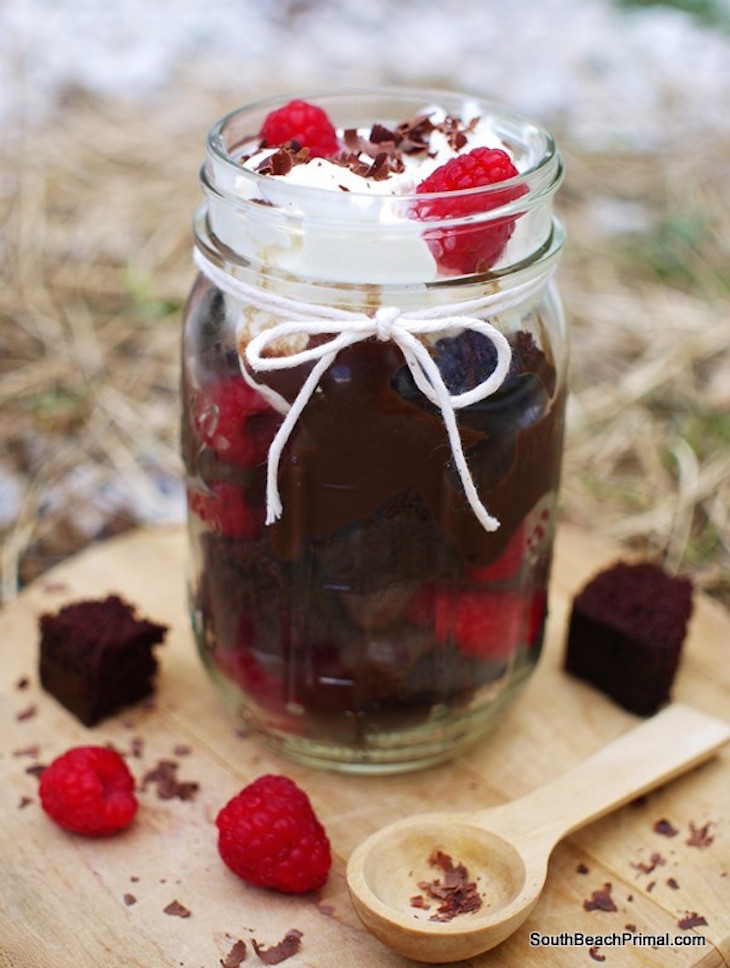 Recipe via www.southbeachprimal.com
Here is another perfect dessert that's easy to prepare ahead of time. The Triple Chocolate Trifle features homemade chocolate cake, chocolate pudding and fresh whipped cream! Make the cake and pudding the night before and then fill the mason jars or crystal glasses the next day.
6. Toasted Coconut Trifle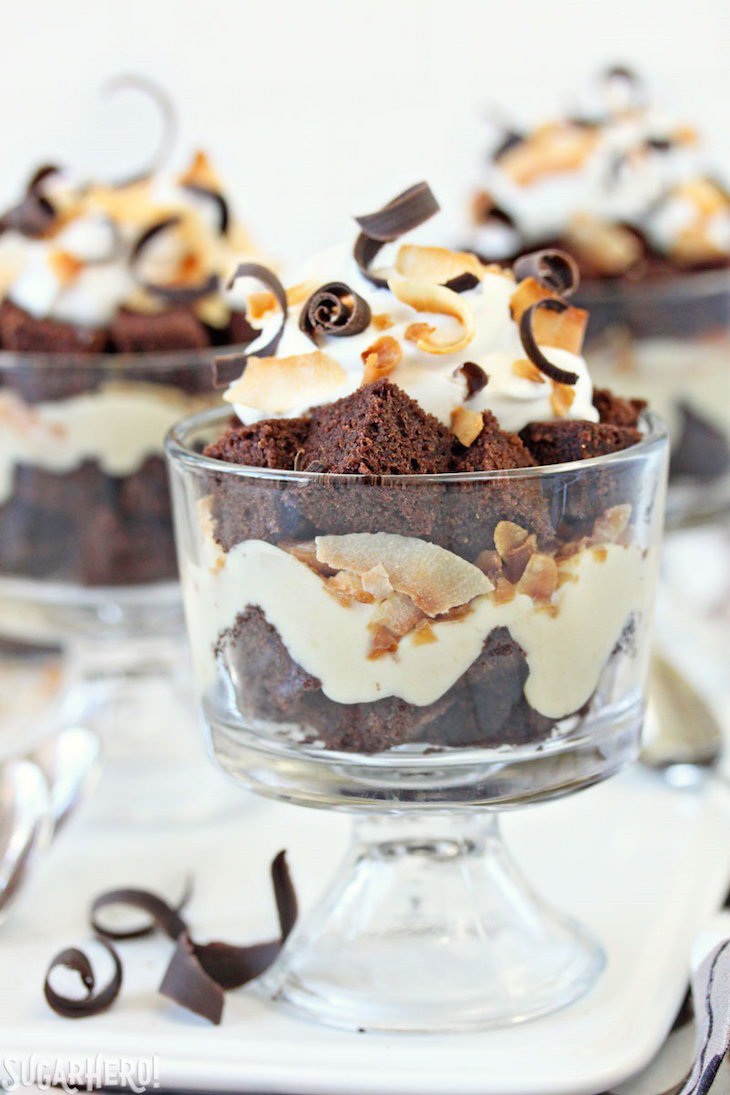 Recipe via www.sugarhero.com
Cut a Chocolate Pound Cake – made from scratch or store bought – into small cubes, layer them with coconut pastry cream and toasted flaked coconut, then top them with whipped cream and more coconut shreds and chocolate curls. Serve immediately, or chill for several hours before serving.
7. Caramel Apple Trifle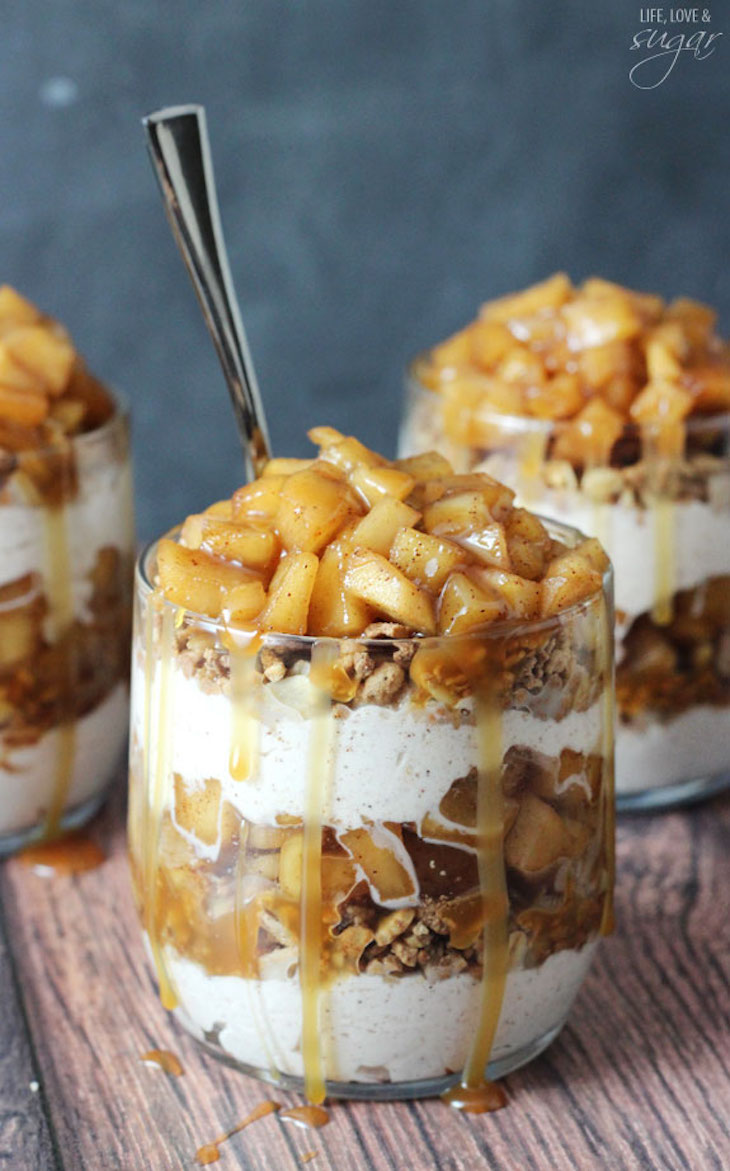 Recipe via www.lifeloveandsugar.com
Here is a no bake, super easy and full of cinnamon dessert that you will love. To prepare the Caramel Apple Trifle you will need lots of cinnamon, some apples, granola and whipped cream. It's best to make them at least a few hours ahead, giving the granola a little time to soften up.
8. Tiramisu Trifle – Of the most popular Trifle Recipes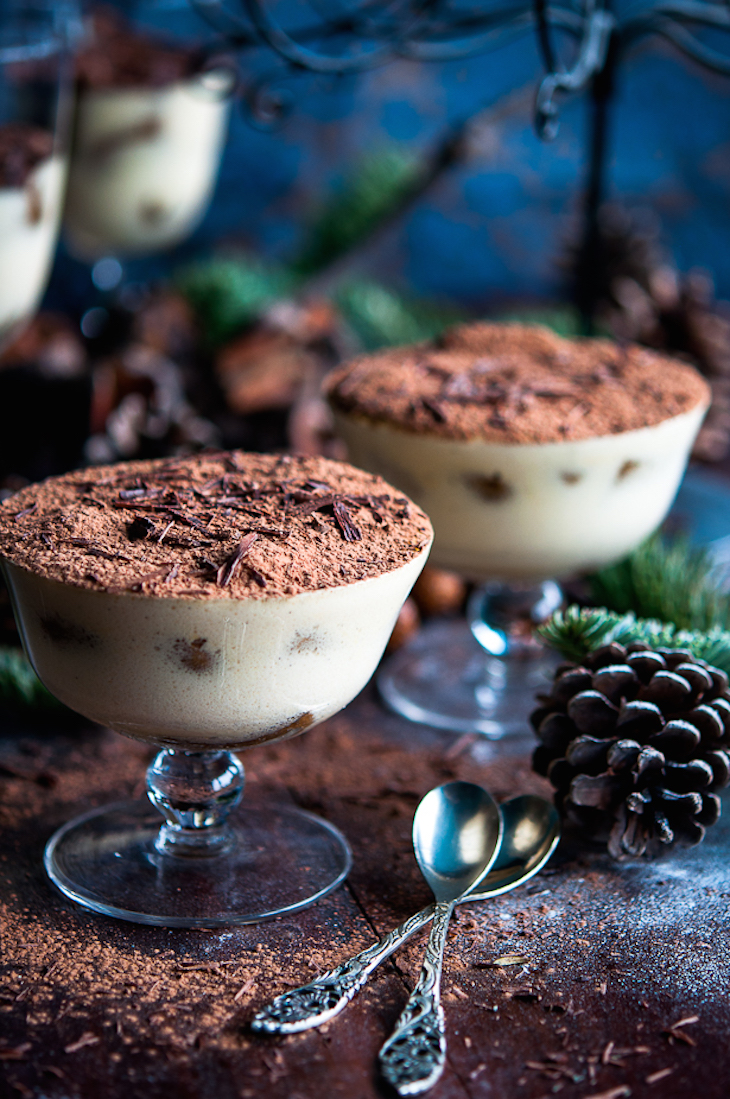 Recipe via www.gourmantineblog.com
As we said in the title, Tiramisu Trifle is on of the most popular Thanksgiving Trifle Recipes. It is a classic Italian recipe is one of the most popular desserts. It is creamy due to mascarpone cheese, the sponge made with ladyfingers soaked in coffee liqueur, layered and dusted with cocoa powder. You can't go wrong with this one!
9. Vegan Chocolate Peanut Butter Banana Trifle Recipe
Recipe via www.unconventionalbaker.com
For the clean eating enthusiasts here is the healthy version of the trifle. Gluten-free, dairy-free, egg-free and refined sugar-free. And if you catch yourself asking: If all the 'good' things are missing, what makes it then delicious? The whipped coconut cream, the peanut butter banana pudding and the cocoa powder.
10. Carob Mousse and Banana Trifle Recipe
Recipe via joyfillednourishment.com
To prepare this raw Carob Mousse and Banana Trifle recipe you will only need a few ingredients such as avocados, coconut cream, carob powder, honey and some bananas. The mousse almost resembles a deep and smooth dark chocolate so even your chocolate lover friends will be surprised that it does not actually have any 'real' chocolate inside.