The wine glass is elegant, delicate, and very easily breakable glassware. It doesn't take much to break the handle of the wine glass, so it often happens that you need to buy a new set of glasses because those you have left don't match anymore.
So what to do with those lovely mismatched wine glasses? Reuse them as a decorative centerpiece for your next dinner party or some memorable event. Your decorations will convey grace and sophistication without any effort by just following these top 10 decorative solutions for your old wine glasses.
How to Make a Wine Glass Chandelier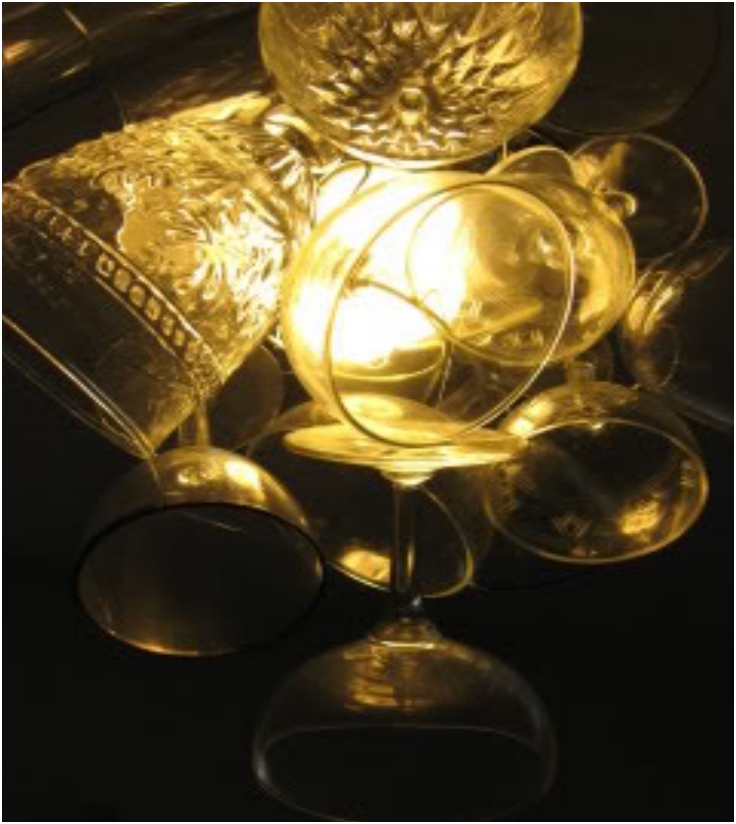 via condoblues.com
The Dom Perignon Champagne house in France, at their entrance have a chandelier with the first-ever Champagne glasses of over 200 hundred years old. We wouldn't want to be the ones dusting the chandelier, but it sure looked absolutely and utterly breathtaking. Now is your chance to replicate your own version. What works best are glasses that have a meaning to you, such as a family heirloom from the grandparents. A super way to utilize a family antic, or simply magnificent glasses that you are very proud of showcasing. Great, simple tutorial.
Stemware Snow Globes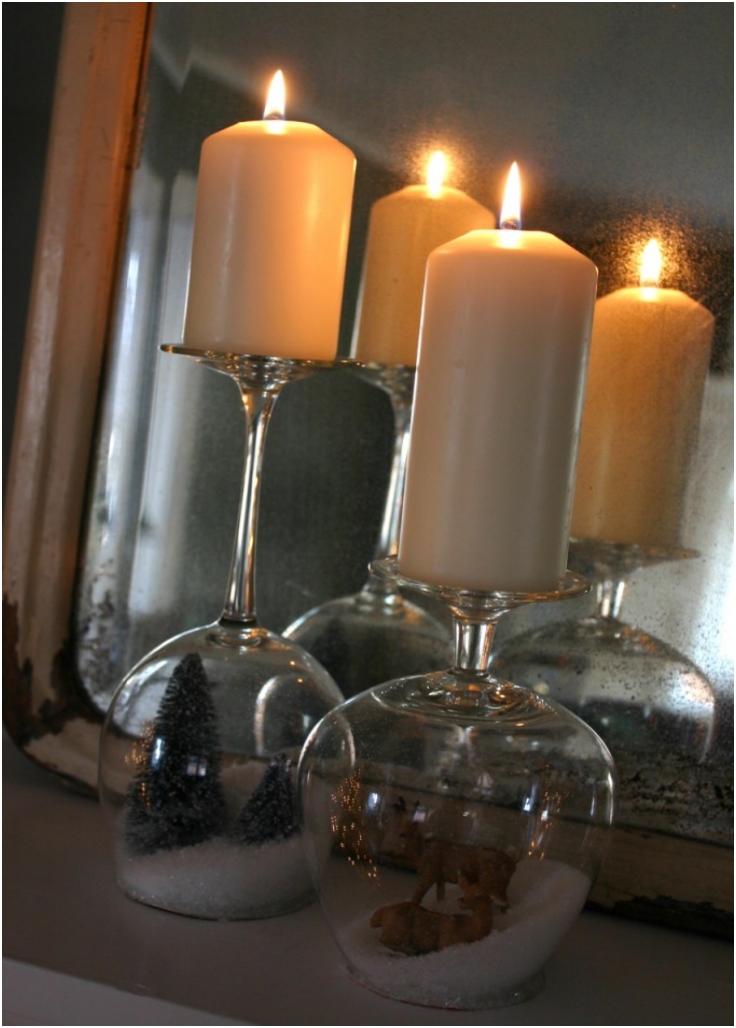 Year on year we try to outdo our past Christmas decorations and we always seem to spend more and more money on them. Not anymore! A lot of you might have excess glassware that always seems to gather dust, or somewhere and all forgotten. Time to literally turn things upside down and get creative. It is ever so simple and extremely decorative, and perfect to do alongside the children over the weekend as a little something distracting to do; in time for the festive period. They are also great as gift ideas to friends and family, or why not, the school teachers.
Decorate a Wineglass Candle Holder with Napkins and Ribbons
A little something similar in terms of the concept as above, however with a completely different approach. It is all about making the most of what you have within your home. Time to get creative, and to get the family creating memories and stay away from their phones or video games! This craft will make terrific centerpieces for your table for any occasion, and not only for the festivities. You can naturally choose your own color scheme to do this, so think ahead of what tableware you will be using. Make it a theme. Once again this is a super easy craft, that can be done in minutes, but something that will definitely be changing the aspect of the table.
Tea Light Christmas Decorations for the Table
via craftideas.info
Christmas, New Years' Eve, Valentine's Day, Graduation, or simply, a memory from the seaside having picked seashells and sand? Whatever is the occasion, there is a time and place for this idea. Once again this is all about making the most out of what you already have at home, sitting on a shelf gathering dust and unloved. Decorate the inside of the glass, with or without afoot, with any of the theme events you wish to create. Give life to a centerpiece for the tabletop, or to simply have dotted around the house having small touches throughout. Think of the glasses as vessels such as vases. Pick fresh flowers from the garden, cut off the stem, place it in the glass with water a third of the way up. Gives a lot of charm to a room.
Broken Potential
We have all been there. In fact, we are prepared to bet that you cannot remember the exact glassware you have broken in your lifetime. But, have you ever thought about making something out of broken glass? Broken glasses are like what we know of them by "ugly fruits". They still have a purpose, but they don't look shiny enough for some of us. A broken something always has a purpose. Study that purpose for a little while and you will see, something so good will come from it. And this tutorial teaches you just that; with the meaning that it is broken but not without its potential. A brilliant idea to recycle something that was thought beyond repair.
D.I.Y. Cake Stand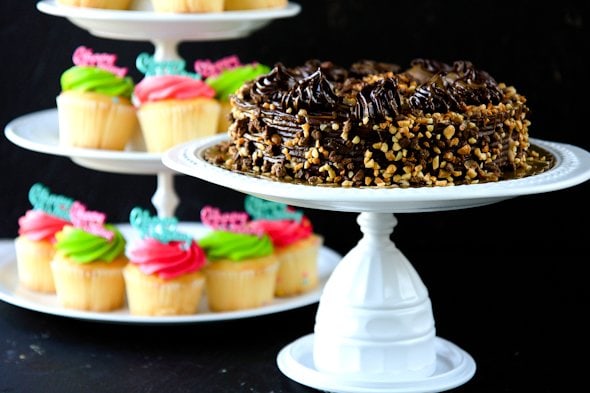 via wholefully.com
Some of these ideas look ever so simple. Like not knowing the answer to a riddle, then someone tells us what the answer was and we think, oh yeah, of course. Why didn't I think of that? Well, this is why Top Inspired is here for you! You recycle, upcycle, alert your mind with creativity, and save money in the process. Not a bad job really. Look around the house, take what you will never use, and think outside the box. Create something with the family or when you have a couple of hours to spare and wish to put the phone down a bit.
Easy Mantel Decorations with Glassware – DIY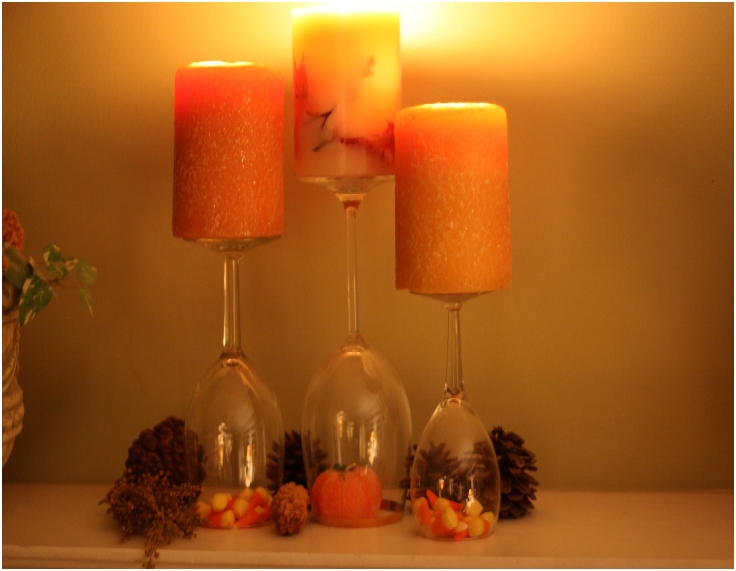 We all have mixed stem glassware collections in our cupboards mainly from breakages throughout the years. And this is also because you think twice before throwing something away; creating even more garbage for the planet making it soon look like the galaxy's dumpster. Bit dramatic, but real. And by going around thinking outside normality, so much is for the taking and it only works in our favor. By making something simple yet super satisfying, distracting us a little from what going on nowadays in the world is a great thing. Embrace what's broken, you're a fixer.
Three Tier Glass and Bowl Organizer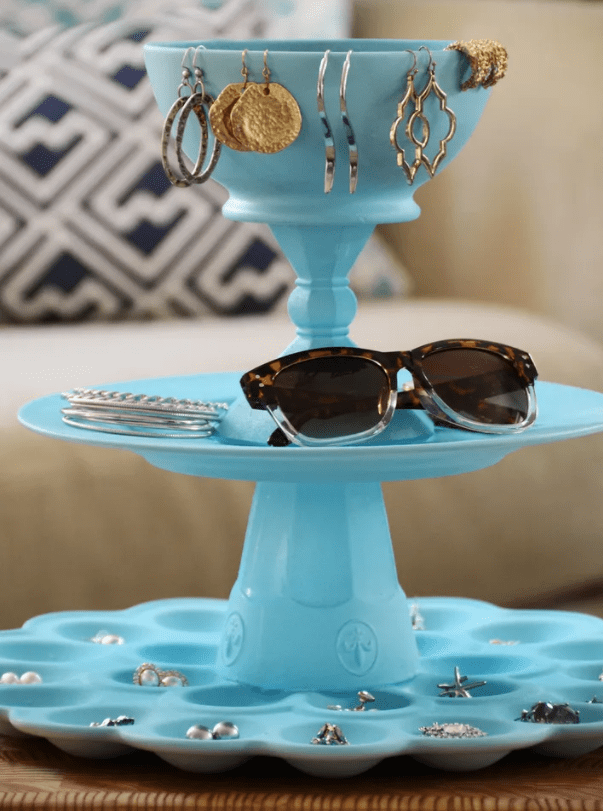 via curbly.com
A couple of plates, an egg plate, a couple of glasses and a bowl, a bit of glue, paint, and a couple of hours in front of you ought to do it a super cool little idea! Most of these are from what our family has given us, and some stuff we were too nice to say, no to. But once again, old does not mean it can't be modeled within fashion and what's on-trend. Simple details can really make a drastic difference to a home, dramatically. Whatever is obsolete within your kitchen's array of crockery, create a three-tier organizer perfect for jewelry; instead of usually asking everyone where you left your right earring! You will never look at your glassware the same way ever again!
Gold Daiquiri Vase Centerpiece Instructions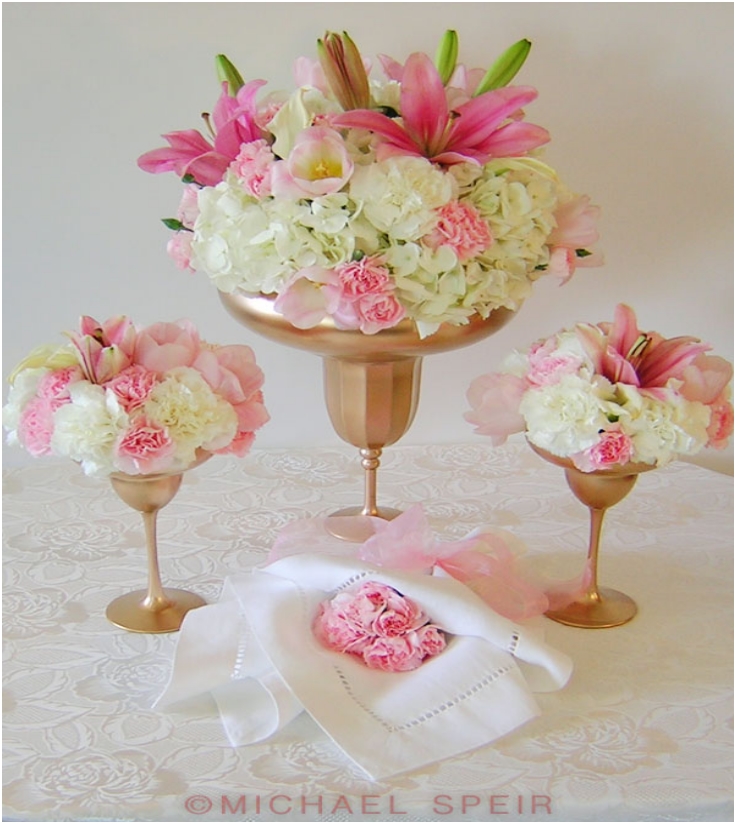 via michaelspeir.wordpress.com
This centerpiece, gold daiquiri-inspired beauties are of an Arabian style. The creations stemmed from the Grand Sheik Zayed Mosque that has oozed with golds and whites, all surrounded by flowers and sheer beauty. There is something very royal about using gold but fear not, in small amount throughout your home generates fabulous details. And gold is a little like white and black in the sense that, pretty much everything suits it color-wise, pattern-wise and everything-wise. It has great flexibility matching its surrounding. Perfect for hosting an after the wedding event, a baby shower, a special golden birthday, or anything that you believe gold will suit the theme best.
Wine Glass Terrariums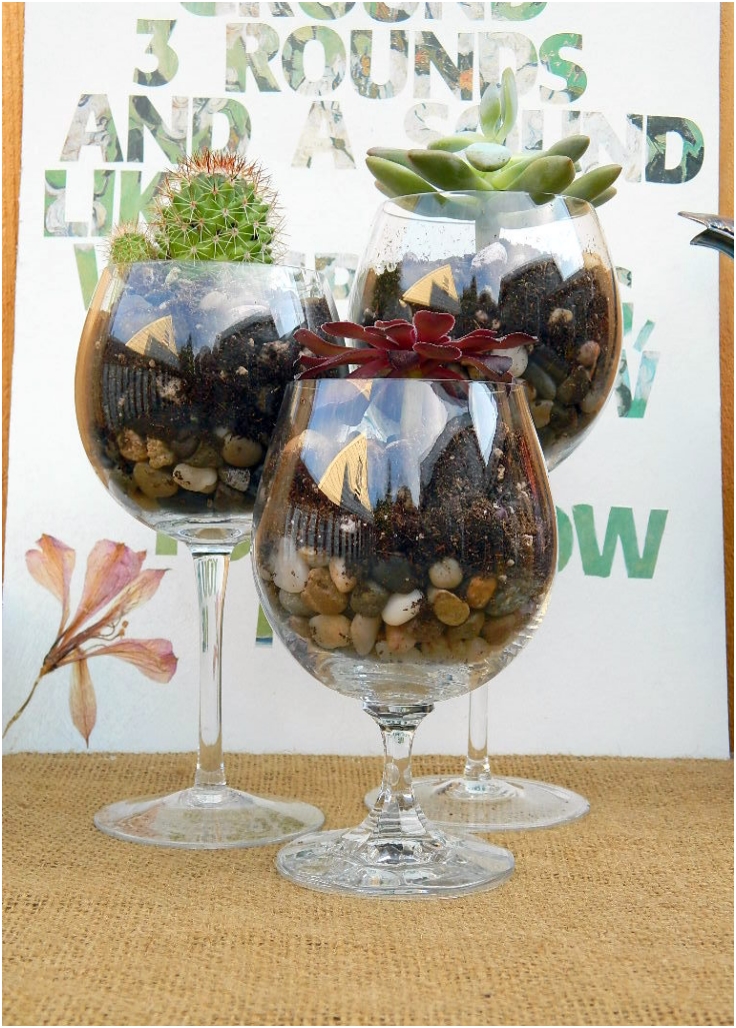 This is a bit of a special one, not only because it is so on-trend at the moment and everyone is buying oversized glasses, but because it just inspires us to bring nature into our home without much looking after. Maybe a water spray bottle every so often. These are super wonderful. We will compare them to the new Bonsai trees. Once upon a time, we do not know one person that did not buy one for themselves. And made the tree die very soon after (how difficult are these to look after!)! This craft does work best in balloon-style glasses, stemmed or not. Preferably a three-way starting from a low to no stem balloon glass, the 20cms tall balloon glass. This will look great in both an apartment and in a home, and perfect as a gift.