Welcome, fashionistas! Are you looking to make a statement on the golf course this season without compromising your style? Well, you've come to the right place. Here, we will guide you through 4 easy steps to achieve the perfect golf elegance. So grab your clubs and let's get started!
Invest in a quality golf outfit
Golf courses are known for their stunning views and challenging greens, but they are also a place to showcase your style. If you're looking to look your best while playing golf, one way to do so is by investing in a quality golf outfit. Whether you're a seasoned pro or a beginner golfer, a stylish outfit can give you the confidence you need to play your best game. There's nothing quite like walking onto the course feeling both comfortable and fashionable. So, why not add some flair to your game with a stylish golf outfit? It's the easiest way to ensure you look good while playing your best. Whether it's Galvin Green golf gear or that of another company, make sure to choose pieces that are both functional and fashionable. This way, you can play your game without any wardrobe distractions.
Choose the right shoes
Choosing the right pair of shoes is important when it comes to achieving elegance on the golf course. Not only should your shoes be comfortable and supportive, but they should also match your outfit. And yes, that means no sneakers or running shoes! Opt for a pair of classic golf shoes in a neutral color such as white, black, or beige. This will not only keep you looking chic but also blend seamlessly with any golf outfit you choose. When it comes to golf shoes, quality is key. Invest in a good pair that will not only last but also provide the necessary traction and support for your game. If you're feeling adventurous, you can even opt for a pair of golf sandals or spikeless shoes for a more relaxed and stylish look. It's all about finding what works best for you and your personal style.
Accessorize your outfit with colored hats, belts, and gloves
Golf attire doesn't have to be plain and boring. Spice things up by accessorizing your outfit with colorful hats, belts, and gloves. These small touches can add a pop of color and personality to your ensemble while still maintaining a sophisticated look. Plus, they serve a functional purpose as well – keeping the sun out of your eyes and providing extra grip on your clubs. When choosing your accessories, make sure to coordinate them with your outfit for a polished look. And don't be afraid to mix and match different colors and patterns for a fun and unique style. For example, a bright pink hat paired with a navy blue outfit can make for the perfect eye-catching combination. Or, you can go for a more understated look with neutral accessories that complement each other. Most importantly, have fun and let your personal style shine through.
Practice your swing form
When it comes to golf, the difference between a good shot and a bad one can often come down to something as simple as proper posture. Whether you're a seasoned pro or just starting out, practicing your swing form is essential for improving both your style and your performance out on the course. By paying close attention to your stance, grip, and alignment, you can ensure that your swing is as efficient and effective as possible, allowing you to hit the ball farther and with greater accuracy. If you're looking to take your game to the next level, don't overlook the importance of proper posture – it could be the key to unlocking your full potential as a golfer. Plus, looking poised and elegant as you swing can add an extra level of sophistication to your game.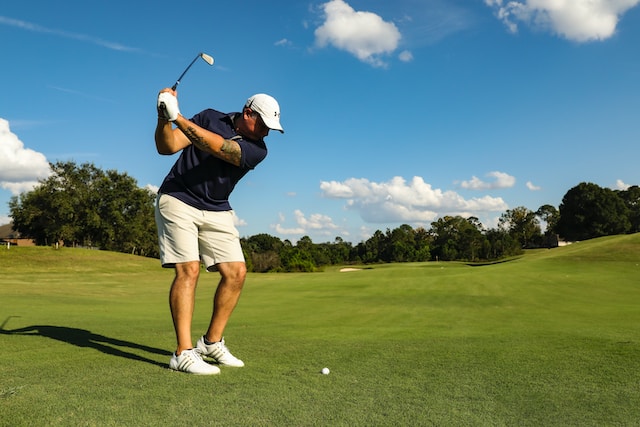 Ultimately, having an updated golf outfit plays an important role in mastering the skill set of the game of golf as well as expressing individual style. Golfers with a unique style will stand out among the crowds and have more success on the course. There's nothing wrong with having fun while pursuing your passion. With a thoughtful selection of apparel, accessories, and shoes you can allow yourself to be comfortable while playing the game you love. Whether you are a beginner or an experienced golfer, it's easy to update your wardrobe without breaking the bank. So go ahead: step out on the green dressed comfortably and confidently in your own personalized ensembles! Make sure to take advantage of all that clothing customization has to offer and have some fun – make each round memorable by looking great both on and off the green.