Bangs are back with—well, a bang. The most attractive fringe is bold and blunt, long and side-swept, or short and ingénue-like. Here's how to get the celebrity styles of the moment—for every length, texture, and face shape.
Once you get the perfect cut, you need to make sure you properly know how to blow dry your bangs. Many women suffer from "Bubble Bangs," a bang syndrome that could be avoided if only they put down the round brush and blew their hair dry with a flat or paddle brush.
There's no better way to freshen up a boring hairstyle or take five years off your face than with bangs, and these ten hairstyles featuring bangs will make you want some. The right bangs on your face shape will make your eyes pop, show off your amazing cheekbones or help hide a high forehead.
Long and Side Swept Bangs
via allure.com
These sleek bangs are flattering for every face shape. Ask your stylist to cut long bangs at an angle so they blend in with the rest of your hair. If you can get away with it, tuck your bangs behind one ear and let them air-dry. Otherwise, comb styling cream through wet bangs (or gel, if you have curly hair). Pop a nozzle attachment on your blow-dryer, and direct the airflow straight down from the roots. Bonus: The style works on all face shapes, hair textures, and lengths.
Blunt Bangs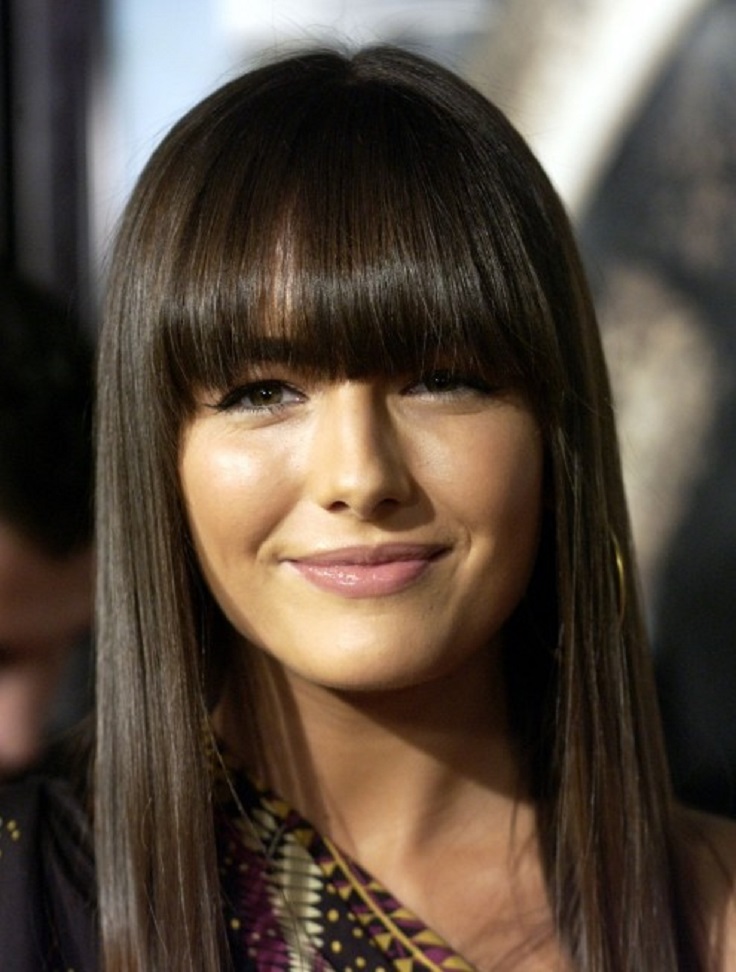 via beauty.about.com
This look works best on straight hair, however. If you have super thick, wavy hair or curly hair, bangs are not your best option. They'll tend to frizz upon when you blow-dry them straight, and while flat-ironing may work, the minute any moisture hits the air, your fabulous fringe will frizz upon you, making you appear dated. With blunt bangs and brow-skimming bangs, you'll have to get trims every couple of weeks or so.
Long, Face – Framing Bangs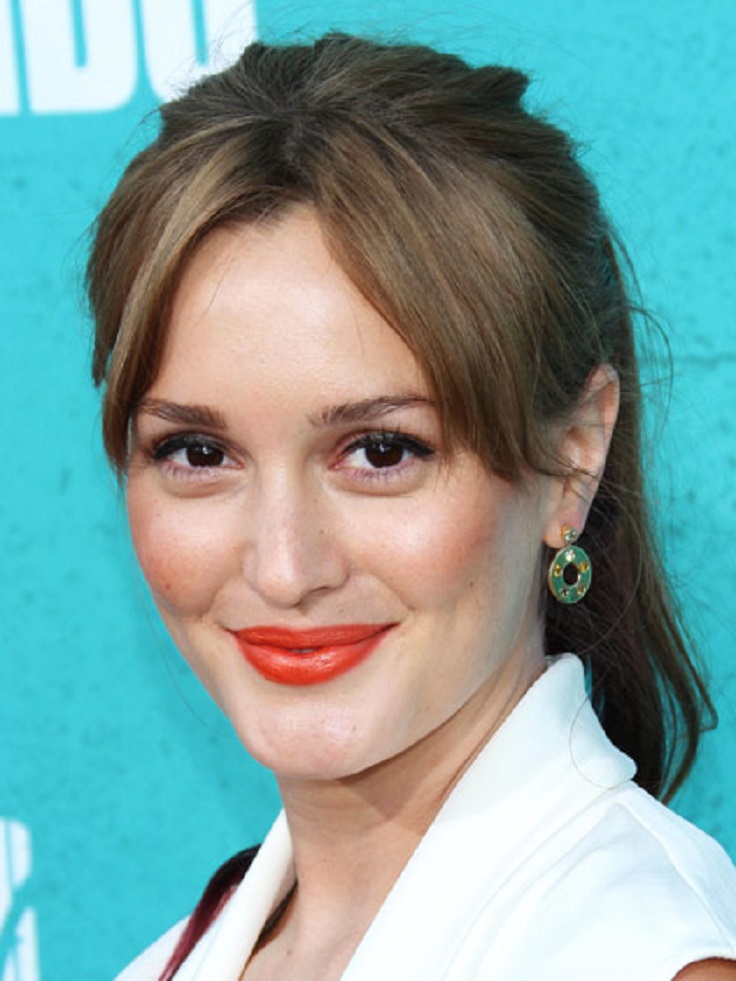 via allure.com
Bangs that hit right at the corners of your eyes highlight the cheekbones. That's incredibly flattering to oval and round faces. Use a small comb, like the Ace Curling & Teasing Comb, to pull bangs away from the face while blow-drying, creating volume. Then part them down the center and smooth a flatiron over the ends. Since this look draws attention to the eyes, play them up with a black liquid liner.
Short Bangs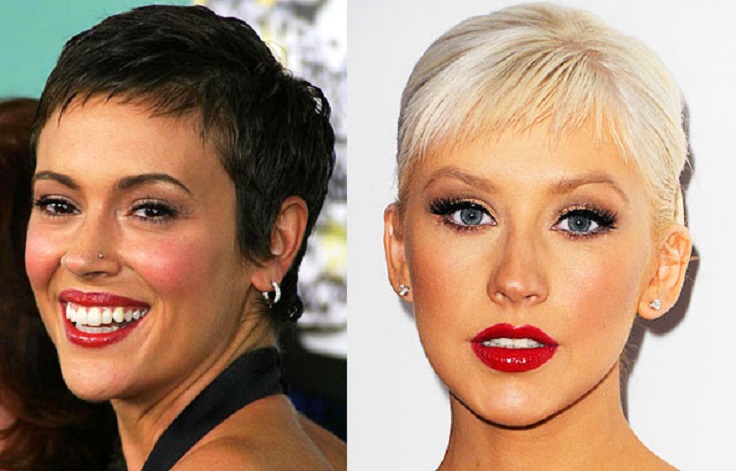 via allure.com
Mini bangs make a pixie cut. They also slim a round face and make a small forehead appear longer. Ask your stylist to cut blunt bangs two inches back from your brows, he says. Let them air-dry, and then use a pea-size amount of pomade to create a piecey texture and control flyaways. Push bangs to the side. It makes them look cooler.
Bangs With a Bobby Pin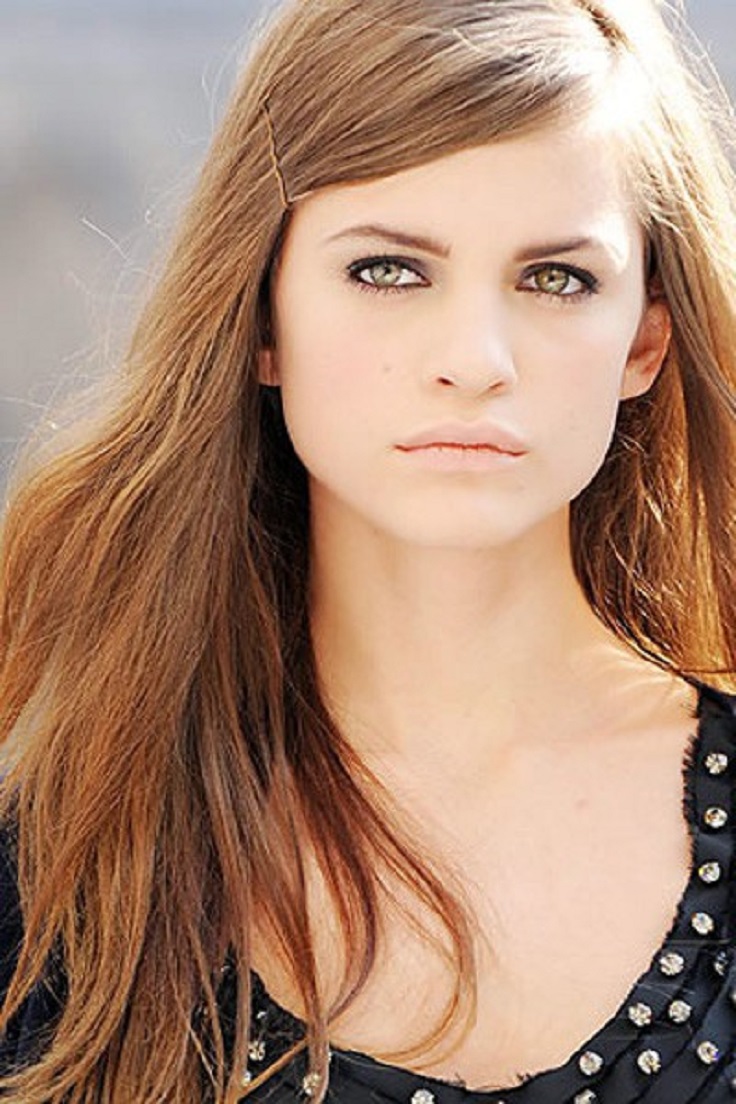 Long, side-swept bangs are by far the easiest bangs to get because they are less of a commitment than blunt bangs, and they flatter every single face shape. Long, side-swept bangs are by far the easiest bangs to get because they are less of a commitment than blunt bangs, and they flatter every single face shape.
Funky Bangs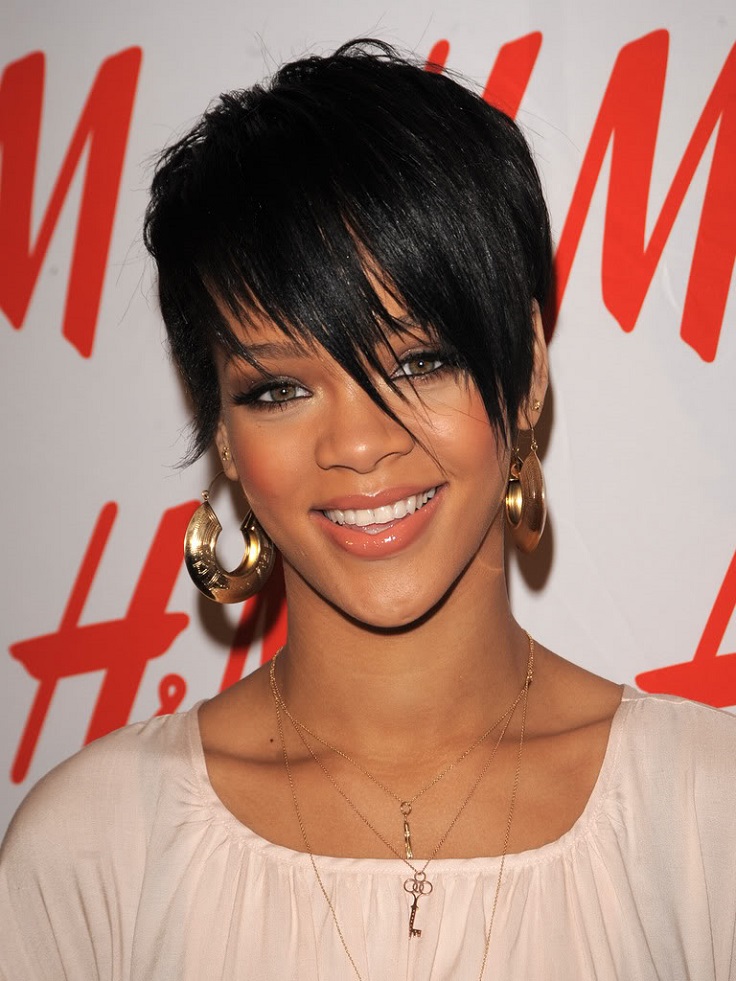 via beauty.about.com
This is a super cool look, even though it seems as if it might drive you crazy having bangs in your eyes all day. The nice thing about side-swept bangs such as these is you can push them off to the side when they bother you, and they still look great.
Parted Bangs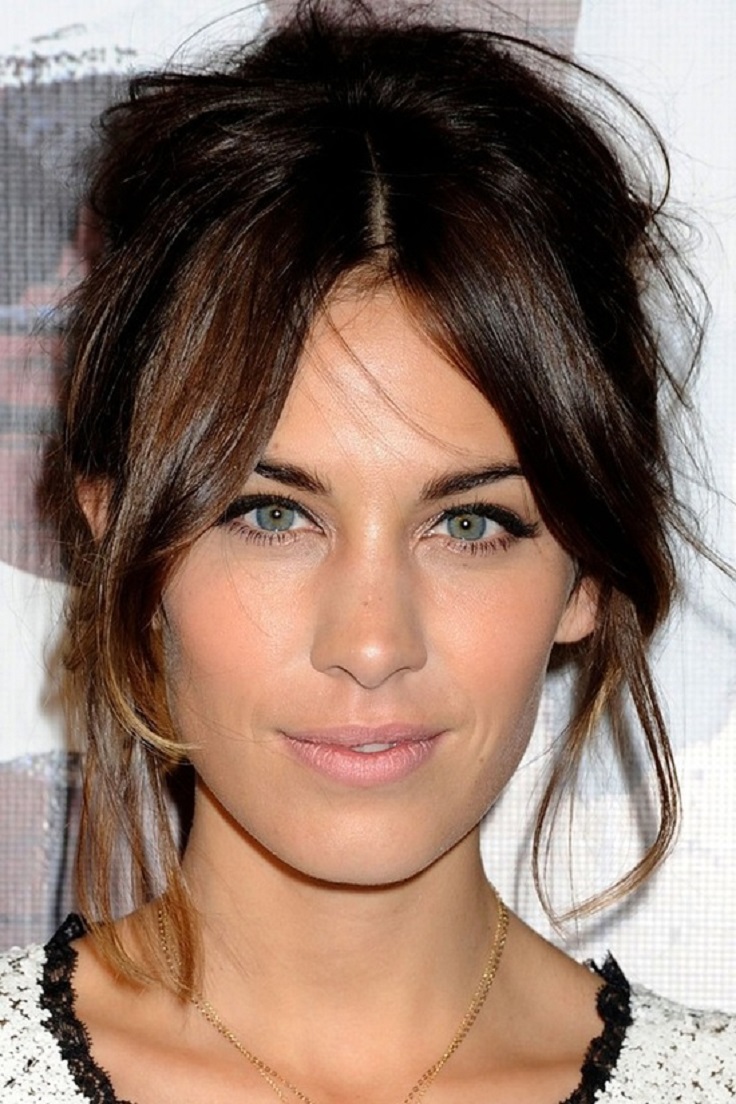 via stylenoted.com
Another way to wear bangs? Parted down the middle. It keeps hair out of the way but still draws attention to the eyes. Curtain bangs like these can help make the transition to a grown-out style, too. The wispy side layers look soft and feminine, especially when the rest of the hair is swept back. When applying rich face creams and makeup, make sure they're fully absorbed before letting your bangs down. To be safe, dab the forehead with a blotting tissue. You don't want the oils to transfer to your hair and make it look greasy.
Brow-skimming Bangs With a Ponytail
via beauty.about.com
We love this look. You can wear this hairstyle for any occasion, day and night. It's flexible with all outfits. It's particularly fresh in a ponytail. Note the dip-dye color on the tips.
Pompadour Bangs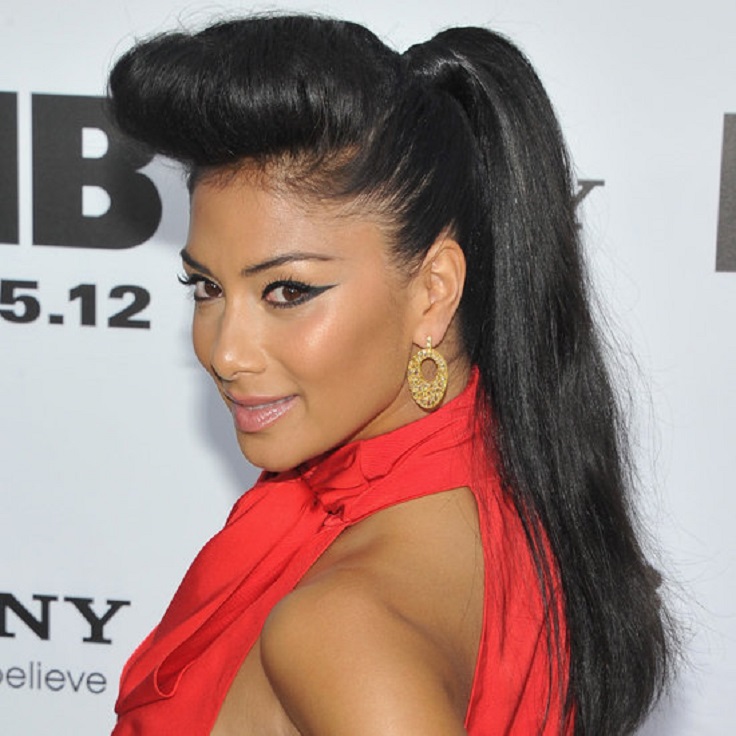 via beauty.about.com
We love how many pompadour hairstyles we've seen on the streets these days. And most of them were platinum blonde. It's funky, edgy; rock n' roll all rolled up in one simple hairstyle that's been sprayed all up and at 'em. Or, just like Nicole Scherzinger, make a pompadour bang in combination with a ponytail. Simply gorgeous!
Long Curly Hairstyle With Bangs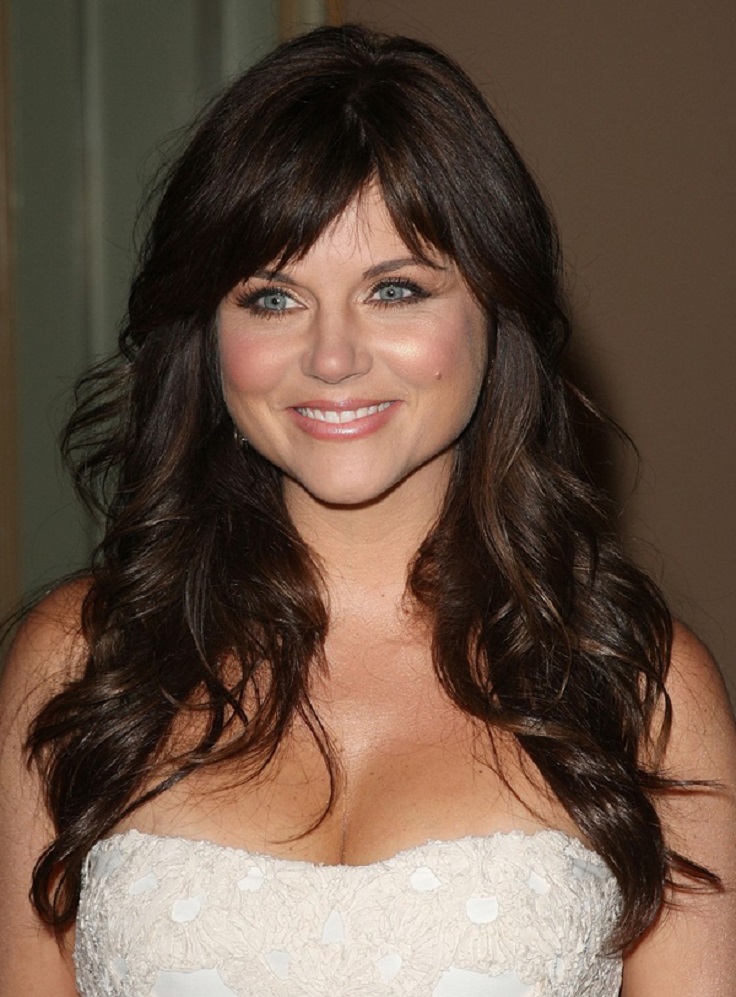 via hairstylesjoy.com
The bang and the curly hairstyle can support each other, and the look can be so awesome. One thing that you have to know here is that curly hair is something that needs special styling to avoid wrong and bad looking. In other words, you should do it properly. It actually means that you have to be careful in choosing the types of bangs combined with curly long hair.