Having creative decor at home doesn't always have to mean that you will spend a lot of money to get it. Sometimes all you have to do is look at what you have got in your garage or attic.
So, if you used a barrel in which you kept your homemade wine, or you decided to buy one and use it for another purpose except for aging wine in it, you will be surprised by how many uses can a wine barrel have.
It will surely take you time and even some money to do it yourself, but what you will get at the end is a unique decoration, starting from a bedside table to putting a barrel in your garden and then decorating it with flowers and painting it. Here you will find ten different ideas on how to reuse and repurpose the wine barrel.
1. Wooden Mirror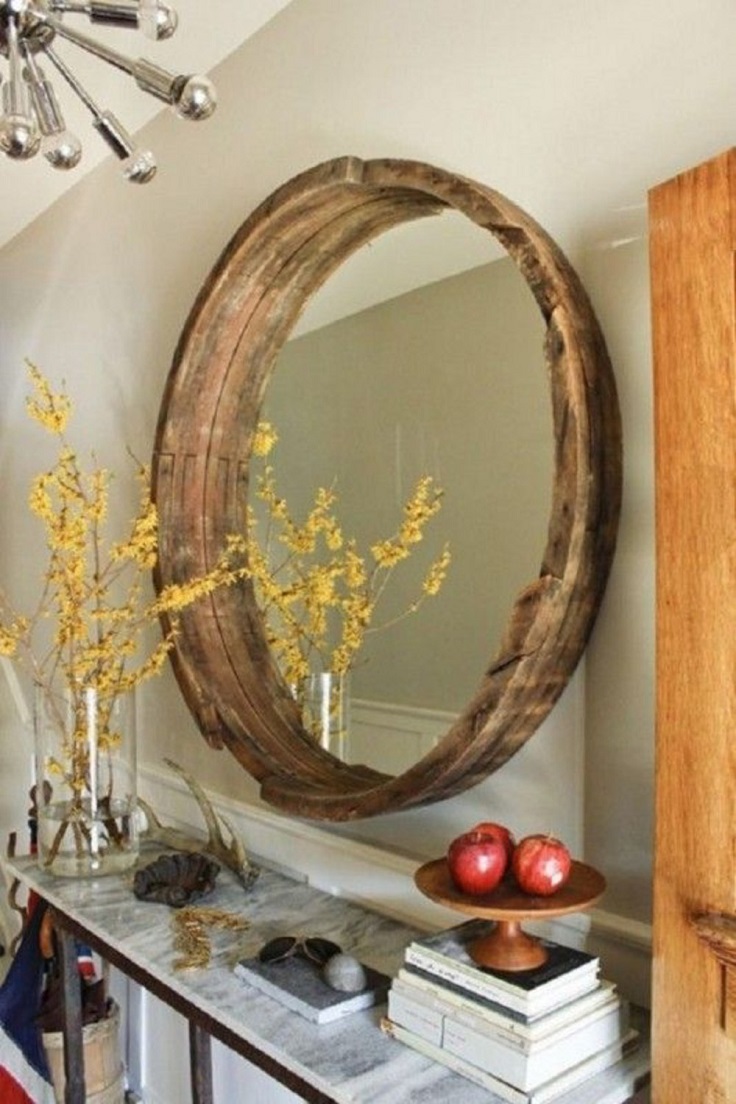 via therealdesigninspiration.com
Those cute, winter houses on the mountains that have a wooden interior? Well, you don't have to spend a lot of money to feel the rustic atmosphere. The rustic style, which is actually inspired by the American craftsmen style, is not hard to achieve. If, by any chance, you have a wooden barrel that you don't use for any wine purpose, you can use it as a mirror frame instead.
2. Bed For Pets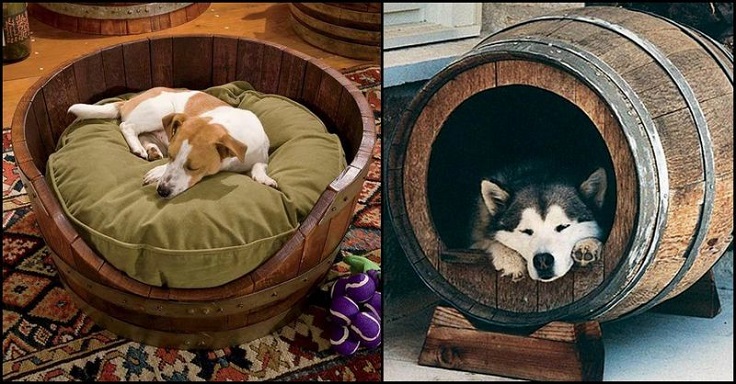 Your pet deserves a comfortable bed. Instead of just leaving a pillow on the floor, place it in an empty, cut barrel. It looks much more creative, and your pet is simply going to love it – and who wouldn't love such a warm, sweet home?
3. Barrel Planter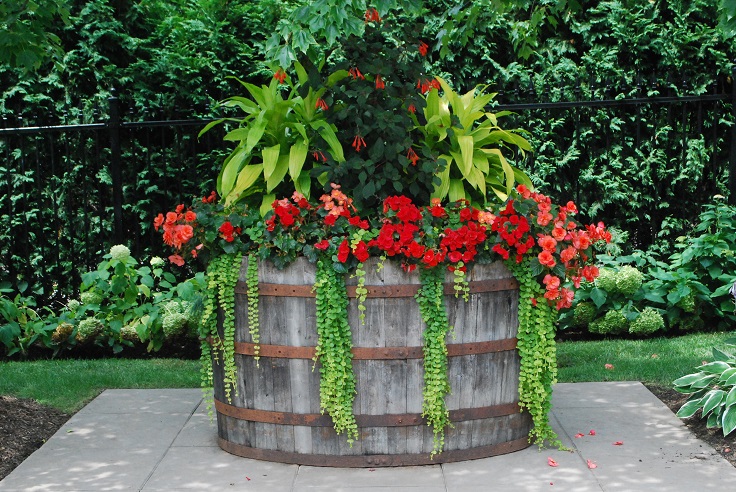 via prakticideas.com
Spring is coming, and that means soon it will be time for our garden decorating, and the most beautiful decor that any garden can have are, of course, the flowers. You've tried the boots, the bike basket, and you want other creative ideas for flower pots? As the picture shows, the barrel can be an amazing, big flower pot, ready to steal everyone's attention.
4. The Barrel Table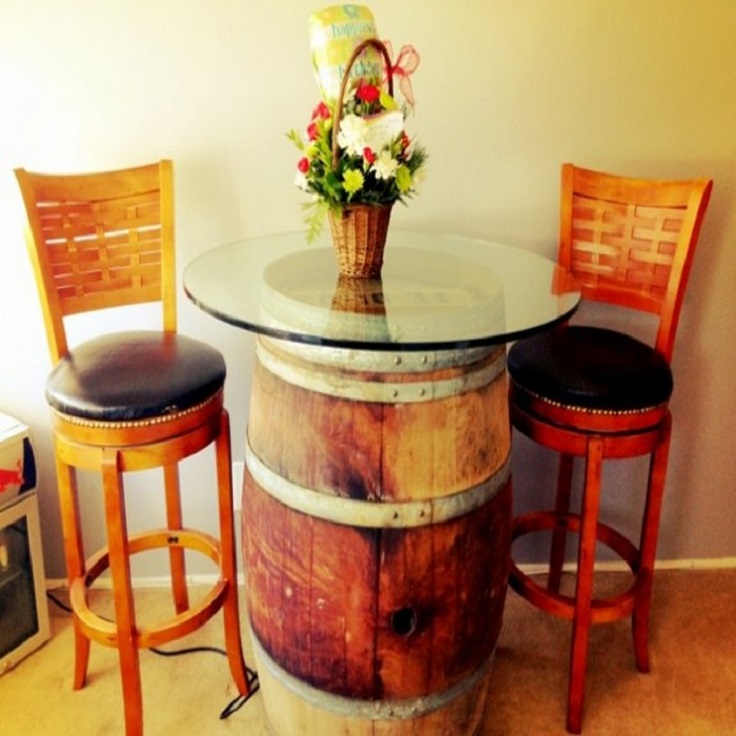 If you feel bored by the ordinary tables that can be found and seen everywhere, here's what you can do to make your home a little bit more creative. Find a barrel, put a glass on top of it, and you are going to have yourself a very unusual table, perfect for parties, gatherings, or just simply for drinking coffee in the mornings.
5. Barrel Drink Cooler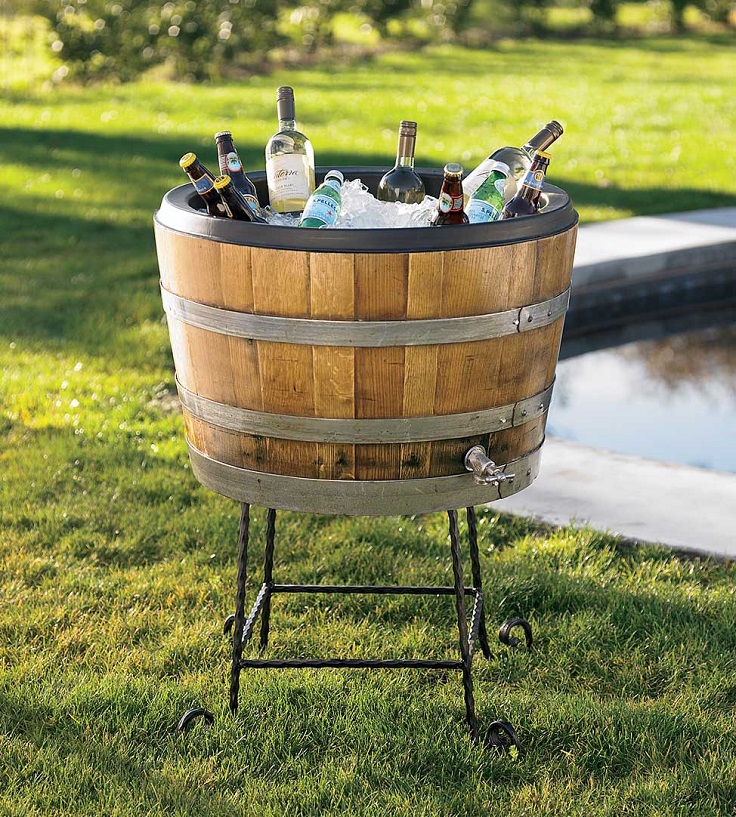 via topdreamer.com
Warm weather means having fun gatherings in the backyard. When it gets even warmer, what's more, refreshing than drinking a cold drink, pulled out directly from ice? Barrels can be quite useful even in this kind of situation.
6. Barrel Baby Cradle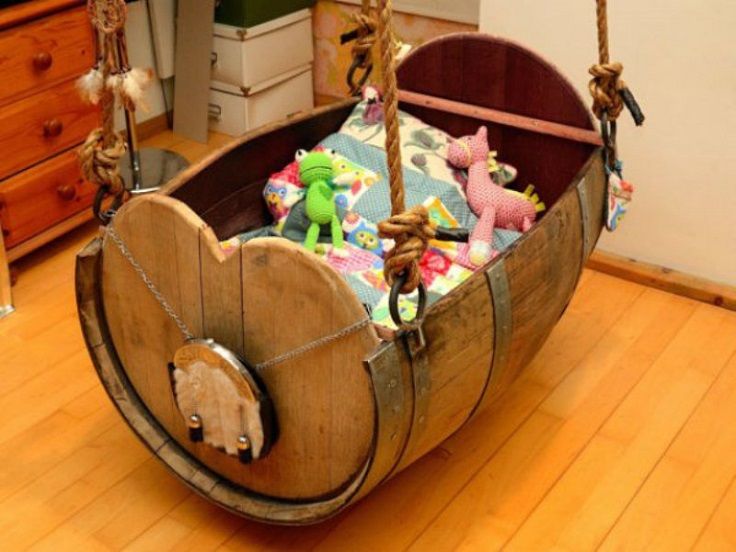 Barrels can be such cute baby cradles! They are definitely not the type of cradle you would usually meet in a store. But you should be careful with the ropes. If you feel they are not safe enough, then it might be safer to make the barrel steady on the ground.
7. Barrel As Storage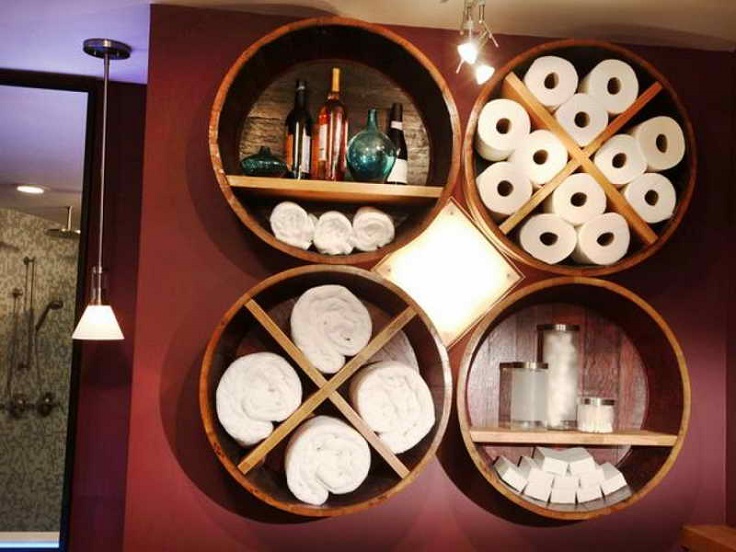 Here is another way to make your home look more rustic. By cutting the barrel in half, replacing the wooden parts, and placing them on the wall, you get a very good home organization trick. Not only is it practical to have these wooden shelves, but they are also unique to have around.
8. Bed Side Table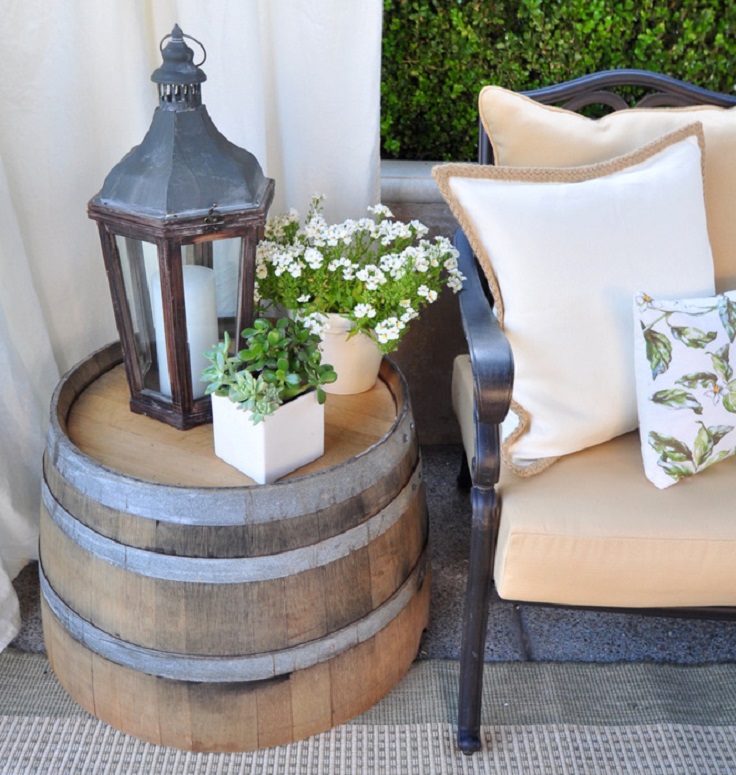 Here's another idea of how a barrel can turn into a charming wooden table. This time is meant to be placed beside, which means that the barrel now has a more decorating role. Putting lovely flowers and lamps make them look very irresistible, they sure go very well together.
9. Barrel Garden Table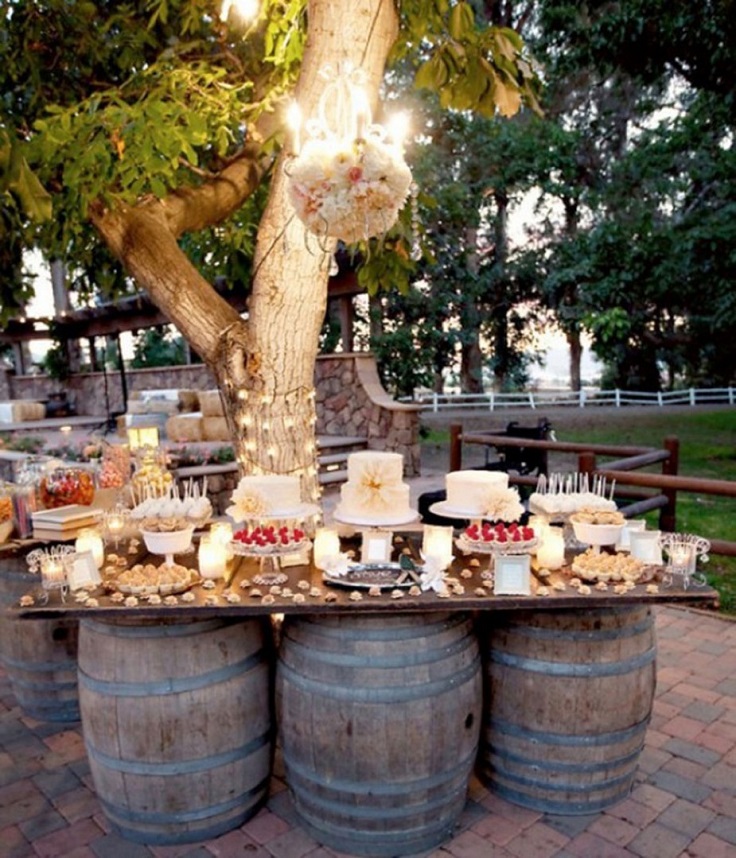 via therealdesigninspiration.com
Making a party outside, and you want your guests to be amazed by how you organized everything? No doubts, having a huge table made out of barrels will surely leave your guests breathless. Be prepared to answer any questions about how, when, and where you get the idea about this table.
10. Garden Bench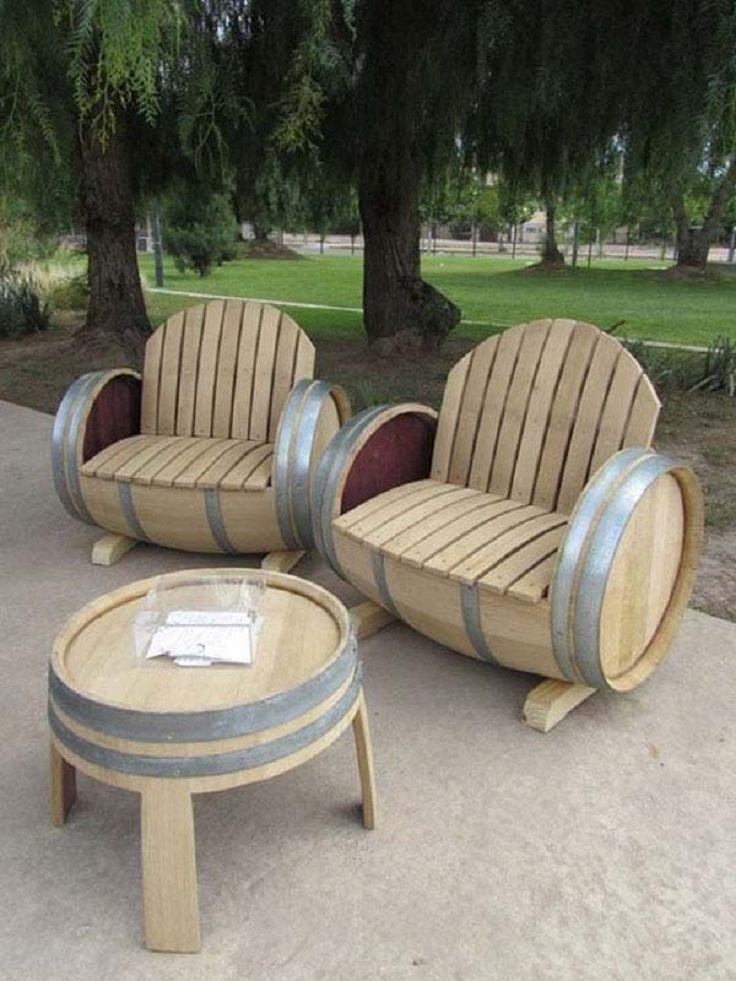 via woohome.com
You can use barrels as a garden bench. It's such a nice feeling when you are sitting in summer, in your garden, on a cozy wooden bench, and you are chatting with your friends over a cup of ice tea. Who said that wooden barrels are only meant for aging wine?