Every girl and every woman wants to look gorgeous for every occasion. It doesn't matter if is for a night out with the girls, a date with a boyfriend, or some special celebration…it's perfectly clear that we all want to look flawless, from head to toe. Great beauty advice can be hard to find, but we're always doing our best to bring you the latest and greatest information about beauty. We've researched some old stories and we've rounded up our best get-gorgeous tricks in one spot. Whether you want to know how to apply your daily foundation or to learn Kim Kardashian face-contouring technique, in this article you'll find everything you need.
Scroll down and find out the best beauty secrets and tips of all time. Let us know which one is your favorite!
Eye Shadows Guide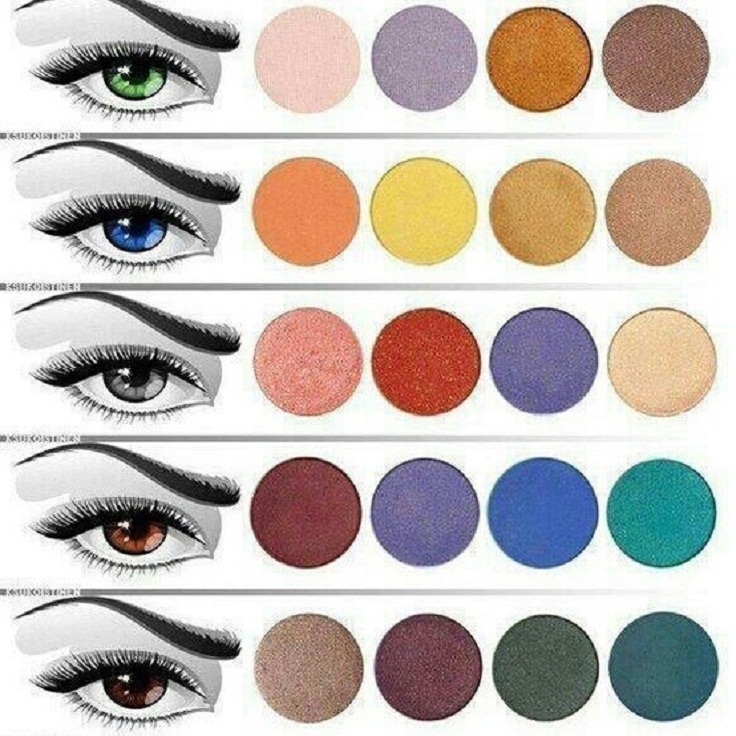 Tutorial via topinspired.com
It is well known that there are certain eyeshadow shades that go well with specific eye colors. To be able to make your eye color stand out and appear more attractive, you should consider knowing the eye shadow guide. Many makeup professionals use it while indicating the color they will work with. For example, brown eyes appear better in earth tones or purple hues; the blue eyes stand better in orange shades; while the green eyes complement pinkish and goldish shadows.
Choose The Most Flattering Eyebrows For Your Face Shape
Tutorial via topinspired.com
Many women pluck their eyebrows by themselves, and nothing wrong with that. But if you are not really sure how to get the perfect shape base on your face, we recommend you first visit a professional. Let them create the best suitable shape for you and after you just maintain it. Otherwise, you can end up over-plucking your eyebrows and giving your eyebrows and face the opposite effect.
Find Your Eye Shape
Tutorial via topinspired.com
Have you look at the mirror yet and find out what shape of eyes you have? This can be very helpful while applying makeup like eyeshadow and eyeliner too. Each shape has its own makeup tricks and tips. Once you determine your eye shape, you will have a much better idea of how to create a look that flatters your specific eye form. You will be able to tailor your favorite makeup, which is sure to turn a few heads.
Directions For Foundation Applying
Tutorial via topinspired.com
The foundation is one of the most important makeup products. There are few important rules when it comes to foundation. The choice of shade that matches your skin tone, the brushes you apply with, in which direction you move the brush, as well as knowing how to contour the face. This will allow you to end up with a flawless finish and give you a very natural look. It is a procedure that takes a few trials to be perfected.
Directions For Blush Applying
Tutorial via topinspired.com
As we mentioned above, knowing the shape of your face allows you to apply your makeup like a professional. The blusher will give your skin a healthy glow adding warmth to your face. The color of the blush plays another important role. Lighter skin tone best goes with reddish and bronze shade, while darker skin tone with vivid colors. Different shapes of faces have different ways to apply blush. Follow the photo above to know the best place you should apply the blush.
Kim Kardashian Guide To Face Contouring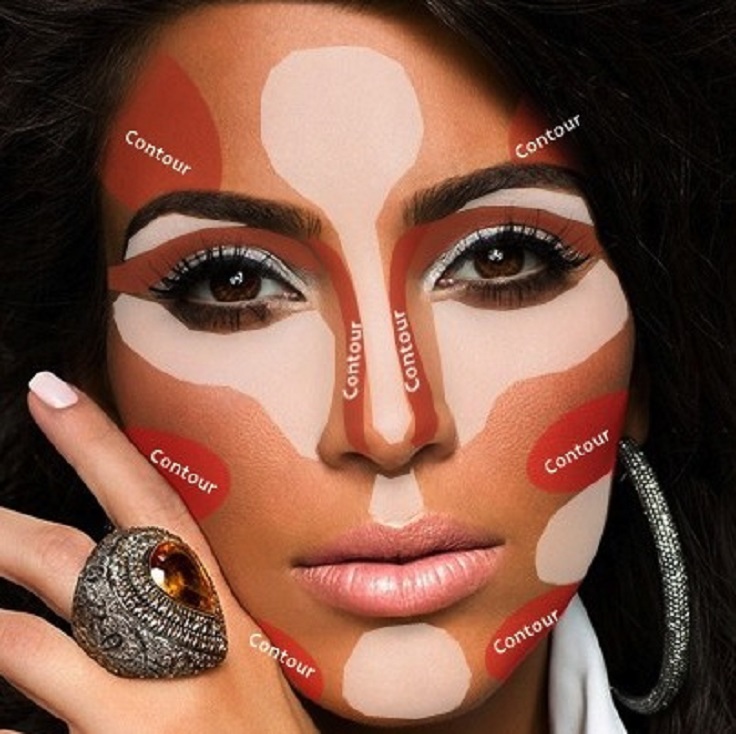 Tutorial via topinspired.com
Contouring based on the shape of your face is very important. This will determine which areas on your face need to be addressed. For example, a round face will need to contour under the cheekbones to make them appear thinner. The whole importance of contouring is to enhance or change the shape of the face by makeup but without drastic changes. The effect of contouring should be creating a natural appearance and help you define your features.
Pluck Eyebrows Perfectly
Tutorial via topinspired.com
If you are plucking your eyebrows for the first time, or wish to change the shape of your eyebrows, we would recommend you to visit a professional. Once you have the right shape, plucking will be much easier, you will just have to maintain. However, if you are confident enough and want to try it at home, there are some tricks and tips to help you out. For example, place one end of the tweezers on the tip of your nose diagonally and meet the corner of your eye to show the tail of your brow (where it should end), etc. Follow the rest like in the photo.
Learn To Contour And Highlight Your Face
Tutorial via topinspired.com
For all beginners who are learning how to contour, first know the shape of your face as we mentioned. It is all about practice, the first few times you might end up applying too much from the makeup products, or highlight a different area more than required. However, with a bit of practice, you will surely lean your face and this whole process won't take much of your time in the future. The basic kit should have a deep contour, a highlighter, a bronzer, and certainly, the brushes are playing big importance.
Learn Threading Step By Step
Tutorial via musely.com
Threading is another method for hair removal. This method recently got very popular in the cosmetic industry. It is actually a thin cotton or polyester thread that is doubled, then twisted. You then need to roll over the unwanted hair. Unlike tweezing when the hair is pulled one by one, threading can remove small rows of hair. It is a procedure that lasts longer than the regular plucking with tweezers.
Choose A Perfect Lipstick Color For Your Skin Tone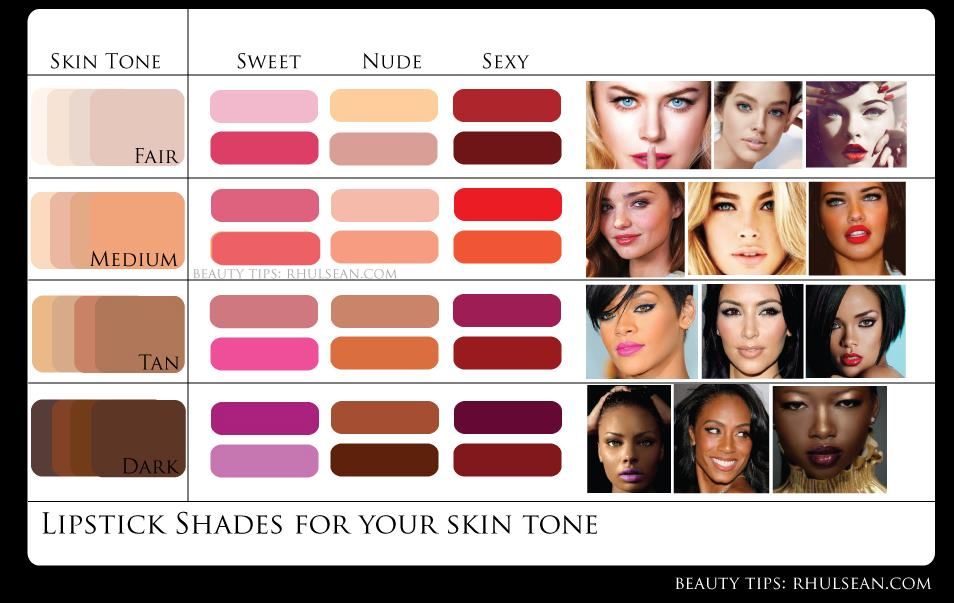 Tutorial via brightside.me
Many makeup professionals advise us to check few tips before choosing the color of the lipstick. Here they mentioned not only the color of the skin tone but also the color of the eyes, the shape and the size of your lips, teeth color, as well as the color of the hair; all playing an important role in choosing the perfect lipstick. The purpose of the lipstick is to draw attention to your lips; highlighting them can make a woman look more attractive, and it also hydrates the lips.