If you have some old bicycle wheels in your yard somewhere, it's time to get them out because we have amazing ideas for you! You won't believe the things that you can do with only a bike wheel that is sitting useless somewhere. Don't let that happen, and get your hands full with work after reading our amazing recycling ideas. Some of them require attention and dedication, and the others are very simple, but we assure you that every one of them gives a great results! They are useful, vintage looking and amazing for filling the place, because they can match almost every type of style. So, if you are not thinking of giving a new life chance to your old bike, then get the wheels out and work the magic. Don't forget to tell us which one you like the most!
Pea Trellis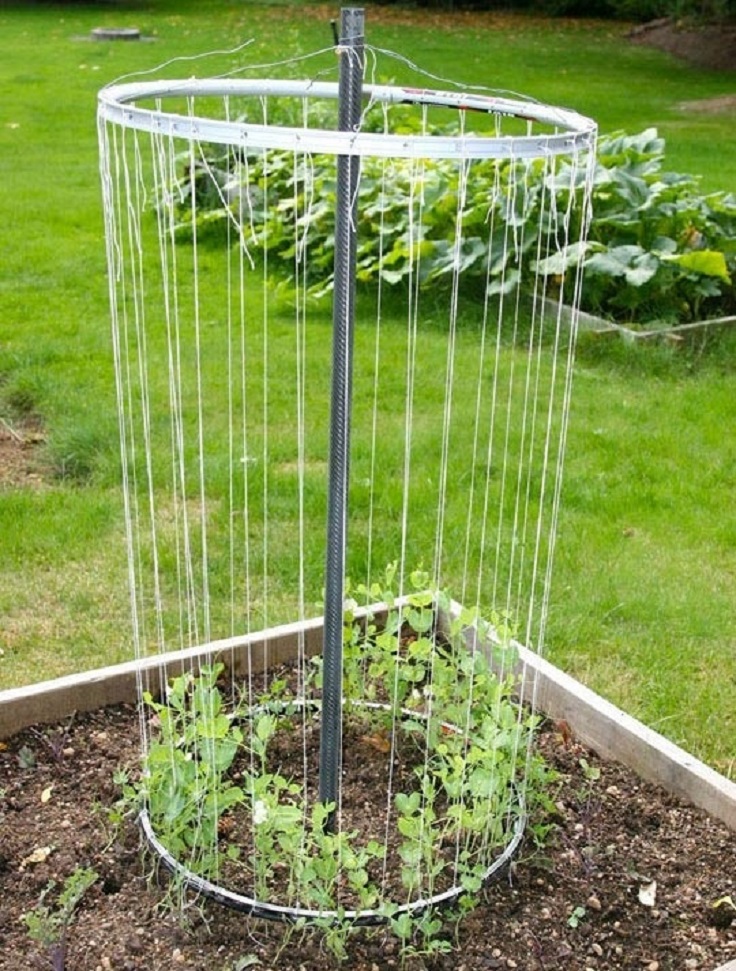 via ehow.com
Give your plants a direction of growth bu placing two wheels, one in the bottom and one on the top, and secure it bu installing an iron bar in to the middle of the wheels.
Do a Coffee Table
If you are one of those who have a special skills with the hammer and the nails, then this wouldn't be so hard to make for you. You need several wheels, one round glass for coffee table and a lot of patience.
Clock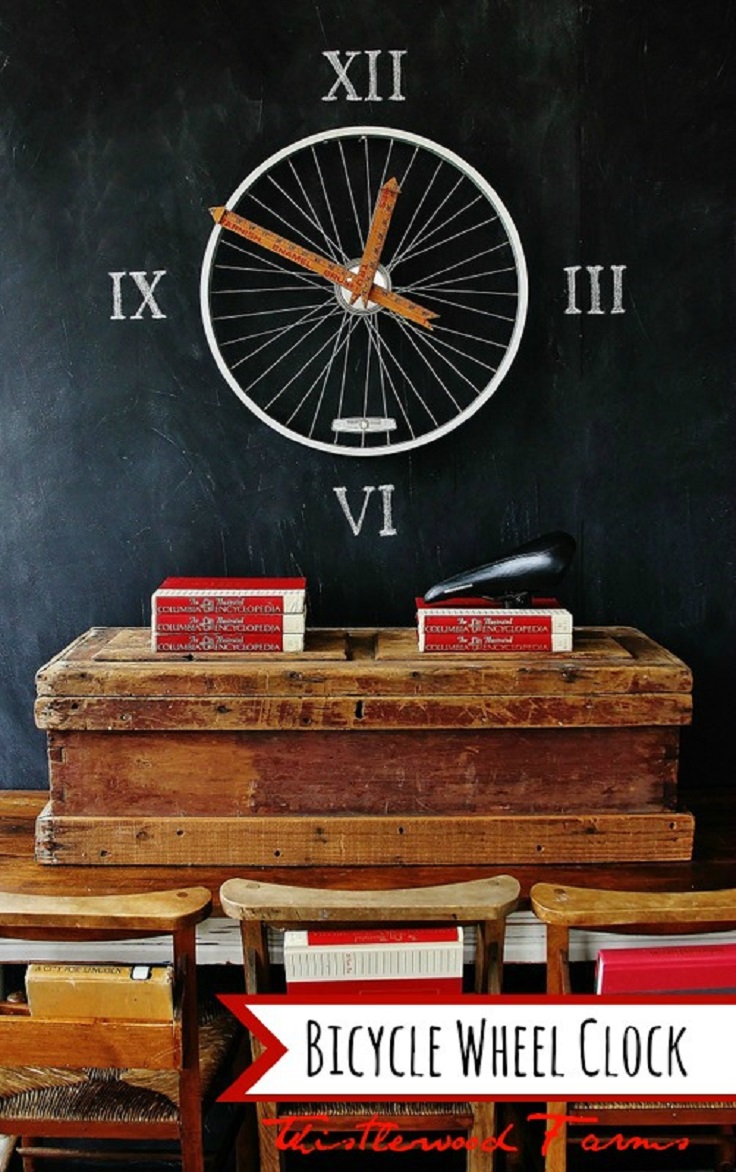 In the link above you will find an amazing tutorial on how to make this great bicycle wheel clock. You can add your own touch on it, it will sure look amazing.
Chandelier
via brightnest.com
If you like the unusual home decoration, you probably would love this chandelier! You can attach to the wheel any kind of zircons, crystals and other accessories, make it look glamorous but in your own unique way. Then attach it to an light bulb, and let there be light through your gorgeous new wheel chandelier.
Jewelry Holder
Great idea to store your jewelry in one place, hang all your necklaces, bracelets, earrings and other jewels that you have. In the middle of the wheel attach a stable stand to hold in place your wheel.
Use it as a Mirror Frame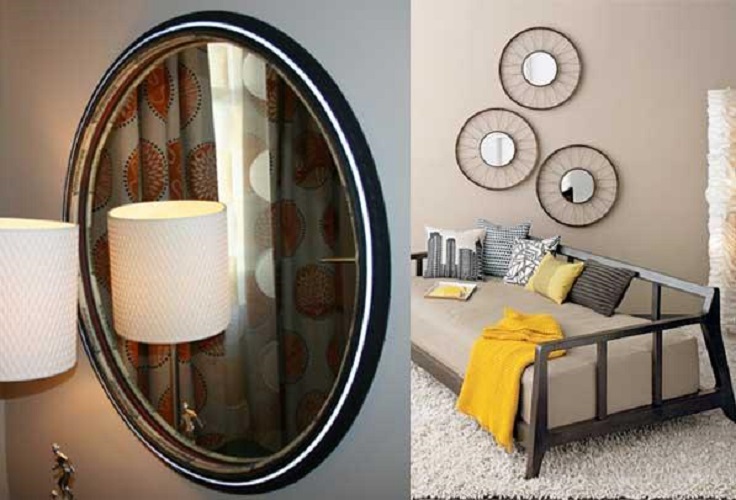 The bike wheel looks great accompanied by a mirror inside! You can cover up the whole surface, or you can leave the half wheel showing, it's up to you.
Lazy Suzan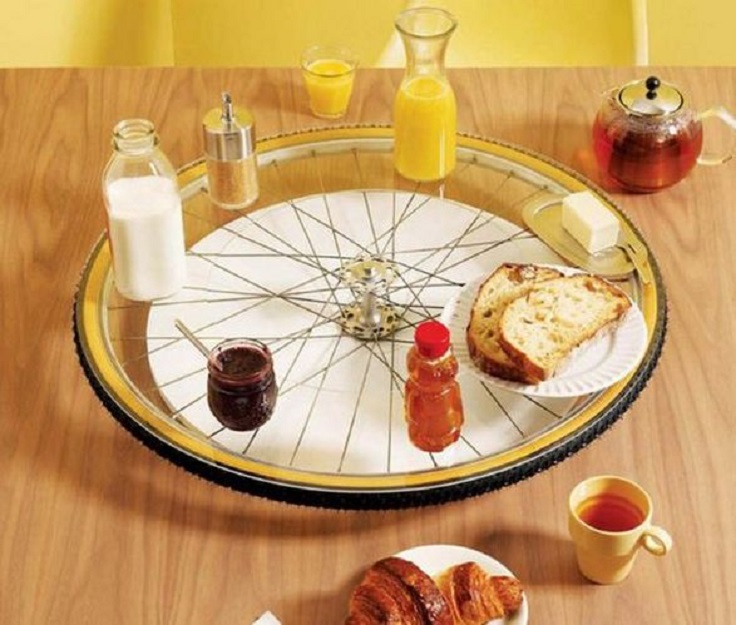 via cyclingboom.com
Such a fun breakfast tray! With a little color and glass transform the while in this useful lazy Suzan!
Pot Rack
You can use the wheel in your kitchen, to keep in place all the pots and pans that you have. They will be much more accessible and visible to you, and won't make a mess in you kitchen.
Yard Art
Decorate your garden in a unique way, attach the wheels so that they hang, paint them if you want, and then put your favorite flowers as a beautiful finish. This decoration is breathtaking.
Make it Picture Frame
If the usual picture frames are just not enough for you, hang this wheel on your wall, and with ordinary clothes pegs attach randomly your favorite pictures. It looks like art.