Hanging baskets are a much-needed addition to every garden, having the ability to connect it to the house, bring a splash of color or simply draw attention to a certain area. With yards getting smaller and us having less and less time to spend taking care of our gardens, hanging baskets are an easy solution. There are few things to consider when hanging baskets are in question, like choosing the proper container, soil, adequate fertilizer, proper watering, and of course, good plant choices.
When choosing the container, choose a larger capacity one as it will allow you to grow more varieties and more soil allows for better nutrition and more available moisture. Plastic pots are the budget choice, while sphagnum moss will give you a more natural look.
Make sure you always use good quality soil when planting your hanging baskets. Avoid regular garden soil as it is too heavy and doesn't allow for good drainage. Choose soil mix that contains moisture beads and slow-release fertilizer, or simply add them by yourself to cut costs.
Use a diluted water-soluble fertilizer once a week. Keep the soil evenly moist – young plants do not need watering every day, while mature ones need water even twice a day during hot summer days.
Now, what truly makes a magnificent hanging basket is the right plant choice. Whether you opt for a mono-culture or a stunning combination, you must know the plants you are choosing. To help you choose, we have chosen 10 of the most popular and suitable plants that will help you create your perfect hanging baskets. Take a look and tell us who is your favorite hanging basket plant in the comments section.
Lobelia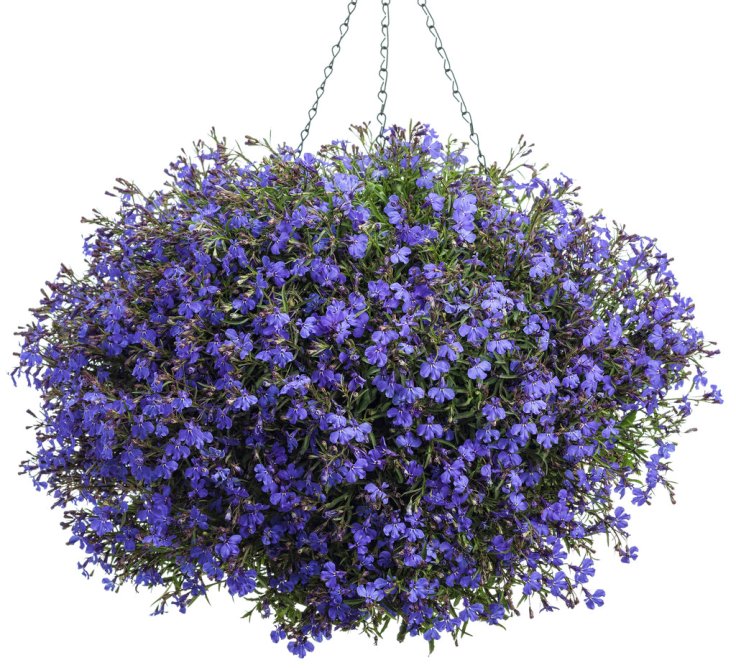 photo via provenwinners.com
Lobelia erinus is a spring plant with the most stunning blue little flowers with white throats that look like little butterflies. This easy-to-grow, carefree plant enjoys cool weather, so you can consider it an early spring flower. As the weather gets hotter, increase watering, and don't forget to add liquid fertilizer every four weeks. Be prepared to part with your beautiful lobelias by the end of June, when you need to replace them with plants that like warm weather.
Pelargonium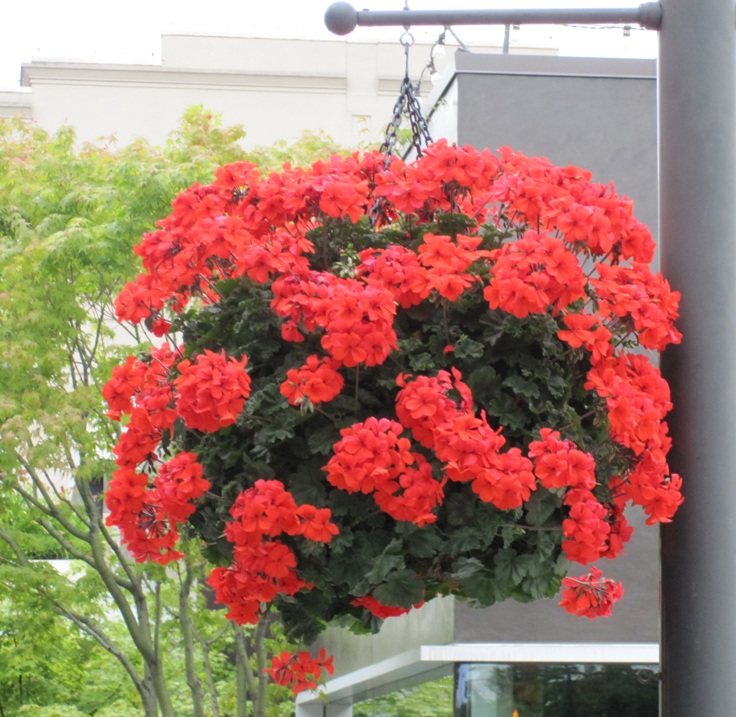 photo via syngentaflowers.com
Pelargoniums, also known as Geraniums, are among the most popular flowers for hanging baskets, especially the ivy-leaved varieties that grow downwards. These are trailing evergreen perennials with stiff fleshy leaves and single or double flowers. They will easily hide the basket and create a beautiful display. You can enjoy Pelargoniums' enchanting flowers during spring and summer. Grow them in a sunny location or partial shade
Campanula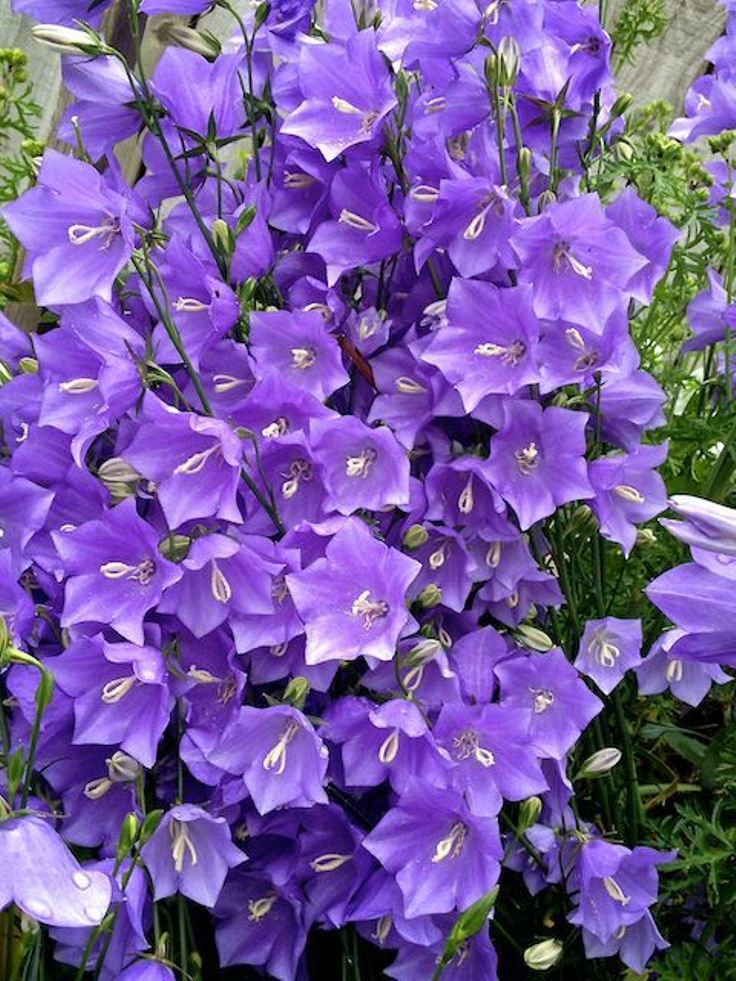 photo thetortoisetable.org.uk
Delicate Campanulas are the flowers to choose from for an elegant country-style hanging basket. Campanula Bellflowers are perennials that bloom heavily during June and July but can delight you with flowers all the way into October in some areas. You will fall in love with their upturned, open cup-shaped flowers in hues of pink and white but primarily lavender or light blue. For best flower production, grow your Campanulas in full sun. 
Calibrachoa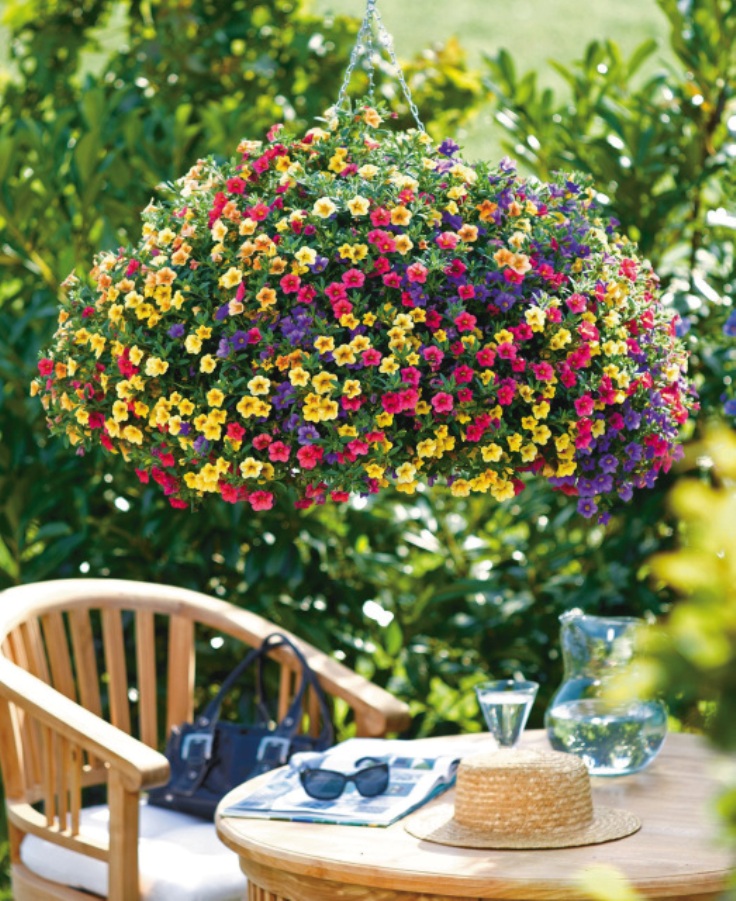 photo via violetpto.org
The charming Million Bells (or Calibrachoa) is one of the best flowers for hanging baskets, mostly due to its small, numerous flowers in various colors such as pink, yellow, white, blue, and red. They will blossom non-stop from spring to frost, and they are so easy to maintain – no deadheading is needed! Put them in a sunny spot and just make sure the soil kept is organically rich, moist, and well-drained.
Hedera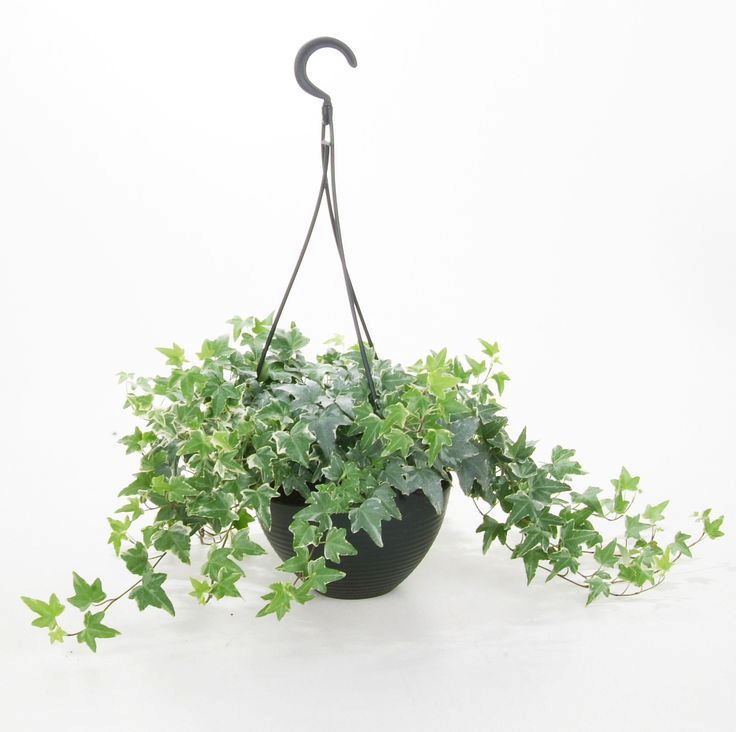 photo via costafarms.com
Hedera, or English Ivy,  is a perfect choice for winter hanging baskets, whether you choose variegated or plain. It will give a beautiful accent with its lobed leaves and lush, trailing vines. We recommend the white variegated Hedera helix 'Glacier' or Hedera helix 'Buttercup' and Hedera helix 'Aureomarginata' with their beautiful yellow leaves. Make sure you keep your Hedera in partial shade to full shade and allow it to dry slightly between watering.
Butterfly Orchid
photo via bhg.com
While petunias and lobelias are a common choice of plants for hanging baskets, why not try something different, like the beautiful butterfly orchid pictured above (plant A). They are also known as poor man's orchids, while their Latin name is Schizanthus. Don't be scared that orchids are too picky to grow; just follow the few easy steps for successful care. Provide an early start and mostly cool weather; plant the seedlings in rich, well-drained soil where they will get morning sun and afternoon shade. Plant the seedlings where they will get morning sun and afternoon shade. You will be amazed at how fast they will grow!
Portulaca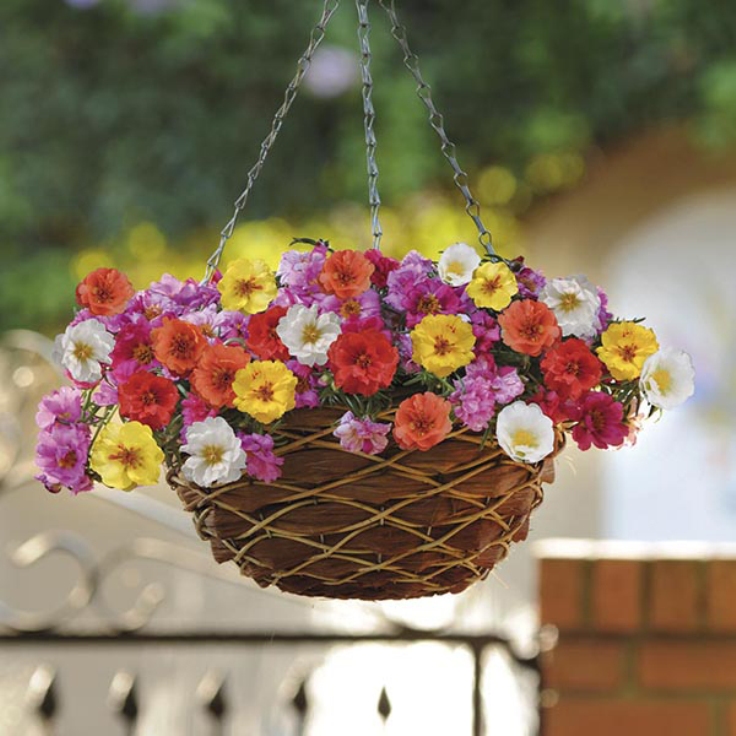 photo via mr-fothergills.co.uk
Native to Brazil, Argentina, and Uruguay, Portulaca (commonly known as moss rose) will mesmerize you with its several bright colors like pink, red, yellow, orange, lavender, and white. They are easy to grow in a hanging basket, as they do not need to be watered regularly. Place them in full sun and plant them in sandy, well-drained soil for best results. Don't be surprised when they grow all around and underneath the basket. Be careful of aphids, especially in spring.
Petunia
photo via statebystategardening.com
Well, we couldn't keep petunias out of this list, as they are one of the most popular plants for hanging baskets. We love petunias for many reasons, one being that there are so many varieties to choose from. Single or double blooms, ruffled or smoothed petals, and striped or solid colored – the choice is yours! Another reason is that they are so easy to take care of. Provide them as much sunshine as possible, water them regularly, and make sure you plant them in soil that contains a well-composed organic matter. That's it.
Busy Lizzies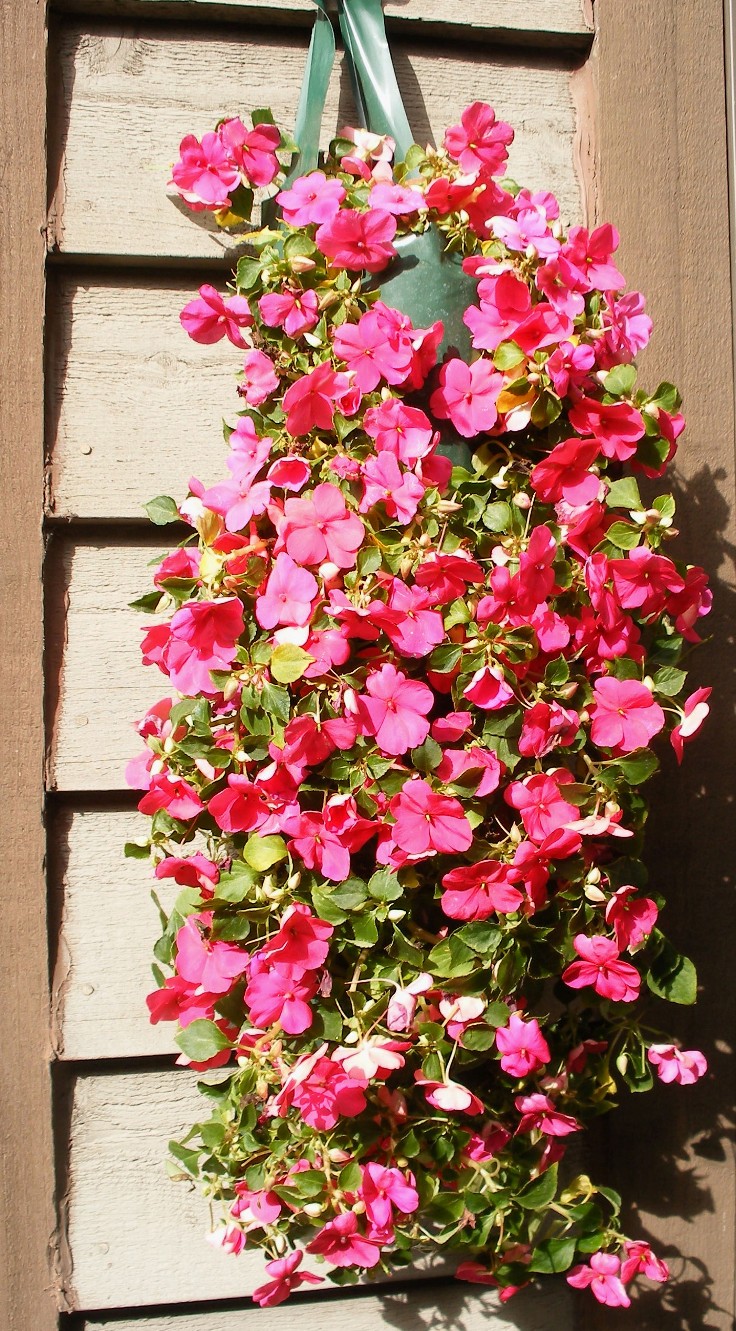 photo via hortchat.com
Add a splash of color to your garden's shady by planting Impatiens in your hanging baskets. Yes, you read right; busy Lizzies produces vibrant flowers even in the shade. We recommend the Sun Patients or New Guinea varieties as they are so easy to grow, robust plants for all weathers and garden positions. Choose drained soil that isn't too fertile. Ideal light conditions are early morning sun and then afternoon shade. Keep in mind that Impatiens are frost tender, so plant them out in the garden only when the risk of frost is gone.
Fuchsia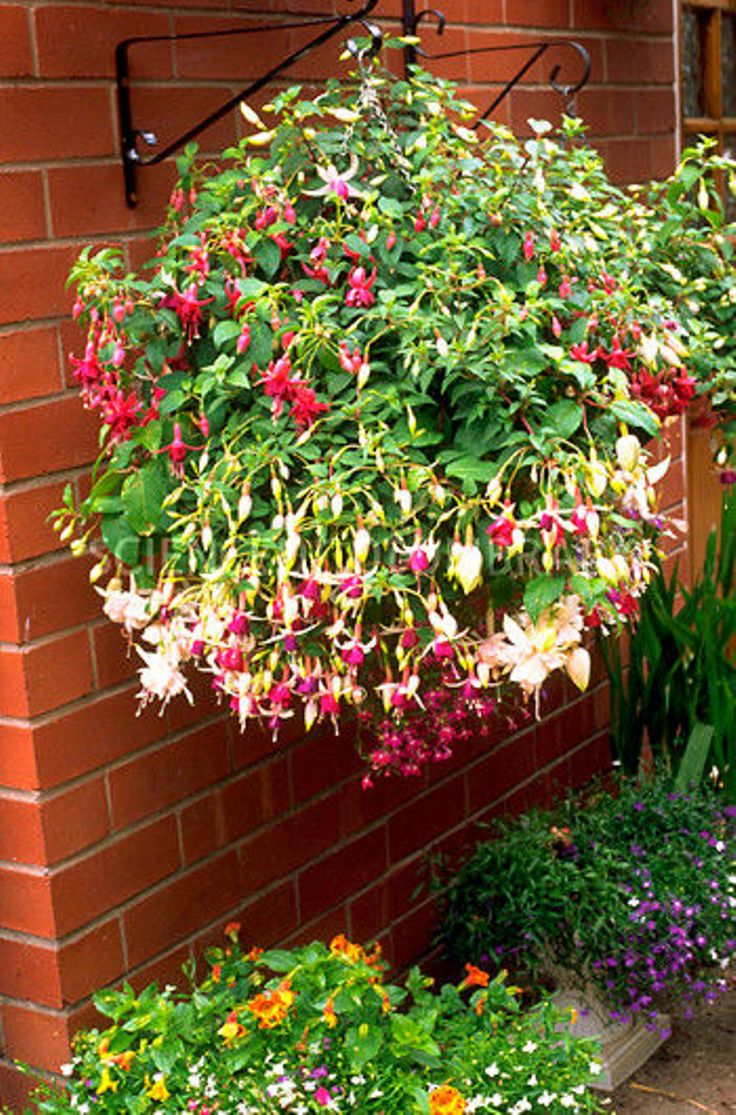 photo via sciencephoto.com
Discovered in the Caribbean and native to South America, Fuchsias are one of the most beautiful plants for hanging baskets. You can't resist their delicate appearance or the two-tone color. But don't let their beauty fool you – Fuchsias are hard to grow. They do not love the sunshine so keep them in semi-sunny, cooler areas. Keep their soil moist, but be careful because overwatering can make their roots rot. Adequate drainage is the solution. Fertilize them every two weeks and avoid the frost when the temperature gets cooler.