Having nice hands and perfectly colored nails is a must in a woman's world because hands are the most visible part of our body! As a real lady, you probably own a huge collection of nail polishes in various colors, which you know how to incorporate in your style for any occasion!
Yes, nail polishing is a fun and girly activity, but do you know that actually, you can use the liquid from those little bottles not just for your nails, but for various purposes too?! With a small dose of creativity and a little knowledge, you can do miracles!
Here is an article that will show you 10 unusual things you can do with your colorful nail polishes! From simple jewelry protection to key painting, here is a list that will make you not look at that liquid in the same way again! Scroll down and prepare yourself to be wowed!
1. Prevent a run in your stockings from getting worse with clear nail polish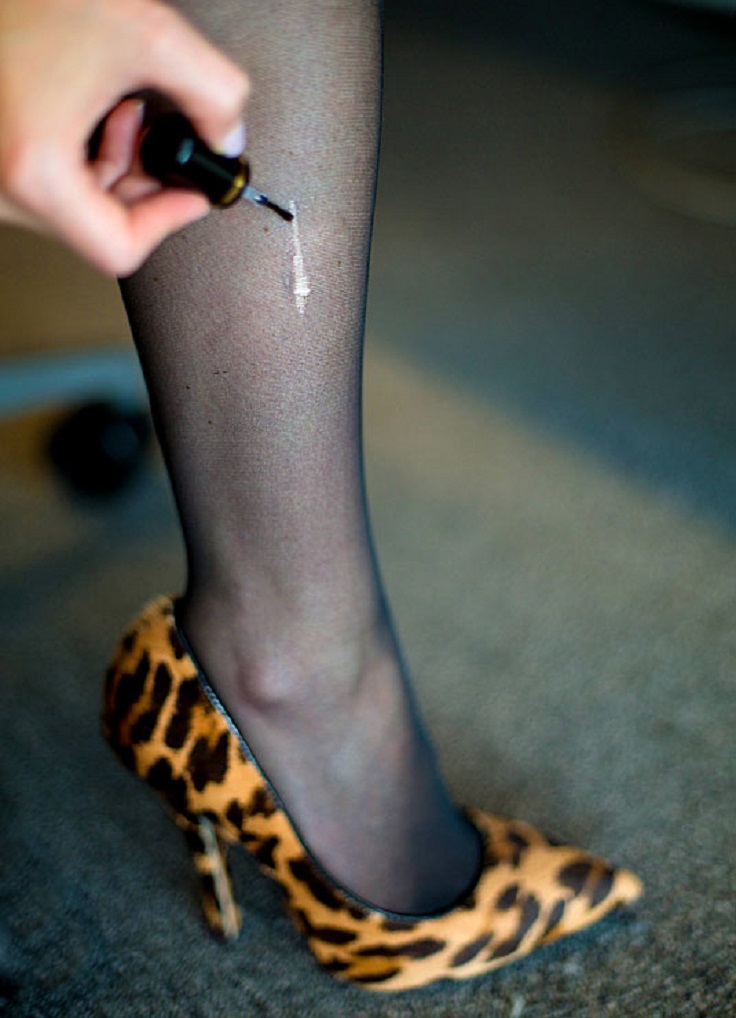 via bunmiodunowo.com
We've all been there… on work or a simple night out, where you've noticed a run in your tights! Yes, this scenario can be a real nightmare, but things can worsen if you don't have a clear nail polish in your purse, which can help you stop the run in the stocking tracks!! Take that small bottle with you wherever you go, and don't worry about that small problem anymore!
2. Transform an old and boring bag into a chic and trend clutch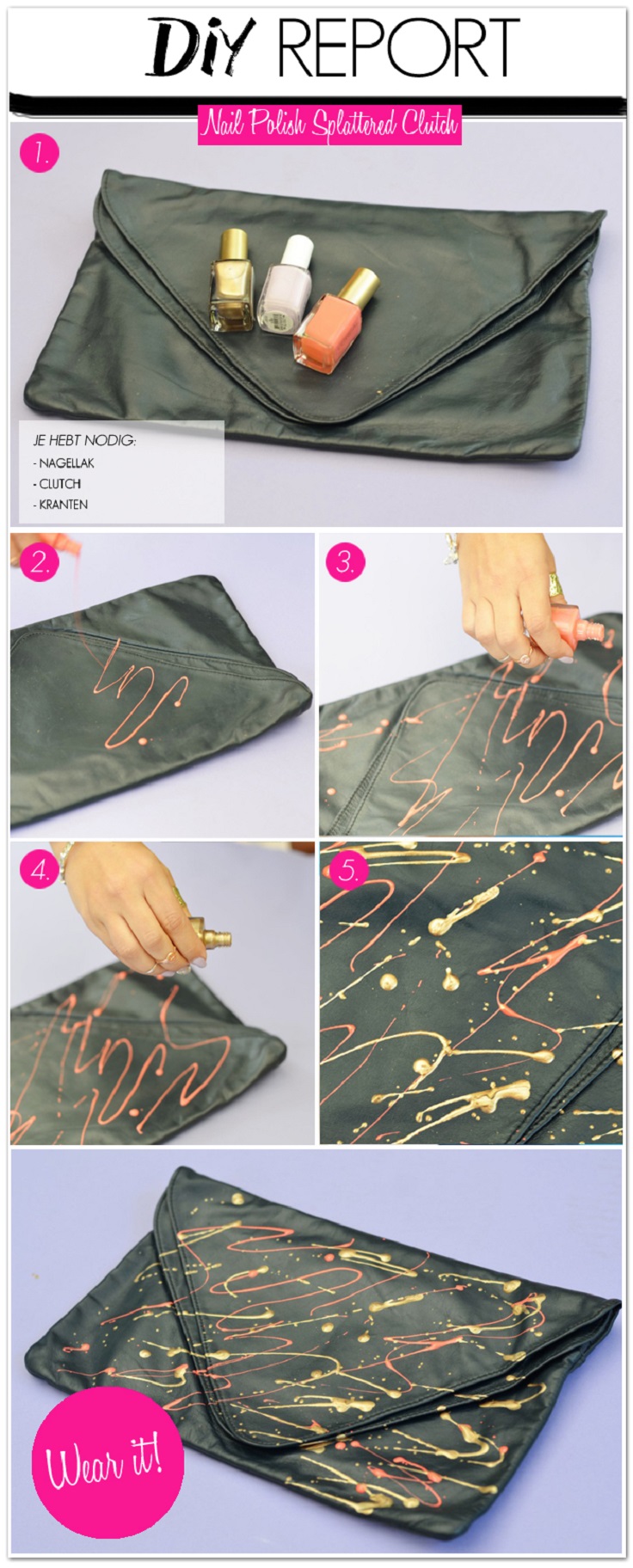 via followfashion.nl
Are you ready for DIY-ing?! If yes, then find some old small bag and, with the help of nail polishes in different colors, transform it into a marvelous and completely new clutch, which will be a real trend everywhere! Get inspired, and you'll be proud of the results!
3. Instantly change the color of costume jewelry with nail polish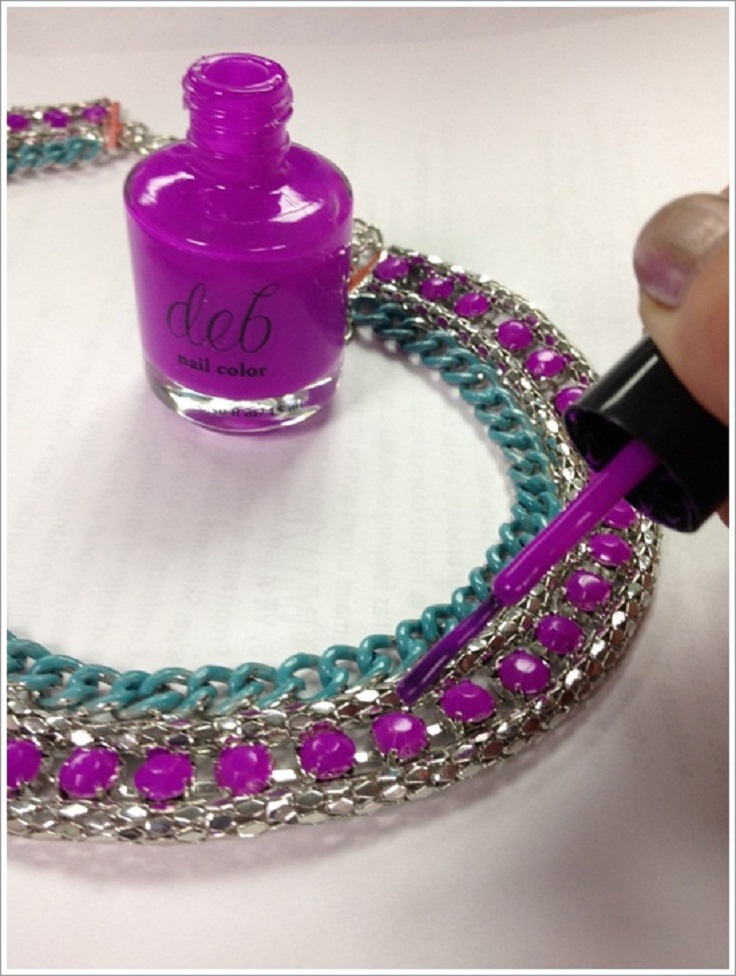 Change or add color to your favorite necklace, bracelet or ring by using nail polish in some super fun color, like pink, blue, or even violet?! Why not?! Choose some piece from your jewelry collection, put it on the towel, and start painting! You'll be positively surprised with the transformation!
4. Paint your keys so that you can tell which key is for which lock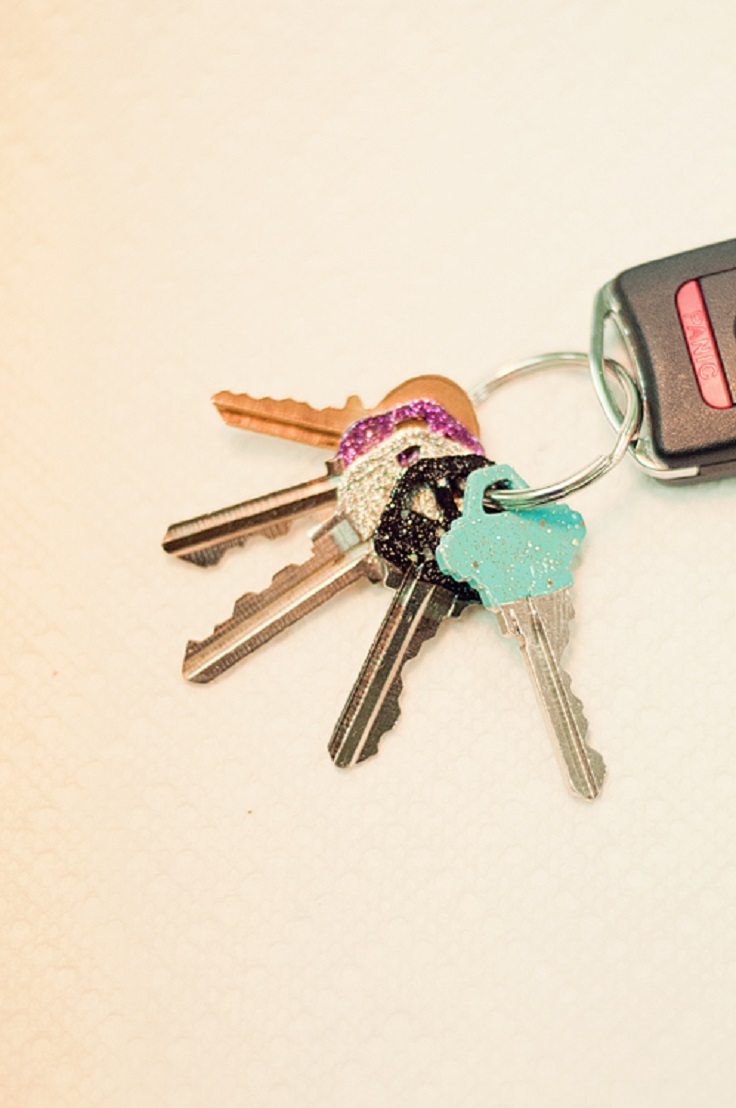 via acupofmai.com
If you have many keys, you can sometimes easily get confused about which key goes with what lock! But this won't be a problem anymore if you use various nail polishes for various keys, so you'll never get confused about this difficult situation! Plus, that will make your key-chain look much prettier!
5. Paint your regular bobby pins a vibrant color or with glitter polish to add some color to your hairstyle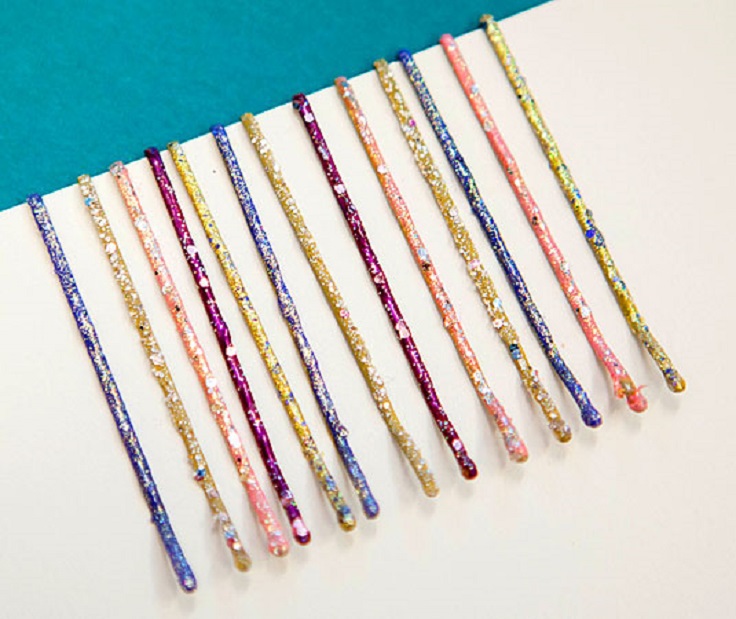 via bunmiodunowo.com
Add a little color to your simple hairstyle by using colorful and glittering bobby pins! Use some shimmering nail polishes in bright colors and paint only the top of your bobby pins with them, so you'll get your own DIY version of them! Don't forget to let them dry before you use them in your hair!
6. Seal envelopes with a clear top or base coat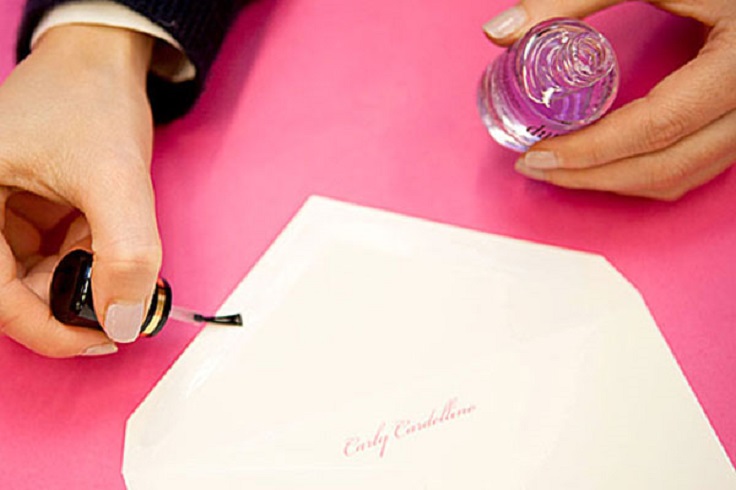 via foryu.in
Please don't lick the envelopes anymore, and instead of that gross habit, use clear nail polish and paint the underside of the flap, the place you usually lick it!
7. Thread a needle faster by running the thread over a base or top coat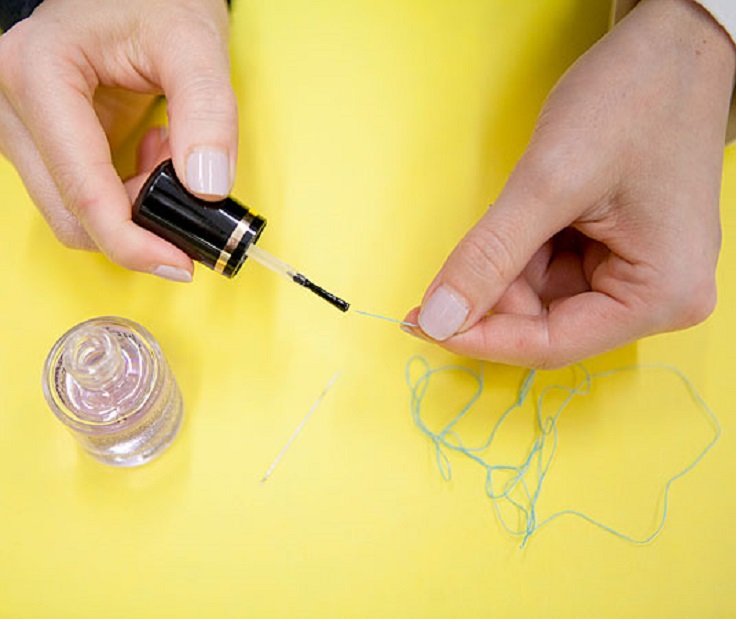 via bunmiodunowo.com
If you have trouble sewing on a button and the thread is frayed, it cannot be enjoyable to try to fish the thread through the tiny needle hole. But that won't be a problem anymore because you can drag the cut thread through the nail polish brush a few times. This procedure will harden the thread and allow you to slip it right through the needle's eye with ease.
8. Prevent new costume jewelry from tarnishing with clear nail polish
via stuffthatibought.com
A new piece of jewelry can easily be damaged and change the color in no time if you did not treat it in the right way! So, use clear nail polish and paint the whole surface of the item to prevent it! But, be aware that this doesn't work on already damaged accessories!
9. Cover up a scratch on scuffed shoes or boots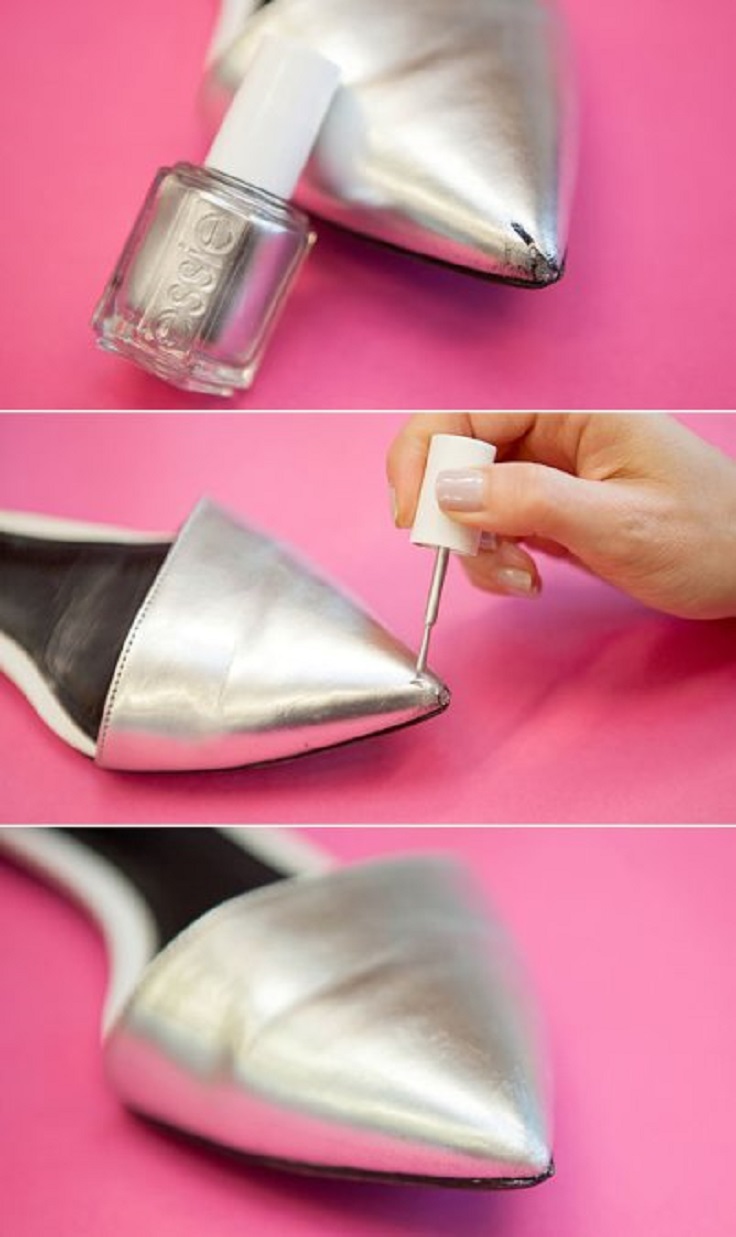 via bunmiodunowo.com
In time, shoes can become damaged, and finding the appropriate shoe polish can be really difficult. But, you can always use nail polish for this occasion. Before you apply it to shoes, first try it on your nails to check if that's the color you need!
10. Use nail polish to add a pop of color to the sole of your shoe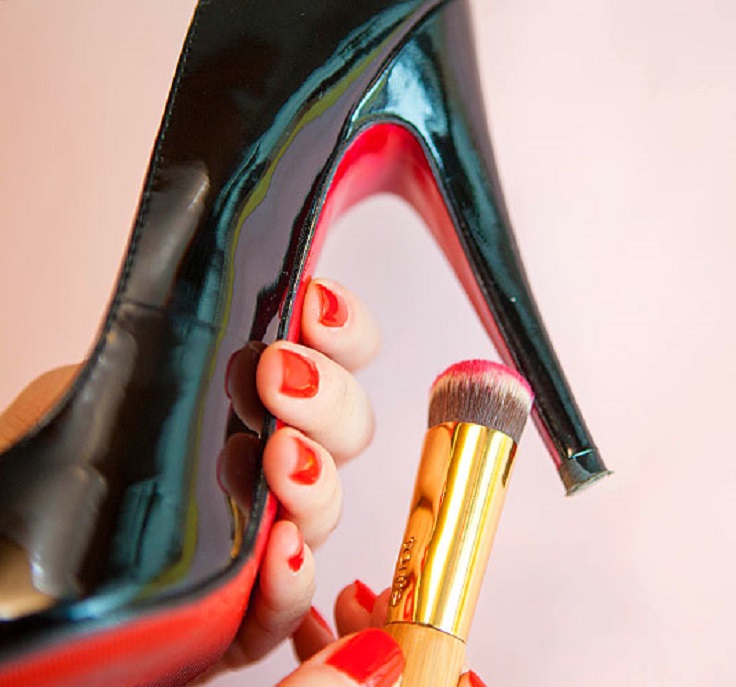 for you.in
Do you like Christian Louboutin high heel trick with the red sole?! You can have your dream shoes without spending any money! Just use the red nail polish and paint the sole of your shoes! Louboutin used the same thing many years ago; he invented this game!