Apple is a wonderful, delicious fruit and it's loved by almost everyone. You can find apples in every period of the year. There is a really large number of recipes with apples, from desserts to different kinds of specialties, sauces, and many more.
Today we have decided to dedicate this wonderful article only to various desserts with apples. You can make bars, cakes, tarts, cheesecakes, pies, simply, there are no limits. Here is a list of the top 10 best apple dessert recipes for you to try. They are easy to make and we assure you that everyone around you will be very delighted with these sweet ideas. Enjoy!
Salted Caramel Apple Pie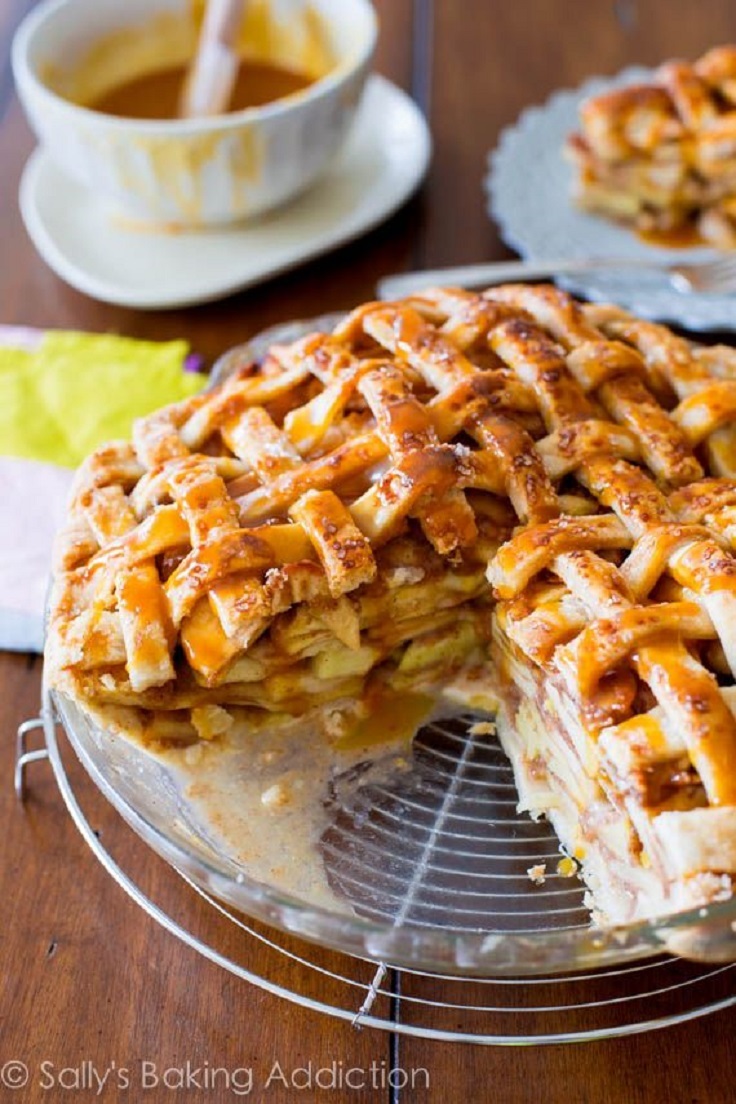 Recipe via sallysbakingaddiction.com
Fancy yourself a bit of a chef in your kitchen then this is the pie for you to get your hands on, and go on to impress anyone seeing the results. Salted caramel is pure bliss. The two simply are made for one another. A lot of steps with this recipe but if you have the time on your hands it will be well worth the extras. The secret to a perfect crust would be to always use super cold water, even straight from the fridge cold, and leave your pastry in there while finishing up your pie. At the last minute, take your pastry already rolled out to the ideal dimension and quickly place it on top of the pie, and whack it in the oven. This way, the butter won't melt away and stay in shape.
Gluten-Free Apple Streusel Cheesecake Bars
Recipe and Photo bettycrocker.com
Some of us do not choose to be gluten-free and some of us might prefer to be careful not to overuse the gluten part of our diet. Whatever your preference is, we have something for you. What is great about this is that you will not feel such a sensation of being full regretting you went for seconds. Do not confuse the streusel with the strudel, as they are totally different. The strudel is light layers of puff pastry, while the streusel is a crumbly, sweet, and buttery pastry. The walnuts will add a lovely crunch to the finished dessert. If you wish, roast or caramelize quickly the walnuts in the oven to add another complexity of flavors.
Caramelized Apples in Phyllo Tarts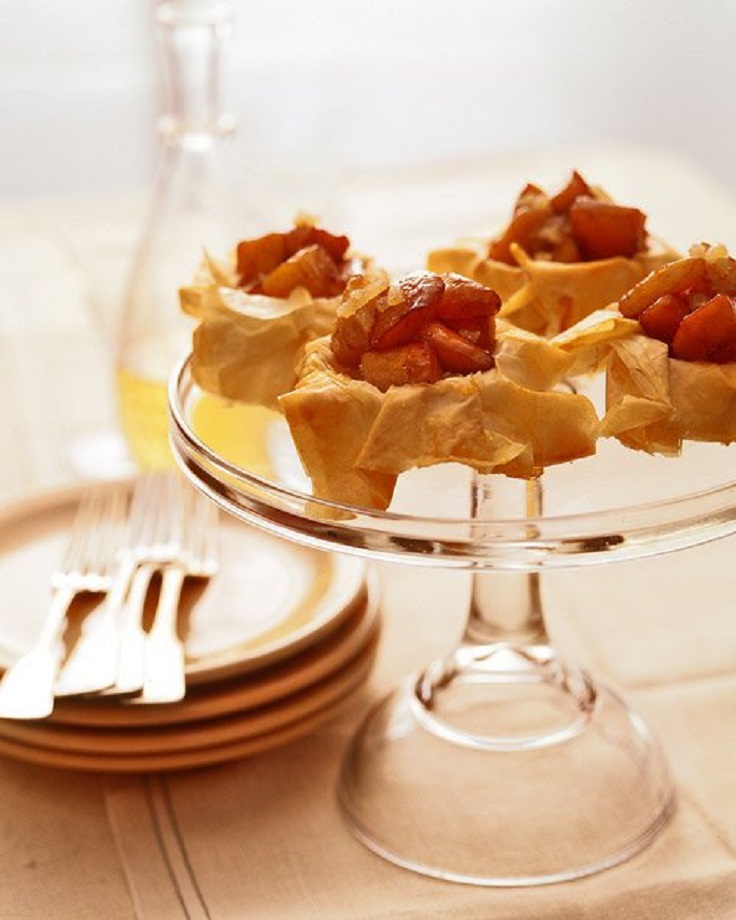 Recipe via marthastewart.com
If you have a muffin tin, then this would be the way to go! Easy to do, not overly sweet, and no need to be a chef in and around your kitchen. Something the kids can help you with, or the other half if allowed anywhere near the kitchen! Get firm apples for this one as they are best for baking. We need tanginess and sourness to give greatly complexities to the final desserts, and apples that won't fall apart once baked and stay whole. The alcohol is not a must if you have super young kids, although all is burnt out.
Apple Strudel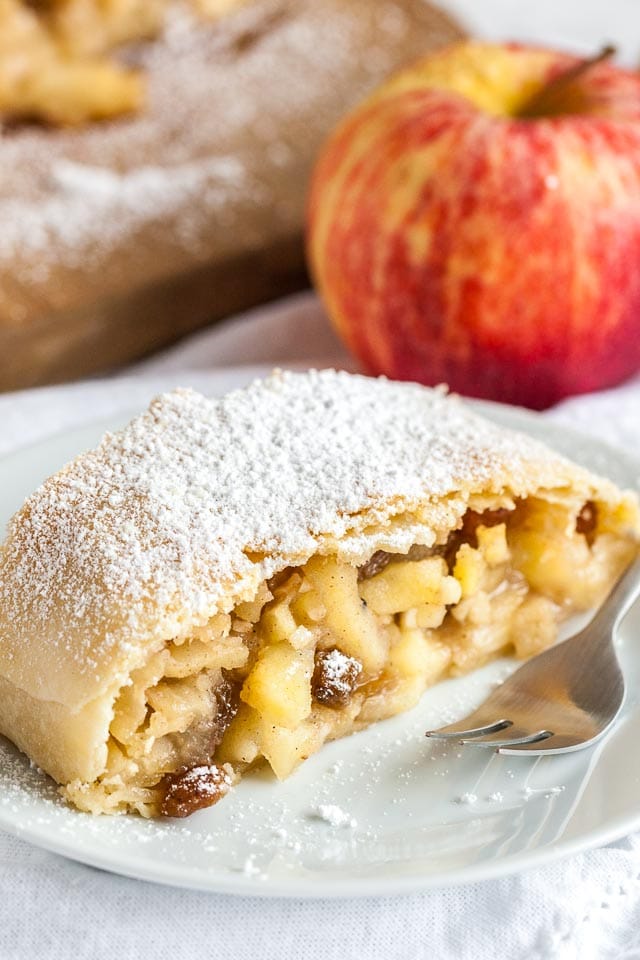 Recipe via platedcravings.com
We thank the Austrian people for such an amazing dessert discovery! Created over 300 years ago in 1697. So, you'll be making history proud. No pressure! The layered pastry with the gooey warmth of the apples inside is just crazy good. For better results, we feel, but again personal one might add, serve straight from the oven having waited for 15 to 20 minutes for cooling not to burn yourself or preheat before serving. Serve with a nice spoonful of rich cream, or even a decadent vanilla ice cream slowly melting alongside the strudel.
Scrumptious Apple Pie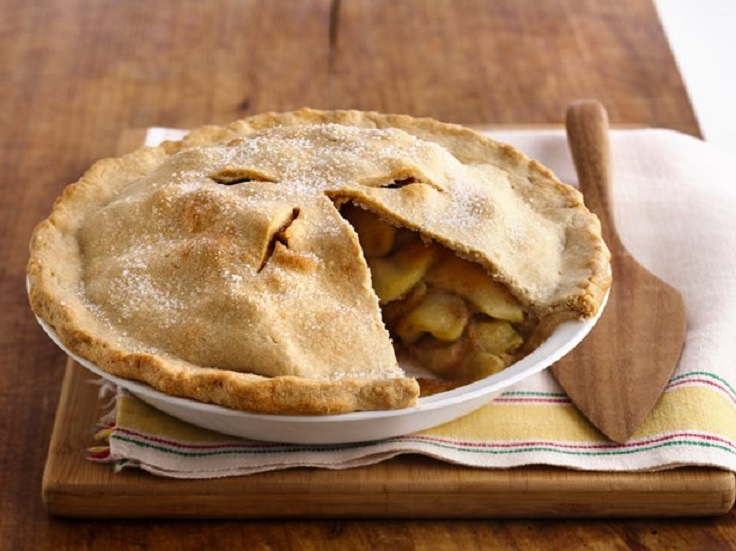 Recipe via bettycrocker.com
This pie is easier than you might think, and the results are simply divine. Many secrets to this but ultimately it is how good your pastry I'll be. You might wish to try out a 50/50 ratio between flour, butter, and sugar with a teaspoon of cold water and a pinch of salt. Super rustic, super crumbly but, oh my. You can choose to thinly slice your apples, or pre-cook them a little caramelizing them gently on the stove in a large pan adding a little sugar having cut them into rough chunks. One apple cut into 10 to 12 chunks for example. This will mean more bite and apple flavor to your pie.
Tarte Tatin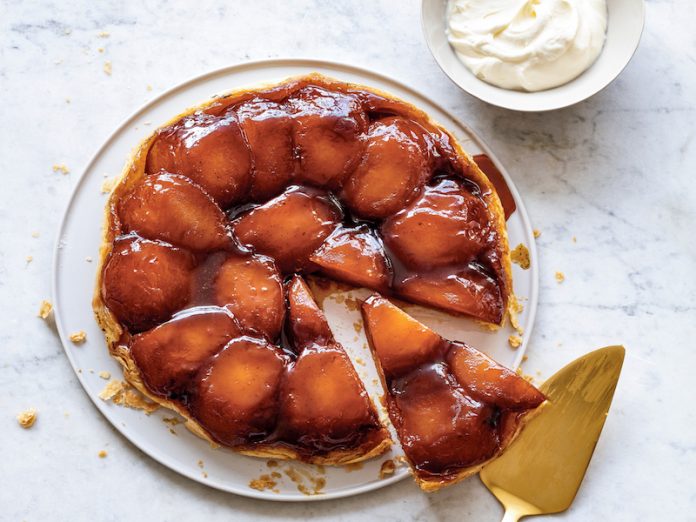 Recipe via bakefromscratch.com
A thank you to the sisters Tatin for having accidentally discovered this delightful recipe. And the great thing is, it is so easy to do without much faffing about. This recipe has been going for centuries so you are literally going to remake history, and we believe this is great. Buy in zesty, tangy, and sour apples for the best results. Cook your apples real slowly within the caramel. Make sure to have a nonstick pan preferably in cast iron for the best results. Enjoy a homemade Chantilly cream. And did you know that Chantilly comes from, Chantilly region of France? Fun stuff here.
Rustic Apple Tart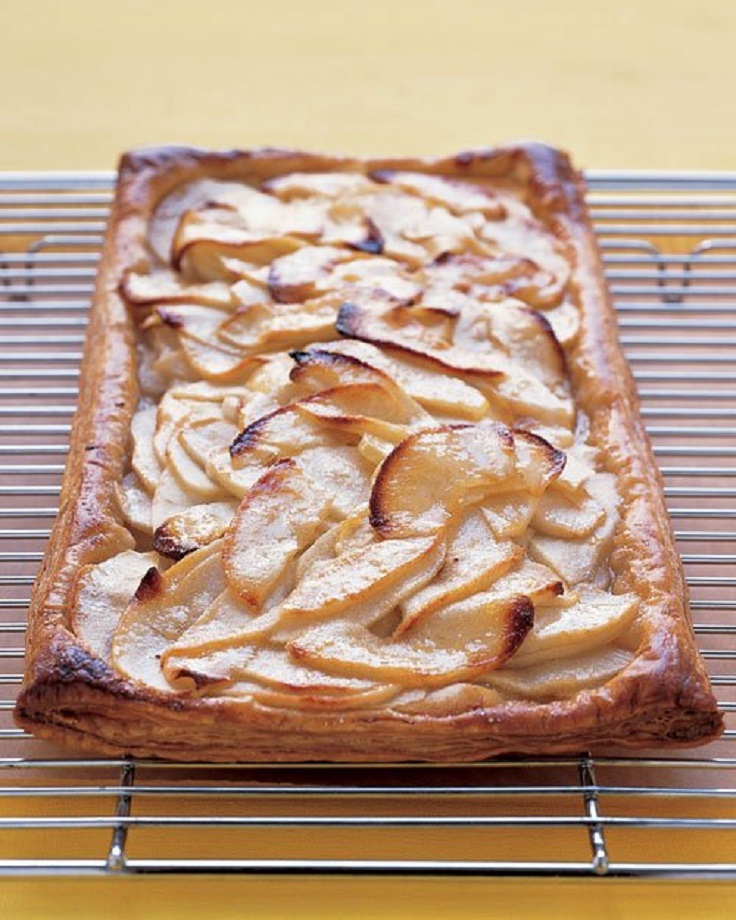 Recipe via marthastewart.com
If you are a busy person leading a very busy and hectic lifestyle, but fancy something sweet to make and enjoy with the entire family, then this is a must-try. Buying the puff pastry in your local supermarket is nothing to be ashamed of as generally speaking the already made stuff is brilliant. It'll take you years of practice in the real world making your own puff pastry! A very simple recipe that can be done from scratch, from start to finish in just under an hour. You can make your own glaze on top of the apples too if you're feeling a little adventurous, from honey as an example to get a fabulous color to texture ratio.
Dutch Apple-Pumpkin Crisp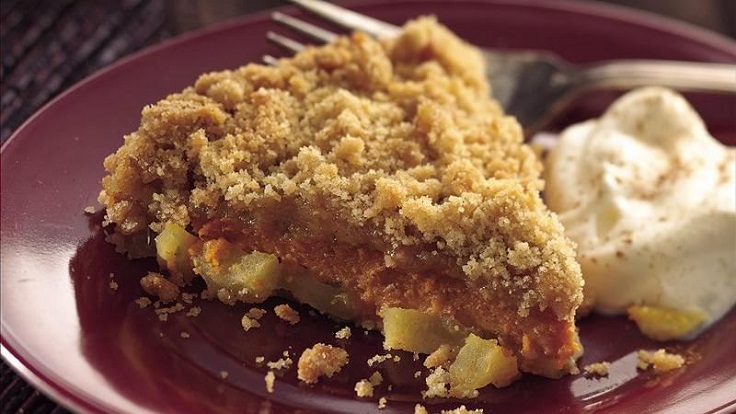 Recipe via bettycrocker.com
Another apple and pumpkin superstar duo, this time with a lot more crunch and bite! Canned pumpkin is used however, if you have more time then you should buy in a fresh pumpkin, or even a butternut squash (they are even sweeter), and roast them in the oven between an hour and a half to two hours at 180 degrees celsius. Reasonably easy to do without the need for fancy kitchen equipment and best enjoyed with sour cream or indeed clotted cream with red fruit jam on the side. Lovely as an afternoon tea.
Chocolate Caramel Apples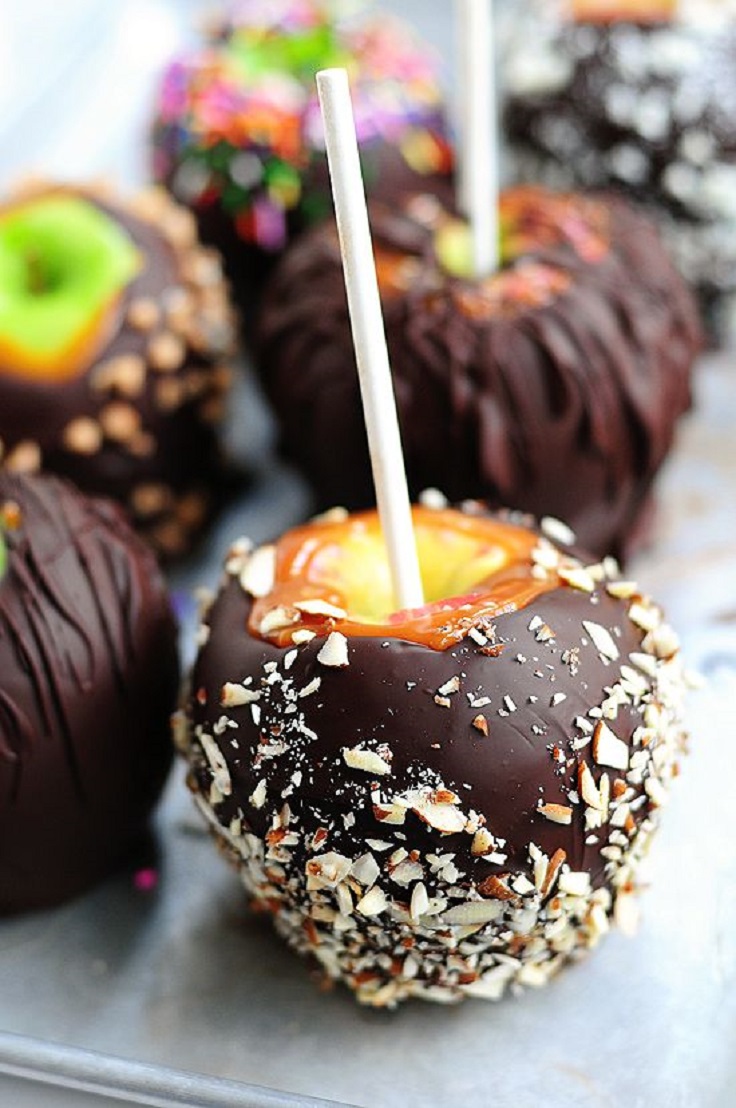 Recipe via shewearsmanyhats.com
For the chocolate lovers, we have always included pretty much every dessert imaginable that had to include a chocolate option! 60 to 70% chocolate is recommended for this recipe. The better the chocolate, the better the mouthfeel. Super fun to make and super easy too! Get the kids to join in on this one as it is perfect for all the family to get stuck into this event! We love plain caramel apples but adding the extra coating of chocolate to the gooey center makes this such a treat. As a tip, try using hard and sour apples for the best results, and not the fluffy, flour ones.
Best Apple Cake Ever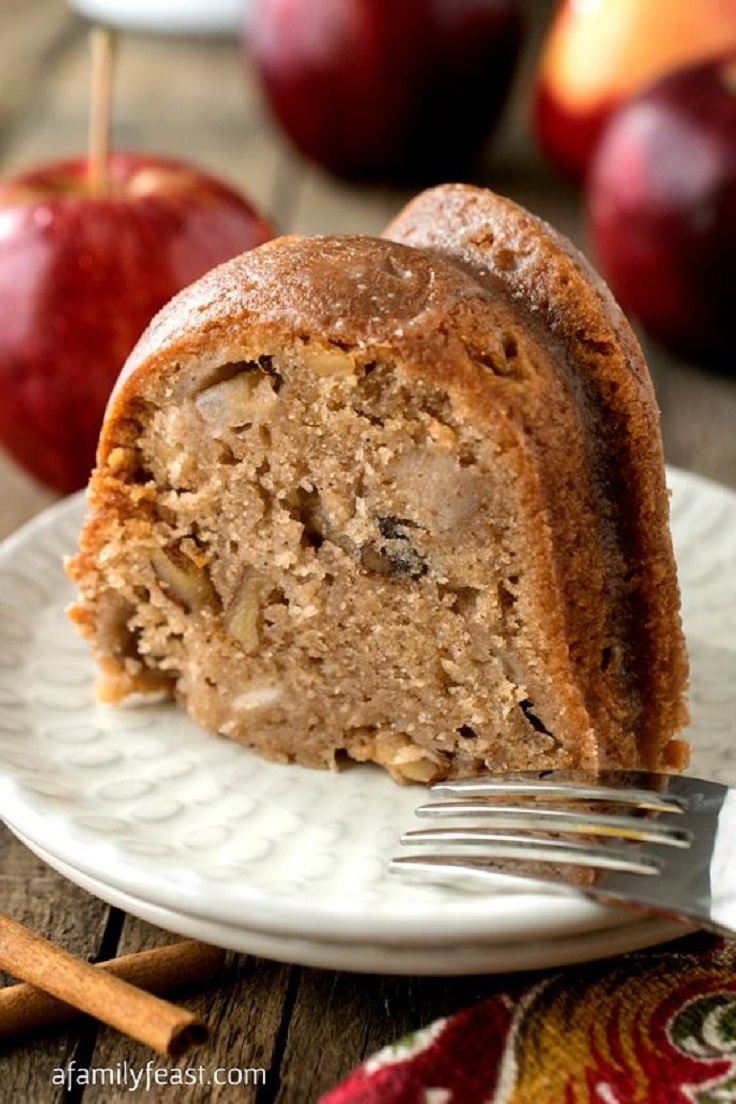 Recipe via afamilyfeast.com
This arguably could be the best. Something that is so moist and so flavorful surely must be one to try out to impress both your friends and family. Being so wet inside makes it great to keep in cling film for 2-3 days without jeopardizing the texture and flavor. It balanced sweetness and spices perfectly in harmony and will have you going for more. Perfect served with a black tea and a slice of lemon, the good old British way, with a good dollop of freshly whipped cinnamon cream with perhaps, a few lemon zests on top.