Many people love flowers, house plants, and shrubs to make their homes lush and green, but only a few consider cactus an attractive option for bringing a natural feel to the room. If you don't have a green-thumb or you are away for weeks on business trips, cacti and succulents might be your best bet.
Even if you don't have perfectly sunny windowsills or you kill every shrub, these plants are for everyone. Cacti come in many different shapes and colors, and they are real survivors.
The prickly spines are actually modified leaves, and through their shallow root systems, they soak up water that they store for a long time. This makes cactus a very independent plant that suits every condition and every gardener.
Avoid fussy plants, and check-out our collection of beautiful and decorative cactus gardens!
1. Modern Zen Garden
These vibrant and colorful small cactus gardens will definitely brighten up your home or your office desk. Choose a pretty glass bowl and fill it with colorful sand such as fuchsia, yellow, orange, purple, baby blue, black or white.
Drawing into the sand can be therapeutic; stressful moments will relax your mind.
2. Indoor Desert
via www.hgtv.com
Shallow planning bowls are good for Bonsais and are perfect for creating your indoor desert. Select different types of cacti and arrange them in a decorative way. Plant the shorter ones to the front and the taller ones behind them. As cacti hate to sit in water, make sure to aid drainage by putting pebbles to the bottom of the pot.
3. Terracotta Bowl
via fromezterwithlove.blogspot.ca
Did you buy a beautiful bowl on your summer holiday from some exotic place and not too sure what to do with it? Instead of leaving it empty, get some cacti and in similar sizes and create something extraordinary. This beautiful cacti arrangement looks amazing in bathrooms as well.
4. Cacti and Succulents on Ladder
Get an old ladder, some small terracotta pots, many different succulents, and cacti and create this rustic decoration for your home. It is a great idea to bring some green into your apartment and also to fill up empty corners. Plus you can go on holiday without asking anyone to water your plants while you are away.
5. Glass Bowl Composition
Plant cacti into a larger, see-through glass bowl to create a unique decoration for your home. This way, not only the cacti but the soil itself will add an interesting twist to your interior. The different layers of soil, sand, and pebbles are decorative and beneficial to your plants.
6. Large Cactus in Concrete Pot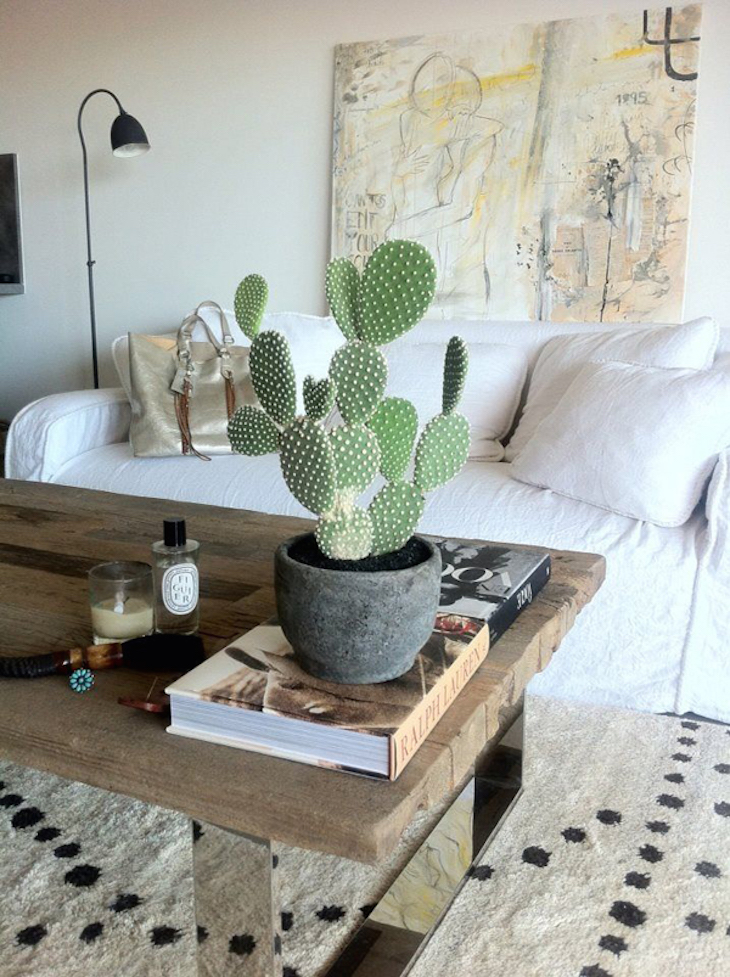 via uneroid.com
We just love the minimalist interior of this living room. The large cactus in the concrete pot placed on a rustic wooden table adds an elegant and clear look to space. Concrete material is one of the latest trends in interior design; many designers are now using concrete in unexpected and unusual ways.
7. Succulent and Cacti Mini Garden
via ext.homedepot.com
If you thought that succulents and cacti are not too decorative, look at this beautiful mini garden. With these small prickly plants, you can create a perfect centerpiece for your dining room table. Make sure to arrange the plants nicely so that it looks pretty from all sides. The largest succulents can be placed in the middle of the pot, and you can put colorful plants around the perimeter.
8. Tall Cacti Centerpiece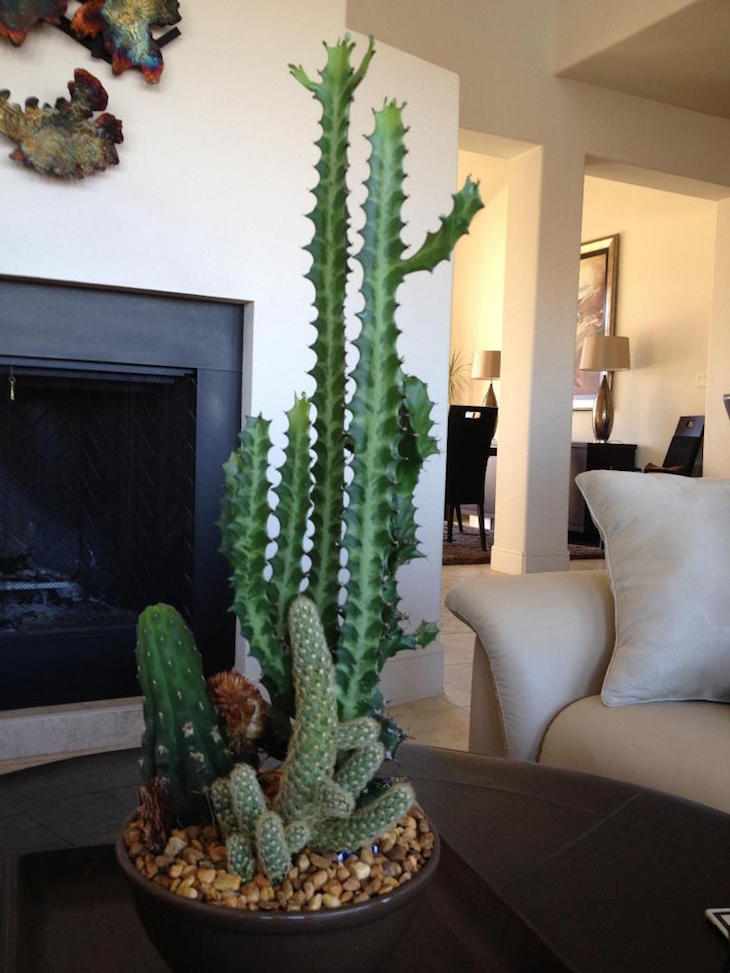 via forums.gardenweb.com
How about this tall centerpiece on your coffee table? It is a beautiful decoration that matches the minimalist interior. Every apartment needs some green, but if you are away a lot or not great with plants, cacti and succulents are your best bet. They don't require any special treatment, only some water every now and then.
9. Large Cactus in Bathroom
via homemydesign.com
Creating a cactus garden in your bathroom is also a great idea. These decorative plants add an exotic look to your space. Of course, not every apartment has this kind of extravagant interior, but it is a good example of using large succulents and cacti in your home.
10. Indoor Cactus Garden
If you prefer an interior design that emphasizes the sleek and clean look and the contemporary concept, an indoor cactus garden might be the best decoration for your home. The elegant, deserted look fits perfectly with the natural stone mosaic floor and the white stone accent wall.